Different feel at Yanks camp for Steinbrenner
Managing general partner excited about club's mix of young and veteran players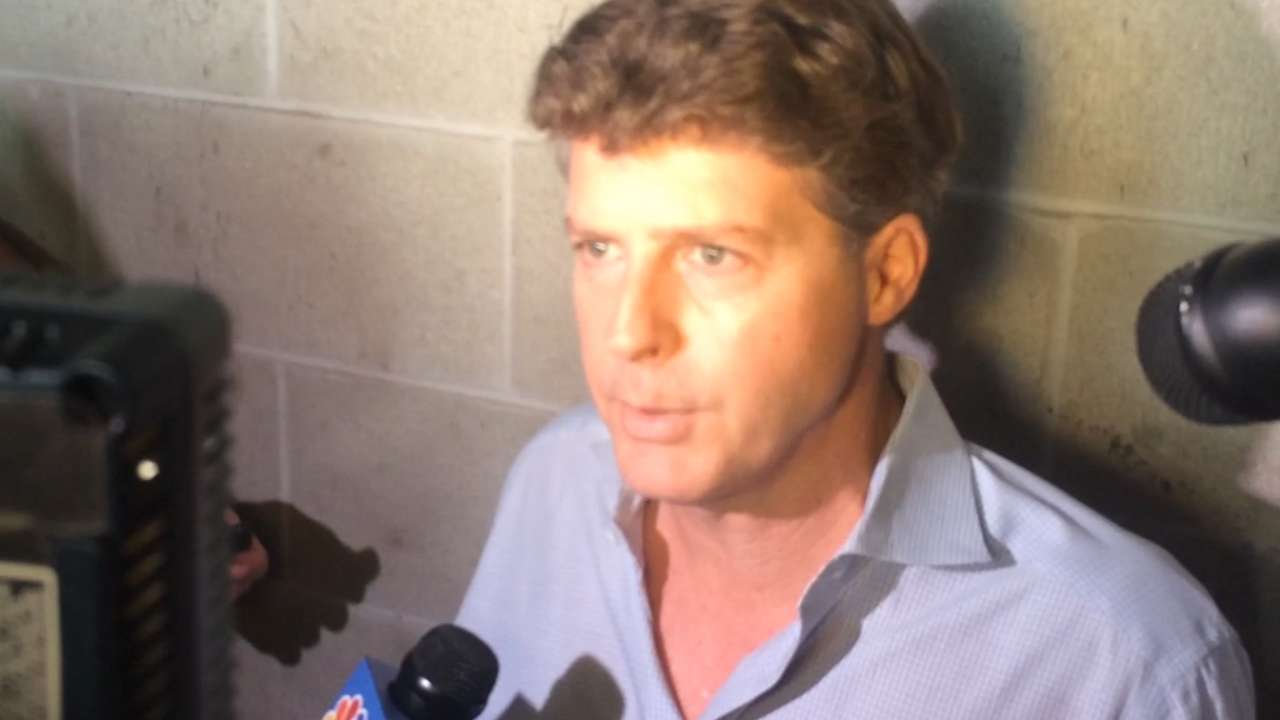 TAMPA, Fla. -- It has been a long time since Hal Steinbrenner was this excited about the talent coming through his organization's pipeline, the Yankees' managing general partner said following Wednesday's first on-field workout for pitchers and catchers.
"The expectations are great, as they always are. It's a time of new hope, Spring Training," Steinbrenner said. "But this feels different. We've got a great crop of good young players and a good crop of veterans as well.
• Spring: Info | Tickets | Schedule | Gear
"It's a great mix and I think the veterans are going to be great dealing with the kids, mentoring them. We've seen that in the past. But they've got to prove themselves, a number of these guys. This is their big chance and they're going to get it this year."
Steinbrenner said that the Yankees will get a good look at many of the names they have tracked from the low Minors, with top prospects Clint Frazier, Gleyber Torres, Jorge Mateo and Aaron Judge among those who will be appearing on manager Joe Girardi's lineup card in Grapefruit League play.
"I can't tell you how I'm going to feel two, three months from now if it turns out to be a disappointing season, but right now it's just very exciting," Steinbrenner said. "It's exciting to have the opportunity to see these young players prove themselves."
The Yankees' biggest offseason moves were to sign closer Aroldis Chapman (five years, $86 million), designated hitter Matt Holliday (one year, $13 million) and first baseman Chris Carter (one year, $3.5 million). Steinbrenner said that even as the team trends in a younger direction, the mandate from ownership to play championship-caliber ball has not changed.
"We have to stay healthy," Steinbrenner said. "Look, we come to win a championship every year, and that hasn't changed. Whether or not people think we have a chance or don't have a chance, that's up to them. As far as these guys in there, they absolutely believe they have a chance and they're going to come to play."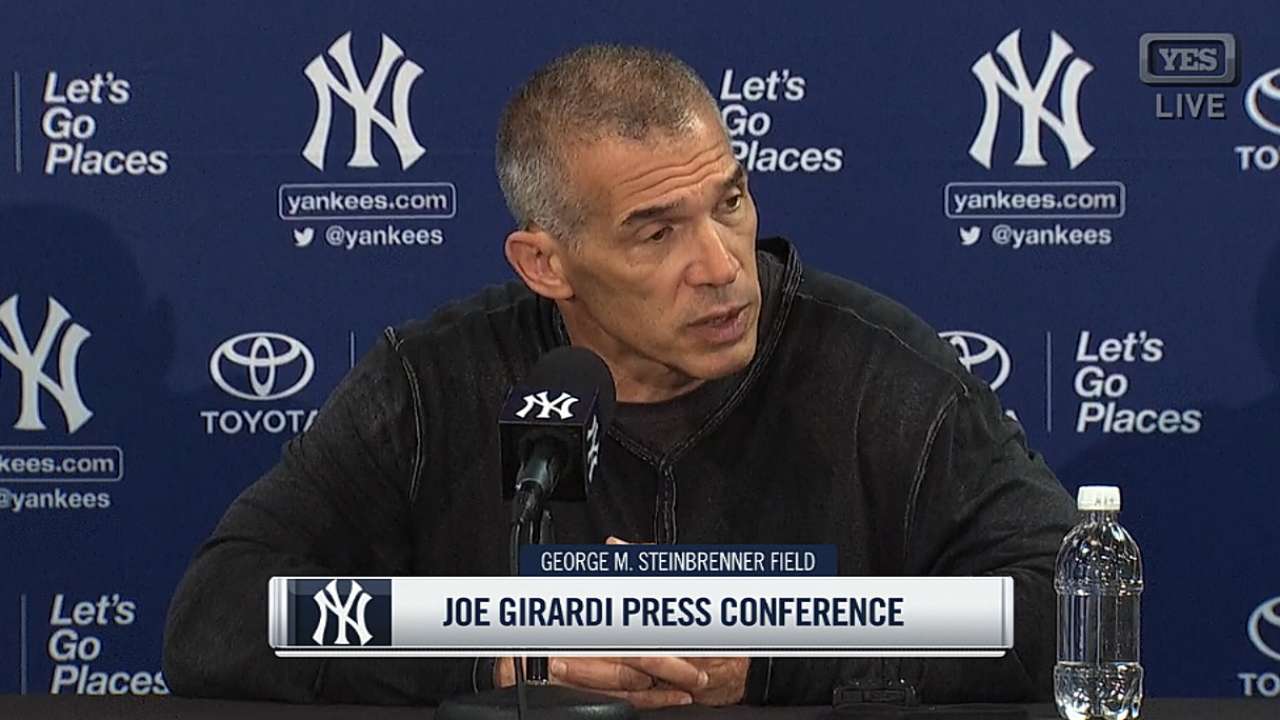 With general manager Brian Cashman and Girardi each in the last year of their respective contracts, Steinbrenner said that he "loves" Girardi and thinks Cashman has done a "great" job in overhauling the player development and scouting departments. Still, Steinbrenner does not anticipate addressing their situations at this time.
"I treat all of them the same; I don't deal with it until the contract's close to up or up," Steinbrenner said. "We've just got too many other things to focus on. I'm sure we'll be talking maybe toward the end of the year, but right now there's a lot more things to be worried about than that."
A-Rod watch
Steinbrenner said that he expects Alex Rodriguez to be in Yankees camp once or twice this spring, giving him the option to work in big league camp or across the street at the Minor League complex. Rodriguez is serving as a special advisor to Steinbrenner and worked with young players during last year's instructional league.
"Obviously he's been doing some broadcasting as well and he's got other things going on in his life," Steinbrenner said. "He's absolutely tremendous with the young players and always has been, and we're going to continue to talk about different ways to keep him involved."
Bryan Hoch has covered the Yankees for MLB.com since 2007. Follow him on Twitter @bryanhoch and on Facebook. This story was not subject to the approval of Major League Baseball or its clubs.