Rays infielder Duffy: 30 days until full speed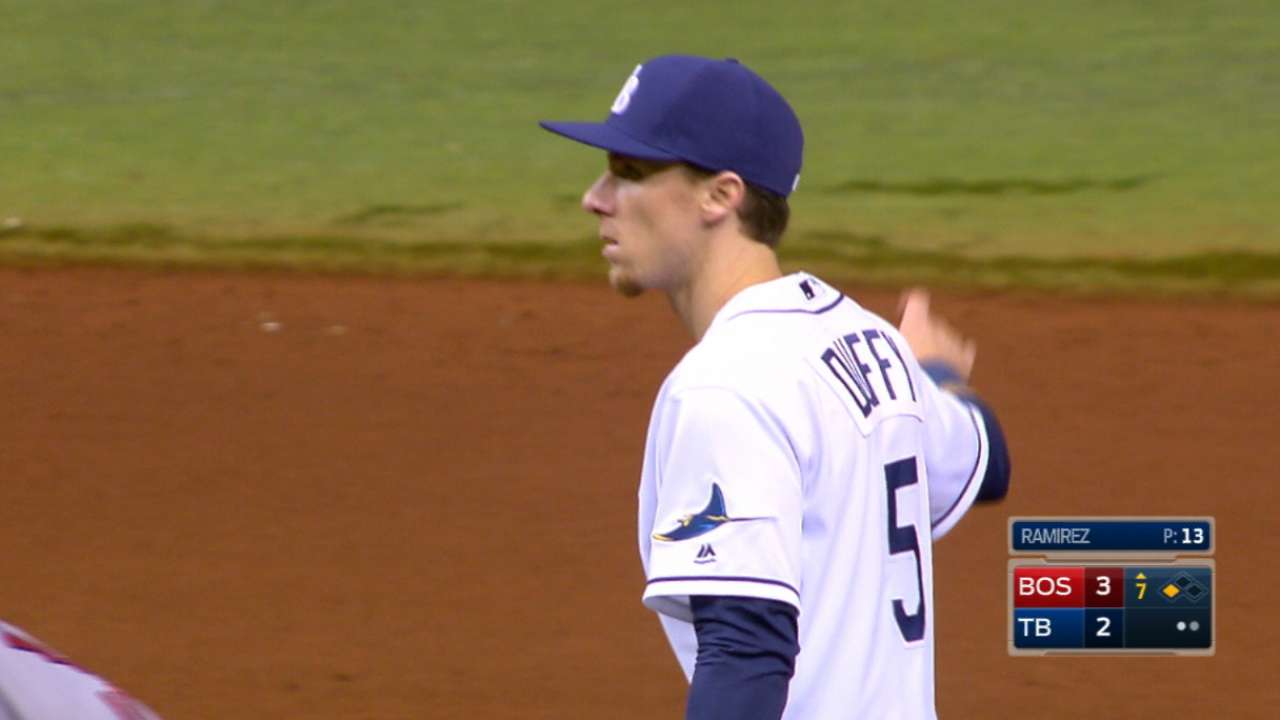 PORT CHARLOTTE, Fla. -- Despite the fact that the first full-squad workout isn't until Sunday, every Rays player has reported to camp, save for position players Evan Longoria, Logan Morrison and Rickie Weeks Jr.
Among those in camp ahead of time is shortstop Matt Duffy, who came to the Rays from the Giants in the Matt Moore trade. Duffy had season-ending surgery on his left heel on Sept. 9, and he reports that everything is fine.
When asked about the time frame for when he'll be at full speed, he replied: "Looking at 30 days."
Duffy said he saw the doctor last week and got a good report. Now it's just a matter of getting his heel used to all the different movements. He allowed that he's happy he had the surgery and optimistic that the problem that has haunted him since high school is in the past.
Said Rays manager Kevin Cash: "I don't look at Duffy as being too far behind."
Worth noting
• Kevin Kiermaier recently announced his engagement to his girlfriend Marisa via Twitter with the following tweet: "Its official people!! This beautiful girl said yes!! Capped off my offseason with the best news ever!!"
Said Kiermaier: "They're a great family and I'm very happy. Life is good for me right now."
Speaking of Kiermaier, Cash sounded as though the outfielder could be hitting second in the lineup this season.
"I really liked the way K.K. performed hitting second last year," Cash said. "I think it was probably a benefit to him and to the guys hitting around him. We all know when K.K. is getting on base, it's a different element. And obviously you want him to get on base as much as possible, where the meat of our order has opportunities."
• Right-hander's Jose De Leon and Erasmo Ramirez are dealing with minor physical problems. De Leon complained of mid-back tightness, while Ramirez tweaked a hamstring. De Leon explained that he'd been sick, so he attributed the tightness to being dehydrated. He did not feel as though it would be a problem going forward. As for Ramirez, Cash explained his situation with a chuckle: "He tweaked his hammy yesterday playing first. I'm not sure how bad he tweaked it. ... [More like] I overworked him last year, and he said, 'To [heck] with this and I'm not going to let him do it again."
• Cash praised right-handers Brad Boxberger and Shawn Tolleson for "looking really good today." He also noted that catcher Nick Ciuffo seems to be "in a good spot."
• Cash has only had time for a "handshake and a hello" with Mallex Smith. But he has observed the team's new outfielder.
"You watch him, and he's over there standing in, gauging pitchers," Cash said. "Just our homework on him. Guy who wants to play. Guy who loves to play. High energy.
"I watched him shag balls during batting practice on one of the back fields. You can tell he's quite the athlete. You look at him and it's pretty impressive. Now, I haven't actually seen him run, but I hear that's the most exciting thing, just to watch him. It would be nice to see him and K.K. during a Spring Training game, get on first and second and somebody put a ball in the gap."
Bill Chastain is a reporter for MLB.com. This story was not subject to the approval of Major League Baseball or its clubs.