Miller putting tough 2016 firmly in the past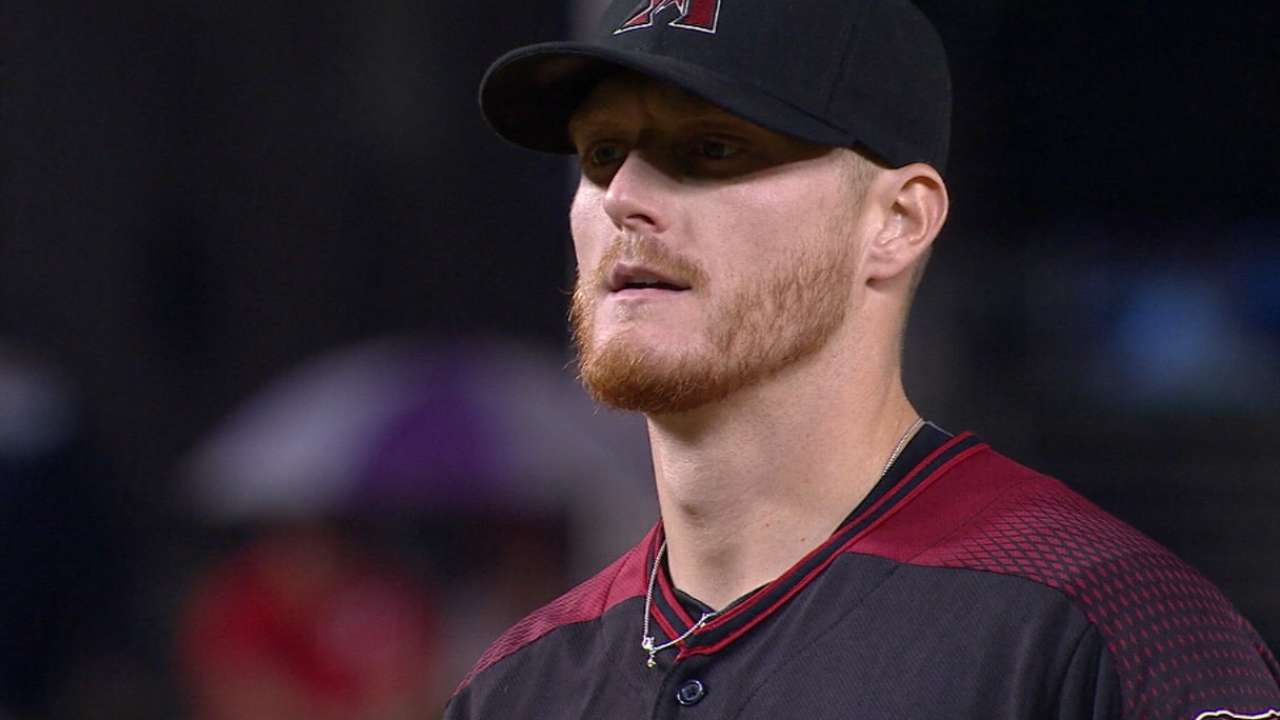 SCOTTSDALE, Ariz. -- Before heading off to his first bullpen session of 2017, right-hander Shelby Miller took a look back at his nightmarish 2016 season, which he finished with a 6.15 ERA.
"I had such a bad year, it just had a snowball effect," Miller said. "I learned a lot of things. I learned how to deal with struggling a lot. It was weird, because I had never performed that bad before in my entire life. To have to deal with it, you learn a lot of things, and you just hope to build off of that and never have it happen again."
The D-backs traded top prospect Dansby Swanson and outfielder Ender Inciarte to Atlanta as part of a package for Miller in December 2015 with the thought that he would form a dominant one-two punch with ace Zack Greinke.
The deal was controversial, with the consensus being that the D-backs gave up too much, so by the time Miller reported for Spring Training last year, the expectations for him to have a big season were enormous.
When he got off to a bad start, things began to spiral downward, and he opened the second half of the season in the Minor Leagues.
Recalled at the end of August, Miller recorded a 3.98 ERA in his final six starts, and he threw 11 shutout innings in his final two outings to end the season.
"Once I got back up last year, I felt like I did a decent job pitching," Miller said. "Still not the best I could have pitched, but I did a lot better than I did in the first half. Obviously, this year I want to get off to a better start. That won't be that hard to do."
New manager Torey Lovullo spoke several times with Miller this winter and is emphasizing a clean slate for him.
"I don't know much about what happened last year other than what I read, and quite frankly, I don't care," Lovullo said. "It doesn't matter to me. I want to focus on where we're at right now with these guys. I know that he's very eager to start this camp. I watched him throw his bullpen today, and I thought the ball was coming out very well. I could tell he did a lot of preparation behind the scenes."
Miller is hopeful that the work he put in over the winter, in addition to the fresh start that comes with a new season, will pay dividends.
"Even in 2015 with the Braves, I had a good season, but I still didn't win any games," said Miller, who went 6-17 despite a 3.02 ERA. "At the end of the day, whether my ERA is at 3.00 or 4.00 or 5.00 or whatever it is, I just want to have the wins in the win column, because all that matters is me getting wins for the team and trying to help the team win."
Steve Gilbert has covered the D-backs for MLB.com since 2001. Follow him on Twitter @SteveGilbertMLB. This story was not subject to the approval of Major League Baseball or its clubs.