Baez will play 2B for Puerto Rico in Classic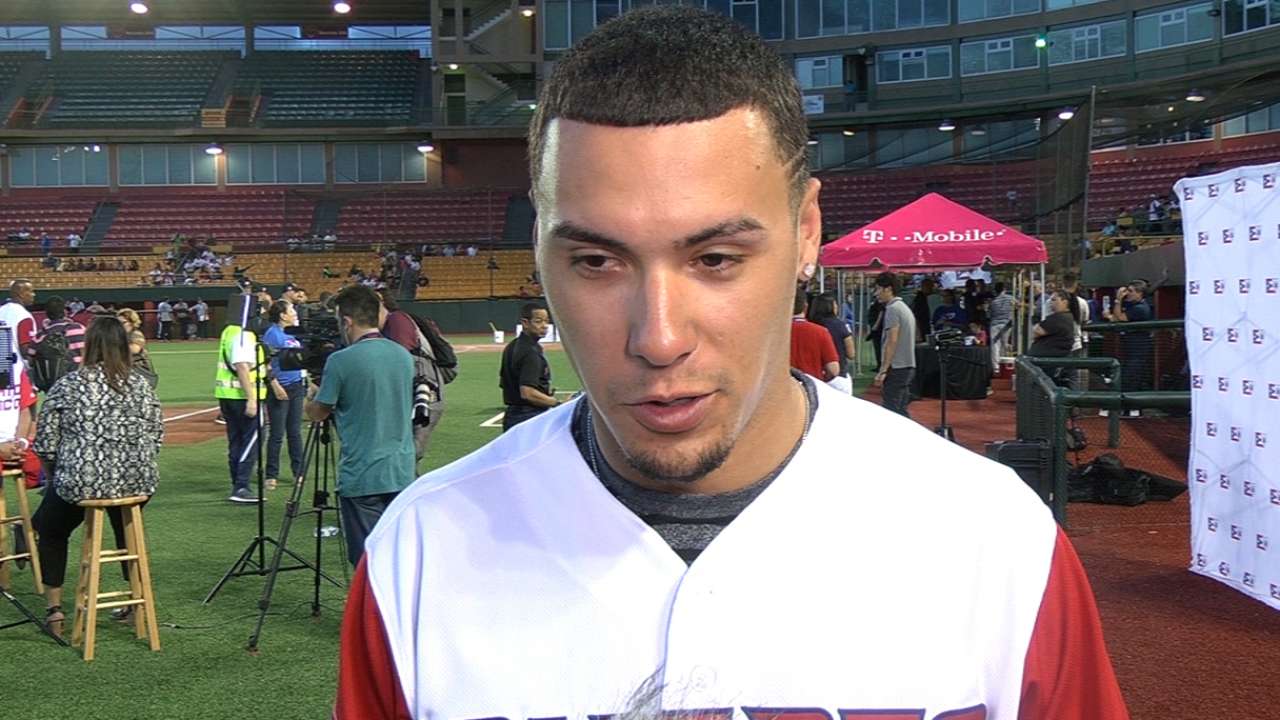 MESA, Ariz. -- Cubs infielder Javier Baez, who will be competing in his first World Baseball Classic, said he'll play second base for Team Puerto Rico, which is loaded with talented middle infielders, including shortstops Francisco Lindor of the Indians and Carlos Correa of the Astros.
Baez, the co-Most Valuable Player in the National League Championship Series, said Lindor will play shortstop and the team will prep in Arizona. Puerto Rico's first game is March 10 against Venezuela at Estadio Charros de Jalisco in Mexico.
Cubs fans will notice Baez looks a little different, as the infielder dyed his hair blonde this offseason.
• Maddon's messages for '17 come from heart
"I tried to dye my hair and have less people recognize me," he said, "but it didn't really work."
• Pick up the pace? Major League Baseball has discussed possible changes in attempts to speed up the game. Is that necessary?
"Social norms are what they are," Cubs president of baseball operations Theo Epstein said on Tuesday. "We're not going to criticize a generation for having a little bit shorter attention span. It is what it is. I think it's important to stay ahead of the game. Baseball has done a wonderful job growing the game and revenues are incredible now, but [Commissioner Rob Manfred] is justifiably very progressive and looking ahead 20, 40 years. We have to make sure we don't lose the young fan."
Epstein said the dialogue regarding the game was good and liked the proactive approach.
"There will be some changes," he said, "but the essence of baseball will never be lost. That's what makes this sport great. The timelessness of baseball will never be lost."
• Rotation rest: The Cubs utilized a six-man rotation prior to the All-Star break and again at the end of last season to make sure the starters got enough rest. Manager Joe Maddon said they've talked about doing that again, but they most likely don't need to at the start of the season.
The Cubs do have 40 pitchers in camp, and will likely add a few "B" games to get everyone work.
• Catching up: Willson Contreras will be matched up with Jon Lester, whose personal catcher, David Ross, has retired, and is now in the front office as a special assistant. Maddon said Ross will work with Contreras this spring on what works best for Lester.
Carrie Muskat has covered the Cubs since 1987, and for MLB.com since 2001. She writes a blog, Muskat Ramblings. You can follow her on Twitter @CarrieMuskat and listen to her podcast. This story was not subject to the approval of Major League Baseball or its clubs.