Sabathia locked in despite youth movement
Veteran gears up for his 17th season as Yankees 'fly under the radar'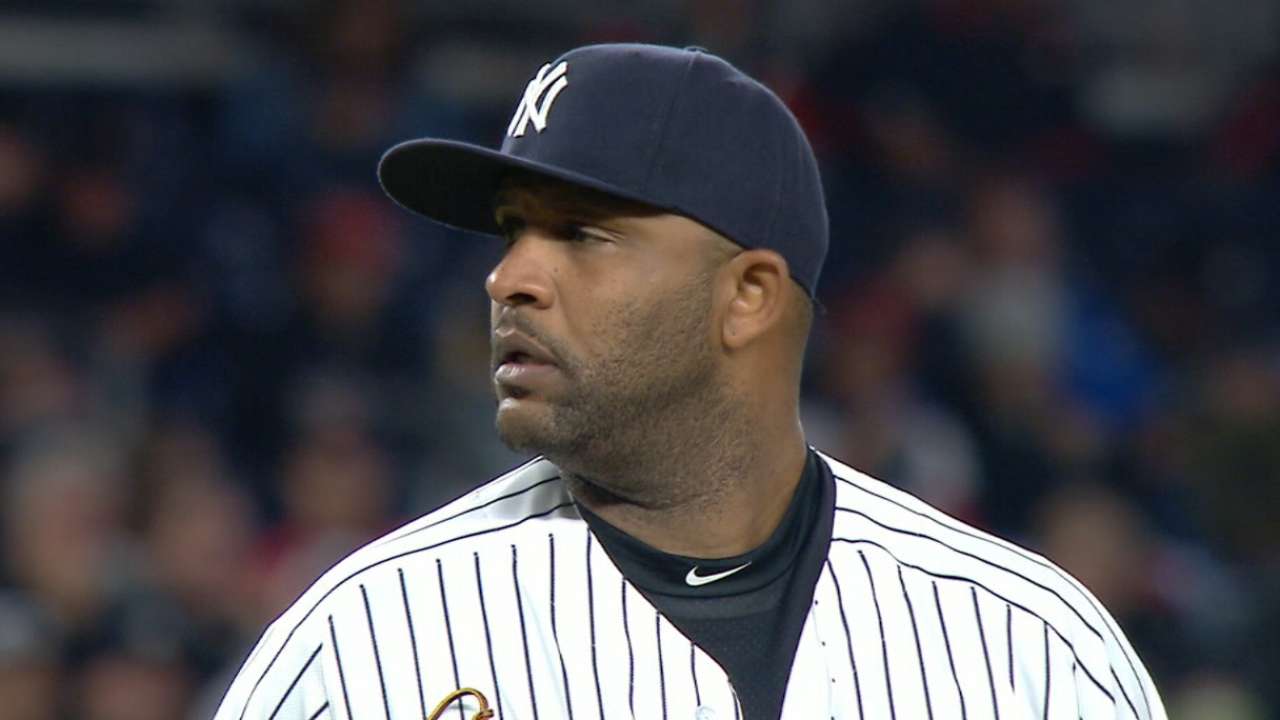 TAMPA, Fla. -- There are 3,168 1/3 innings on CC Sabathia's odometer as he gears up for Major League season No. 17, and as the big left-hander surveys a Yankees clubhouse that is trending in a younger direction, he still feels the drive to continue adding to those totals as long as possible.
"It's exciting for sure. We've got some good young talent in here," Sabathia said. "It wouldn't be that exciting if the guys weren't good players, but the guys are good players. It's a lot of fun to see what these guys are going to be able to do for us this year."
This marks Sabathia's ninth year with the Yankees and the final season of a five-year, $122 million extension that he inked in November 2011. Asked if he has thought about the possibility of it being his last on a mound, Sabathia quickly shook his head.
"Last year to play? No," Sabathia said. "If I'm healthy and able-bodied to play, I'm going to play as long as I can. It just depends on me being healthy. But yeah, I want to play as long as I can."
• Spring Training: Info | Tickets | Schedule | Gear
The 36-year-old made 30 starts and completed 179 2/3 innings last year, going 9-12 with a 3.91 ERA. It marked Sabathia's lowest ERA since 2012 (3.38), and he allowed three earned runs or fewer in 21 of 30 starts, numbers which the Yankees would gladly sign up for again.
"I'd love to have what he did last year," general manager Brian Cashman said. "I thought he did a tremendous job for us. Every year is an important year for CC. He's been the leader of our staff now for quite some time, very well respected. I know he wants to continue playing past 2017. He's working hard."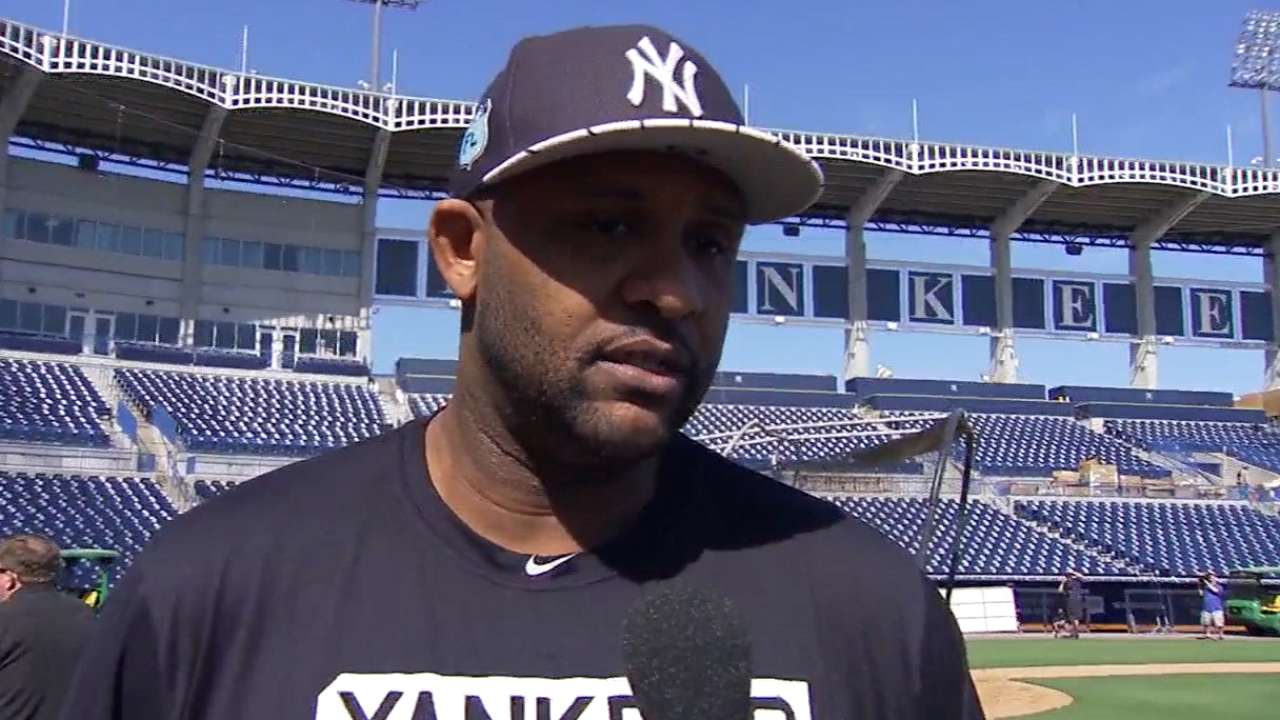 Sabathia worked out regularly at Yankee Stadium this winter to recover after having arthroscopic right knee surgery in October, saying that he expects to be ready for the start of the season. He also has no issue with prognosticators picking the Red Sox to run away with the American League East.
"It's a tough position to be in [for] them because of the expectations," Sabathia said. "For us, we can just kind of fly under the radar and kind of do our thing and hopefully make a run at it. It'll be a little more comfortable for us because nobody's expecting anything out of us."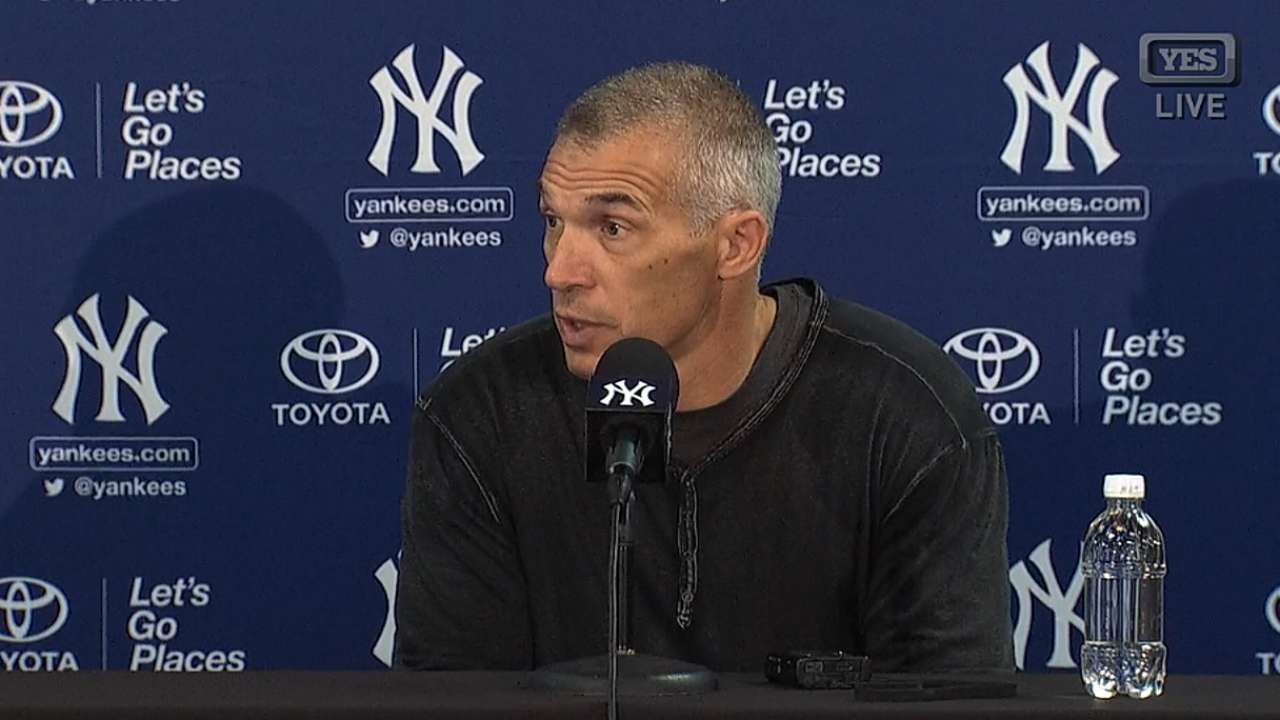 With Yankees manager Joe Girardi announcing on Tuesday that his plan is for Masahiro Tanaka to serve as the Opening Day starter, Michael Pineda and Sabathia stand as the other two rotation locks.
Sabathia said that he has high expectations in particular for Pineda, who set career highs in innings pitched (175 2/3), starts (32), strikeouts (207), losses (12) and home runs allowed (27) last year.
"Big Mike, I always come in to Spring Training and say this is the year he's going to win the Cy Young [Award]," Sabathia said. "He's just got so much talent and he just needs to put it all together, but he's right there."
Bryan Hoch has covered the Yankees for MLB.com since 2007. Follow him on Twitter @bryanhoch and on Facebook. This story was not subject to the approval of Major League Baseball or its clubs.