Hurdle: McCutchen to bat in usual lineup spot
BRADENTON, Fla. -- Andrew McCutchen will learn a new outfield position this spring, but his spot in the lineup will stay the same.
McCutchen will bat third this season, manager Clint Hurdle said Tuesday. Backed by supporting data and logical reasoning, the Bucs bumped McCutchen to the No. 2 spot last spring but eventually returned him to the three hole.
"We had that conversation as well. We like the men, the core group we have. We like the lineup," Hurdle said. "Looking at it, we had some guys fit into some spots last year. We've got some guys that I think can add value to the top of the order. We've got some guys that can hit in the middle of the order. We've got some guys that showed offensive initiative at the bottom of the order."
McCutchen hit .237 with a .718 OPS in 61 starts batting second last season. He batted .268 with a .799 OPS in 90 starts as the Pirates' No. 3 hitter. The Pirates moved him back to the third spot in mid-June. McCutchen accepted both moves and never attributed his prolonged slump, which he snapped in August, to his spot in the batting order.
Hurdle also spoke extensively with McCutchen, Starling Marte and Gregory Polanco before announcing the Pirates' outfield alignment. McCutchen will play right field for the first time, while Marte (center) and Polanco (left) have some experience at their new positions.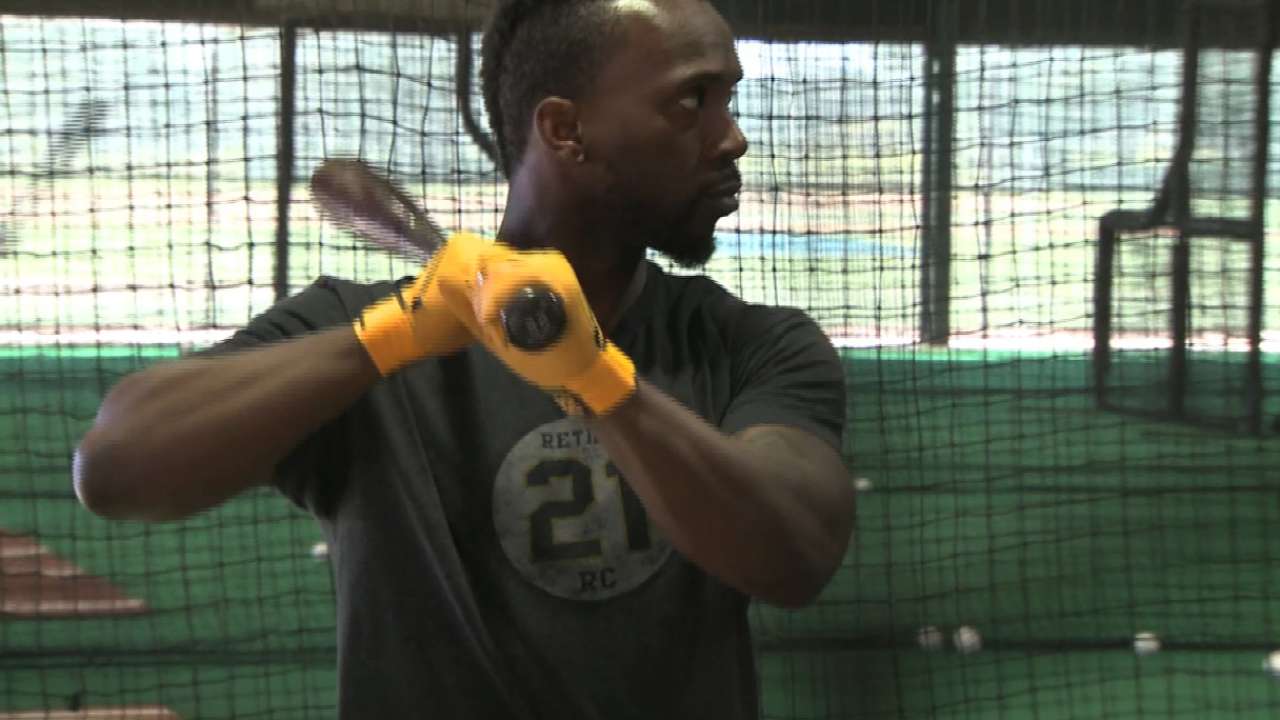 But McCutchen may not have played his last inning in center field. Hurdle left open the possibility that Pittsburgh's franchise player could move there if Marte is off or injured.
"Andrew feels very strongly that he can continue to play center field," Hurdle said. "Those opportunities can still be presented to him [if] Marte is not playing, Marte needs a day. He can slide over."
Classic outfielders
All three starting outfielders will participate in the upcoming World Baseball Classic, potentially taking them out of Pirates camp -- and away from each other -- for much of March. General manager Neal Huntington called the World Baseball Classic a "great experience for them" but admitted the obvious: Ideally, all three would have a full spring to work together.
It's unclear where McCutchen, Marte and Polanco will line up for their respective World Baseball Classic teams.
"We've made our suggestions," Hurdle said. "If it works out, great. If not, we're going to have opportunities to get them reps here."
Around the horn
• First baseman Josh Bell, recovering from knee surgery, did some cardiovascular exercise and took dry swings in the batting cage Tuesday.
• The Pirates lost another pitcher to the Reds via waivers. Cincinnati claimed right-hander Nefi Ogando off waivers Tuesday afternoon. The Bucs designated Ogando for assignment on Friday to make room for Phil Gosselin. The Reds on Monday claimed designated right-hander Lisalverto Bonilla off waivers from the Pirates.
• The first wave of Pirates pitchers threw in the bullpen Tuesday morning, and the highest-profile group came first: Ivan Nova, Gerrit Cole, Jameson Taillon and Tony Watson -- three-fifths of the rotation and the closer.
Some important #Pirates arms in the bullpen together -- Ivan Nova, Gerrit Cole, Jameson Taillon, Tony Watson pic.twitter.com/JiRctvYnbT

— Adam Berry (@adamdberry) February 14, 2017
More than half of the potential Opening Day bullpen came next: Jared Hughes, Daniel Hudson, Felipe Rivero and Antonio Bastardo. They were followed by Juan Nicasio, Chad Kuhl, Wade LeBlanc and Steven Brault. The foursome of Tyler Glasnow, A.J. Schugel, Drew Hutchison and Tyler Webb wrapped up the activity in the 'pen.
• Among the early arriving position players at Pirate City are Bell, Jordy Mercer, John Jaso, David Freese and Adam Frazier.
Adam Berry has covered the Pirates for MLB.com since 2015. Follow him on Twitter and Facebook, read his blog and listen to his podcast. This story was not subject to the approval of Major League Baseball or its clubs.