Schwarber to get time behind plate this spring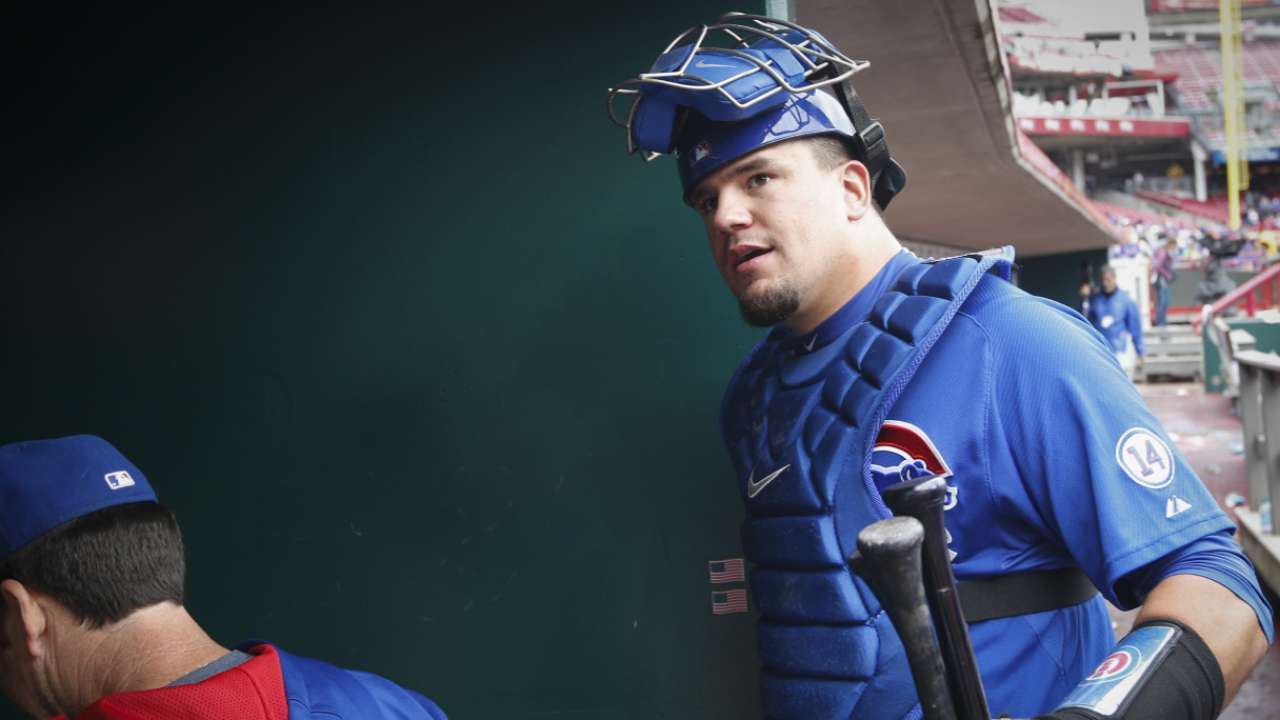 MESA, Ariz. -- Kyle Schwarber may have to wear a brace on his left knee for the rest of his baseball career, but that's not going to stop him from wanting to resume catching, and the Cubs will give him that opportunity this spring.
Schwarber, who tore the ACL and LCL in his left knee in the third regular-season game, was examined on Tuesday by the Cubs' medical staff and given the go-ahead to join the catchers in drills this spring.
"We're going to really go slow with it, like one or two days a week in Spring Training," Cubs president of baseball operations Theo Epstein said on Tuesday. "His primary focus will be left field. The goal, if he is cleared, is to have him ready potentially at the end of Spring Training to fill that role of third catcher."
• Spring Training: Information | Tickets | Schedule | Gear
Schwarber has spent the offseason at the Cubs' complex continuing his rehab from the injury, which he sustained in a freak collision with Dexter Fowler on April 7. Schwarber made a miraculous comeback and served as the designated hitter in the World Series, but he was not cleared to play the outfield at that time.
Despite missing the entire season, Schwarber went 7-for-17 in five World Series games, and his biggest hit was a leadoff single in the 10th inning of Game 7 against the Indians that resulted in the go-ahead run.
"His future is too valuable and we want him to have the longest possible career," Epstein said. "He makes such a great impact on us with his bat and with the person that he is that we don't want to do anything to jeopardize the length and impact of his career. We'll walk before we run -- or walk before we squat, I guess would be the appropriate thing to say, and really ease into it."
Schwarber does not go anywhere on the field without a brace on his left knee.
"I'll be wearing it all year," Schwarber said. "I'm sure I'll be wearing it for years down the road for safety precautions. ... I'm sure as I keep wearing it, it will be just another body part."
Schwarber also is certain he wants to catch again.
"If I can do it, I want to do it," Schwarber said on Tuesday. "I still have the passion for catching. If I can do it, I'd like to do it, but if it's not medically smart, don't risk it."
Coach Mike Borzello, who works with the catchers, has some creative ways to keep Schwarber involved but not necessarily put stress on the knee.
"[Schwarber] will be there thinking through the drills with the catchers, communicating with the catchers and being a catcher, but physically probably only doing it one or two days a week [in Spring Training]," Epstein said.
Willson Contreras enters 2017 as the regular catcher with veteran Miguel Montero as his backup. Schwarber could be a valuable third catcher.
"He's still coming off a really significant injury and we have to be careful with that," manager Joe Maddon said. "We'd like to see him play an entire season. It'd be nice to get a full season of Kyle Schwarber. That's the most important thing to get out of this."
Carrie Muskat has covered the Cubs since 1987, and for MLB.com since 2001. She writes a blog, Muskat Ramblings. You can follow her on Twitter @CarrieMuskat and listen to her podcast. This story was not subject to the approval of Major League Baseball or its clubs.