Astros report to new digs, lofty expectations
WEST PALM BEACH, Fla. -- While portions of the Astros' new Spring Training facility remain under construction, the overwhelming sentiment as pitchers and catchers reported on Tuesday was that the team occupying the space is built to win.
As construction workers bustled around the complex the Astros share with the Nationals, which is still under construction in many parts, players arrived amid expectations of an American League West title and more. The new-look Astros will hit the field for the first workout on Wednesday.
•Spring: Info | Tickets | Schedule | Gear
"It's hard not to love this place," manager A.J. Hinch said, standing on a turf agility field that glistened in the sun with the Astros' logo. "Obviously, there's going to be some odds and ends we've got to map out to finish, but to a man there's been so much excitement and when you walk, it's gorgeous. It's got everything you can think of. You come out there and the fields are ready for us to get after it. It's a wonderful new home."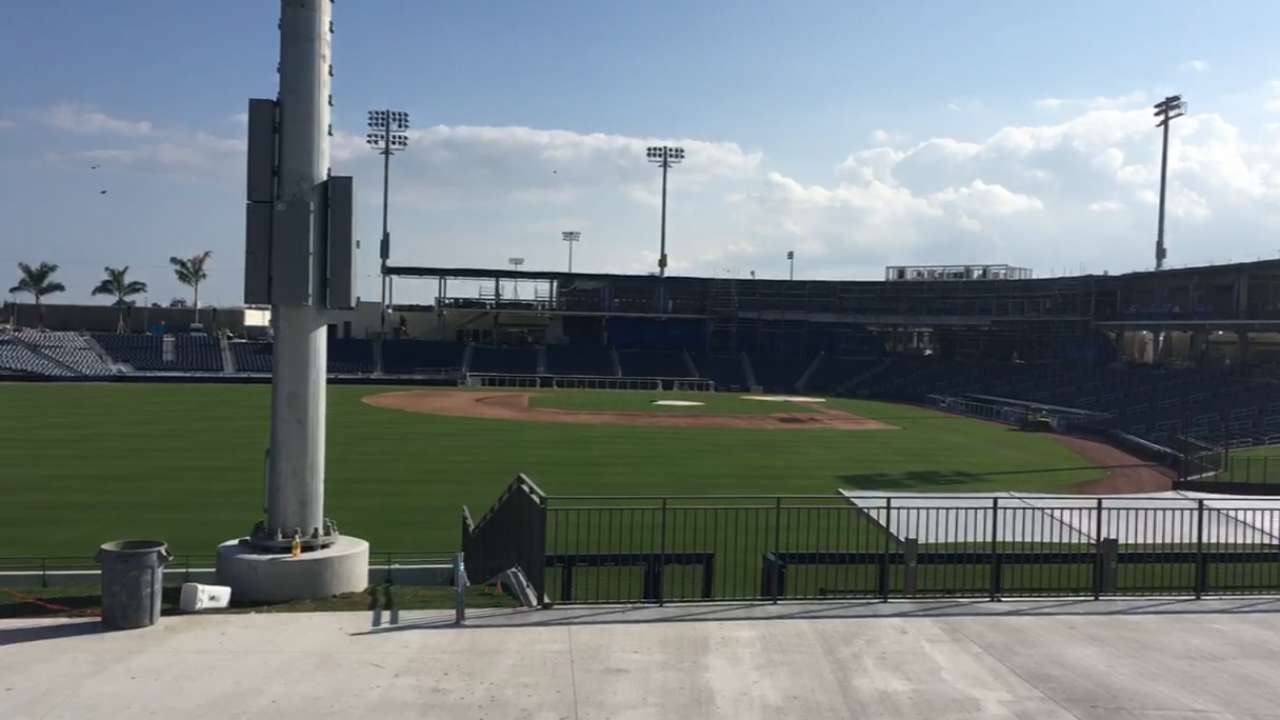 The players marveled at size of the clubhouse, as well as the expansive weight room and training room. The expectations for the Astros are big, as well, after acquiring outfielders Carlos Beltran, Josh Reddick and Norichika Aoki, catcher Brian McCann and pitcher Charlie Morton to add to their impressive young core.
"That's what you play for," said McCann, who waived a no-trade clause to come to the Astros in a trade with the Yankees. "You don't want to come into camp and not have expectations. You look around this locker room and all the guys are in the prime of their career. It's impressive, and it's exciting."
Closer Ken Giles said he was ready for Spring Training in November following the early offseason moves the Astros made to improve.
"It just shows they have a lot of faith in us," he said. "They see what we see, that we have potential to win. Just getting those extra guys for us shows potential and trust in us."
Hinch will address the team as a whole at some point this week and likely tell them to embrace the expectations that have been placed on them.
Practice field at @BPPalmBeaches is ready to go! #AstrosST pic.twitter.com/yToa00tTjR

- Houston Astros (@astros) February 14, 2017
"We want to be good, we want to be elite," he said. "We've got to prepare like it. We've got to be ready to answer these questions because nowadays, more than ever before, there's this interest in setting expectations for every team. It doesn't get us anything. It doesn't mean we've won any more games or accomplished anything, but we're going to embrace the fact we have a good team. We're going to go out and earn it and prove we're worthy of it."
Pitchers and catchers weren't the only players to arrive on Tuesday. Aoki, third baseman Alex Bregman, infielders Colin Moran, A.J. Reed, Reid Brignac and J.D. Davis and outfielders Tony Kemp and Derek Fisher were among those who reported early. Hinch and general manager Jeff Luhnow led a staff meeting in the afternoon, and players will undergo physicals Wednesday morning.
"This has been such an extraordinary effort getting this complex built in the time that it was built," Luhnow said. "The facility is fantastic. This is player-centric facility, fan-centric facility. It's really going to allow us to do our work and to let our players do their stuff and our fans to experience Spring Training the way it's supposed to be."
Brian McTaggart has covered the Astros since 2004, and for MLB.com since 2009. Follow @brianmctaggart on Twitter and listen to his podcast. This story was not subject to the approval of Major League Baseball or its clubs.