Girardi compares youth to beginning of dynasty
With many established vets gone, competition will heat up this spring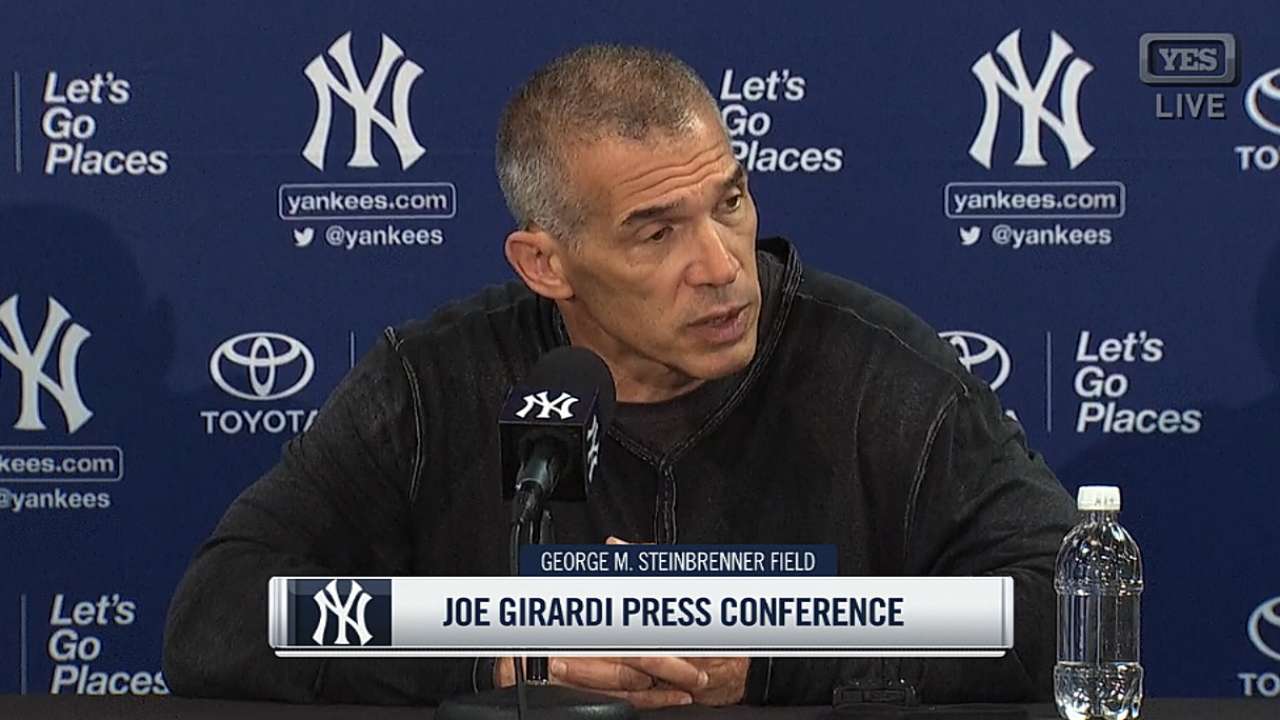 TAMPA, Fla. -- As he begins his 10th season as the Yankees' manager, Joe Girardi has grown accustomed to peeking around his office doorway to see a parade of established stars walking past, marching toward their round numbers and compelling cases for enshrinement in Cooperstown.
It does feel different now, as he surveys a crowd of fresh faces who were probably asking their parents for Beanie Babies, Nintendo 64s and Tickle Me Elmos back in the summer of 1996. Yet Girardi can't help but recall the dawn of that dynasty, when he was busy taking over as the Yanks' starting catcher.
"We haven't been this young in a long time, probably not since maybe 1996," Girardi said. "It was a great mixture of youth and veteran players and guys that had a significant impact, guys that the fans recognized when they came up as homegrown and fell in love with players who did wonderful things. I think it's going to be a very exciting year."
• Spring Training: Info | Tickets | Schedule | Gear
As the Yankees look to improve upon last year's 84-win showing, Girardi predicts there will be more competition than usual. There are significant battles at first base, right field, the rotation and the bullpen, where players with relatively short big league resumes have legitimate chances to make an impact.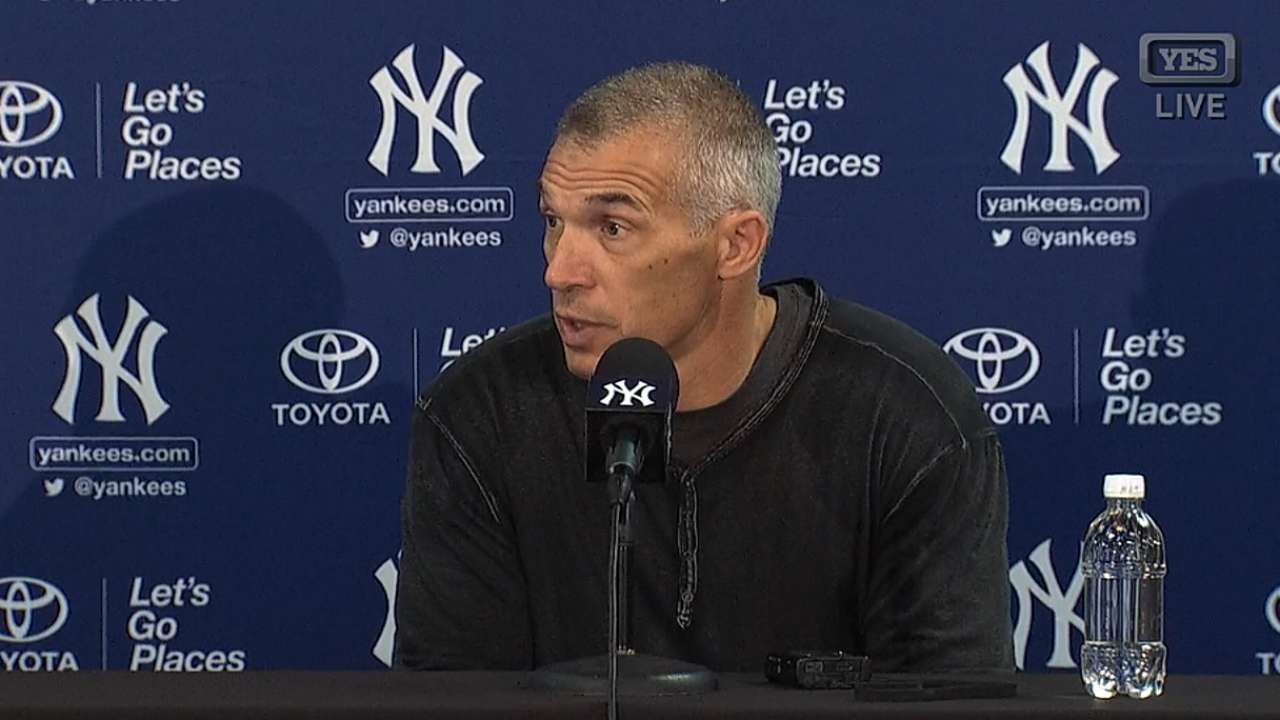 "Gary Sanchez was as good as you could be for two months," Girardi said. "Greg Bird played extremely well [in 2015]. We had Tyler Austin come up and do some big things for us, some big hits. Aaron Judge provided some excitement for us as a young player.
"You look at what [Luis] Cessa and [Chad] Green did. [Luis Severino] is a guy that we believe in a lot and we still envision him as a starter, but he did some really good things when he came out of the 'pen for us. I'm optimistic, because I think there's a good mixture and there's a lot of talent in that room."
The Yankees' recent signing of Chris Carter to a one-year, $3.5 million deal will impact the first-base competition, where Bird and Austin had been set to face off. Girardi applauded the move to add the right-handed Carter, who tied for the National League lead with 41 homers last year (but also 206 strikeouts) with the Brewers.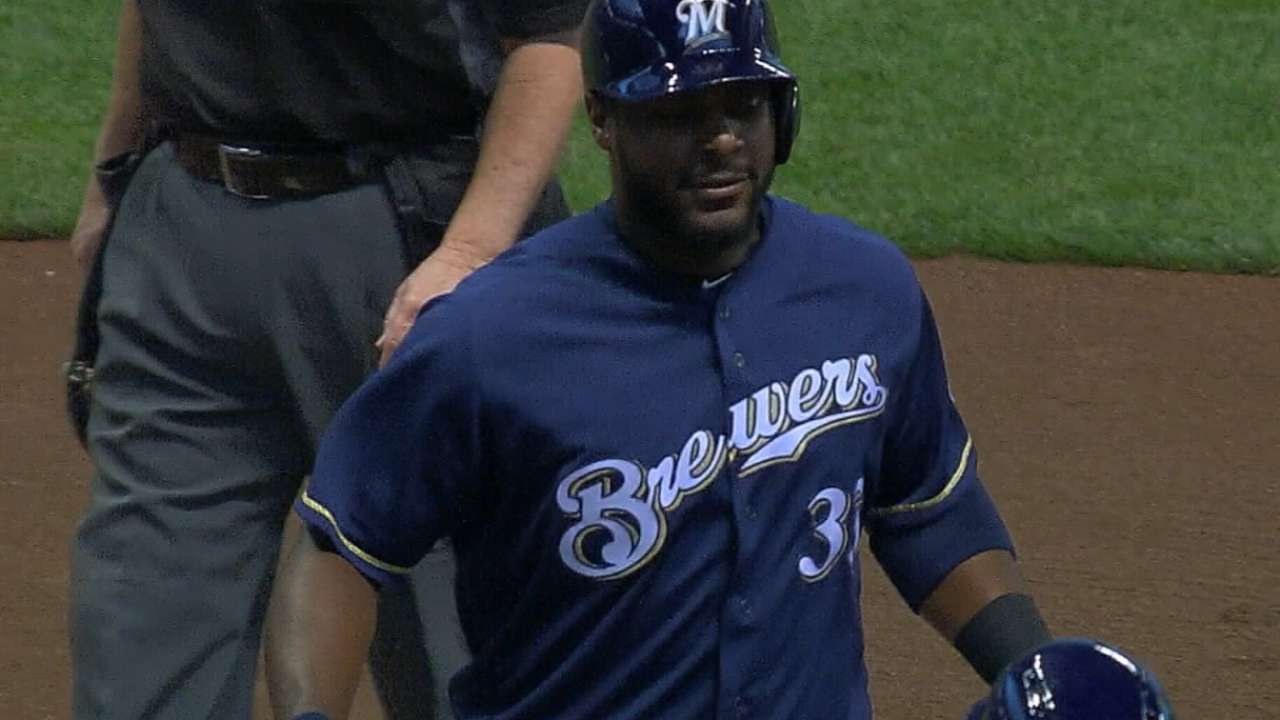 "Here's a guy that has big power and has RBI potential and is very good in the clubhouse," Girardi said. "We look at his role; it could go a couple of different ways. It's hard to turn down a guy that hits 40-plus home runs."
The signings of Aroldis Chapman (five years, $86 million) and Matt Holliday (one year, $13 million) headlined the winter for the Yanks, who witnessed the departures of veterans such as Alex Rodriguez, Mark Teixeira, Carlos Beltran, Andrew Miller and Brian McCann over the past several months.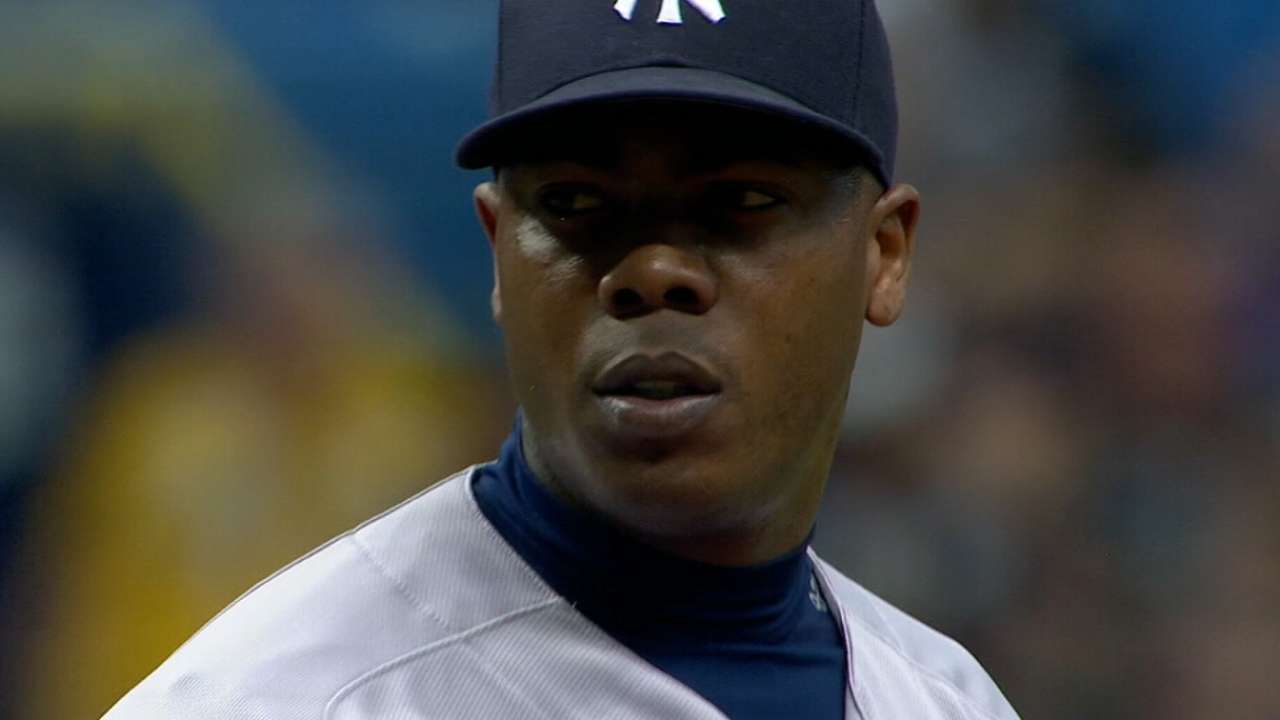 Even so, Girardi believes that these Yankees feature enough leadership to steer the youngsters in the proper direction, with the same expectations that he and his teammates held while introducing the likes of Derek Jeter, Mariano Rivera and Jorge Posada to New York's bright lights.
"You have some leaders in that clubhouse like the '96 team did," Girardi said. "There were new faces sprinkled in and there were young players and there was more talent that was coming. It was kind of the year that Jeter and Mo burst onto the scene, but Mr. Posada was coming and started to become a huge impact in '97. And I feel that's kind of what we have here."
Maybe that is why, as he and general manager Brian Cashman both enter their final seasons under contract, Girardi does not seem concerned about the future.
"It doesn't really impact me," Girardi said. "I'm going to go do my job the same way and the way that I believe is for me the right way to do it. I won't seek any clarity. They have not extended managers as long as I can remember during the course of a season, so I'll just go do my job."
Bryan Hoch has covered the Yankees for MLB.com since 2007. Follow him on Twitter @bryanhoch and on Facebook. This story was not subject to the approval of Major League Baseball or its clubs.