Lewis says farewell to Rangers organization
Veteran right-hander resurrected career with team, not ready to officially retire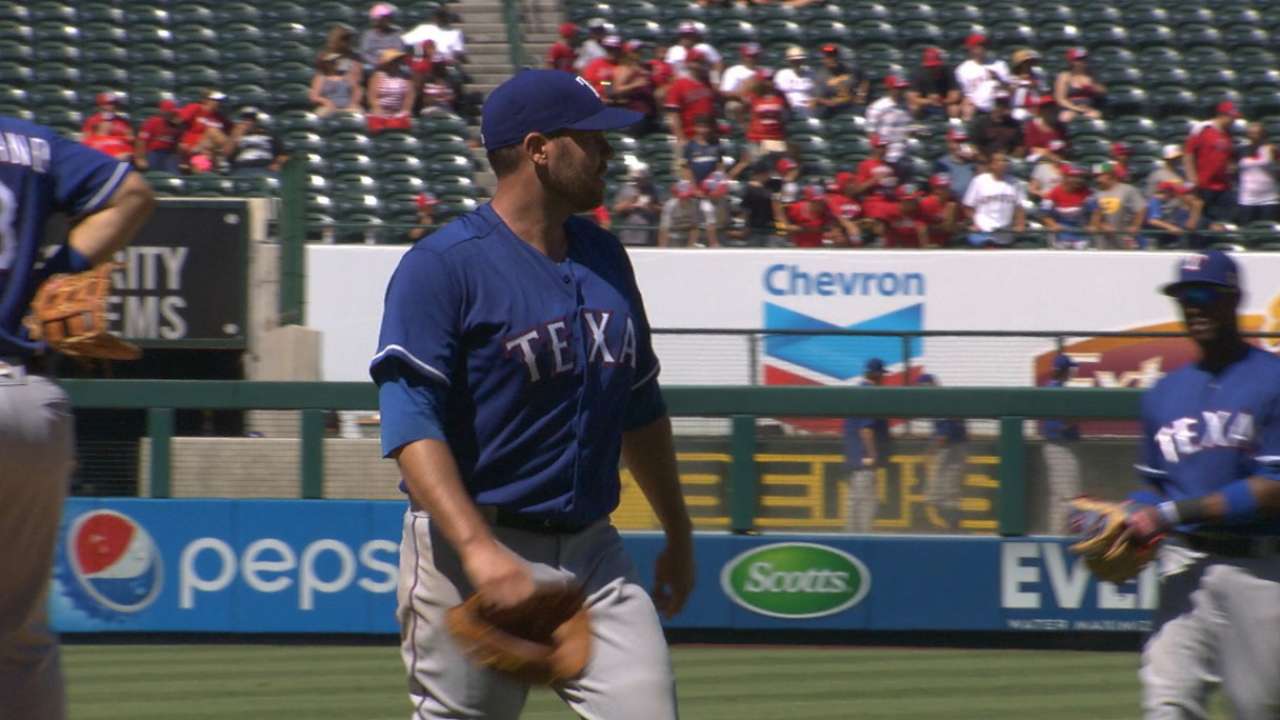 SURPRISE, Ariz. -- Colby Lewis had a remarkable run with the Rangers, but it is officially over. Lewis is not ready to retire, but he acknowledged on Tuesday he is not returning to the Rangers.
Rangers pitchers and catchers reported to Spring Training on Tuesday, and Lewis was not among them for the first time in eight years. He remains a free agent and may pitch again under the right circumstances.
It just won't be with the Rangers, who passed on Lewis to sign free-agent starters Andrew Cashner and Tyson Ross.
• Spring Training: Info | Tickets | Schedule | Gear
"Saying goodbye after all this time seems an impossible task," Lewis said in a statement he released on Tuesday. "I'm filled with so many emotions. Texas has turned into our second home and the people we have met over here have turned from friends to family. But goodbyes are inevitable and this is mine."
Lewis' absence from the Rangers ends a remarkable story for a former first-round Draft pick in 1999 who seemed headed for oblivion until he resurrected his career in 2008-09 while pitching for the Hiroshima Carp in Japan.
The Rangers signed Lewis in 2010 and he helped them go to two straight World Series. He was a combined 4-1 with a 2.34 ERA in eight postseason starts in 2010-11, including two victories over the Yankees in the 2010 American League Championship Series.
Lewis spent five more years with the Rangers, battling through an incredible list of medical issues. He had surgery to repair a flexor tendon, his right hip and his left knee over those five years, and he became known as the bionic pitcher. But Lewis still made 97 starts in those five seasons and was 39-34 with a 4.41 ERA. He won a career-high 17 games in 2015.
"I am forever grateful to the Texas Rangers organization, the best ownership and management in Major League Baseball," Lewis said. "They helped make my baseball dreams come true. I pitched in two World Series with the uniform I love on my back. I have had some of the most loyal teammates that always picked me up every time I fell.
"The staff, the employees and reporters became friendly faces each time I showed up at work. Rangers fans, thank you as well, y'all are the best, simply the best."
Lewis was a part of the 2011 starting rotation that was one of the best in Rangers history. Lewis, Matt Harrison, Alexi Ogando, Derek Holland and C.J. Wilson made 157 of 162 starts for a rotation that was 74-40 with a 3.65 ERA.
All five have quietly departed the organization one by one over the past few years.
Harrison is retired and Wilson appears to have done the same. Holland was cut loose this offseason and has signed with the White Sox. Ogando is pitching in Korea.
Now Lewis is no longer with the Rangers.
"Just saying thank you doesn't seem adequate but thank you," Lewis said. "From my family and me, thank you for the countless memories, unbelievable heights reached and for making me feel like I will always have a home in Texas."
T.R. Sullivan has covered the Rangers since 1989, and for MLB.com since 2006. Follow him on Twitter @Sullivan_Ranger and listen to his podcast. This story was not subject to the approval of Major League Baseball or its clubs.