Castro hopes offseason work pays off in spring
Right-hander was shut down last August due to shoulder soreness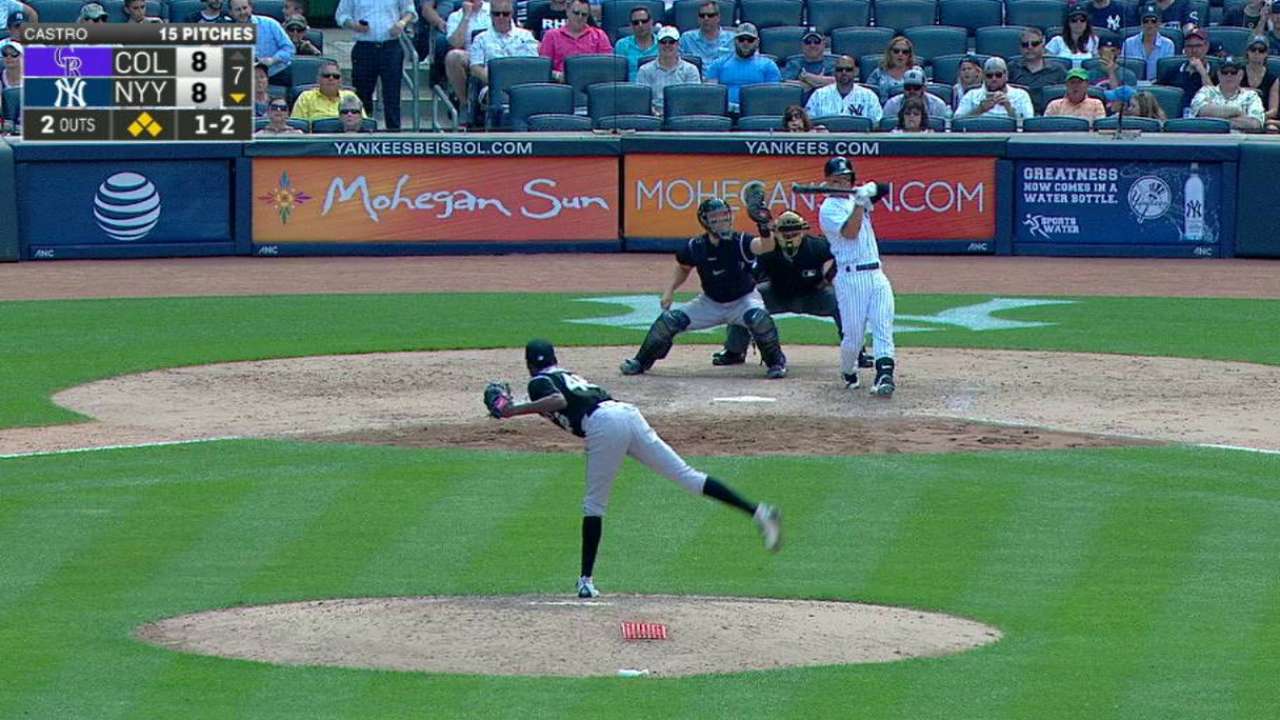 SCOTTSDALE, Ariz. -- Last April 17, right-hander Miguel Castro left the Rockies intrigued when he entered the eighth inning with a one-run lead against the eventual World Series champion Cubs at Wrigley Field, setting them down on 10 pitches and no problems.
Maybe the follow-up act will come this spring.
The lights-out performance, when he struck out one and forced two weak grounders, was the high point for Castro in 2016. When the team arrived in Cincinnati to continue the road trip, Castro's right shoulder was sore. After a month on the disabled list, he returned for 13 appearances before being optioned to Triple-A Albuquerque, where he would pitch just 11 more times before being shut down after Aug. 8.
The Rockies hope it was just a case of having to learn and grow. Castro, acquired in the deal that sent shortstop Troy Tulowitzki to the Blue Jays in 2015, turned 22 on Christmas Eve. After an offseason of controlled workouts and education about how to handle big league rigors, Castro hopes to prove his talented arm is mature enough to thrive amid the pressure of the Major League season.
Castro was talented enough to open the 2015 season as the Blue Jays' closer, but his inexperience led to him being sent down to the Minors. After stints with the Rockies in 2015 after the trade and last season, he comes to this year's spring camp to compete for a spot in the bullpen.
"After the season ended, I went out to the Dominican at the complex and was working with the trainers, and they created a plan for me," Castro said through an interpreter. "I finished the plan in December, then came out here, and I've been training and working to make it stronger."
The Rockies' bullpen won't be too dependent on Castro to start the season because of the late-game experience of pitchers like Greg Holland, Mike Dunn, Adam Ottavino and Jake McGee. Castro is also heading into his final season of Minor League options.
• Ottavino confident for strong 2017 in bullpen
But the Rockies certainly don't mind a young pitcher forcing his way onto the team.
"He's down here in Scottsdale now working hard," Rockies pitching coach Steve Foster said. "He's very young and got to the big leagues very fast in his career. The stuff is terrific. He is still in the process of learning how to use his weapons.
"He's a tireless worker. The sky is the limit. He needs to stay healthy."
Castro said, "I learned from the experience, and I learned how to prepare myself and pitch well."
Oberg healthy: Right-hander Scott Oberg bounced between the Rockies (1-1, one save, 5.19 ERA) and Albuquerque last year, and he seemed to be progressing when he was diagnosed with blood clots in his right forearm. The condition led to a pair of surgeries, but he is healthy enough to compete for a job and has no concerns about complications.
"We did some further follow-up testing to see if it's anything that could possibly be genetic, but all those tests came back negative," said Oberg, who said the clot originated near the shoulder but traveled down the arm rather than dangerously toward his lungs. "All systems go."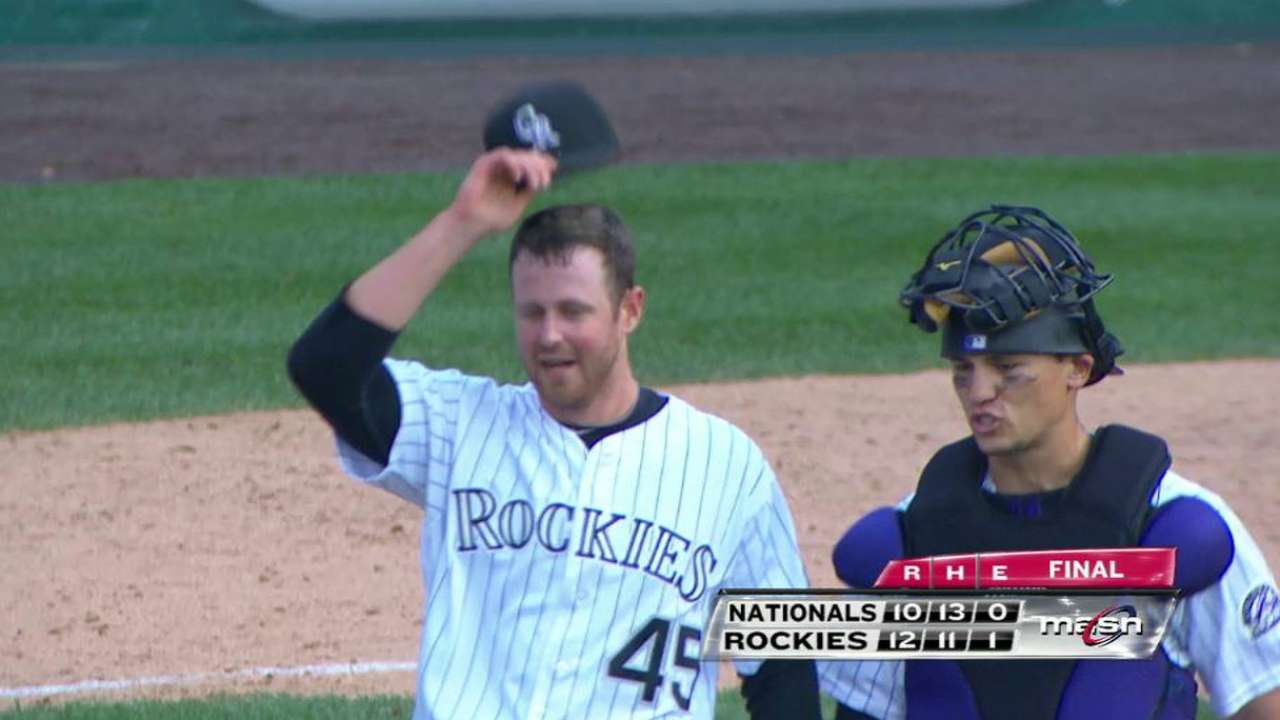 Oberg, who has another year of Minor League options, had a 2.25 ERA with a .133 batting average against in his five appearances before the clot was discovered.
Taking the proper steps with Diaz: Right-hander Jairo Diaz displayed a 97-mph fastball in 2014 with the Angels and '15 with the Rockies before missing last season after undergoing Tommy John surgery last March.
Although he has been throwing since the winter in the Dominican Republic, expect the Rockies to be careful with him this spring. But by May or whenever he is ready, he could prove to be another option for the club's bullpen with a power arm.
"Diaz is a pitcher we'll monitor to continue his progress," Rockies manager Bud Black said. "He is doing very well, and his arm feels great."
Thomas Harding has covered the Rockies since 2000, and for MLB.com since 2002. Follow him on Twitter @harding_at_mlb, listen to podcasts and like his Facebook page. This story was not subject to the approval of Major League Baseball or its clubs.