MLB Network looks at World Baseball Classic roots
The fourth edition of the World Baseball Classic is less than a month away, with competition set to begin in Seoul, South Korea, on March 6. The competition is loaded this time around, as many of the world's best players are set to participate alongside their countrymen in the 16-team, one-of-a-kind international tournament.
Sixty-three Major League All-Stars will headline a group of hundreds of big leaguers participating in the event, which has only grown since its inception in 2006. After beginning as little more than a grand experiment, the World Baseball Classic proved, rather quickly, the existence of a significant global appetite for baseball, and that it could blossom into the world's premiere international baseball event.
That's exactly what it's done over the last 11 years, and fans looking to relive some of that history can do exactly that today at 9 p.m. ET on MLB Network with the airing of The 2006 World Baseball Classic, A Classic Beginning.
For a full hour, MLB Network Presents will take viewers through the decade-plus history of the World Baseball Classic, starting with its 2005 inception and chronicling the first three tournaments. Narrated by Bob Costas, the program features interviews with MLB insiders, executives and players, including 2017 participants Francisco Lindor, Jose Altuve and Chris Archer, who offer commentary on the pride they get playing for their home countries.
"To represent and make my country proud," Altuve, who will play for Venezuela, says. "The meaning of wearing that jersey, it's like another dream come true."
"I don't know of anybody who doesn't get excited when country plays against country," MLB chief baseball officer Joe Torre says. "There's a pride factor that you really can't explain. It's just something that takes precedence over anything else."
• World Baseball Classic tickets
The program also focuses heavily on the World Baseball Classic's inaugural event, the history behind it, the seismic effect it had on the international baseball community, and how severely it shaped the Major League landscape in the years that followed.
"That first tournament showed this is a viable event," MLB Network insider Ken Rosenthal said. "That legitimacy was necessary, it showed people that this was not a one-time, goofy event. It was a serious event with great stakes."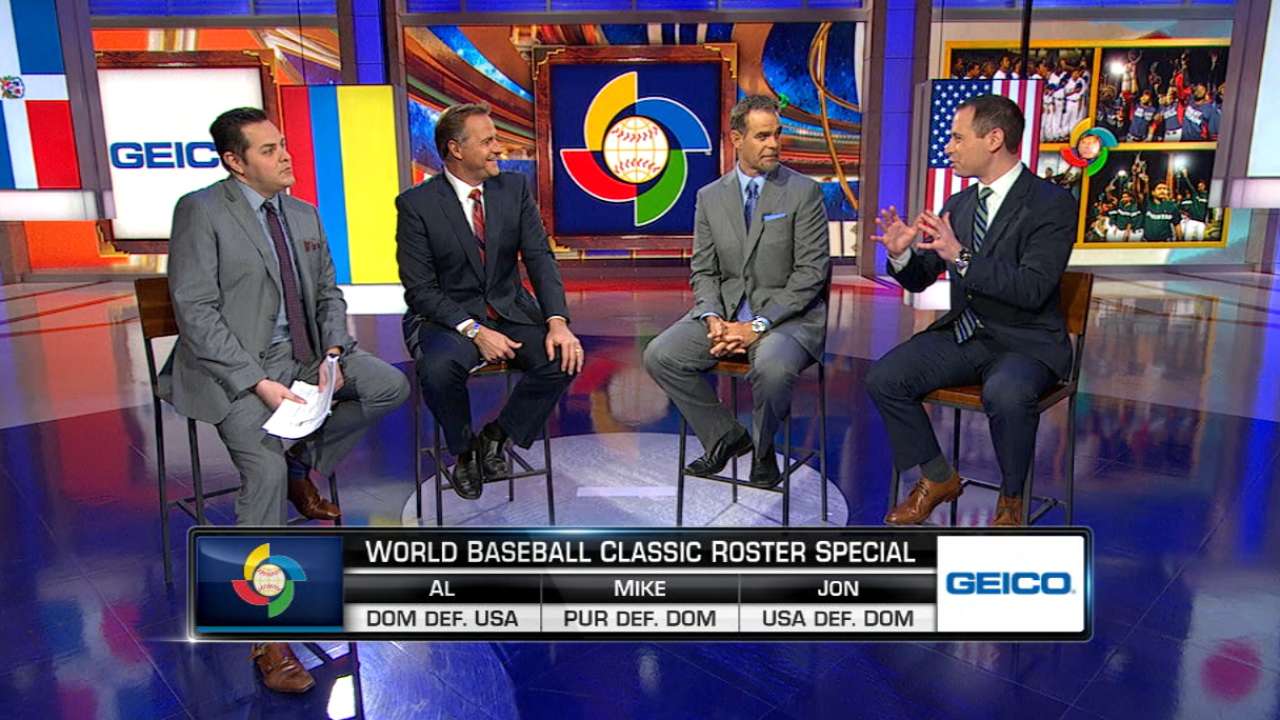 The program will also answer many questions about the World Baseball Classic.
What were the major challenges the organizers faced in getting the World Baseball Classic off the ground? What were the payoffs for champion teams Japan, which won the first two competitions, and the Dominican Republic, which took home the crown in 2013? Which little-known players parlayed international success into productive Major League careers?
And which country is likely to raise the banner this year?
Joe Trezza is a reporter for MLB.com based in New York. Follow him on Twitter at @joetrezz. This story was not subject to the approval of Major League Baseball or its clubs.