Austin, Judge eyeing first Opening Day roster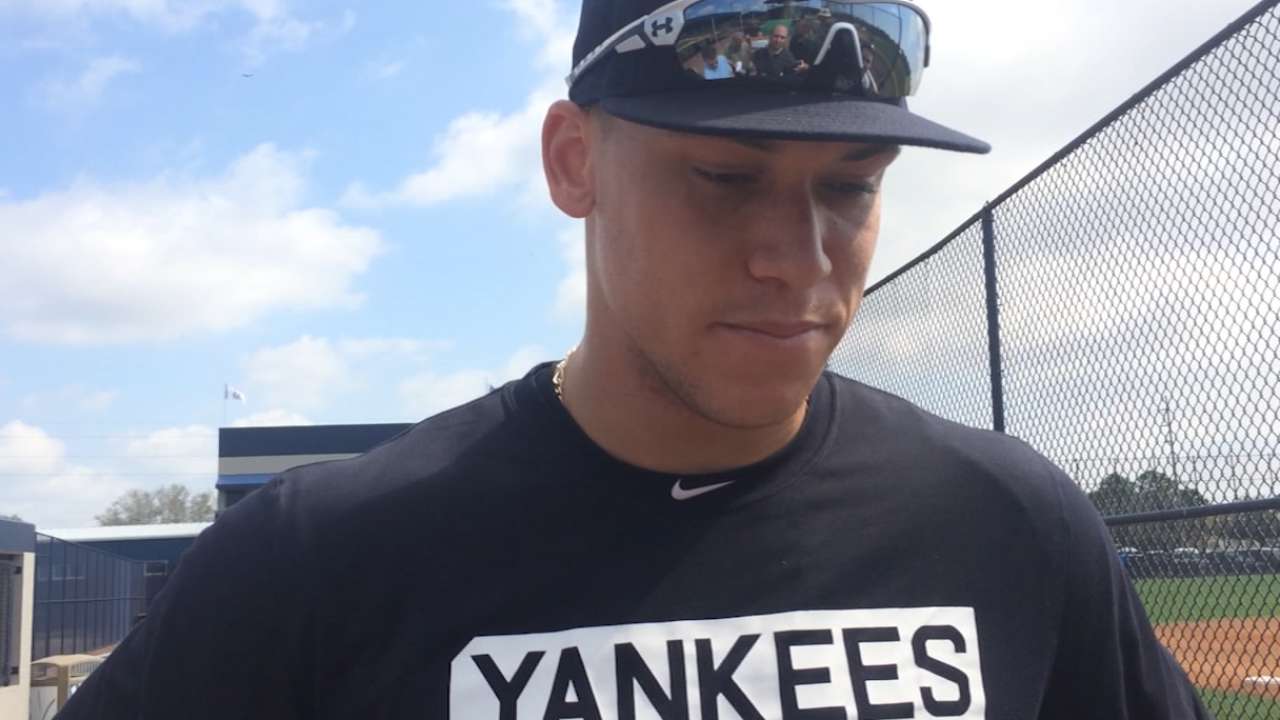 TAMPA, Fla. -- Tyler Austin and Aaron Judge will forever be linked by one of the most remarkable moments in Major League history, as the Yankees rookies launched back-to-back homers last Aug. 13, becoming the first pair of teammates ever to homer in the first at-bats of their careers.
Now, the slugging duo must focus on making their first Opening Day rosters, needing to assemble strong springs to win battles at their respective positions. Judge, ranked No. 45 on MLB Pipeline's Top 100 Prospects list, is competing with Aaron Hicks for starting duties in right field, while Austin is up against Greg Bird and Chris Carter to grab reps at first base.
"I kind of feel like an underdog. I'm trying to go in there and take a job," Judge said. "I was up in the big leagues for a month and I got hurt, so I'm trying to go out there and prove something. I want that spot."
• Spring Training: Info | Tickets | Schedule | Gear
Judge's first taste of big league duty produced four homers and 10 RBIs in 27 games, but also a .179 batting average, as he struck out in 42 of 84 at-bats before sustaining a right oblique strain in mid-September.
"For me, it was kind of like a practice test coming into this year," Judge said. "You've got a chance to see what the league's about, get used to the travel, get used to the stadium, get used to playing in front of 40,000 people at Yankee Stadium. It's a dream come true."
Though hitting coach Alan Cockrell has talked about having Judge simplify his lower half, Judge said on Monday that he still plans to use a high kick when batting in games. He has scrapped it early in some batting-practice sessions in order to warm up and focus on repeating his swing.
"I've just got to keep working," Judge said. "My first year in Triple-A, I think I batted around .220 [.224]. It's just getting a chance to go back there. Learn the league, learn the players and just keep working on making adjustments."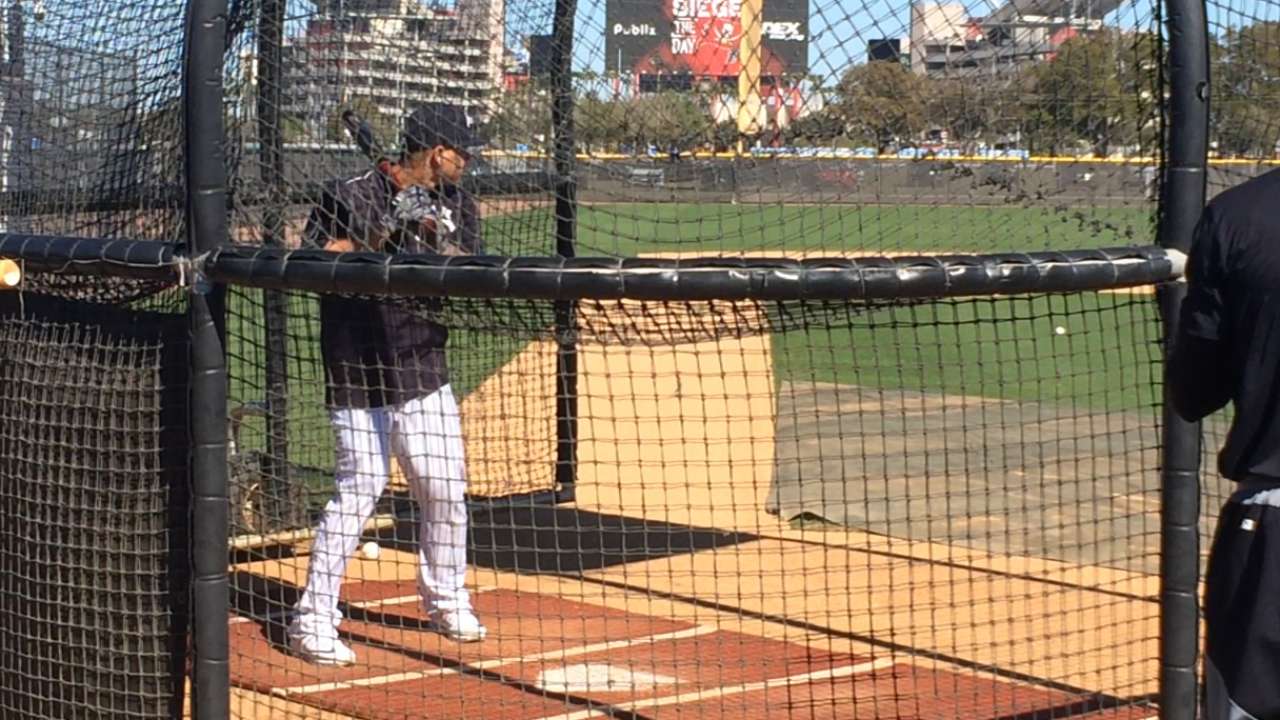 While some observers believe Judge has a leg up on Hicks -- Hal Steinbrenner said that he expects Judge to win the right-field job, and the Yankees managing general partner seems like a good person to have in your corner -- Austin's fight to start the year in New York just grew more complicated.
Austin said that he was fishing in a canal adjacent to his Tampa apartment complex when his cell phone buzzed with breaking news that the Yankees had signed Carter to a one-year, $3.5 million deal. Austin said that his response was to shrug and cast his line back in the water.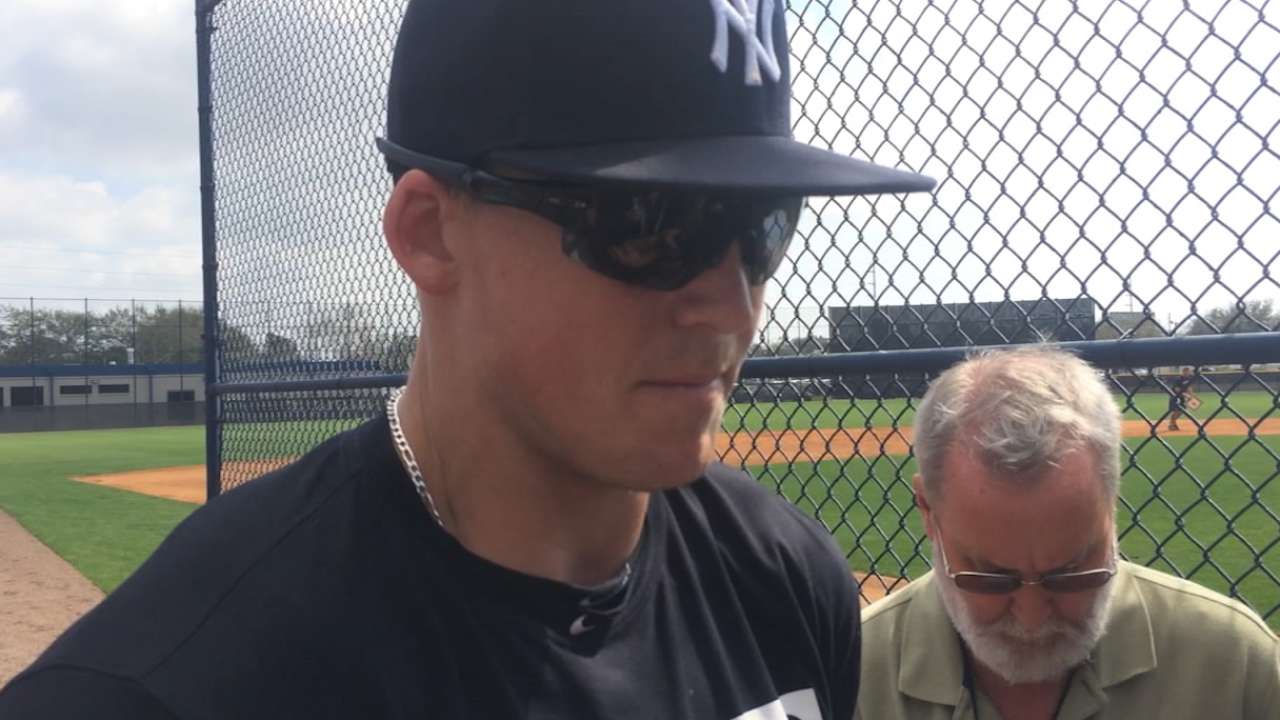 "I'm not thinking about it at all, to be honest with you," Austin said. "He's going to help the team, and I'm going to go into spring and try to do everything I can to make the team and help the team win."
Despite not being invited to big league camp, a terrific showing at Triple-A Scranton/Wilkes-Barre helped Austin make it to the Show last year, where he hit .241 with five homers and 12 RBIs in 31 games while making 20 starts at first base and two in right field.
The addition of Carter, whose 41 homers in 2016 tied the Rockies' Nolan Arenado for the National League lead, seemed to erase an avenue to make the club in which Austin would have served as the right-handed-hitting part of a first-base platoon with Bird.
In response, Austin said that he has been working out at third base and left field; Austin played third base in 2011, his first pro season, before moving to right field. Though Austin has two Minor League options remaining, he's hoping to give the Yankees a reason not to use them.
"I'm just going to go in and try to have fun," Austin said. "I'm not going to worry about what I can't control. Just go out and play the game the way I know how to play it and enjoy it, because this is a big opportunity."
Bryan Hoch has covered the Yankees for MLB.com since 2007. Follow him on Twitter @bryanhoch and on Facebook. This story was not subject to the approval of Major League Baseball or its clubs.