New faces shake up Rockies' jersey numbers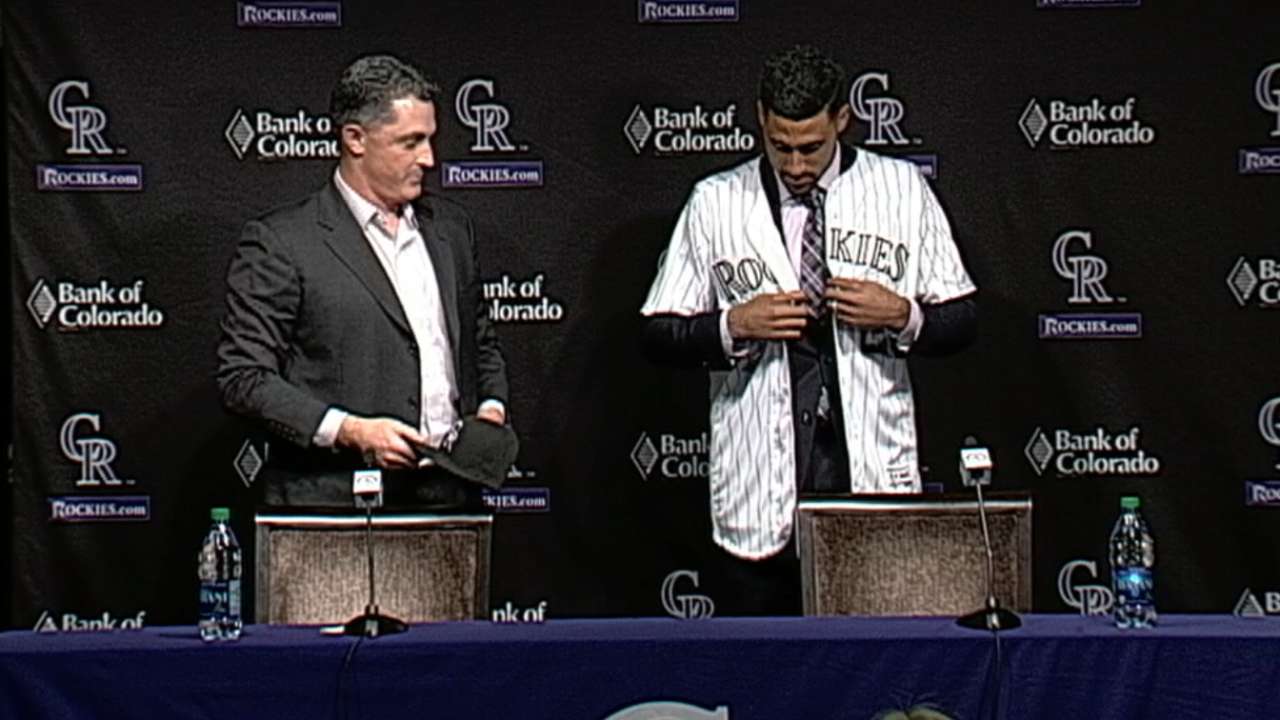 SCOTTSDALE, Ariz. -- Good news for Rockies fans who still have No. 2 jerseys and want to look up-to-date: You have someone to cheer for, although you need a little shorter nameplate.
For the first time since shortstop Troy Tulowitzki was traded to Toronto in 2015, Colorado will have a No. 2 -- Alexi Amarista, who signed as a utility player in January.
The Rockies' numerical roster went through a number of adjustments this winter, even before any games were played.
• It started Nov. 20, when they named Bud Black as manager and introduced him in a No. 20 jersey. He barely had time to get used to it before it was gone.
That's because on Dec. 13, the club had a press conference for new first baseman Ian Desmond, and suddenly he was wearing No. 20. He gets to keep it, while Black drops to No. 10.
• Outfielder/first baseman Jordan Patterson debuted in the Majors last season wearing No. 10, but the manager has it now. Patterson goes to No. 72.
• When newly signed right-handed reliever Greg Holland met the media at Coors Field for the first time on Jan. 28, he donned a No. 56 jersey. During interviews and while meeting with fans that day, Rockies pitching coach Steve Foster, who wore it last year, was still wearing that number.
Holland joked that he knew he'd have to pay off his old mentor, but he hoped it wouldn't cost him a Harley. Foster smiled and said, "He knows I like bow hunting."
Happy hunting for Foster, now No. 36.
• Remember all those cool videos of non-roster invitee Chris Denorfia, a veteran outfielder, demonstrating the gymnastics-based workout he used in lieu of heavy weightlifting? Well, they showed his number on his Instagram account, @CDenorfia15. He doesn't have to change it, since he was issued No. 15.
• Middle infield numbers rarely climb above 50. Even 30s tend to be high, although the Giants' Brandon Crawford (35) is an execption. But Pat Valaika debuted in the Majors wearing No. 74, and he'll keep it this spring.
• Lanky outfield prospect Raimel Tapia (No. 4 in the Rockies' organization, according to MLB Pipeline) noted last year that he prefers No. 15 if available, but Denorfia's seniority rules. Tapia will remain in No. 68, which he wore when he debuted in the Majors last year.
• Prospect Tapia impresses Rockies
• No drama was involved in newly signed lefty Mike Dunn's choice of No. 38.
• Hall of Fame candidate Larry Walker's No. 33 is not used. Since Walker was traded to the Cardinals in 2004, the only time it has been worn during the regular season was '14-15. Fellow Canadian Justin Morneau wore it, with Walker's blessing.
First baseman Todd Helton's No. 17 is the only one retired for a Rockies player.
Thomas Harding has covered the Rockies since 2000, and for MLB.com since 2002. Follow him on Twitter @harding_at_mlb, listen to podcasts and like his Facebook page. This story was not subject to the approval of Major League Baseball or its clubs.