Padres face many options for roster spots
Battles at second, rotation offer numerous possibilities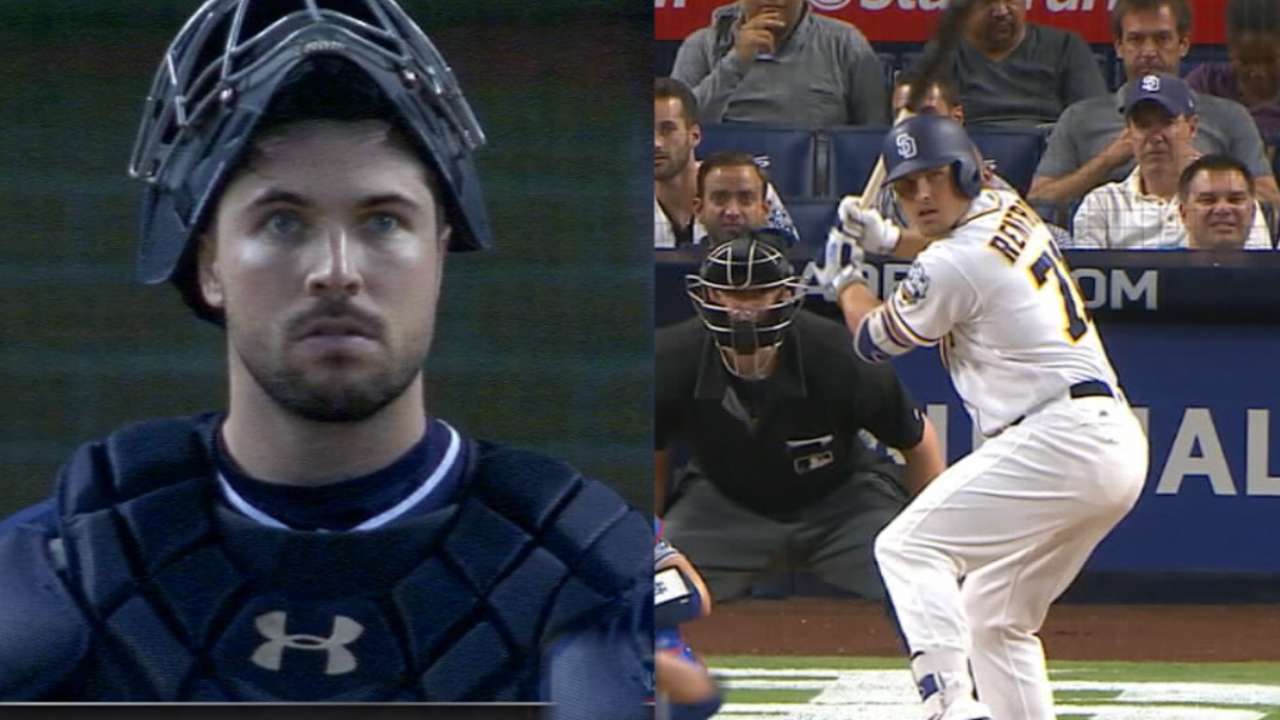 With Spring Training fast approaching, MLB.com takes a look at a different aspect of this year's Padres squad each day this week. Today's topic: Predicting the 25-man roster.
SAN DIEGO -- With three Rule 5 Draft picks, an intense competition at second base and nine pitchers fighting for the rotation, the Padres have a fun game of roster math on their hands entering Spring Training.
Manager Andy Green and general manager A.J. Preller will spend most of camp trying to whittle their squad to 25.
Here's a breakdown of how that might shake out:
Catcher (3): Austin Hedges, Christian Bethancourt, Luis Torrens
When the Padres dealt Derek Norris in December, they handed Hedges the keys as the No. 1 backstop. Behind him on the depth chart, things get tricky. Bethancourt will be Hedges' primary backup, but the Padres are also experimenting with him as an outfielder and an emergency reliever. In December, they traded prospect Josh VanMeter to Cincinnati for the rights to acquire Torrens in the Rule 5 Draft. Bethancourt and Torrens could make the club -- and Bethancourt's versatility is a big reason why.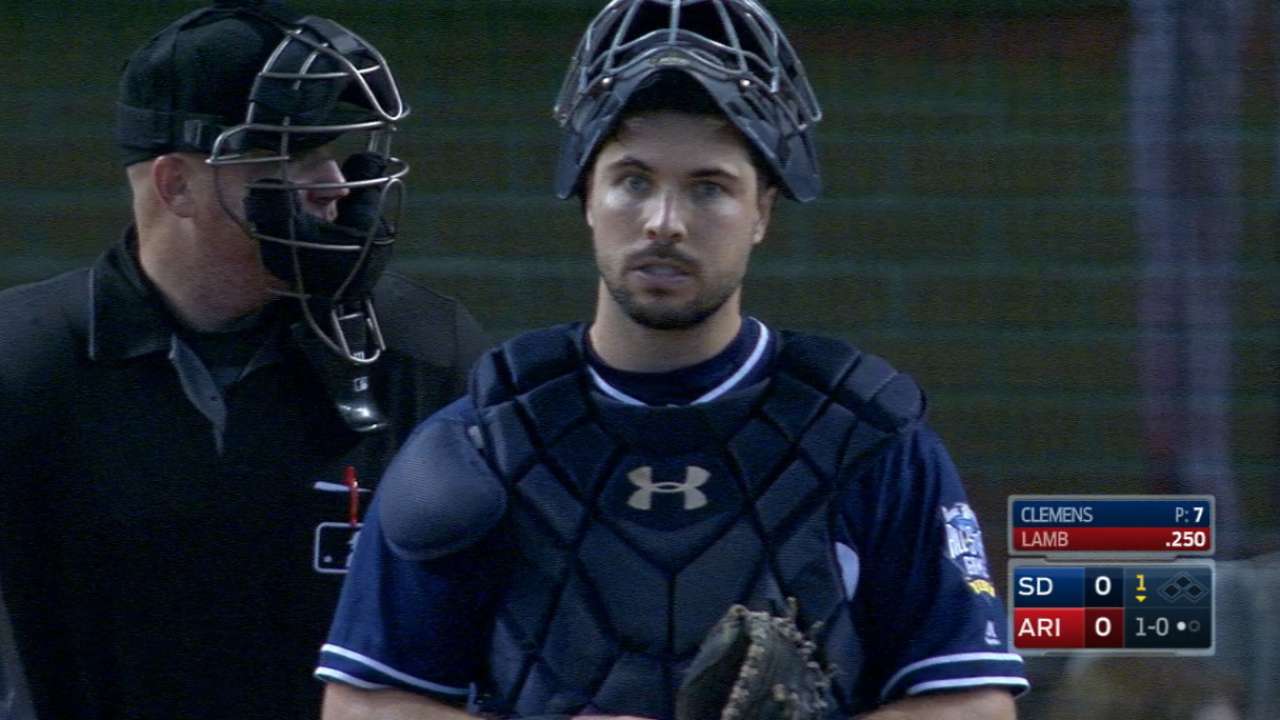 First base (1): Wil Myers
Myers has the starting first-base job locked down for the foreseeable future in San Diego. He inked a six-year contract extension during the offseason, with a club option for 2023. The Padres expect big things from Myers on both sides of the ball. Third baseman Yangervis Solarte will serve as Myers' backup.
Second base (2): Cory Spangenberg, Ryan Schimpf
It's a two-way battle for the starting role between Spangenberg and Schimpf. Spangenberg had the job last year, before suffering a torn left quadriceps muscle in April. Schimpf would later burst onto the scene after his June callup, batting .217/.336/.533 with 20 homers in 89 games. Right now, the race is too close to call with Schimpf as a slight favorite. But whoever misses out will serve as the primary backup at second and third.
• Around the Horn: Second base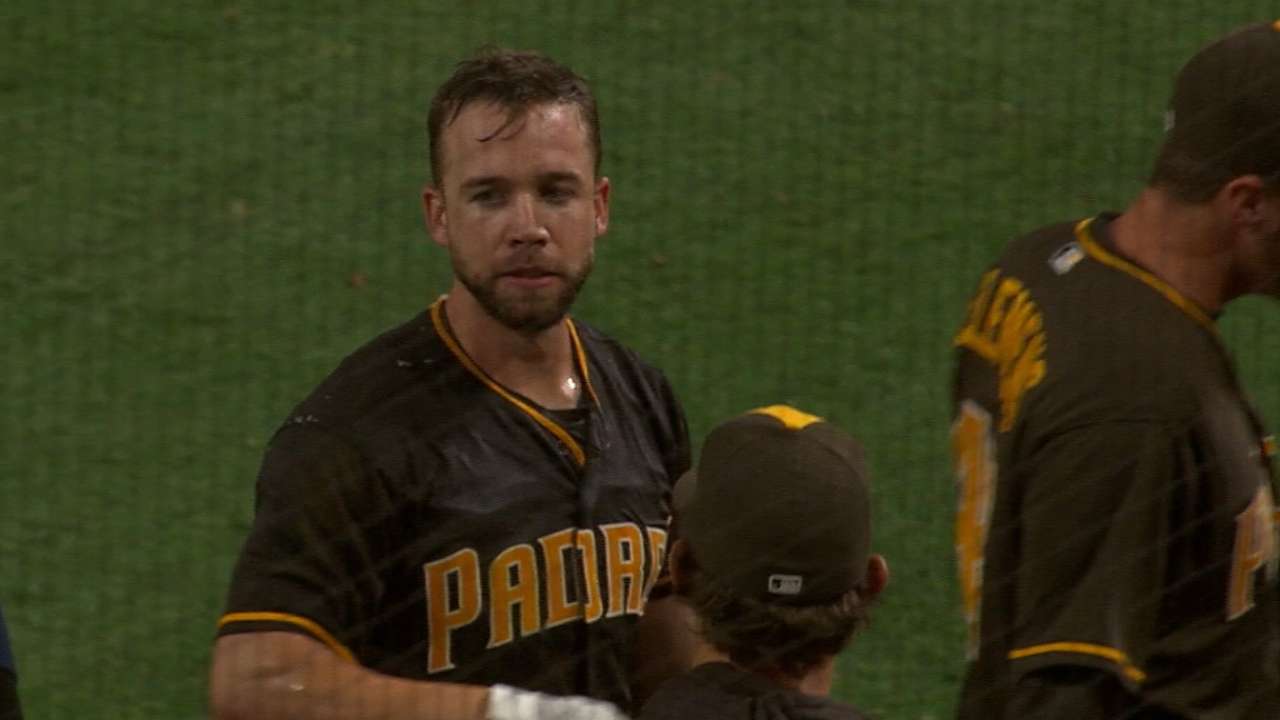 Third base (1): Solarte
The Padres have talked about moving Solarte to second base, essentially flipping him with whoever wins the battle between Schimpf and Spangenberg. But for now, Solarte has established himself as a fan-favorite at third base, and that's where he's likely to begin the year. Solarte is coming off a career season in which he batted .286/.341/.467 with 15 homers in 109 games. The Padres won't carry a backup, as both second-base candidates are also capable of playing third.
Shortstop (1): Luis Sardinas
Right now, Sardinas appears to be the only lock for the big league roster. But Erick Aybar -- who inked a Minor League deal earlier this week -- could challenge Sardinas for the starting job. If both make the club, that would likely put an end to the Padres' infield discussion. Otherwise, there's room on the roster for a utility man.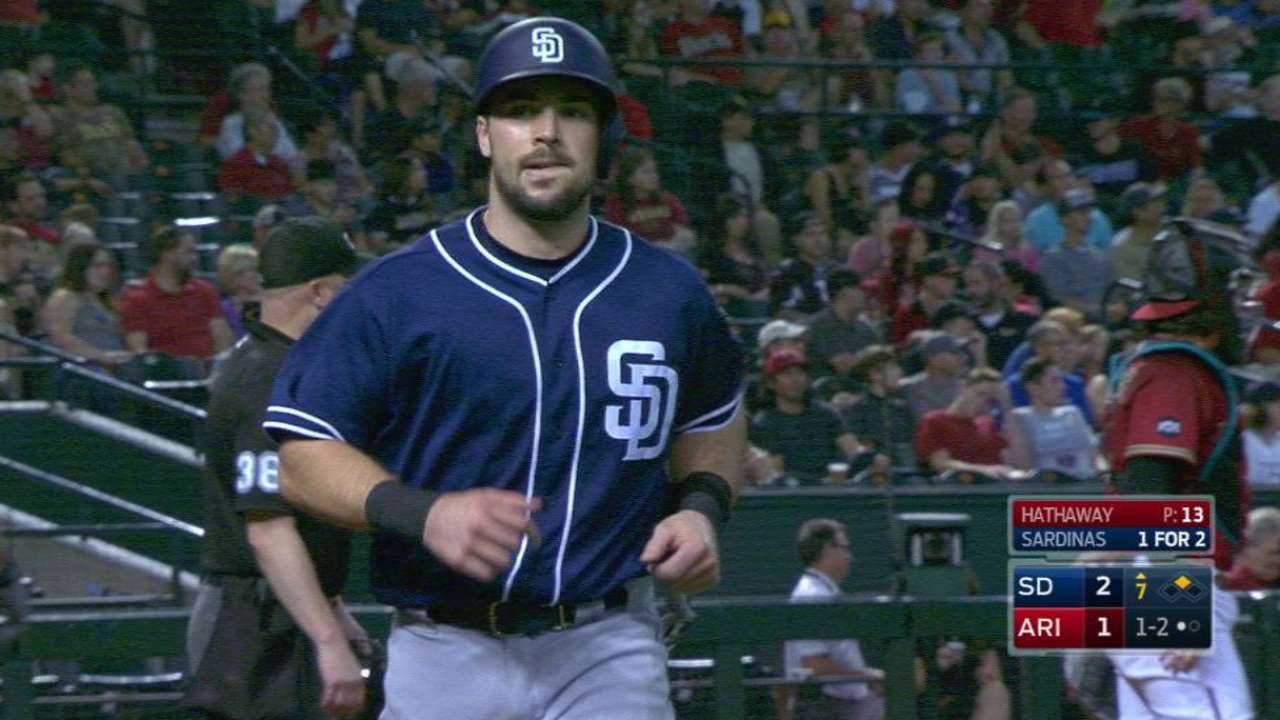 Utility (1): Allen Cordoba
If Aybar makes the club, that could spell the end of Cordoba's tenure in San Diego. The Rule 5 shortstop is certainly a talented prospect. But he just turned 21 and has never played above Rookie Ball. As it stands, Cordoba is the utility favorite over Carlos Asuaje, because he can play short. The Padres would love to give Asuaje a big league opportunity, but on a roster that has three second/third base hybrids, it's hard to see where he fits. Minor League free-agent signing Dusty Coleman is also in the mix here.
Outfield (4): Alex Dickerson, Travis Jankowski, Hunter Renfroe, Manuel Margot
The Padres appear poised to enter the season with four young outfielders who will split playing time almost evenly. Jankowski and Dickerson -- rookies last year -- are joined by top-hitting prospects Renfroe and Margot as the early favorites. The Padres also have the option of giving Margot about a month of further seasoning at Triple-A, thus preserving an extra year of team control. But they'd likely need to sign a backup center fielder to do so. Jabari Blash, the next outfield candidate in line, is capable of playing only the corners. (Expect Bethancourt to see some time in the outfield as well, potentially after pinch-hitting against lefties.)
• Around the Horn: LF | CF | RF
Rotation (5): Luis Perdomo, Clayton Richard, Jhoulys Chacin, Christian Friedrich, Jarred Cosart
None of the nine starters in the mix have a spot locked up. But there are certainly a few favorites. All evidence points to Perdomo, Richard and Chacin beginning the season in the starting five. Friedrich, who led the team in starts in 2016 with 23, will likely do so as well. Paul Clemens, Cesar Vargas and Tyrell Jenkins will get a chance to make their case in Spring Training. But it could come down to Cosart vs. Trevor Cahill (with Cahill headed to the bullpen if he doesn't crack the rotation).
Bullpen (7): Brandon Maurer, Ryan Buchter, Brad Hand, Carter Capps, Cahill, Buddy Baumann, Miguel Diaz
Barring injury, the four pitchers at the back-end of the Padres' bullpen have their spots locked up. From the right side, Capps and Maurer will pitch the most important innings, while Buchter and Hand will do so from the left. Rule 5 pick Diaz should also start in the 'pen -- much like Perdomo did last season. As mentioned, the Padres hope they'll be able to use Bethancourt in some mop-up duty, allowing them to carry seven primary relievers instead of eight. That leaves two spots up for grabs, with one of them potentially going to the loser of the No. 5 starter race. Baumann's ability to work multiple frames could make him an appealing option for the final spot.
AJ Cassavell covers the Padres for MLB.com. Follow him on Twitter @ajcassavell. This story was not subject to the approval of Major League Baseball or its clubs.