MLB.com Columnist
Mike Petriello
Top of the pops: Padres catchers project for elite throws
Hedges, Bethancourt look to be best at getting ball to second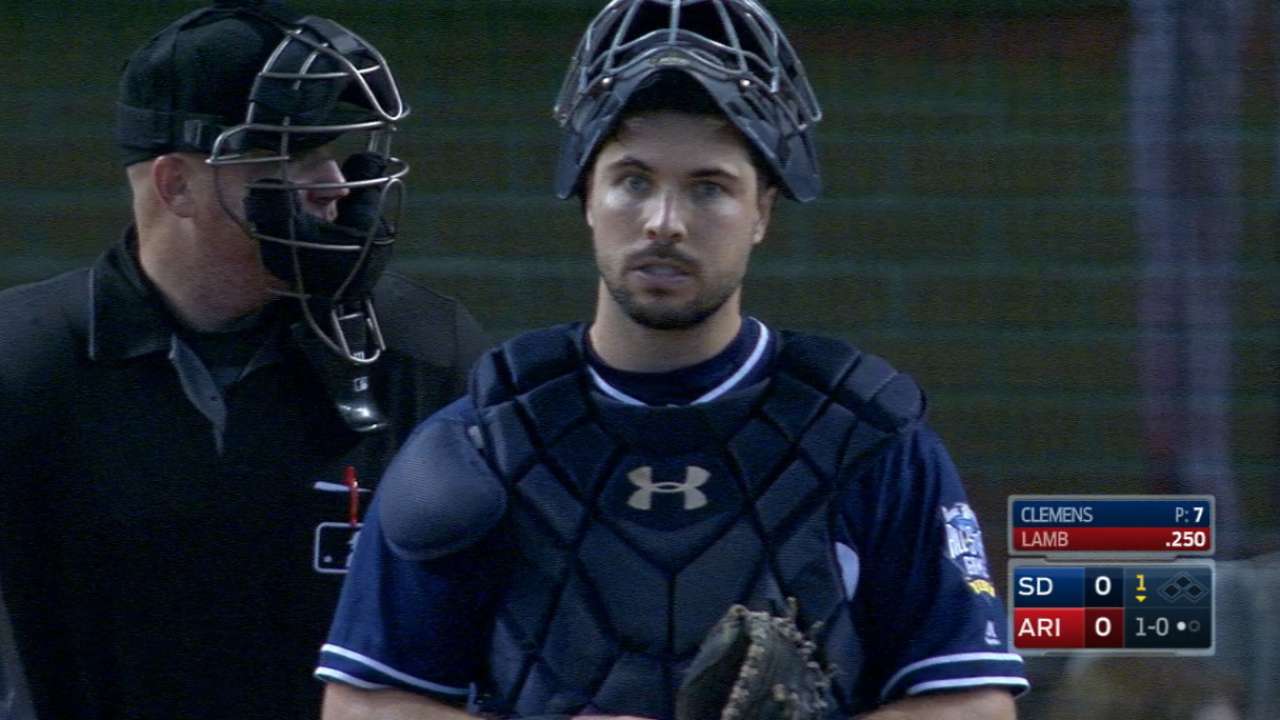 The runner dances off first, itching to make a move. The pitcher eyes him warily, but makes his move to the plate, and the runner dashes toward second. By the time the catcher actually receives the ball, a large part of whether the steal attempt will end in "safe" or "out" has already been determined. But the catcher has a part to play, obviously. What can he do to try to make sure the runner does not steal successfully?
Most obviously, he's got to get the ball out of his hand as quickly as possible, and back toward second base. There's more to it, of course, but sometimes it really is that simple. Every fraction of a second counts, and the quicker the backstop can get rid of the ball and get it to the infielder to apply the tag, the better. That's called "pop time," measuring the time elapsed from the catcher getting the pitch to the infielder receiving the throw, and we can measure that with Statcast™.
So, looking ahead to 2017, which collection of catchers look like they'll be the quickest at getting rid of the ball? Would you believe it's … the San Diego Padres?
This was measured by looking at pop times for attempted steals of second base, which is a good sample to look at because every throw to second on a steal ought to be at maximum effort, so we won't have any easy lobs caught up in our data. We're also looking at Statcast™ data from both 2015 and '16, giving two-thirds weight to 2016 and one-third weight to '15, and applying that to 2017 rosters -- so Brian McCann is an Astro, Jason Castro is a Twin, and so on.
We're actually very excited about this outcome, because the rebuilding Padres are very much in a transitional period, and it's fun to be able to highlight a team that doesn't get all that much attention for doing something well. In this case, it more than passes the smell test, because the 2017 Padres catchers are expected to be Austin Hedges and Christian Bethancourt, and let's pause for a second to consider what we know about them.
Hedges was drafted by San Diego in 2011, more for his glove than his bat. As MLBPipeline.com once put it, "even coming out of high school, Hedges was known as an elite defender behind the plate." In a 2013 profile at Padres.com, Hedges, then merely 20, was noted as having an above-average pop time that "routinely runs in the 1.8-second range." For our sample, 2.01 seconds is the Major League average, and while Hedges barely played in 2016, he did manage a pair of 1.86-second throws. Good scouting, 2013 scouts.
Bethancourt, meanwhile, has such a cannon that despite catching only 41 games in 2016, he had three of the five hardest throws by any catcher on a steal attempt, topping out at 89.3 mph. And, not only did he appear as an emergency pitcher last year, he's attempting to be a full-time catcher/pitcher hybrid in 2017. He averaged 1.88 seconds in pop time in both 2015 and '16, putting him squarely above average.
The second-place Angels already had Carlos Perez (1.92 seconds, fifth-best of the 57 catchers with 10 throws in 2016), and acquired the elite Martin Maldonado (1.91, tied for third) from Milwaukee for Jett Bandy (an average 2.01 seconds in 2016), giving what should already be a very good defense yet another strength.
But it's the third-place Yankees that are the most interesting, because they're going with such youth behind the plate after trading McCann to Houston, that we don't actually have any 2015 data to weigh. Gary Sanchez made his debut in 2016, and Austin Romine saw only six innings behind the dish in 2015, seeing no attempted steals. Sanchez is more noted for his historic power debut than anything, but we mentioned in late August that despite having started just 15 games at catcher, he'd already compiled five of the 10 hardest catcher throws on steal attempts. That cannon helped him put up a 1.90-second pop time, second to Miami's J.T. Realmuto (1.89) by just a hair.
Arm strength, of course, factors heavily into pop time. It has to, because the entire point is about how quickly the ball gets to the infielder. So another way to think about "pop time" is that it's the combination of "exchange time," which is how fast the catcher releases the throw after receiving it, and "throw time," which is how much time it takes to get to second, which is where velocity comes in.
If you wanted, you could split those out, looking at exchange time -- the retired David Ross, who got the ball out of his hand in an average of 0.66 seconds on steal attempts of second, was the best at this -- and throw time as separate skills. They are, of course. But if the goal is to really just look at how fast the ball gets to the infielder, you need both exchange time and throw time. That's pop time. That's what we're doing.
So does it matter? Sort of.
In 2016, the best pop-time teams were the Royals (1.94 seconds, as Salvador Perez and Drew Butera each made the top 10 of our 57 catchers) and Marlins (1.95 seconds, thanks to Realmuto). And wouldn't you know it, Kansas City did have the best caught-stealing percentage at second base of any team, nailing 43.2 percent of runners. Miami was good there, too, with an above-average 35.9 percent caught.
But it's not a perfect relationship because, for example, the Tigers were very slow (2.07 seconds), and caught more runners than Miami did, at 37.8 percent. The Cardinals were speedy (1.97 seconds) and nailed only 23 percent. As seen here, it's a good relationship, just not a perfect one:
Caught stealing percentage decreases as pop time gets slower, though as you'd expect, there's a lot of other factors involved here. pic.twitter.com/K3rco91rG2

— Mike Petriello (@mike_petriello) February 10, 2017
It's not hard to understand why. As we said at the top, so much else goes into it. The speed of the runner, and the lead the pitcher allows him to take, matters. The time to the plate of the pitcher, and the pitch he throws, matters, too. In addition to how quickly the catcher gets the ball to second, the accuracy of the throw matters. There's so much that goes into it, and we're learning more about it all the time.
As the Royals and Marlins showed last year, however, it's kind of hard to be elite at pop time and not have success in throwing out runners. Keep that in mind when you watch the Padres in 2017
Mike Petriello is an analyst for MLB.com. This story was not subject to the approval of Major League Baseball or its clubs.