Pirates rename spring home LECOM Park
Bradenton, Fla., ballpark had been called McKechnie Field since 1962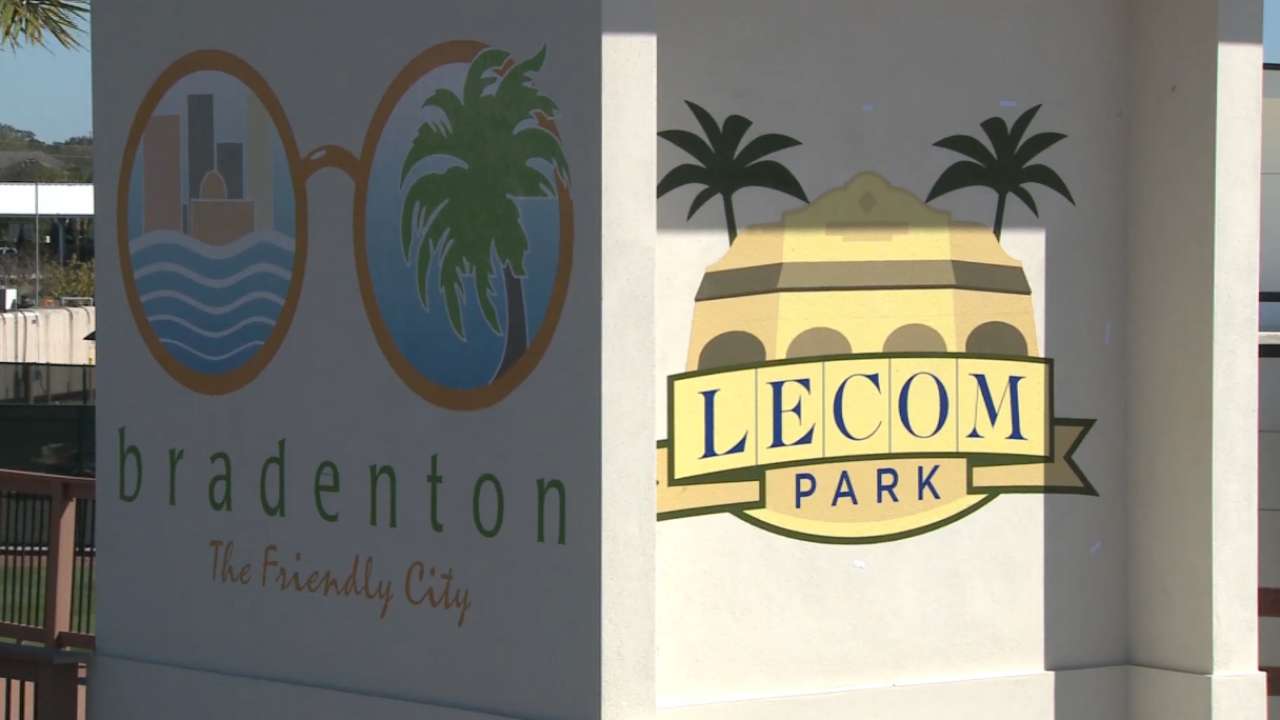 PITTSBURGH -- The Pirates' southern home is no longer known as McKechnie Field. As part of a 15-year naming rights agreement announced Friday morning, the Bucs' Spring Training ballpark in Bradenton, Fla., is now called LECOM Park.
LECOM stands for Lake Erie College of Osteopathic Medicine, the nation's largest medical college, which has campuses in western Pennsylvania (Erie and Greensburg, Pa.) and Bradenton. The Bucs and LECOM unveiled the rebranding during a press conference at LECOM Park.
"LECOM Park is our organization's southern home, and we are proud to announce this agreement with a respected and established brand that has roots in Western Pennsylvania and has quickly become a leader in education in the Bradenton area," Pirates president Frank Coonelly said in a statement. "LECOM shares our mission to help develop young people into highly trained professionals so that they can pursue their dreams. LECOM also shares our commitment to community, and we look forward to partnering with LECOM to continue to invest in improving the lives of others in our Bradenton community."
• Pirates' Spring Training information
The ballpark had been named McKechnie Field since 1962, in honor of Bill McKechnie, the Hall of Fame former Pirates player and manager. McKechnie, who died in '65 at age 79, was a Pittsburgh-area native and former Bradenton resident. He managed the Pirates to a World Series championship in '25.
The Pirates' recently renovated clubhouse at LECOM Park will now be known as the Bill McKechnie Home Clubhouse. The Bucs have held Spring Training in Bradenton since 1969. Their Class A Florida State League affiliate, the Bradenton Marauders, play their home games at LECOM Park.
"The need to bring new health care professionals to Florida drew LECOM to Bradenton, where we found a welcoming community spirit that included the Pittsburgh Pirates," LECOM president John M. Ferretti said in a statement. "This is an opportunity to encourage wellness and health in this community as we prepare a new generation of physicians, pharmacists and dentists to meet the growing health care needs in Florida and across the nation."
Adam Berry has covered the Pirates for MLB.com since 2015. Follow him on Twitter and Facebook, read his blog and listen to his podcast. This story was not subject to the approval of Major League Baseball or its clubs.