MLB.com Columnist
Jon Paul Morosi
Mexico has what it takes to make WBC '17 semis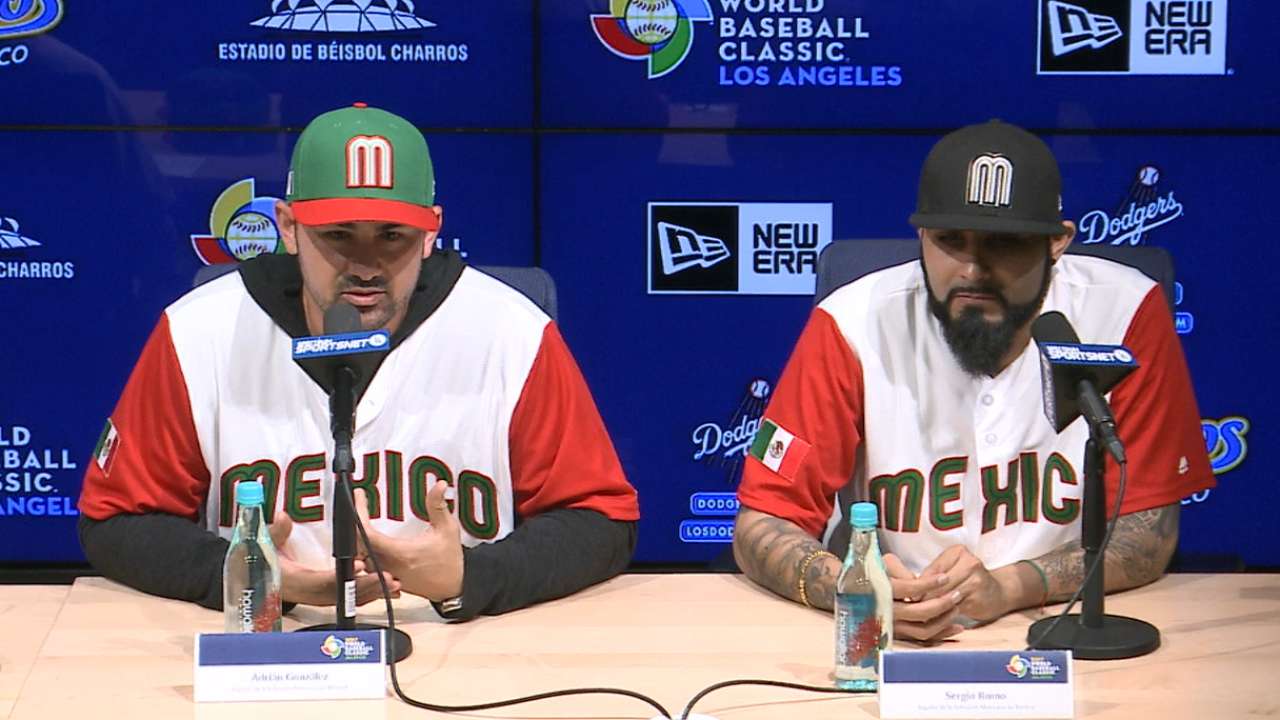 At the end of Wednesday's World Baseball Classic roster announcement show on MLB Network, I predicted the United States would defeat the Dominican Republic to win gold.
One day later, I remain comfortable with the pick: Team USA's 28-man roster is the deepest of any in the 16-team field. The Dominicans, 8-0 in the last World Baseball Classic, have shown they can excel in tournament baseball.
• Get World Baseball Classic tickets
But I won't be surprised if Mexico upsets one of them to reach the semifinals at Dodger Stadium.
The Mexicans have yet to advance out of the second round in three previous Classics, but they own a 2-1 record against Team USA, including a 5-2 win in Phoenix four years ago. And the WBC 2017 schedule has aligned perfectly for Team Mexico to build momentum.
Ironically, Mexico's good fortune is rooted in the disappointment of finishing last in its group at the 2013 Classic. As a consequence, Mexico had to re-qualify by winning a four-team tournament -- on home soil, in Mexicali -- last March. Ultimately, the additional step had a positive effect: Edgar Gonzalez, in his first World Baseball Classic cycle as Mexico's manager, benefited from the experience of three competitive games. And Mexico won them all.
The team assembled once more in November for a two-game exhibition in Tokyo against the Japanese national team and two-way phenom Shohei Ohtani. Mexico split the series, utilizing a roster that included Dodgers center-field prospect Alex Verdugo and Major League Baseball veterans Sergio Romo, Oliver Perez and Efren Navarro.
Thus, Mexico has one significant quality the United States lacks entering the World Baseball Classic: recent experience playing together.
Once the tournament begins, Mexico will enjoy home-field advantage at Estadio Charros de Jalisco near Guadalajara. And while Mexico's first-round group is the most difficult of any in the Classic -- Venezuela, Puerto Rico and Italy join the hosts in Pool D -- the Mexican lineup is deeper than the 2013 version. Adrian Gonzalez, the national team mainstay and Edgar's younger brother, should see pitches to hit with Khris Davis (42 home runs for the A's last year) likely hitting behind him. Verdugo, the Dodgers' No. 2 prospect, is poised to break out.
• 2017 World Baseball Classic rules
Mexico has the deepest pitching staff in Pool D, which should not be a surprise: Of the 15 Mexican-born players to appear in the Majors last year, 14 were pitchers. Yovani Gallardo, Jaime Garcia, Miguel Gonzalez and Jorge De La Rosa are expected to comprise Mexico's starting rotation for the first round.
Marco Estrada, a 2016 All-Star, and Julio Urias, the Dodgers' prized 20-year-old starter, can join the team in later rounds through the designated pitching pool. The bullpen is experienced, with veterans Romo, Perez, Joakim Soria and Carlos Torres joining Blue Jays closer Roberto Osuna.
And while tournament games on Mexican soil are limited to the first round, Team Mexico would receive overwhelming support from Mexican-American fans over the final two rounds in San Diego and Los Angeles. The Mexico-U.S. matchup in 2013 drew the most raucous atmosphere to that year's pool play in Phoenix -- and Mexican fans were in the majority.
MLB Commissioner Rob Manfred has spoken publicly about a desire to play future regular-season games in Mexico. MLB officials have worked with their Mexican counterparts on ways to create more efficient player movement between the countries. Indeed, there's a narrative to be told about baseball's growth in Mexico -- and the story could accelerate with a few more wins by la selección nacional.
Jon Paul Morosi is a columnist for MLB.com. This story was not subject to the approval of Major League Baseball or its clubs.