Angels banking on healed pitching staff
Injuries decimated Los Angeles' mound presence in 2016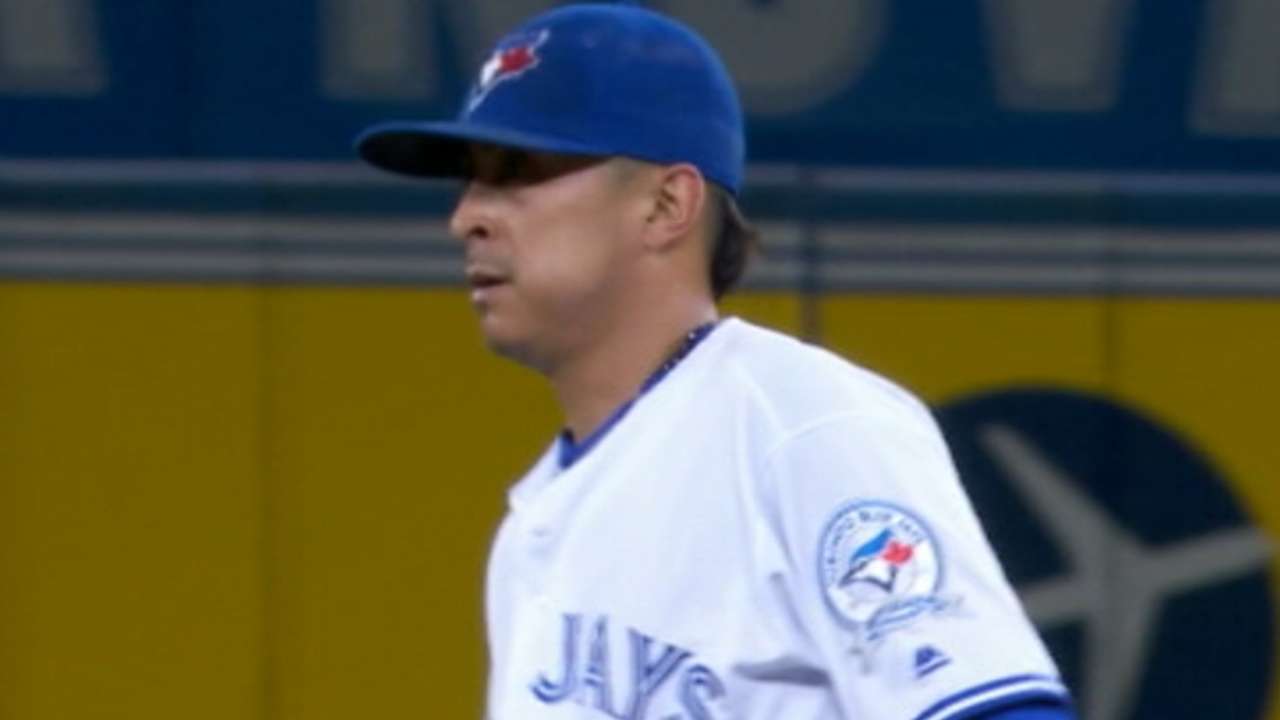 With Spring Training fast approaching, MLB.com will take a look at a different aspect of this year's Angels squad each day this week. Today's topic: The perfect season.
For the Angels, the perfect season begins with a healthy and effective pitching staff. In 2016, the Halos' rotation was ravaged by injuries, which proved to be the primary culprit in the club's struggles.
Ace Garrett Richards, left-hander Andrew Heaney and Nick Tropeano suffered torn ulnar collateral ligaments in their pitching elbows, with the latter two electing to have Tommy John surgery; C.J. Wilson didn't throw a single pitch due to shoulder issues; Tyler Skaggs didn't return to the mound until July following a nearly two-year absence from Tommy John surgery; and Matt Shoemaker underwent emergency brain surgery in September after being hit in the head with a line drive.
• Across the Majors, goals set for 2017
All told, the Angels deployed a total of 15 starters who combined to post a 4.60 ERA, which ranked 20th in the Majors.
The injuries also extended to the club's bullpen. Closer Huston Street underwent season-ending knee surgery in August, while Cam Bedrosian's breakout season was cut short by surgery to remove a blood clot in September.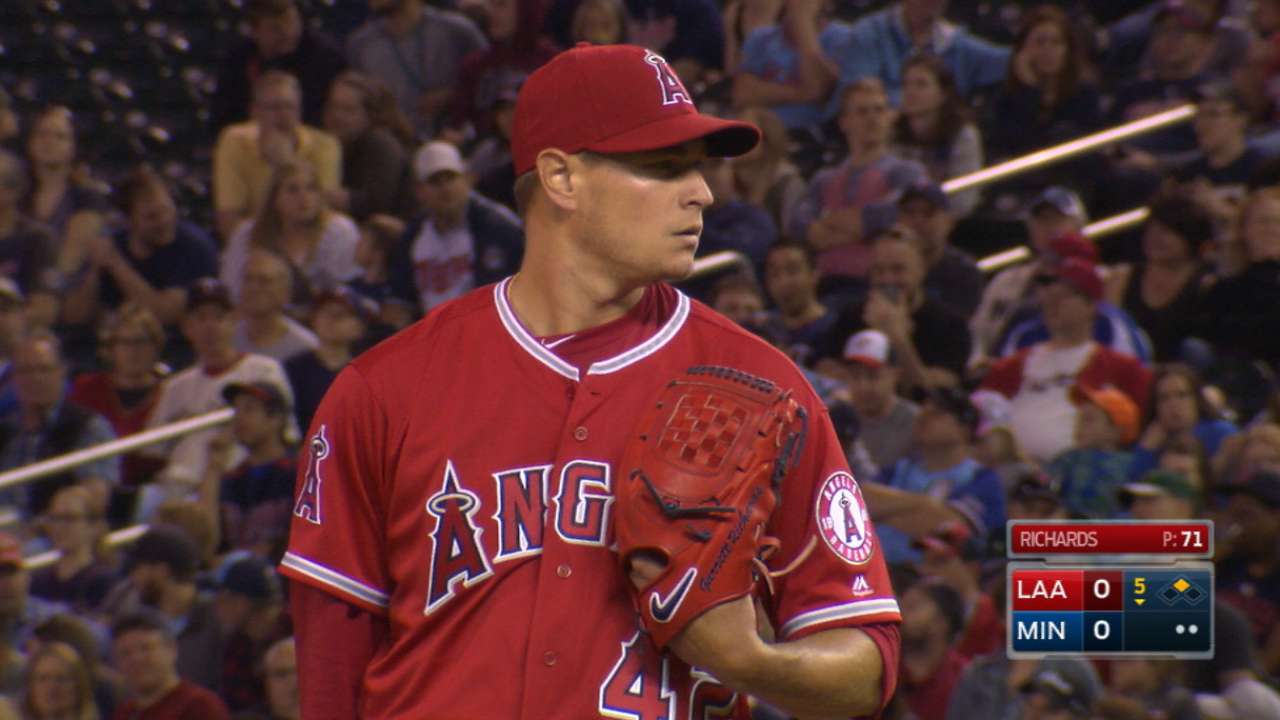 The Angels are hoping a healthier pitching staff will allow the club to rebound from its 74-88 finish last season and become contenders in the competitive American League West. Baseball Prospectus projects the Angels to win 78 games in 2017 and finish behind the Astros, Rangers and Mariners, but they have the pieces to potentially surprise in the division and return to the playoffs for the first time since 2014.
Much of that hope revolves around Richards, the Angels' only true top-of-the-rotation arm who appears to have avoided Tommy John surgery through an alternative stem-cell treatment. The Halos are also counting on comebacks from Skaggs and Shoemaker and continued effectiveness from Ricky Nolasco, who recorded a 3.21 ERA in 11 starts after being acquired from the Twins at the Trade Deadline.
The Angels also improved their rotation depth by signing veteran Jesse Chavez to a one-year, $5.75 million contract. Chavez is expected to compete for the fifth spot in the Angels' rotation this spring, though he could also move to the bullpen if he falters.
The bullpen remains a potential area of weakness, as Street, Bedrosian and Andrew Bailey appear to be the only locks so far. But Los Angeles has a number of arms it can throw into the bullpen mix, including JC Ramirez, Mike Morin, Deolis Guerra, Jose Alvarez and Alex Meyer.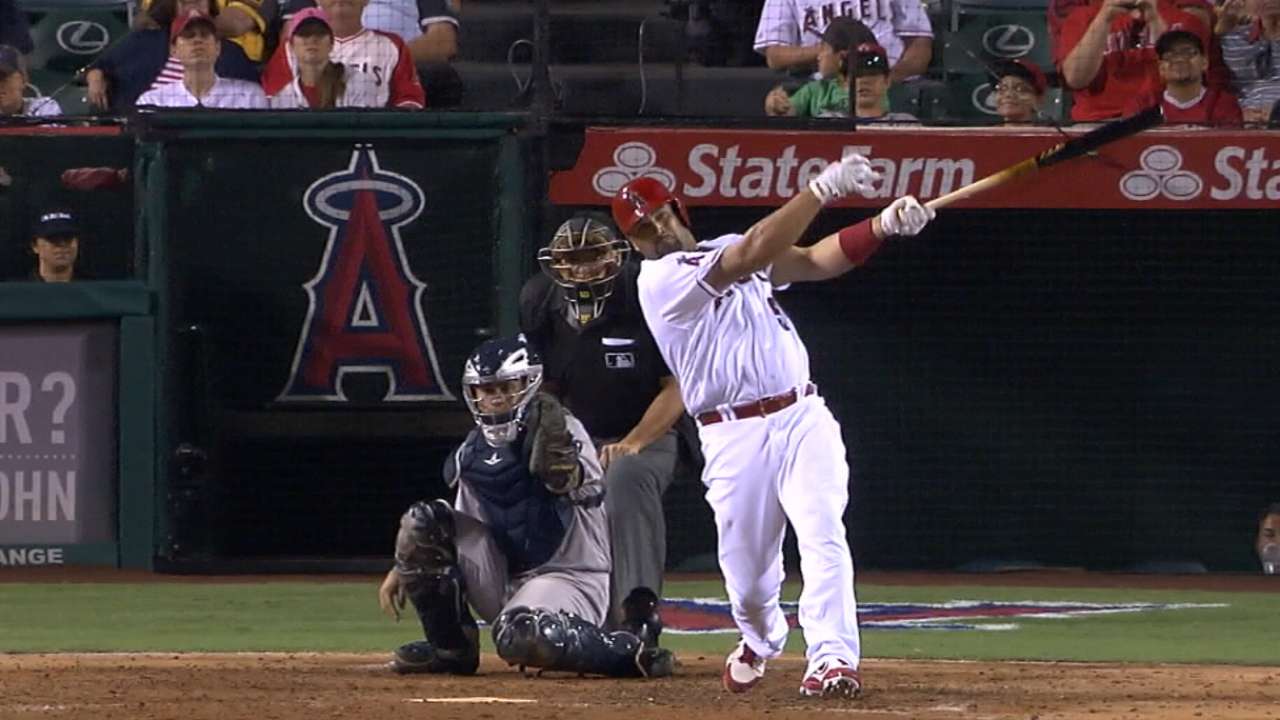 The Angels already have the best player in baseball in Mike Trout and a lineup that has been bolstered by the additions of Cameron Maybin, Ben Revere, Danny Espinosa and Luis Valbuena this offseason. If Albert Pujols can return from foot surgery and provide his usual production, they'll have another big bat at their disposal.
Nevertheless, the Angels are pinning their hopes for a bounce-back season on the arms of their pitchers. If they can contribute solid innings and stay healthy, Los Angeles will be a team to watch in 2017.
Maria Guardado covers the Angels for MLB.com. This story was not subject to the approval of Major League Baseball or its clubs.