Globe swatters: 63 All-Stars in WBC '17
Major League, international talent spread across 16 teams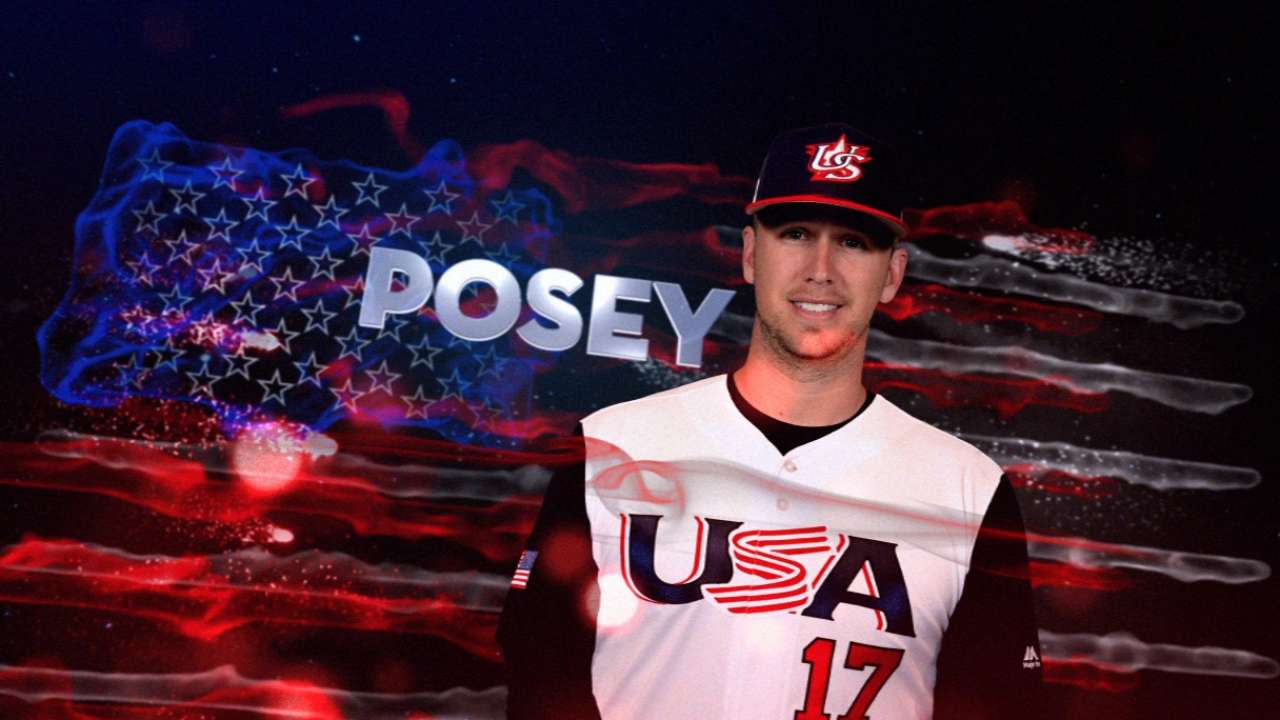 The rosters are set. The baseball world is ready for another Classic.
The 16 teams that will battle for the title in the fourth World Baseball Classic are official after the final rosters were revealed Wednesday evening on MLB.com and MLB Network, and this year's Classic will feature some of MLB's biggest stars, including Miguel Cabrera (Venezuela), Nolan Arenado (United States), Robinson Cano (Dominican Republic), Yadier Molina (Puerto Rico) and many, many more. In total, the tournament will feature 63 former All-Stars, including 25 from 2016.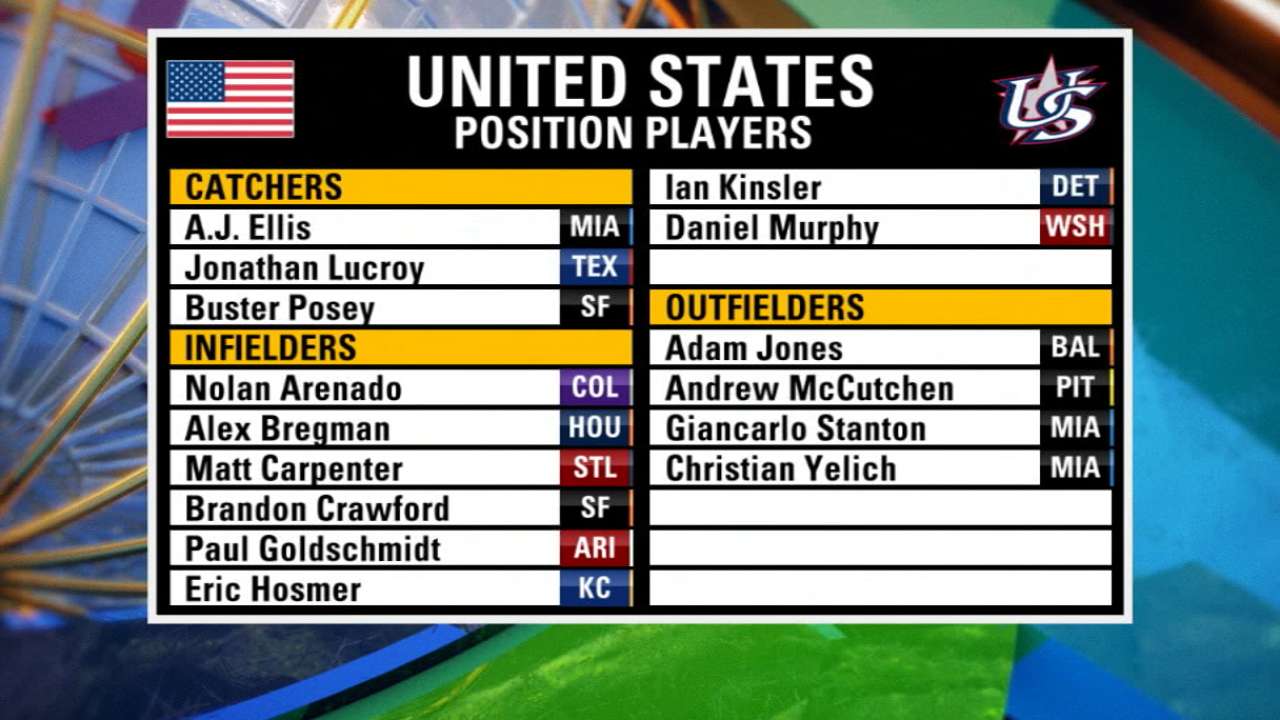 In less than a month, the premier global baseball competition will begin with first-round pool play in the United States, Japan, South Korea and Mexico.
The second round is slated for March 12-19, with Pool A and B winners and runners-up meeting in another round-robin format in Tokyo, while the teams that emerge from Pools C and D will match up at Petco Park in San Diego.
The four teams that emerge from the second round will head to Dodger Stadium in Los Angeles for the semifinals on March 20-21 and the championship game on March 22.
"A lot of good teams, a lot of good players," said Team USA outfielder Christian Yelich. "But I like our chances as well. I feel like if we go in there prepared, ready to play the way we're supposed to, I think we're going to be all right and we should do well."
It'll be the perfect way to get fans excited for the upcoming Major League season and the perfect showcase of the growing popularity of America's national pastime around the world.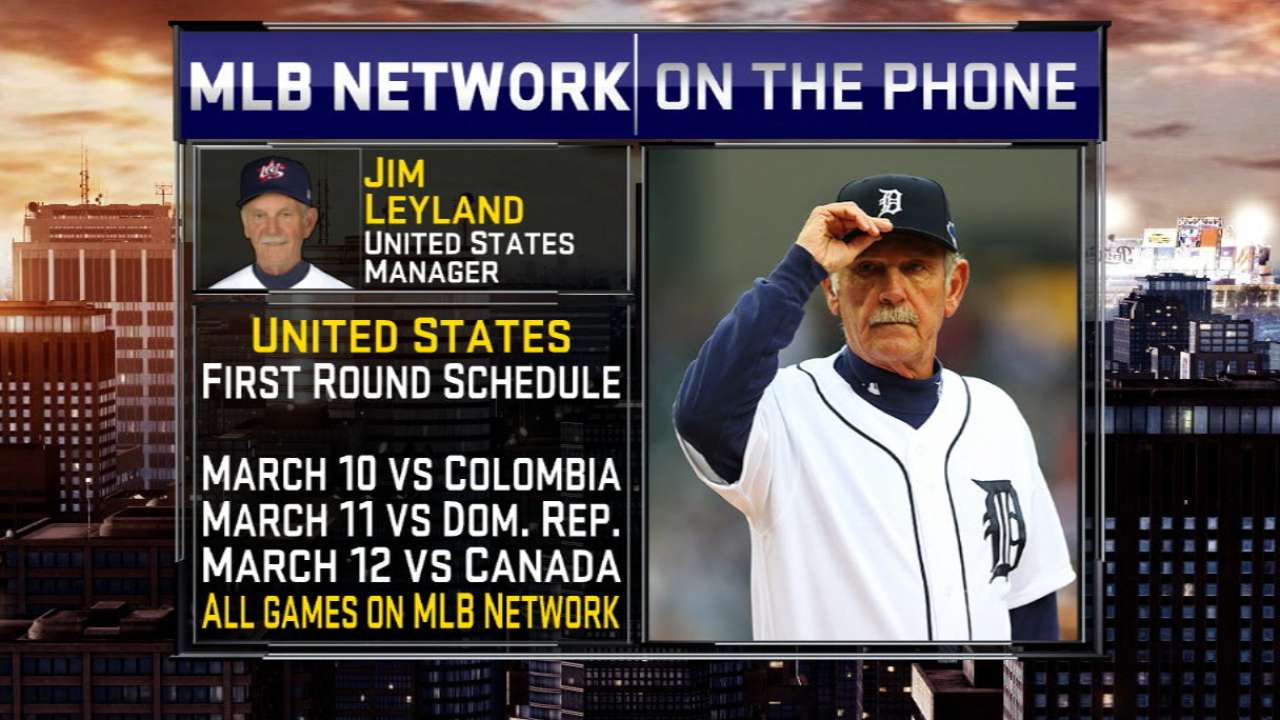 "Playing baseball, you hear the national anthem every game and it becomes routine," Arenado said. "But I'm guessing that when you put that USA uniform on and hear the national anthem, it might mean a little bit more."
The World Baseball Classic runs from March 6-22. In the U.S., games will air live exclusively in English on MLB Network and on an authenticated basis via MLBNetwork.com/watch, while ESPN Deportes and WatchESPN will provide the exclusive Spanish-language coverage. MLB.TV Premium subscribers in the U.S. will have access to watch every tournament game live on any of the streaming service's 400-plus supported devices. Internationally, the tournament will be distributed across all forms of television, internet, mobile and radio in territories excluding the U.S., Puerto Rico and Japan. Get tickets for games at Marlins Park, Tokyo Dome, Gocheok Sky Dome in Seoul, Estadio Charros de Jalisco in Mexico, Petco Park, as well as the Championship Round at Dodger Stadium, while complete coverage -- including schedules, video, stats and gear -- is available at WorldBaseballClassic.com.
Among Major League clubs, the Tigers will be most heavily represented in the World Baseball Classic, with 15 players suiting up for six countries. They are followed by the Mets (13 players), and the Cardinals, Royals, Indians and Mariners (11 apiece).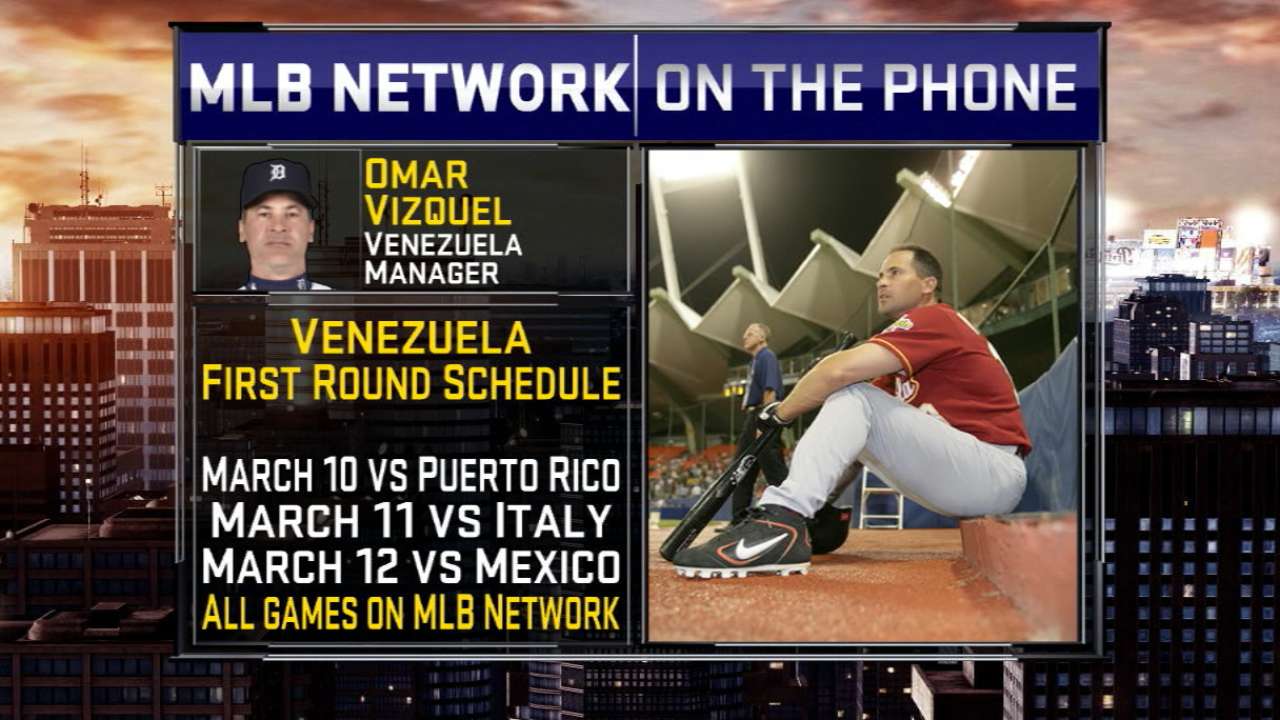 Meanwhile, there's one slight rule change that is expected to add intrigue and drama to the 2017 World Baseball Classic.
Each team has the option of using the designated pitcher pool (DPP), which works like this: A team can use up to 10 designated pitchers but can't have more than two on its active roster at a time. Those "active" DPs can be replaced at the beginning of each of the next two rounds, but only by another DP. Once a DP has been replaced, he cannot return to the active roster for a subsequent round. Using Team USA as an example, Danny Duffy and Tanner Roark are the active DPs for the first round of pool play, so they can be replaced on the roster before the second round or the championship round, but only by one of the team's other DPs. And if a DP joins for the second round, he can be replaced for the championship round, but only by another DP.
Here's a primer for each roster heading into first-round play:
POOL A Gocheok Sky Dome, Seoul, South Korea, March 6-10
Chinese Taipei: This club comes from the baseball-crazy island of Taiwan, where the quality of play continues to rise. The headliner on this team is former big league star pitcher Chien-Ming Wang, who has iconic status among his countrymen for his stellar MLB career spent primarily with the Yankees. Other affiliated players on the roster include right-handers Ping- Hsueh Chen and Shao-Ching Chiang (both with Cleveland) and Wei-Chung Wang (Milwaukee). More >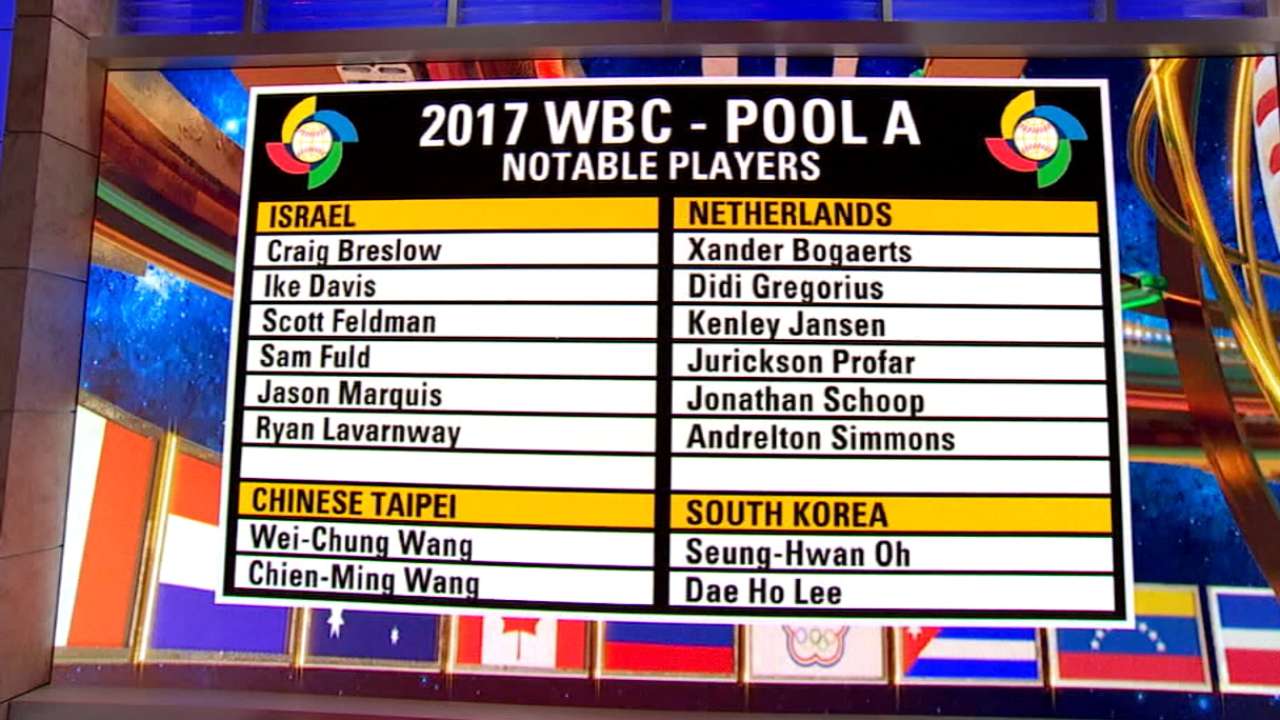 Israel: The chance to represent a country as well as an ancestry was too much to pass up for quite a few players of Jewish descent with Major League ties. Reds pitcher Scott Feldman, Dodgers first baseman Ike Davis, A's catcher Ryan Lavarnway and Twins reliever Craig Breslow head up the list of active big leaguers, and free-agent veterans Jason Marquis, Sam Fuld and Nate Freiman are also on the roster. More >
Netherlands: The Kingdom of the Netherlands, which includes the Major League hotbed of Curacao in addition to Aruba, keeps getting more prominent on the international scene with its exciting brand of honkbal. The 2013 team was eliminated in the semifinals and finished fourth. The 2017 club could fare even better, with established MLB names Kenley Jansen, Xander Bogaerts, Andrelton Simmons, Jonathan Schoop, Didi Gregorius and Jurickson Profar all signed up. More >
South Korea: The Koreans were eliminated in the first round of the 2013 Classic and will look to fare better on their home field. Almost all of the players are coming out of their nation's Korea Baseball Organization, but there is one Major League headliner: Cardinals closer Seung Hwan Oh. More >
POOL B Tokyo Dome, Tokyo, March 7-11
Australia: The baseball team from Down Under will be looking to rebound from a disappointing winless 2013 Classic, and it has the talent to do it. Longtime manager Jon Deeble has a host of players with Major League experience on the roster, including active players such as Oakland reliever Liam Hendriks and Detroit reliever Warwick Saupold plus veterans such as left-handers Travis Blackley and Ryan Rowland-Smith, outfielder Trent Oeltjen, reliever Peter Moylan and starter Chris Oxspring. More >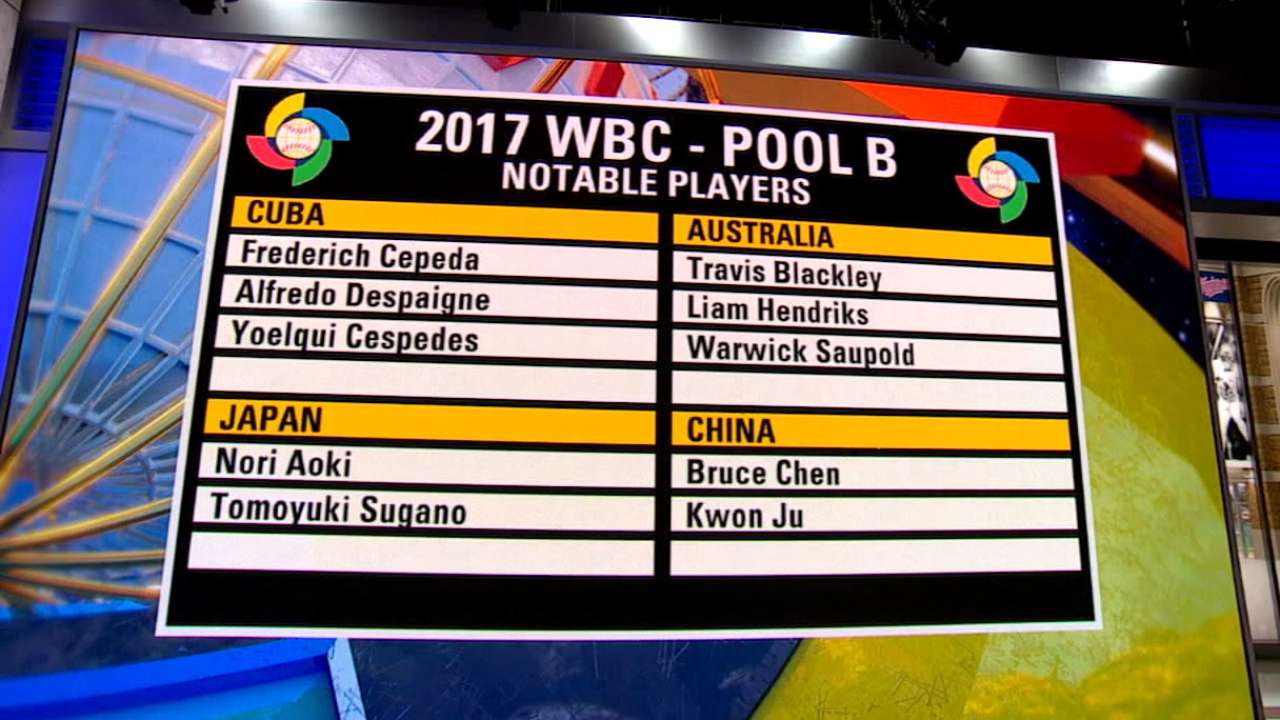 China: Former big league skipper and longtime MLB coach John McLaren is at the helm of a team for a nation where baseball is still a young sport. China did win a game in the first round of the 2013 Classic and gets a true ambassador for the game and team leader in well-respected former Major League pitcher Bruce Chen, who will head Team China's rotation. More >
Cuba: Team Cuba, always a threat to win this tournament, went 4-2 in the 2013 Classic and was eliminated in the second round. Since then, many stars from the national team have defected to the United States and are ensconced in the Major Leagues, which makes them ineligible to play for their country in this competition, but there is still a ton of talent from the Serie Nacional de Beisbol, Cuba's top pro league, which makes them dangerous as usual. More >
Japan: The absence of two-way phenom Shohei Ohtani due to an ankle injury is a blow to Team Japan's chances, but the strength of Nippon Professional Baseball is without question, as Japan's victories in the inaugural Classic in 2006 and the second installment in '09 show quite clearly. This time around, it'll be mostly NPB stars taking the diamond for Japan, although MLB fans will recognize Astros outfielder Norichika Aoki. More >
POOL C Marlins Park, Miami, March 9-13
Canada: Former big league catcher Ernie Whitt is at the helm again for an always-competitive and equally feisty Canadian club. Braves first baseman Freddie Freeman has deserved marquee status on this year's roster, which also includes Major Leaguers John Axford and Justin Morneau. Nostalgia fans will enjoy the participation of retired big league stars Eric Gagne and Ryan Dempster, who will dust off their gloves and get back on the mound. More >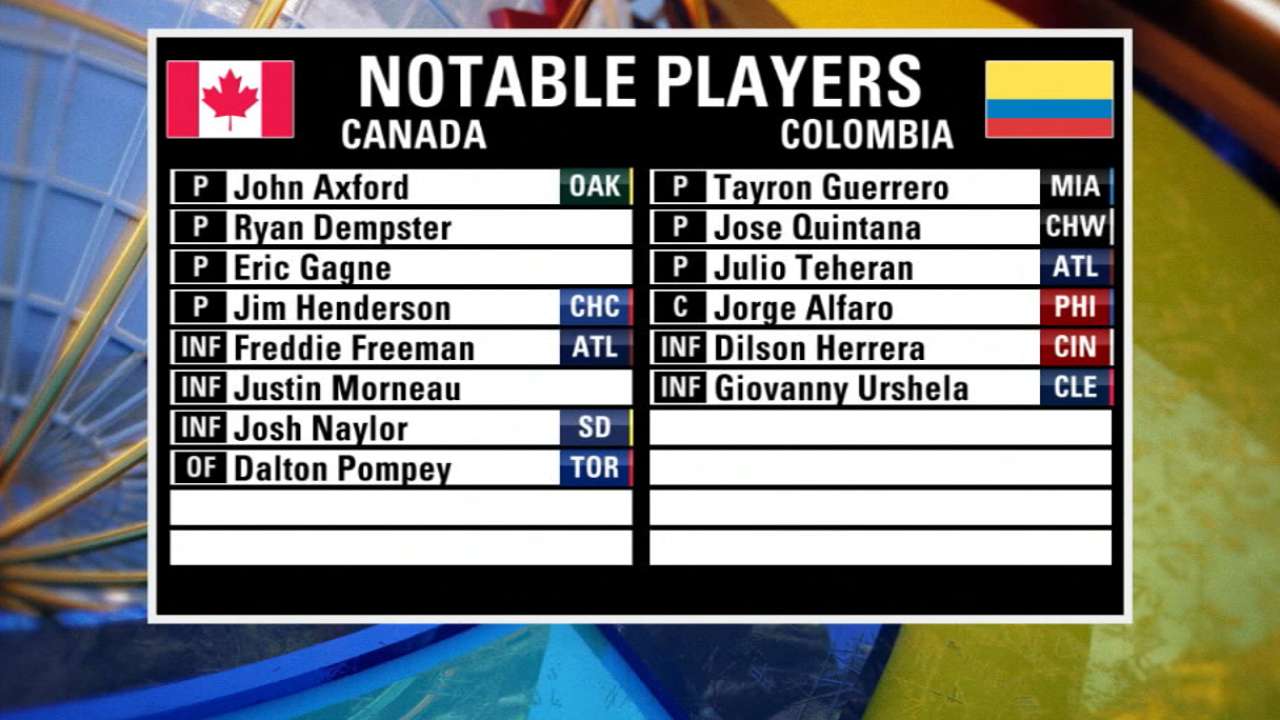 Colombia: A newcomer to the World Baseball Classic fray, Colombia has a small bounty of Major League talent that could make them capable of a few upsets along the way. White Sox starter Jose Quintana and Braves starter Julio Teheran give the Colombians a nice one-two rotation punch, and the roster also includes familiar names such as Alberto Callaspo, Ernesto Frieri, Dilson Herrera and Giovanny Urshela, among others. More >
Dominican Republic: The Dominicans are led by former Major League outfielder Moises Alou, and they're ready to roll after going undefeated in 2013 to win their first classic. Looking for power? Here's Adrian Beltre, 2013 Classic MVP Cano, Nelson Cruz, Carlos Santana, Jose Bautista, Manny Machado and Hanley Ramirez. Speed and defense? Here's Starling Marte, Jose Reyes, Gregory Polanco and Jonathan Villar. Starting pitching? How about Johnny Cueto, Carlos Martinez, Bartolo Colon, Ivan Nova, Luis Severino and Edinson Volquez. Relievers? Here's Dellin Betances, Jeurys Familia, Santiago Casilla and Fernando Rodney, among many others. In a word, wow. More >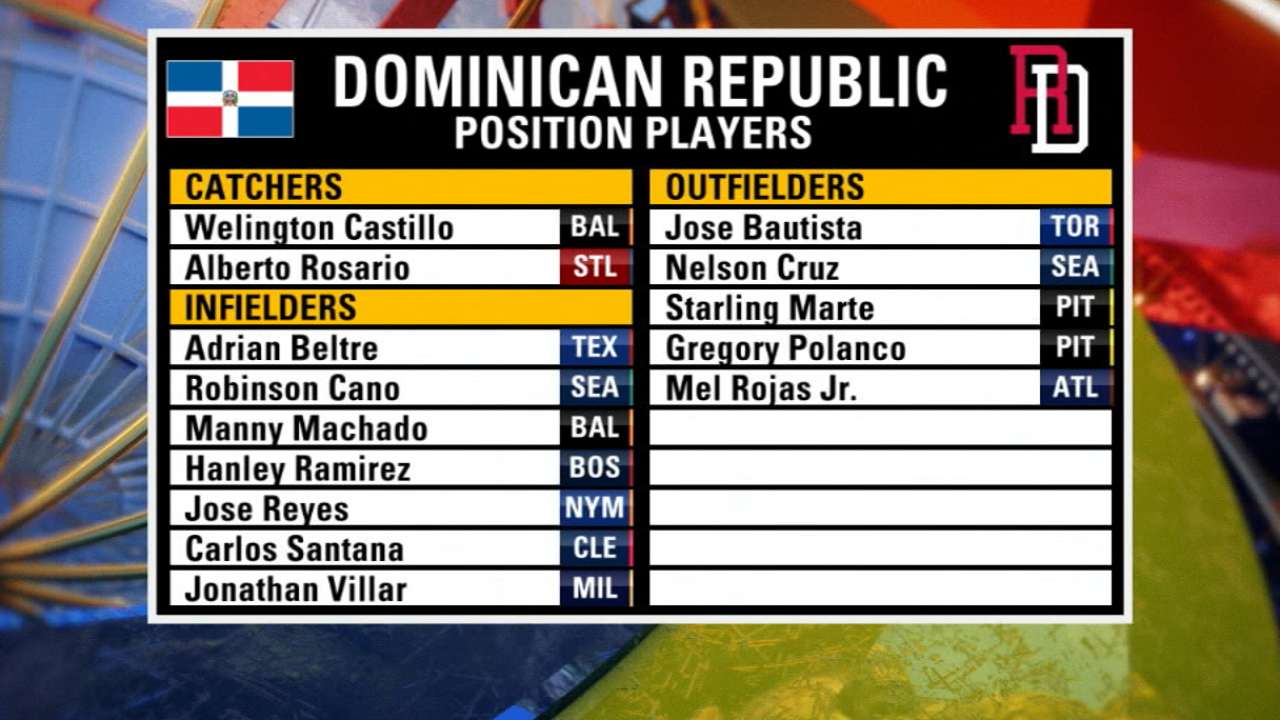 United States: The Americans have yet to win this tournament, but their 2017 manager, Jim Leyland, has to like the tools at his disposal. In fact, this might be the deepest Team USA roster yet. A well-rounded big league offense will include sluggers Paul Goldschmidt, Arenado, Giancarlo Stanton, Adam Jones, Buster Posey and Andrew McCutchen. There will be more offensive versatility with Matt Carpenter, Ian Kinsler, Daniel Murphy, Eric Hosmer, Jonathan Lucroy, Yelich, Brandon Crawford and Alex Bregman. Starting pitching should be solid, with Chris Archer, Sonny Gray, Tanner Roark, J.A. Happ, Danny Duffy, Michael Fulmer, Marcus Stroman and Drew Smyly signed up. And the bullpen has plenty of firepower, with Andrew Miller headlining a corps that will also include Sam Dyson, Luke Gregerson, Brett Cecil and Nate Jones. More >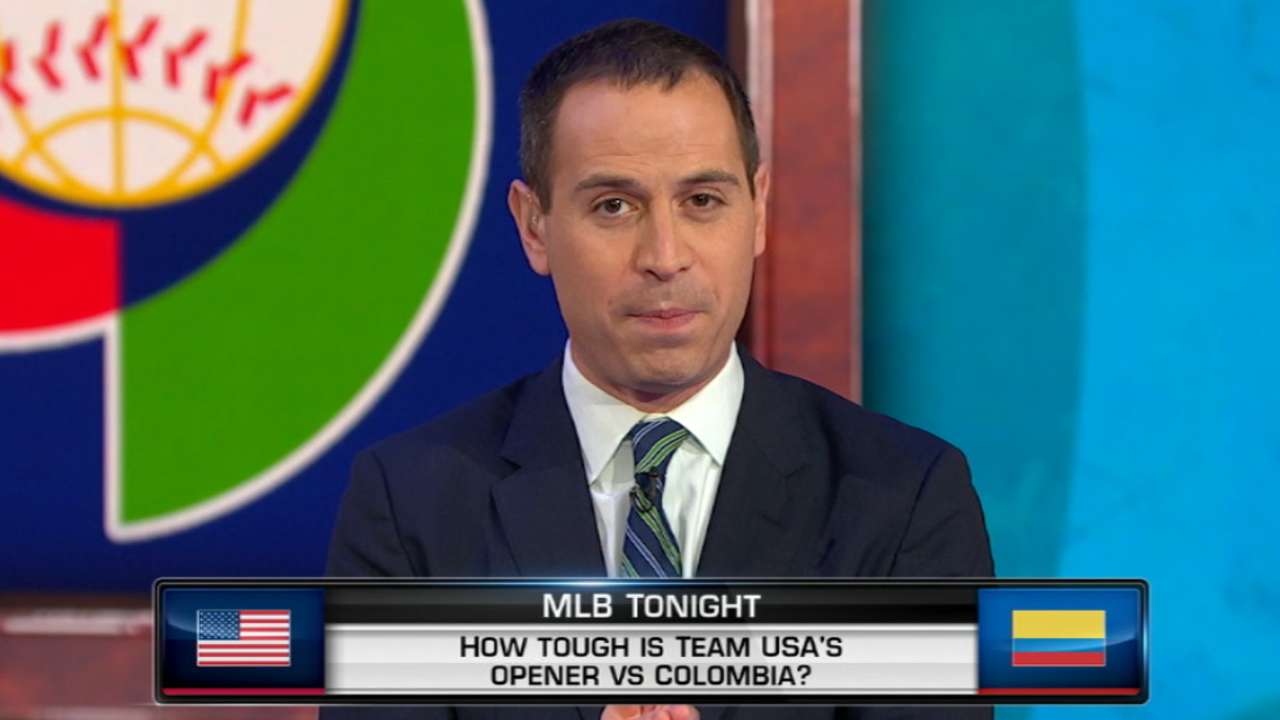 POOL D Estadio Telmex de Atletismo, Jalisco, Mexico, March 9-13
Italy: Team Italia made a stirring and unexpected run to the second round of the 2013 Classic. This year, they'll try to do even better, and they'll have many of the same players back, including Major League-tested veterans such as Chris Colabello, Francisco Cervelli, Daniel Descalso, Alex Liddi, Drew Butera and Tommy Layne. More >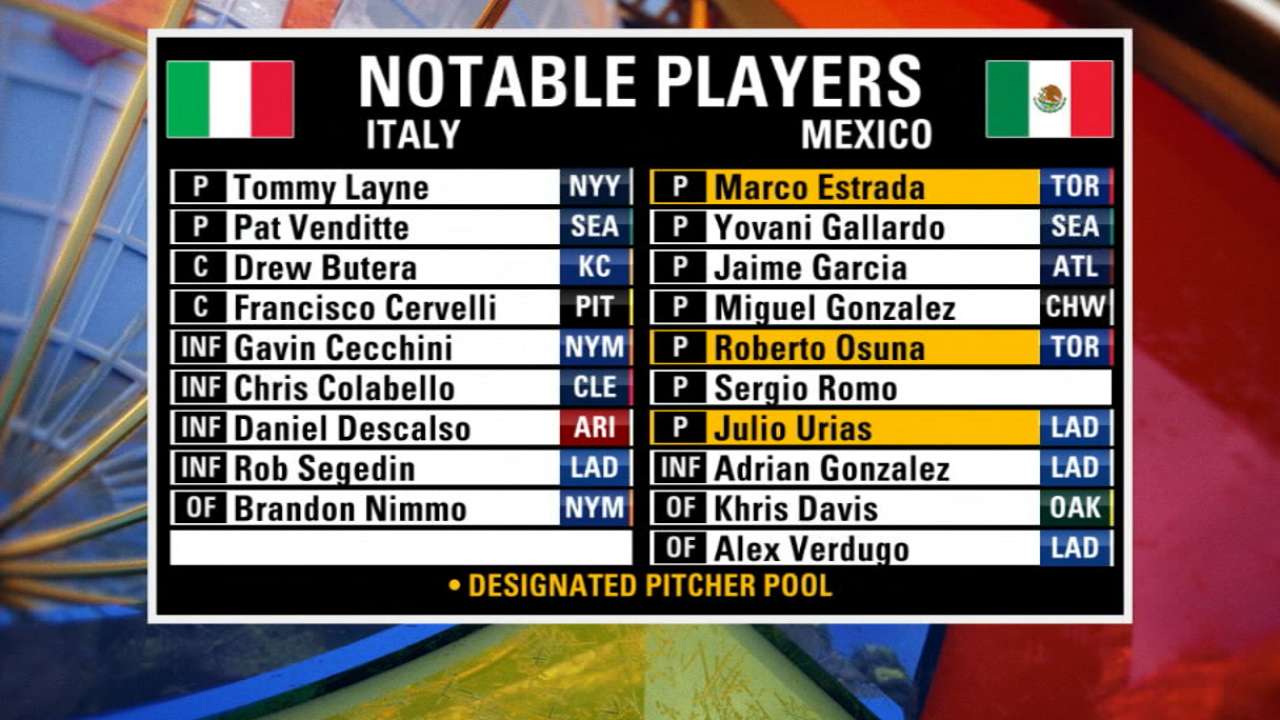 Mexico: Home field and a lot of homegrown talent should help Mexico once again. Dodgers slugger Adrian Gonzalez returns to this team, which was surprisingly eliminated in the first round of 2013 and will be looking to flip the script. Another big bat on the Mexican roster is A's outfielder Khris Davis, but the true strength of this club figures to be its pitching. Starters include Major Leaguers Julio Urias, Yovani Gallardo, Jaime Garcia, Marco Estrada and Jorge De La Rosa, and a stacked bullpen features Roberto Osuna, Oliver Perez, Joakim Soria, Sergio Romo and Carlos Torres. More >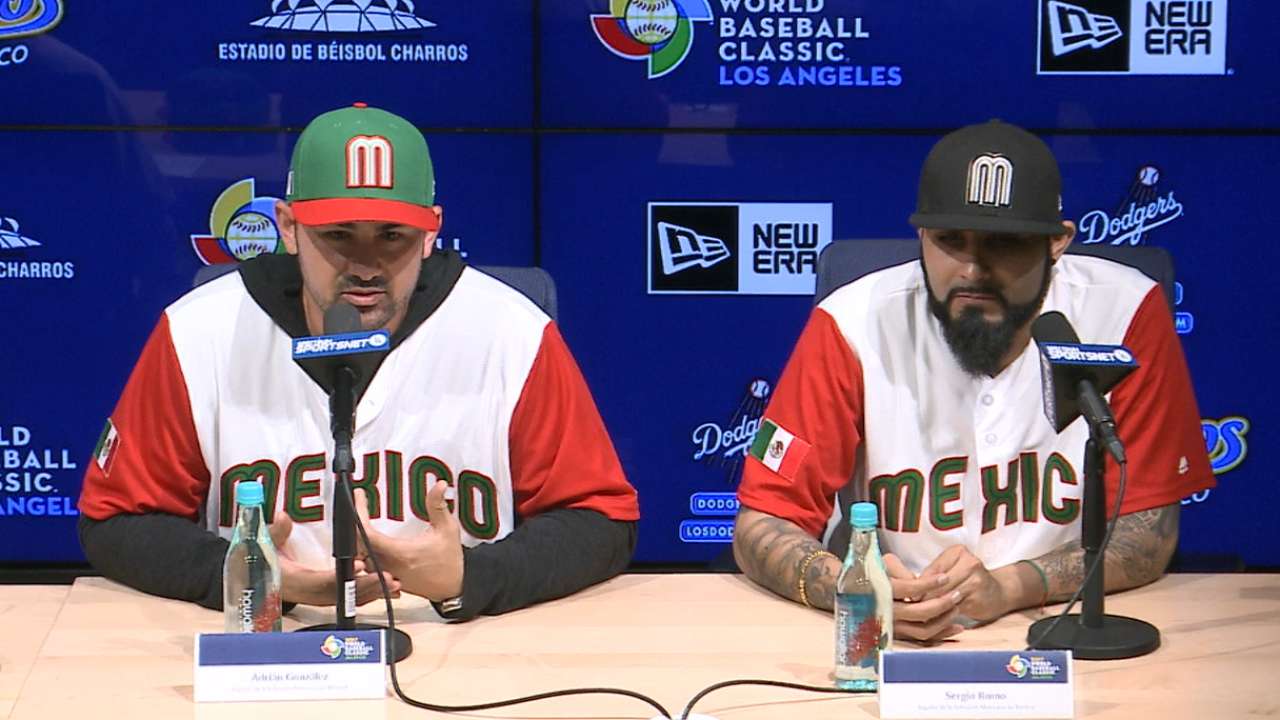 Puerto Rico: The recently crowned Caribbean Series champions will be looking for another prominent tournament victory, and they have some serious Major League power on the roster. Veteran stars Carlos Beltran and Molina headline a deep squad that also includes young talent fresh from the World Series in infielders Francisco Lindor (Cleveland) and Javier Baez (Cubs) plus Mariners closer Edwin Diaz and versatile outfielders Angel Pagan, Enrique Hernandez and Eddie Rosario. More >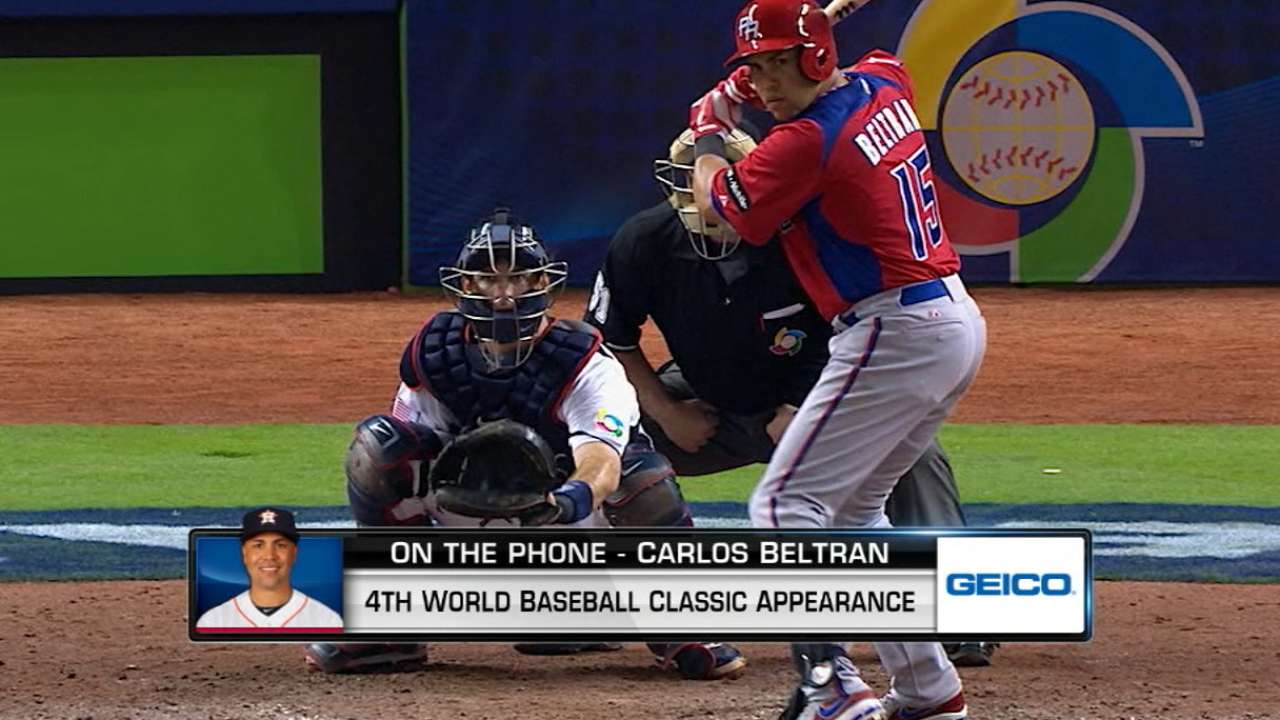 Venezuela: Major League great Omar Vizquel gets a crack at managing this team, which has a great roster and the added motivation of having been knocked out in the first round in 2013. There's big league royalty all over the diamond, from sluggers Cabrera and Victor Martinez to infielders Jose Altuve, Martin Prado and Alcides Escobar to outfielders Carlos Gonzalez, Odubel Herrera and Ender Inciarte, catcher Salvador Perez and pitchers Felix Hernandez, Martin Perez, Franklin Morales, Francisco Rodriguez, Hector Rondon and Bruce Rondon. More >
Doug Miller is a reporter for MLB.com. Follow him on Twitter @DougMillerMLB. This story was not subject to the approval of Major League Baseball or its clubs.