Colombia's star duo set to lead Classic squad
Teheran, Quintana head pitching staff for upcoming tournament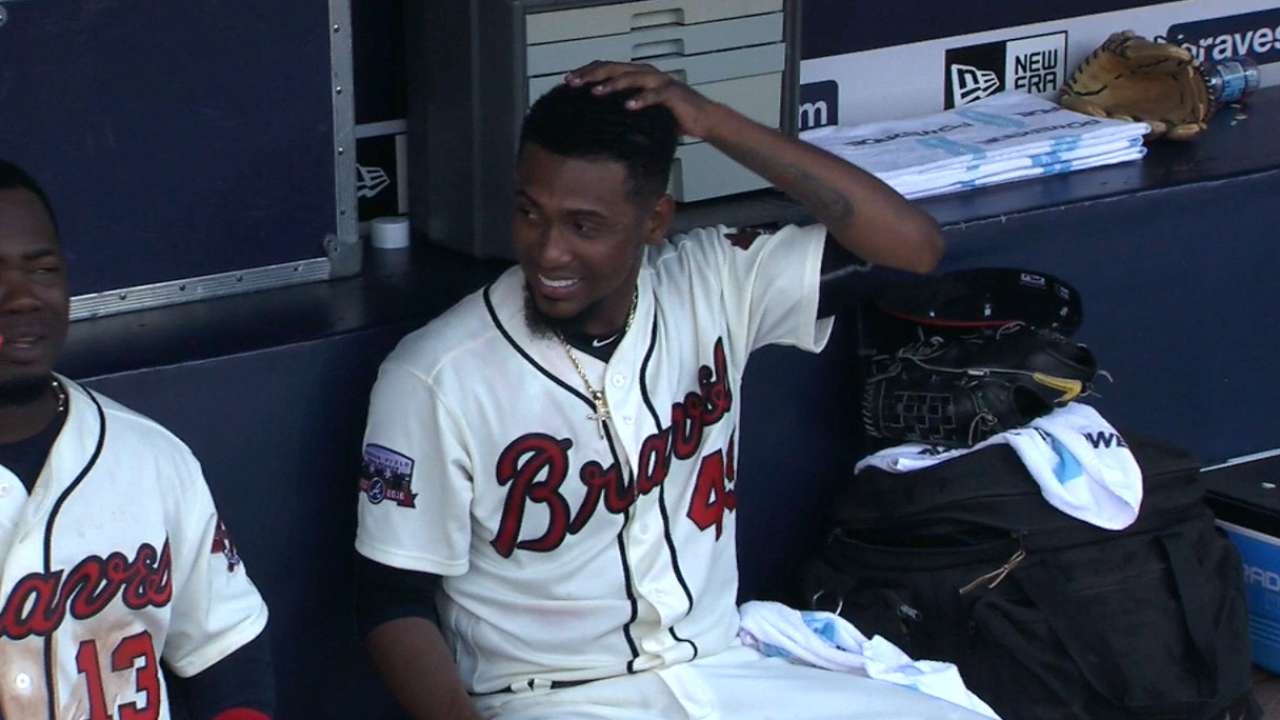 Colombia is about to play in its first World Baseball Classic, and it is being thrown straight into the fire. If Team Colombia wants to keep pace in a dangerous Pool C in March, its All-Star duo atop the starting rotation might need to shoulder the load.
The Colombians open World Baseball Classic pool play against the star-studded U.S. in Miami, then face what should be a competitive Canada team and the defending champions from the Dominican Republic.
• World Baseball Classic tickets
• Rules for 2017 Classic
Colombia will need its pitching to quiet the biggest opposing bats, and that job will fall to left-hander Jose Quintana and right-hander Julio Teheran -- the frontliners of Colombia's roster, which was announced Wednesday on MLB Network.
Quintana and Teheran, who were signed as amateur free agents one year apart -- Quintana in 2006, Teheran in '07 -- have emerged as Major League workhorses. Both pitchers have made 30-plus starts each of the past four years, with the 28-year-old Quintana posting a 3.35 ERA for the White Sox in that span and the 26-year-old Teheran posting a 3.33 ERA for the Braves.
The World Baseball Classic runs from March 6-22. In the U.S., games will air live exclusively in English on MLB Network and on an authenticated basis via MLBNetwork.com/watch, while ESPN Deportes and WatchESPN will provide the exclusive Spanish-language coverage. MLB.TV Premium subscribers in the U.S. will have access to watch every tournament game live on any of the streaming service's 400-plus supported devices. Internationally, the tournament will be distributed across all forms of television, internet, mobile and radio in territories excluding the U.S., Puerto Rico and Japan. Get tickets for games at Marlins Park, Tokyo Dome, Gocheok Sky Dome in Seoul, Estadio Charros de Jalisco in Mexico, Petco Park, as well as the Championship Round at Dodger Stadium, while complete coverage -- including schedules, video, stats and gear -- is available at WorldBaseballClassic.com.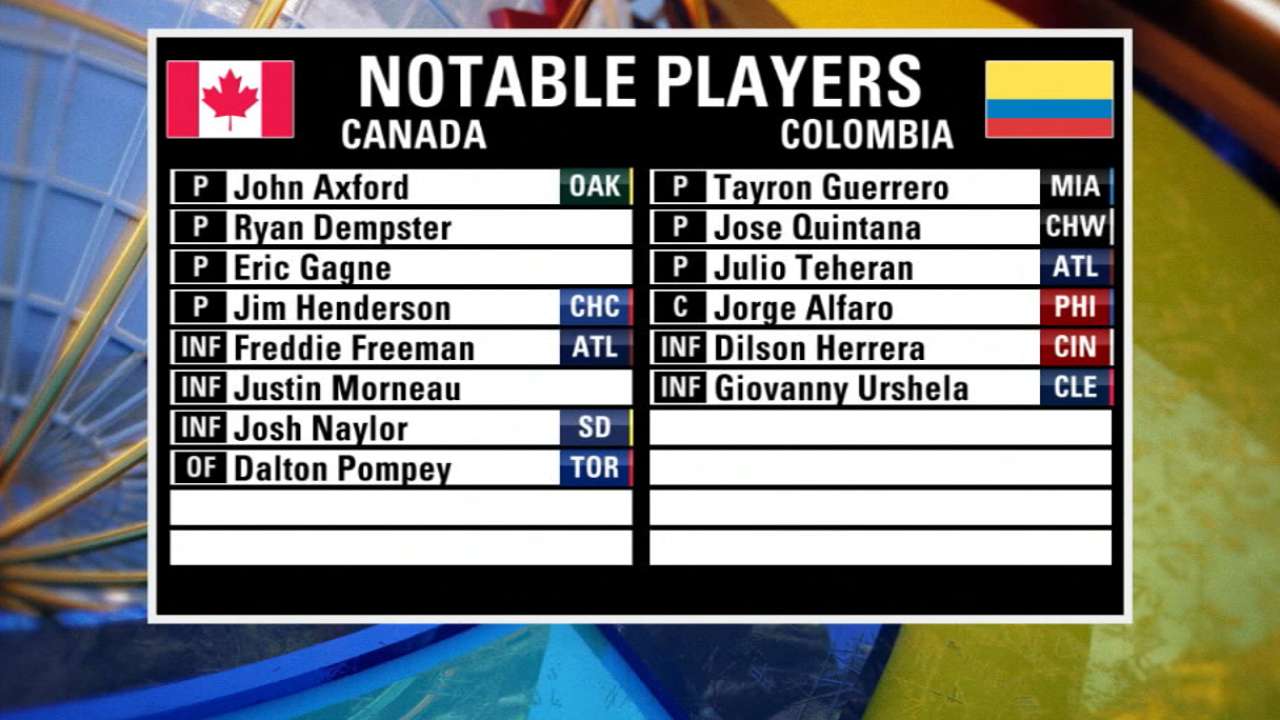 The rest of Colombia's roster also has its share of MLB-affiliated players and former big leaguers. Reds infielder Dilson Herrera -- Cincinnati's return for trading Jay Bruce to the Mets -- had the go-ahead home run in the final of Colombia's qualifier and will be back for the tournament. Brothers Donovan Solano and Jhonatan Solano, who are currently in the Minors with the Yankees and Nationals, respectively, but have Major League experience, are also playing for Colombia. So is longtime big league veteran reliever Ernesto Frieri, who last played in the Majors in 2015.
Colombia has eight pitchers in its designated pitcher pool. Each team has the option of using the designated pitcher pool (DPP), which works like this: A team can use up to 10 designated pitchers but can't have more than two on its active roster at a time. Those "active" DPs can be replaced at the beginning of each of the next two rounds, but only by another DP. Once a DP has been replaced, he cannot return to the active roster for a subsequent round.
Team Colombia has designated Horacio Acosta and Greg Nappo as active DPs for the first round of pool play; they could be replaced on the roster before the second round or the championship round, but only by one of the team's other DPs. And if a DP joins for the second round, he can be replaced for the championship round, but only by another DP.
Click on team for complete roster and breakdown.
POOL A
Chinese Taipei
Israel
Korea
Netherlands
POOL B
Australia
China
Cuba
Japan
POOL C
Canada
Colombia
Dominican Republic
United States
POOL D
Italy
Mexico
Puerto Rico
Venezuela
Here's the breakdown of Colombia's World Baseball Classic roster:
Pitchers
Horacio Acosta*
Kendy Batista**
Randy Consuegra**
Nabil Crismatt, Mets
William Cuevas, Tigers
Dayan Diaz, Astros
Luis Escobar, Pirates**
Ernesto Frieri
Tayron Guerrero, Marlins
Sugar Ray Marimon
Erling Moreno, Cubs**
Guillermo Moscoso
Greg Nappo, Marlins*
Javier Ortiz
Yohan Pino, Twins
Jose Quintana, White Sox
Reiver Sanmartin, Texas Rangers**
Julio Teheran, Braves
Karl Triana
Angel Vilchez**
Ezequiel Zabaleta, Mets**
* Active designated pitchers pool
** Designated pitchers pool
Catchers
Jorge Alfaro, Phillies
Jhonatan Solano, Nationals
Meibrys Viloria, Royals
Infielders
Dilson Herrera, Reds
Mauricio Ramos, Royals
Reynaldo Rodriguez, Twins
Adrian Sanchez, Nationals
Donovan Solano, Yankees
Giovanny Urshela, Indians
Outfielders
Efrain Contreras
Tito Polo, Yankees
Jesus Valdez
David Adler is a reporter for MLB.com based in New York. Follow him on Twitter at @_dadler. This story was not subject to the approval of Major League Baseball or its clubs.