Israel brings MLB experience to 1st WBC main draw
Vets Davis, Feldman among team members with Major League credentials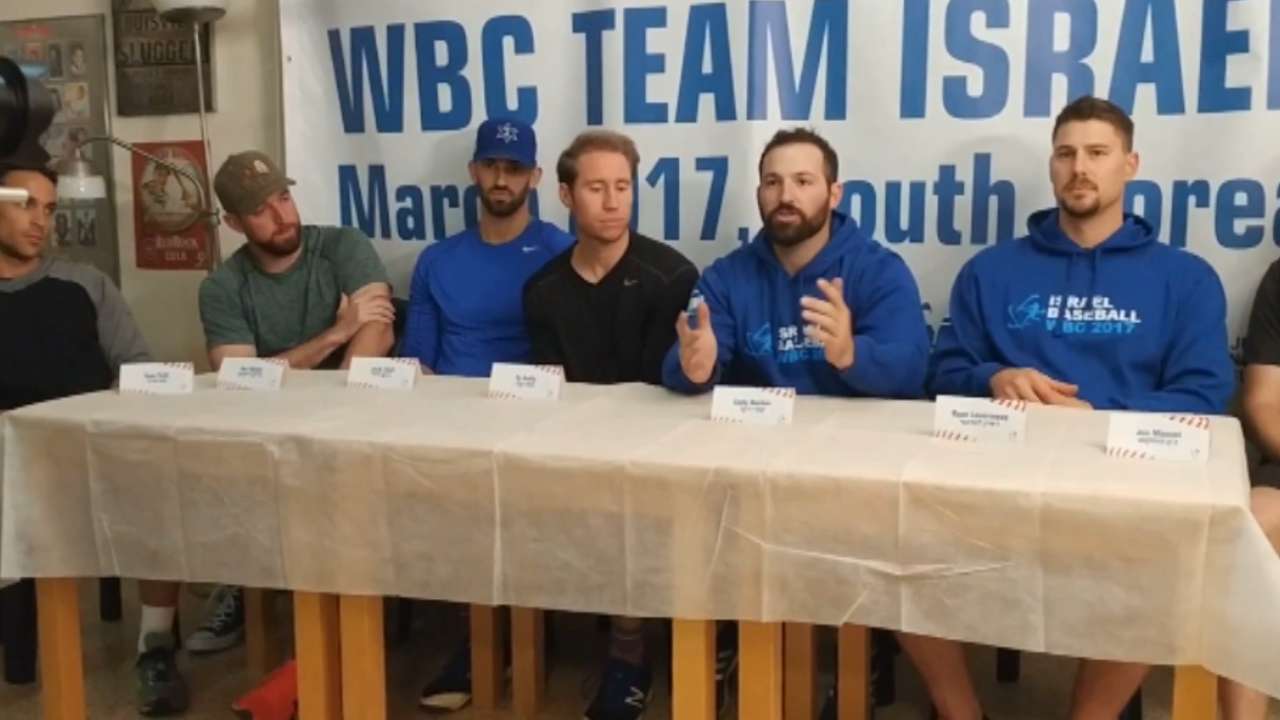 For the first time, Israel is in the main draw of the World Baseball Classic. With a roster featuring a mix of MLB-affiliated players, free agents with big league experience and some Israeli citizens, the team will be looking to make noise in Pool A when the tournament begins in March.
Traveling to South Korea for pool play, Israel will play in the World Baseball Classic's opening game against Korea on March 6, then face Chinese Taipei and the Netherlands, with the top two teams in the pool advancing to the second round.
• World Baseball Classic tickets
• Rules for 2017 Classic
Team Israel's roster, announced Wednesday on MLB Network, has many of the same members who helped earn the final spot in the 16-team field at September's Brooklyn qualifiers. That includes players like Ike Davis, who currently has a Minor League deal with the Dodgers, and Cody Decker, a main returnee from the Israeli team that lost in the 2013 World Baseball Classic qualifiers, who is now in the Brewers' organization.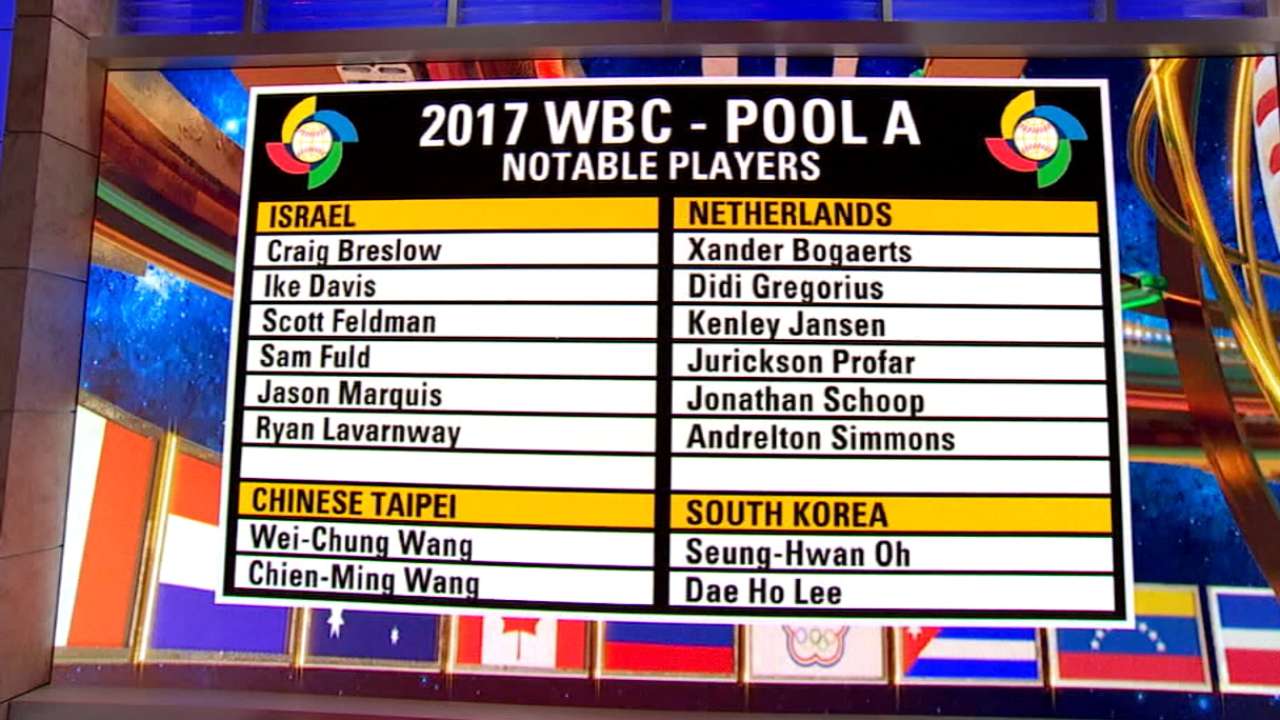 On the mound, Israel will again have Jason Marquis, now a free agent but a 15-year Major League veteran, who was the team's main starter in the qualifying round. Israeli citizens Dean Kremer and Shlomo Lipetz will also return.
But because the Major League season will not be going on during the World Baseball Classic like it was during the qualifiers, the Israeli team has been able to deepen its roster.
Mets infielder Ty Kelly, for example, will be joining the team as a utility player. Pitchers like Reds right-hander Scott Feldman, a 12-year MLB veteran, and Yankees left-hander Richard Bleier will also be on the team in its designated pitcher pool.
Each team has the option of using the designated pitcher pool (DPP), which works like this: A team can use up to 10 designated pitchers but can't have more than two on its active roster at a time. Those active DPs can be replaced at the beginning of each of the next two rounds, but only by another DP. Once a DP has been replaced, he cannot return to the active roster for a subsequent round. Using Team Israel as an example, Lipetz and Joey Wagman are the active DPs for the first round of pool play, so they can be replaced on the roster before the second round or the championship round, but only by one of the team's other DPs. And if a DP joins for the second round, he can be replaced for the championship round.
The World Baseball Classic runs from March 6-22. In the U.S., games will air live exclusively in English on MLB Network and on an authenticated basis via MLBNetwork.com/watch, while ESPN Deportes and WatchESPN will provide the exclusive Spanish-language coverage. MLB.TV Premium subscribers in the U.S. will have access to watch every tournament game live on any of the streaming service's 400-plus supported devices. Internationally, the tournament will be distributed across all forms of television, internet, mobile and radio in territories excluding the U.S., Puerto Rico and Japan. Get tickets for games at Marlins Park, Tokyo Dome, Gocheok Sky Dome in Seoul, Estadio Charros de Jalisco in Mexico, Petco Park, as well as the Championship Round at Dodger Stadium, while complete coverage -- including schedules, video, stats and gear -- is available at WorldBaseballClassic.com.
Click on team for complete roster and breakdown.
POOL A
Chinese Taipei
Israel
Korea
Netherlands
POOL B
Australia
China
Cuba
Japan
POOL C
Canada
Colombia
Dominican Republic
United States
POOL D
Italy
Mexico
Puerto Rico
Venezuela
Here's the breakdown of Israel's World Baseball Classic roster:
Pitchers
Dylan Axelrod
Corey Baker, Cardinals
Jeremy Bleich
Richard Bleier, Yankees**
Craig Breslow
Daniel Burawa
Gabe Cramer, Royals
Scott Feldman, Reds**
Jake Fishman, Blue Jays**
Brad Goldberg, White Sox**
Tyler Herron
Jake Kalish, Royals
Alex Katz, White Sox
Kenny Koplove, Phillies**
Dean Kremer, Dodgers
Jared Lakind, Pirates**
Shlomo Lipetz*
Jason Marquis
Troy Neiman, Rockies
R.C. Orlan, Nationals
Ryan Sherriff, Cardinals**
Zach Thornton**
Joey Wagman, Athletics*
Josh Zeid
* Active designated pitchers pool
** Designated pitchers pool
Catchers
Ryan Lavarnway, Athletics
Nick Rickles, Nationals
Infielders
Scott Burcham, Rockies
Ike Davis, Dodgers
Nate Freiman
Ty Kelly, Mets
Tyler Krieger, Indians
Outfielders
Zachary Borenstein, D-backs
Sam Fuld
Blake Gailen
Mike Meyers, Red Sox
Utility
Cody Decker, Brewers
David Adler is a reporter for MLB.com based in New York. Follow him on Twitter at @_dadler. This story was not subject to the approval of Major League Baseball or its clubs.