Cuba's Classic roster replete with young talent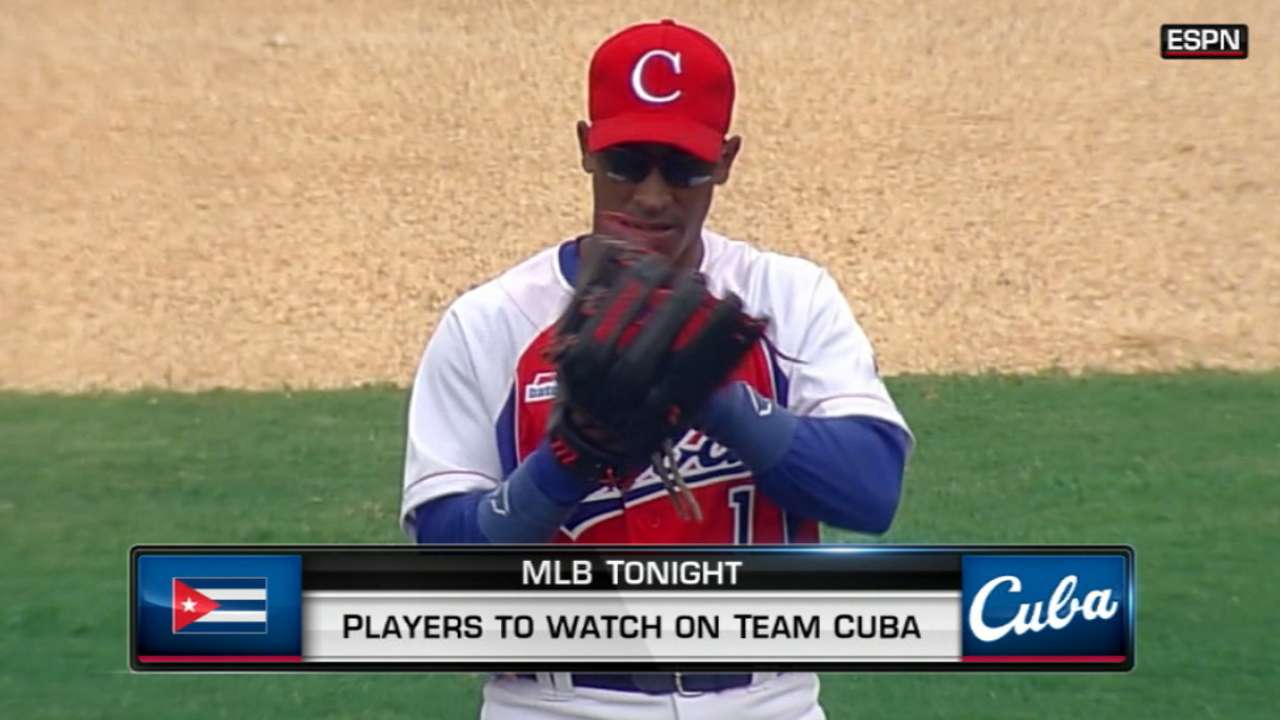 With a diminishing pool of big league talent due to Cuba's ban to include players who have defected, the country's roster for the 2017 World Baseball Classic is thin on stars yet remains intriguing due to its wealth of young talent.
Without Jose Abreu, Yasiel Puig, Raisel Iglesias, Yulieski Gurriel and Yoenis Cespedes, Cuba can remain competitive and possibly build on its second-round elimination in the 2013 event, particularly with a strong outfield with up-and-coming prospects and an established slugger.
• World Baseball Classic tickets
Yoelkis Cespedes, the younger and leaner half-brother of Yoenis, is widely considered a five-tool talent as one of Cuba's top prospects. Some have even ventured to argue the 19-year-old could burgeon into a better player than his burly brother.
"Yes, I'm pressured by that," Yoelkis said of the comparisons to his brother. "Like I said before, they compare me to my brother, and that motivates me to be a better player."
The World Baseball Classic runs from March 6-22. In the U.S., games will air live exclusively in English on MLB Network and on an authenticated basis via MLBNetwork.com/watch, while ESPN Deportes and WatchESPN will provide the exclusive Spanish-language coverage. MLB.TV Premium subscribers in the U.S. will have access to watch every tournament game live on any of the streaming service's 400-plus supported devices. Internationally, the tournament will be distributed across all forms of television, internet, mobile and radio in territories excluding the U.S., Puerto Rico and Japan. Get tickets for games at Marlins Park, Tokyo Dome, Gocheok Sky Dome in Seoul, Estadio Charros de Jalisco in Mexico, Petco Park, as well as the Championship Round at Dodger Stadium, while complete coverage -- including schedules, video, stats and gear -- is available at WorldBaseballClassic.com.
Yoelkis Cespedes will share the outfield with Alfredo Despaigne, Cuba's catalyst in the last World Baseball Classic who hit .389/.522/.944 with three home runs, five runs scored and eight RBIs in six games, winning MVP of Pool A. Over the past three years, Despaigne, 30, has largely been away from competing for Cuba and playing for the Chiba Lotte Marines of the Nippon Professional Baseball Organization in Japan. Given the limited pool of MLB talent, Despaigne will be one of Cuba's pivotal sources of power.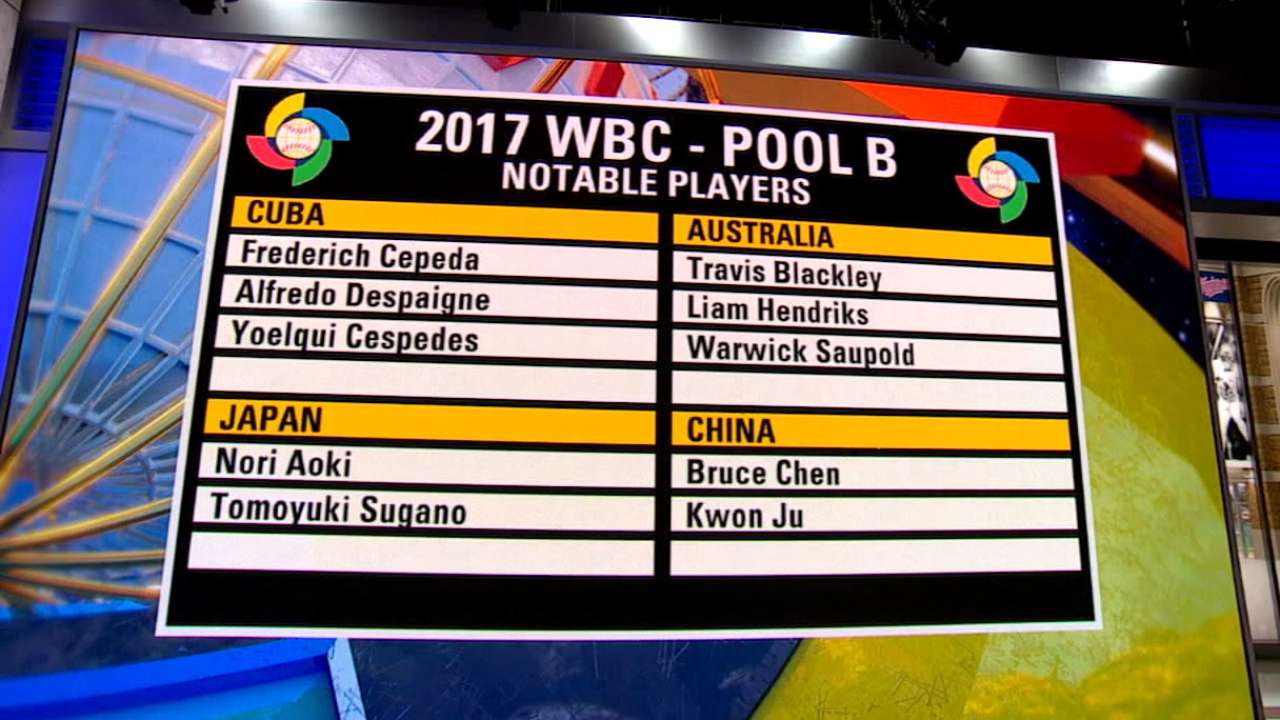 Rounding out the outfield is perhaps the most intriguing player, Victor Mesa, the son of the longtime national team manager with the same name. Like his father, one of the nation's iconic baseball figures, the younger Mesa is a speedster on the basepaths who makes solid contact at the plate and complements his offense with a strong arm in center field.
Among those returning include pitchers Freddy Alvarez, Vladimir Garcia and Leandro Martinez, catcher Frank Morejon -- making up a roster comprised of 13 pitchers, seven infielders, five outfielders and three catchers.
Each team has the option of using the designated pitcher pool (DPP), which works like this: A team can use up to 10 designated pitchers but can't have more than two on its active roster at a time. Those "active" DPs can be replaced at the beginning of each of the next two rounds, but only by another DP. Once a DP has been replaced, he cannot return to the active roster for a subsequent round. Using Team USA as an example, Danny Duffy and Tanner Roark are the active DPs for the first round of pool play, so they can be replaced on the roster before the second round or the championship round, but only by one of the team's other DPs. And if a DP joins for the second round, he can be replaced for the championship round, but only by another DP.
Cuba will compete in Pool B in Tokyo with China, Australia and Japan, which they play first on March 7.
Click on team for complete roster and breakdown.
POOL A
Chinese Taipei
Israel
Korea
Netherlands
POOL B
Australia
China
Cuba
Japan
POOL C
Canada
Colombia
Dominican Republic
United States
POOL D
Italy
Mexico
Puerto Rico
Venezuela
Pitchers
Freddy Alvarez*
Vladimir Banos
Lazaro Blanco
Erly Casanova**
Yoalkis Cruz**
Dachel Duquesne**
Noervys Entenza
Jose Garcia
Vladimir Garcia
Liomil Gonzalez**
Yasmany Hernandez**
Miguel Lahera
Jonder Martinez**
Leandro Martinez*
Raidel Martinez
Frank Medina**
Livan Moinelo
Jose Rodriguez**
Alain Sanchez
Yosbany Torres
Yoennis Yera
* Active designated pitchers pool
** Designated pitchers pool
Catchers
Yosvani Alarcon
Frank Morejon
Osvaldo Vazquez
Infielders
Guillermo Avilés
Alexander Ayala
Carlos Benítez
Jeferson Delgado
Yurisbel Gracial
Jordan Manduley
William Saavedra
Outfielders
Frederich Cepeda
Yoelkis Cespedes
Alfredo Despaigne
Victor Mesa
Roel Santos
Daniel Kramer is a reporter for MLB.com based in Denver. Follow him on Twitter at @DKramer_. This story was not subject to the approval of Major League Baseball or its clubs.