Veteran lefty Chen heads China's WBC roster
O's prospect Xu, Mariners catcher Wang among other highlights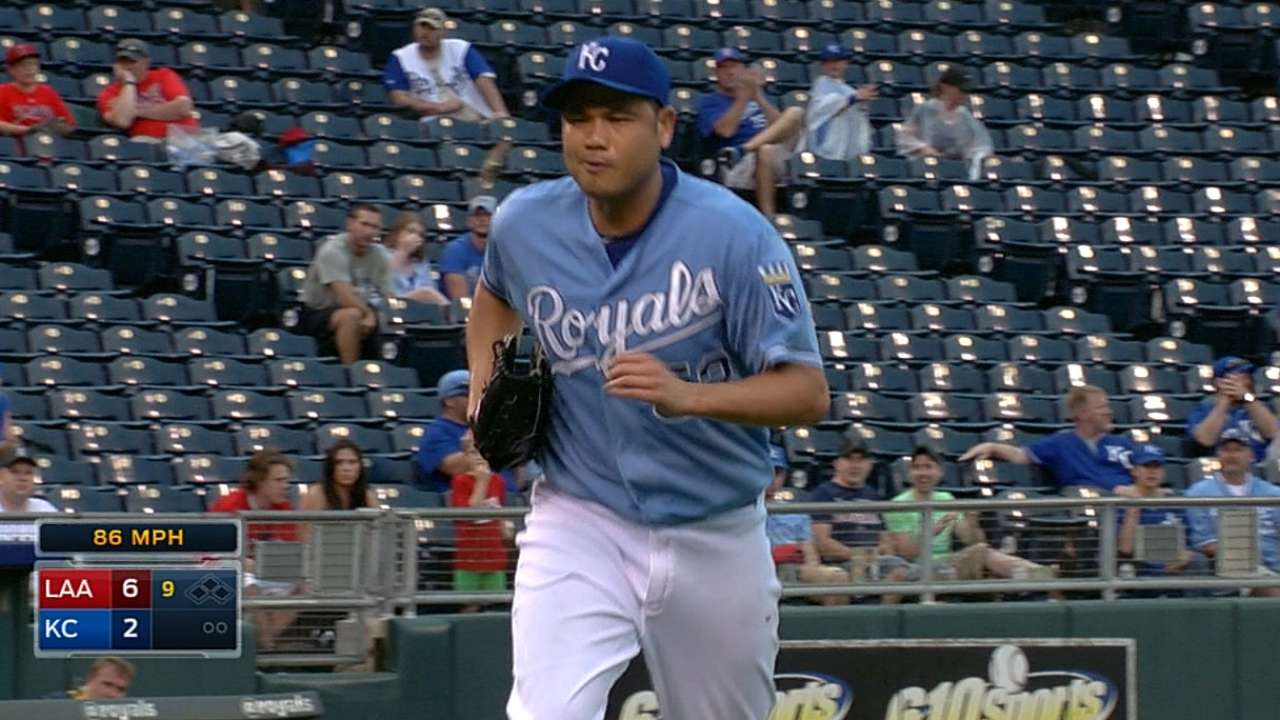 With its official roster set for the 2017 World Baseball Classic, China will look to build upon its ever-improving performances in the sport's premier international event.
It won a game during pool play in each of the past two World Baseball Classics, and while this year's challenging opposition in Pool B with Cuba, Japan and Australia may make it tough to finally advance to the second round, manager and Phillies bullpen coach John McLaren recently told MLB.com's Lindsay Berra, "winning a game is monumental."
• World Baseball Classic tickets
Baseball has burgeoned in China since it appeared in the inaugural World Baseball Classic in 2006 -- though only two players born there have ever reached the Majors, and none have by birth and ancestry. In fact, Orioles prospect Xu Guiyuan -- an infielder on China's roster -- is the first player from MLB's three development centers in China to sign with a big league club.
"All the ethereal things about baseball -- no clock, the sacrifice, the journey around the bases that starts and finishes at home -- it all resonates in Chinese culture," Jim Small, vice president of MLB operations in Asia, said in a 2015 interview with MLB.com. "I'm convinced that if baseball was around during Confucius' time, he would have been a huge fan."
There are no current big leaguers on China's roster, though Bruce Chen isn't far off. The 17-year veteran's native Panama didn't qualify, so he will pitch for China in homage to his family, which is of Chinese descent. Chen, 39, retired after the 2015 season and spend last year as a Minor League cultural development coordinator for the Cleveland Indians.
A notable absence to the Chinese roster is Cardinals second baseman Kolten Wong, who was thought to receive consideration, but has spent this offseason in St. Louis preparing for Spring Training after losing his everyday job last year.
Each team has the option of using the designated pitcher pool (DPP), which works like this: A team can use up to 10 designated pitchers but can't have more than two on its active roster at a time. Those "active" DPs can be replaced at the beginning of each of the next two rounds, but only by another DP. Once a DP has been replaced, he cannot return to the active roster for a subsequent round.
The World Baseball Classic runs from March 6-22. In the U.S., games will air live exclusively in English on MLB Network and on an authenticated basis via MLBNetwork.com/watch, while ESPN Deportes and WatchESPN will provide the exclusive Spanish-language coverage. MLB.TV Premium subscribers in the U.S. will have access to watch every tournament game live on any of the streaming service's 400-plus supported devices. Internationally, the tournament will be distributed across all forms of television, internet, mobile and radio in territories excluding the U.S., Puerto Rico and Japan. Get tickets for games at Marlins Park, Tokyo Dome, Gocheok Sky Dome in Seoul, Estadio Charros de Jalisco in Mexico, Petco Park, as well as the Championship Round at Dodger Stadium, while complete coverage -- including schedules, video, stats and gear -- is available at WorldBaseballClassic.com.
Click on team for complete roster and breakdown.
POOL A
Chinese Taipei
Israel
Korea
Netherlands
POOL B
Australia
China
Cuba
Japan
POOL C
Canada
Colombia
Dominican Republic
United States
POOL D
Italy
Mexico
Puerto Rico
Venezuela
Pitchers
Bruce Chen
Kun Chen
Andrew Chin
Quan Gan
Haicheng Gong
Kwon Ju
Xin Li
Yu Liu
Chao Lu
Yusong Lu
Xia Luo
Jiping Qi
Menghao Wang
Yanyong Yang
Chaoqun Zheng
Catchers
Ning Li
Weiqiang Meng
Wei Wang, Mariners
Infielders
Ray Chang
Fujia Chu
Xiaolei Du
Zeyuan Li
Joey Wong
Gui Yuan Xu, Orioles
Outfielders
Yanpeng Chen
Zhenhong Lu
Chuang Na
Shunyi Yang
Daniel Kramer is a reporter for MLB.com based in Denver. Follow him on Twitter at @DKramer_. This story was not subject to the approval of Major League Baseball or its clubs.