Japan ready for chance to regain Classic crown
Two-time champs announce roster for 2017 tournament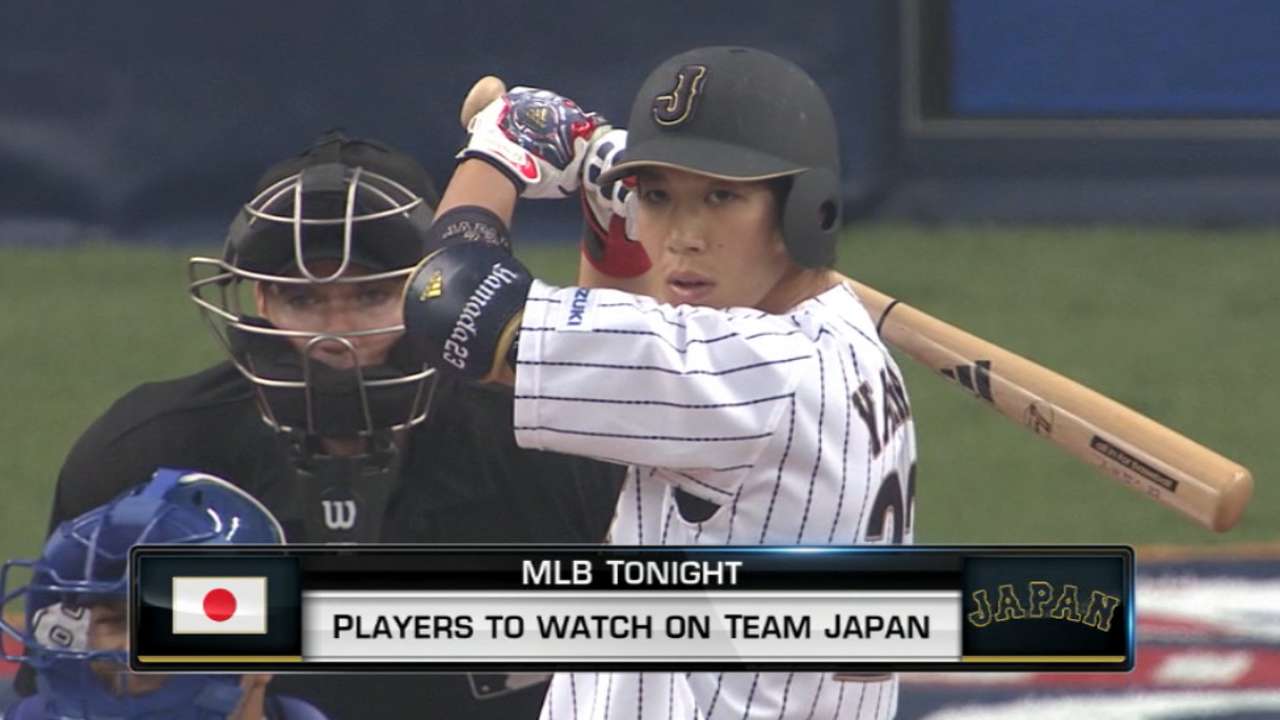 For two-time World Baseball Classic champion Japan, as much has been made of who won't be competing in the 2017 event as who will. But after the club's roster was unveiled Wednesday, it's easy to believe that Japan can make a deep run in next month's tournament.
The baseball world was yearning to get a glimpse of superstar Shohei Ohtani, the pitching and power-hitting sensation who was the Japan Pacific League MVP last year -- and arguably the best player who isn't in the Majors -- but a lingering right ankle injury sustained in October has forced him to withdraw. And with Yu Darvish, Kenta Maeda and Masahiro Tanaka also not competing, Astros outfielder Norichika Aoki is the lone player representing an MLB club.
The pitching staff will be headlined by Tomoyuki Sugano, 27, who is 44-28 with a career 2.34 ERA over 697 innings in Nippon Professional Baseball. His arsenal reportedly includes an astounding seven pitches, including a forkball, that has led to a 1.07 WHIP and 7.6 strikeouts per nine innings over his career. Along with Sugano, Shintaro Fujinami, 24, is expected to be a strong substitute for Ohtani.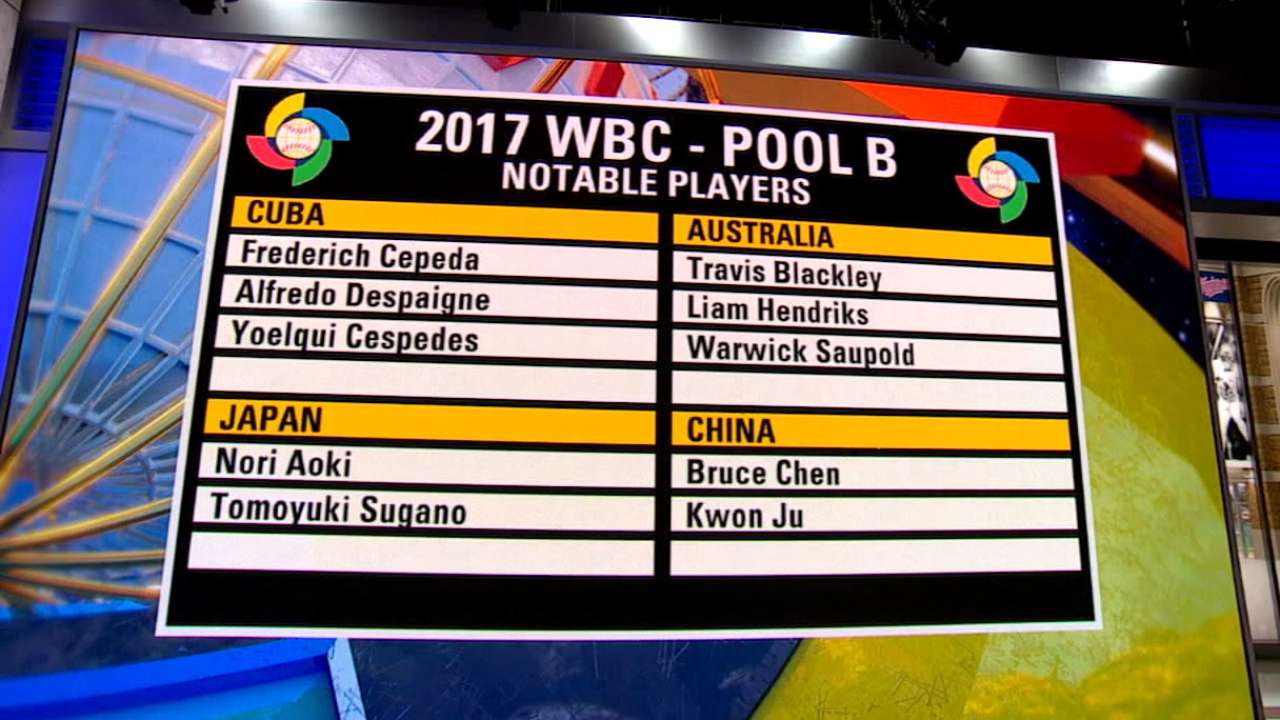 The World Baseball Classic runs from March 6-22. In the U.S., games will air live exclusively in English on MLB Network and on an authenticated basis via MLBNetwork.com/watch, while ESPN Deportes and WatchESPN will provide the exclusive Spanish-language coverage. MLB.TV Premium subscribers in the U.S. will have access to watch every tournament game live on any of the streaming service's 400-plus supported devices. Internationally, the tournament will be distributed across all forms of television, internet, mobile and radio in territories excluding the U.S., Puerto Rico and Japan. Get tickets for games at Marlins Park, Tokyo Dome, Gocheok Sky Dome in Seoul, Estadio Charros de Jalisco in Mexico, Petco Park, as well as the Championship Round at Dodger Stadium, while complete coverage -- including schedules, video, stats and gear -- is available at WorldBaseballClassic.com.
Each team has the option of using the designated pitcher pool (DPP), which works like this: A team can use up to 10 designated pitchers but can't have more than two on its active roster at a time. Those "active" DPs can be replaced at the beginning of each of the next two rounds, but only by another DP. Once a DP has been replaced, he cannot return to the active roster for a subsequent round.
Using Team Japan as an example, Yoshihisa Hirano is the lone active DP for the first round of pool play, so he can be replaced on the roster before the second round or the championship round, but only by one of the team's other DPs. And if a DP joins for the second round, he can be replaced for the championship round, but only by another DP.
The lineup will be headlined by slugging second baseman Tetsuto Yamada, who is the first player in NPB to accomplish the nation's esteemed "Triple Three" in consecutive seasons -- hitting above .300 with at least 30 homers and 30 stolen bases. Ohtani last week told MLB.com's Jon Paul Morosi that Yamada, 24, is the one hitter he is most afraid to face.
Japan will be led by first-time World Baseball Classic manager Hiroki Kokubu, who went down as of the NPB's strongest hitters with 413 homers over his 18-year career. Another huge advantage for Japan will be hosting Pools B and E in Tokyo.
Click on team for complete roster and breakdown.
POOL A
Chinese Taipei
Israel
Korea
Netherlands
POOL B
Australia
China
Cuba
Japan
POOL C
Canada
Colombia
Dominican Republic
United States
POOL D
Italy
Mexico
Puerto Rico
Venezuela
Pitchers
Ryo Akiyoshi
Shintaro Fujinami
Yoshihisa Hirano*
Kenta Ishida**
Ayumu Ishikawa
Yuta Iwasada**
Kazuhisa Makita
Tatsushi Masuda**
Hirotoshi Masui
Yuki Matsui
Naoki Myanishi
Masahiko Morifuku**
Yusuke Nomura**
Takahiro Norimoto
Daichi Ohsera**
Toshiya Okada
Hirokazu Sawamura**
Kodai Senga
Tomoyuki Sugano
Shota Takeda
Yasuaki Yamasaki**
* Active designated pitchers pool
** Designated pitchers pool
Catchers
Seiji Kobayashi
Shota Ohno
Motohiro Shima
Infielders
Ryosuke Kikuchi
Nobuhiro Matsuda
Sho Nakata
Hayato Sakamoto
Kosuke Tanaka
Tetsuto Yamada
Outfielders
Shogo Akiyama
Norichika Aoki, Astros
Ryosuke Hirata
Seiya Suzuki
Yoshitomo Tsutsugoh
Seiichi Uchikawa
Daniel Kramer is a reporter for MLB.com based in Denver. Follow him on Twitter at @DKramer_. This story was not subject to the approval of Major League Baseball or its clubs.