Chinese Taipei leaning on deep pitching staff
Team could use skill, athleticism as keys to success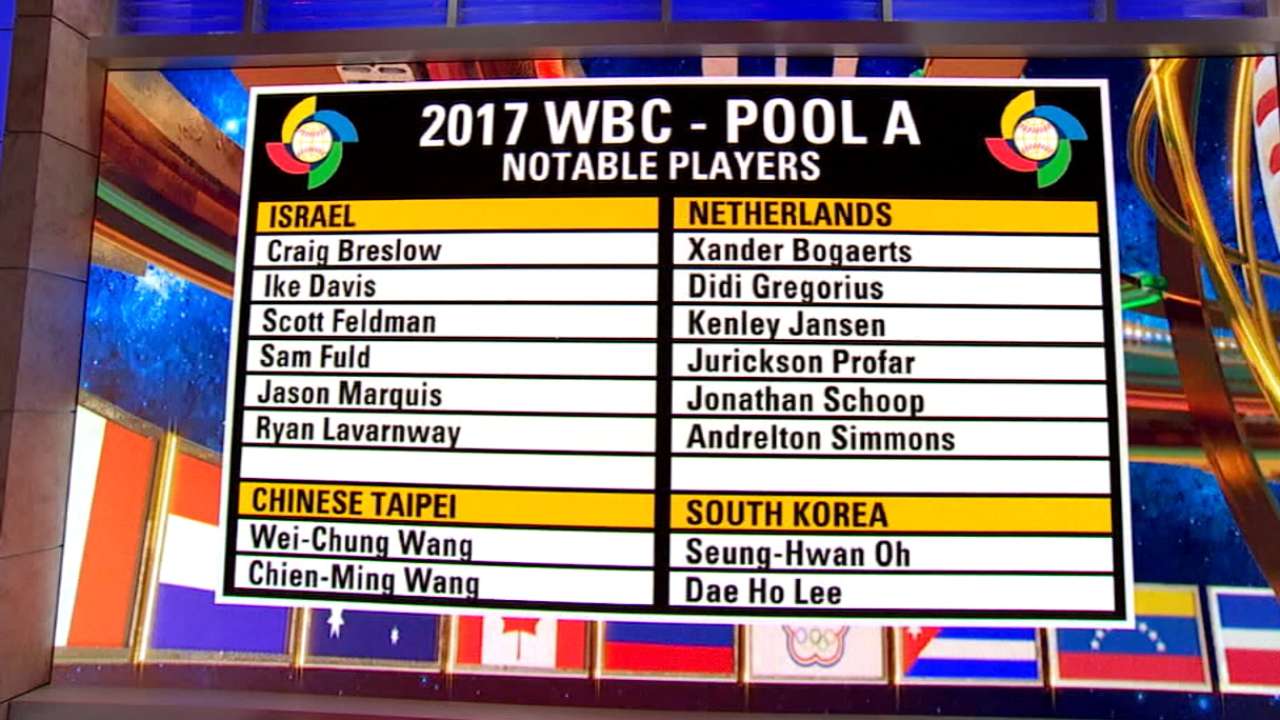 What Team Chinese Taipei lacks in experience, it hopes to make up for in skill and athleticism during the World Baseball Classic. Just three players on the roster, all pitchers, are currently in the farm system of a Major League Baseball team.
Right-handers Ping-Hsueh Chen and Shao-Ching Chiang are teammates within the Indians' Minor League organization, while Wei-Chung Wang is a left-hander in the Brewers' system. One familiar face on the roster is Chien-Ming Wang. He spent nine seasons in the Majors, most recently with the Royals in 2016. He went 6-0 with a 4.22 ERA in 38 games (24 starts).
• World Baseball Classic tickets | Rules for WBC 2017
The World Baseball Classic runs from March 6-22. In the U.S., games will air live exclusively in English on MLB Network and on an authenticated basis via MLBNetwork.com/watch, while ESPN Deportes and WatchESPN will provide the exclusive Spanish-language coverage. MLB.TV Premium subscribers in the U.S. will have access to watch every tournament game live on any of the streaming service's 400-plus supported devices. Internationally, the tournament will be distributed across all forms of television, internet, mobile and radio in territories excluding the U.S., Puerto Rico and Japan. Get tickets for games at Marlins Park, Tokyo Dome, Gocheok Sky Dome in Seoul, Estadio Charros de Jalisco in Mexico, Petco Park, as well as the Championship Round at Dodger Stadium, while complete coverage -- including schedules, video, stats and gear -- is available at WorldBaseballClassic.com.
Chinese Taipei has a deep pitching staff, with 21 pitchers on the roster. Each team has the option of using the designated pitcher pool [DPP], which works like this: A team can use up to 10 designated pitchers, but can't have more than two on its active roster at a time. Those active DPs can be replaced at the beginning of each of the next two rounds, but only by another DP. Once a DP has been replaced, he cannot return to the active roster for a subsequent round. Using Chinese Taipei as an example, Yun-Wen Chen and Kuo-Hua Lo are the active DPs for the first round of pool play, so they can be replaced on the roster before the second round or the championship round, but only by one of the team's other DPs. And if a DP joins for the second round, he can be replaced for the championship round, but only by another DP.
Click on team for complete roster and breakdown.
POOL A
Chinese Taipei
Israel
Korea
Netherlands
POOL B
Australia
China
Cuba
Japan
POOL C
Canada
Colombia
Dominican Republic
United States
POOL D
Italy
Mexico
Puerto Rico
Venezuela
Pitchers
Hung-Wen Chen
Kuan-Yu Chen
Ping-Hsueh Chen, Indians
Yun-Wen Chen*
Shao-Ching Chiang, Indians
Sheng-Hsiung Huang
Chun-Lin Kuo
Hung-Cheng Lai**
Chen-Hua Lin
Kuo-Hua Lo*
Yen-Ching Lu**
Fu-Te Ni
Wei-Lun Pan
Chia-Hao Sung
Ming-Chin Tsai
Cheng-Hao Wang**
Chien-Ming Wang**
Ching-Ming Wang
Wei-Chung Wang, Brewers**
Chun-Chieh Wu**
Chien-Fu Yang**
* Active designated pitchers pool
** Designated pitchers pool
Catchers
Ta-Hung Cheng
Kun-Sheng Lin
Infielders
Yung-Chi Chen
Chih-Hsien Chiang
Chiâ€"Hung Hsu
Chih-Hsiang Lin
Chih-Sheng Lin
Yi-Chuan Lin
Sheng-Wei Wang
Outfielders
Cheng-Wei Chang
Chih-Hao Chang
Chin-Lung Hu
Kuo-Hui Kao
Che-Hsuan Lin
Guo-Long Luo
Quinn Roberts is a reporter for MLB.com. This story was not subject to the approval of Major League Baseball or its clubs.