Big league infield anchors Team Netherlands
Bogaerts, Didi, Schoop, Simmons and Profar joined by star closer Jansen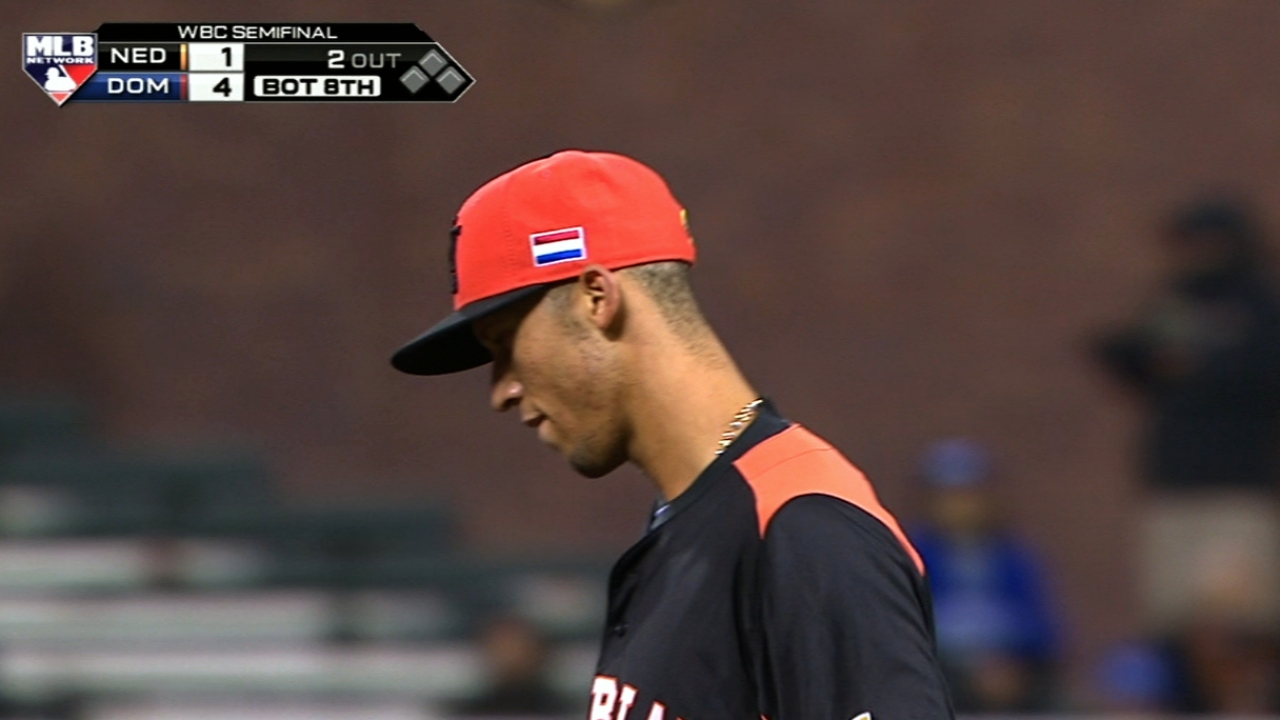 The World Baseball Classic is just around the corner, and we now know which players will be taking the field as part of the international tournament. The rosters for the 16 competing nations were unveiled Wednesday evening on MLB Network.
The Netherlands team boasts a loaded infield with five big leaguers, including Red Sox star Xander Bogaerts. He headlines a group that also features the Yankees' Didi Gregorius, the Orioles' Jonathan Schoop, the Angels' Andrelton Simmons and the Rangers' Jurickson Profar.
• World Baseball Classic tickets
• Rules for 2017 Classic
Dodgers closer Kenley Jansen also provides brings star power to the team, and he should be a major asset for the Netherlands' relief unit.
Each team has the option of using the designated pitcher pool (DPP), which works like this: A team can use up to 10 designated pitchers but can't have more than two on its active roster at a time. Those "active" DPs can be replaced at the beginning of each of the next two rounds, but only by another DP. Once a DP has been replaced, he cannot return to the active roster for a subsequent round. Using Team USA as an example, Danny Duffy and Tanner Roark are the active DPs for the first round of pool play, so they can be replaced on the roster before the second round or the championship round, but only by one of the team's other DPs. And if a DP joins for the second round, he can be replaced for the championship round, but only by another DP.
The World Baseball Classic runs from March 6-22. In the U.S., games will air live exclusively in English on MLB Network and on an authenticated basis via MLBNetwork.com/watch, while ESPN Deportes and WatchESPN will provide the exclusive Spanish-language coverage. MLB.TV Premium subscribers in the U.S. will have access to watch every tournament game live on any of the streaming service's 400-plus supported devices. Internationally, the tournament will be distributed across all forms of television, internet, mobile and radio in territories excluding the U.S., Puerto Rico and Japan. Get tickets for games at Marlins Park, Tokyo Dome, Gocheok Sky Dome in Seoul, Estadio Charros de Jalisco in Mexico, Petco Park, as well as the Championship Round at Dodger Stadium, while complete coverage -- including schedules, video, stats and gear -- is available at WorldBaseballClassic.com.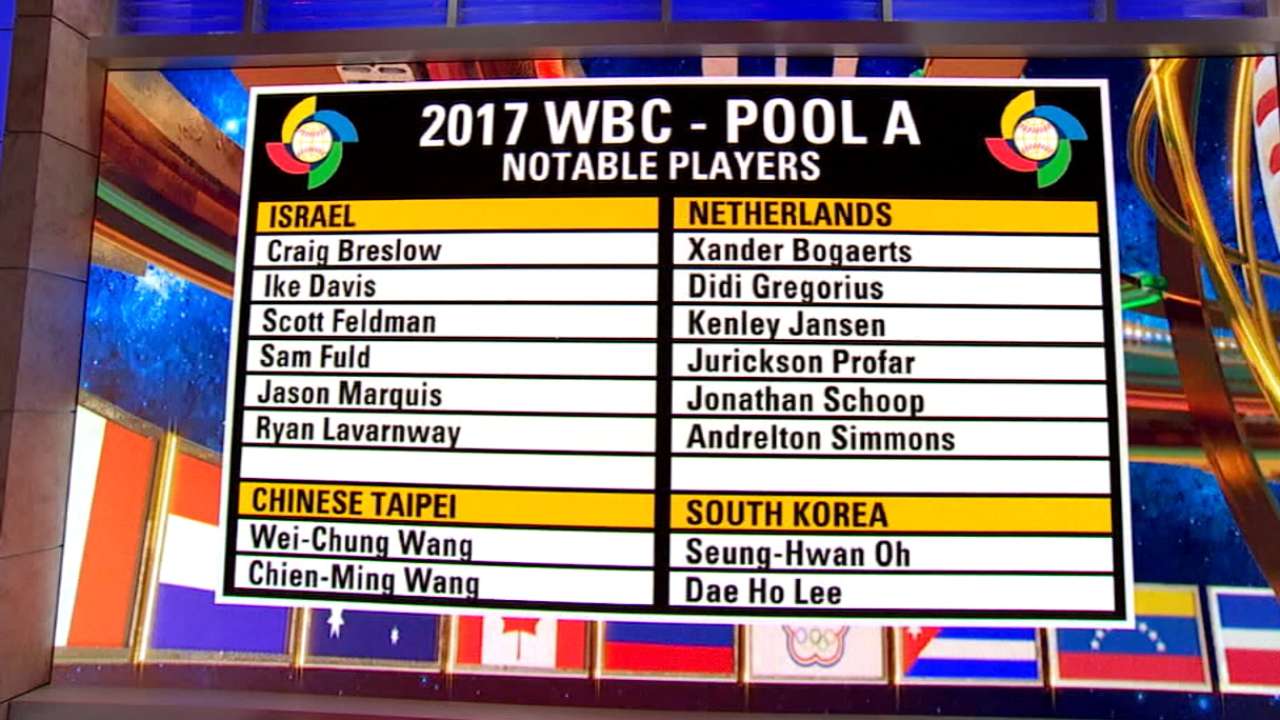 The Netherlands will compete in Pool A with South Korea, Chinese Taipei and Israel at the Gocheok Sky Dome. They open play on March 7 against South Korea.
The country has participated in all three previous installments of the World Baseball Classic, finishing as high as fourth in 2013.
Click on team for complete roster and breakdown.
POOL A
Chinese Taipei
Israel
Korea
Netherlands
POOL B
Australia
China
Cuba
Japan
POOL C
Canada
Colombia
Dominican Republic
United States
POOL D
Italy
Mexico
Puerto Rico
Venezuela
Pitchers
Nelmerson Angela, Mets**
Mike Bolsenbroek*
Robbie Cordemans
Tom de Blok
Kevin Heijstek**
Lars Huijer
Kenley Jansen, Dodgers**
Jair Jurrjens
Kevin Kelly**
Ruderly Manuel**
Diegomar Markwell
Shairon Martis
Ryan Oduber, Red Sox**
Mark Pawelek**
Jim Ploeger
Tom Stuifbergen
Juan Carlos Sulbaran
Rick van den Hurk
Berry van Driel**
Loek van Mil
Orlando Yntema*
* Active designated pitchers pool
** Designated pitchers pool
Catchers
Shawn Zarraga, Reds
Ricardo Dashenko
Infielders
Xander Bogaerts, Red Sox
Yurendell de Caster
Didi Gregorius, Yankees
Jurickson Profar, Rangers
Jonathan Schoop, Orioles
Sharlon Schoop, Orioles
Andrelton Simmons, Angels
Curt Smith
Outfielders
Kalian Sams
Randolph Oduber
Christopher Garia
Wladimir Balentien
Utility
Dwayne Kemp
Chad Thornburg is a reporter for MLB.com. This story was not subject to the approval of Major League Baseball or its clubs.