Young stars join Beltran, Yadi for Puerto Rico
Correa, Baez, Lindor form strong infield as WBC 2017 rosters announced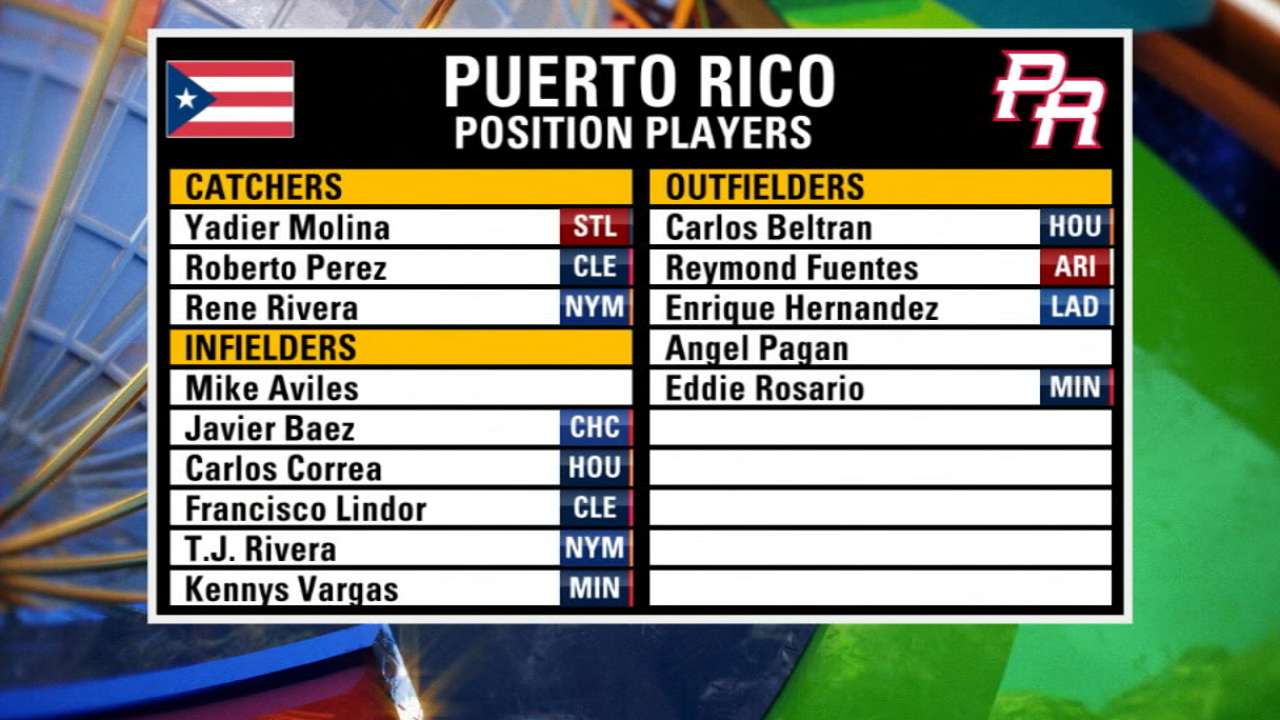 The World Baseball Classic is just around the corner, and we now know which players will be taking the field as part of the international tournament. The rosters for the 16 competing nations were unveiled Wednesday evening on MLB Network.
The Puerto Rican team will look to improve upon 2013's runner-up status, making another run at the championship with a roster infused with young talent.
The World Baseball Classic runs from March 6-22. In the U.S., games will air live exclusively in English on MLB Network and on an authenticated basis via MLBNetwork.com/watch, while ESPN Deportes and WatchESPN will provide the exclusive Spanish-language coverage. MLB.TV Premium subscribers in the U.S. will have access to watch every tournament game live on any of the streaming service's 400-plus supported devices. Internationally, the tournament will be distributed across all forms of television, internet, mobile and radio in territories excluding the U.S., Puerto Rico and Japan. Get tickets for games at Marlins Park, Tokyo Dome, Gocheok Sky Dome in Seoul, Estadio Charros de Jalisco in Mexico, Petco Park, as well as the Championship Round at Dodger Stadium, while complete coverage -- including schedules, video, stats and gear -- is available at WorldBaseballClassic.com.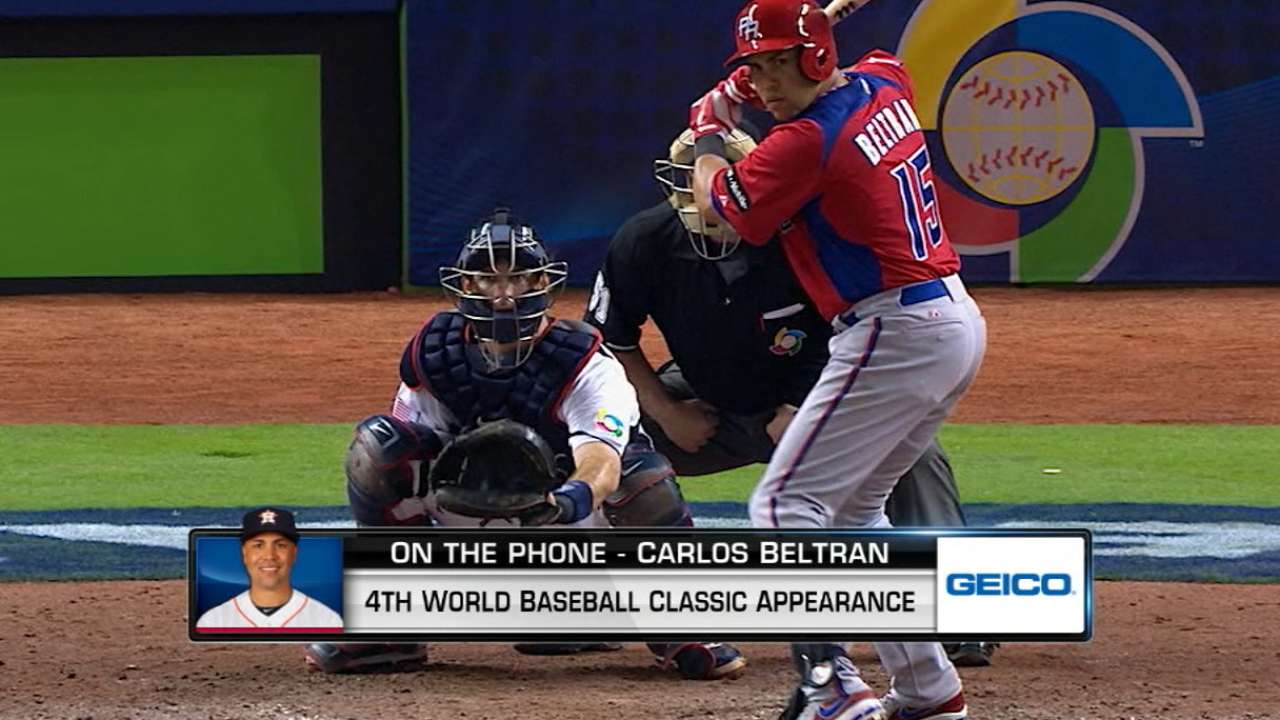 Joining veteran mainstays like Yadier Molina and Carlos Beltran, a trio of young infielders -- rising stars Carlos Correa, Javier Baez and Francisco Lindor -- are dynamic additions, providing a boost with both their bats and their gloves.
• Get World Baseball Classic tickets
Each team has the option of using the designated pitcher pool (DPP), which works like this: A team can use up to 10 designated pitchers but can't have more than two on its active roster at a time. Those "active" DPs can be replaced at the beginning of each of the next two rounds, but only by another DP. Once a DP has been replaced, he cannot return to the active roster for a subsequent round.
Using Puerto Rico as an example, Miguel Mejia and Joseph Colon are the active DPs for the first round of pool play, so they can be replaced on the roster before the second round or the championship round, but only by one of the team's other DPs. And if a DP joins for the second round, he can be replaced for the championship round, but only by another DP.
Competing in Pool D, the Puerto Rican team will clash with Venezuela in its opening matchup on March 10 at Estadio Charros de Jalisco in Guadalajara, Mexico. The other two teams in Pool D are Mexico and Italy.
Click on team for complete roster and breakdown.
POOL A
Chinese Taipei
Israel
Korea
Netherlands
POOL B
Australia
China
Cuba
Japan
POOL C
Canada
Colombia
Dominican Republic
United States
POOL D
Italy
Mexico
Puerto Rico
Venezuela
Pitchers
Andrew Barbosa, Brewers**
Jose Berrios, Twins
Hiram Burgos, Brewers
Alex Claudio, Rangers
Joseph Colon, Indians*
Jose De la Torre**
Jose De Leon, Rays**
Edwin Diaz, Mariners
Rayan Gonzalez, Rockies**
Joe Jimenez, Tigers
Jorge Lopez, Brewers
Seth Lugo, Mets
Miguel Mejia, Cubs*
Emilio Pagan, Mariners
Joel Pineiro**
Dereck Rodriguez, Twins**
Orlando Roman
J.C. Romero
Andres Santiago**
Hector Santiago, Twins
Mario Santiago**
Giovanni Soto, White Sox
* Active designated pitchers pool
** Designated pitchers pool
Catchers
Yadier Molina, Cardinals
Rene Rivera, Mets
Roberto Perez, Indians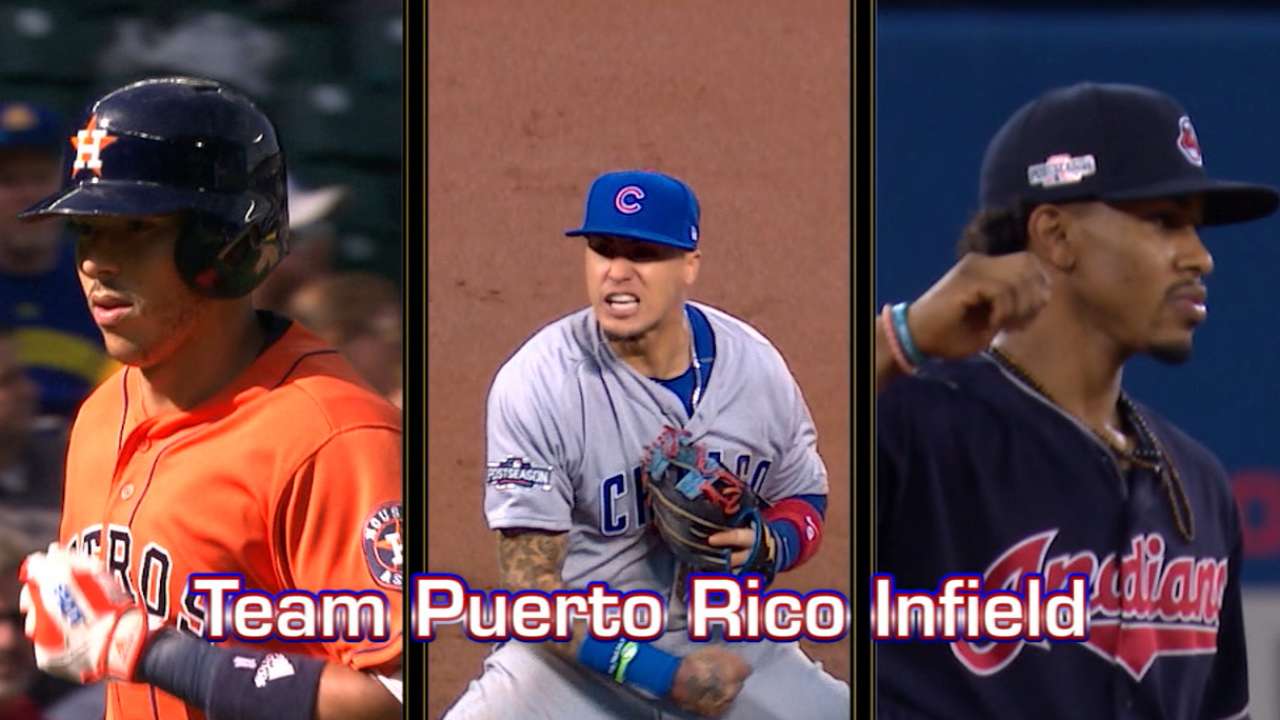 Infielders
Mike Aviles
Javier Baez, Cubs
Carlos Correa, Astros
Francisco Lindor, Indians
T.J. Rivera, Mets
Kennys Vargas, Twins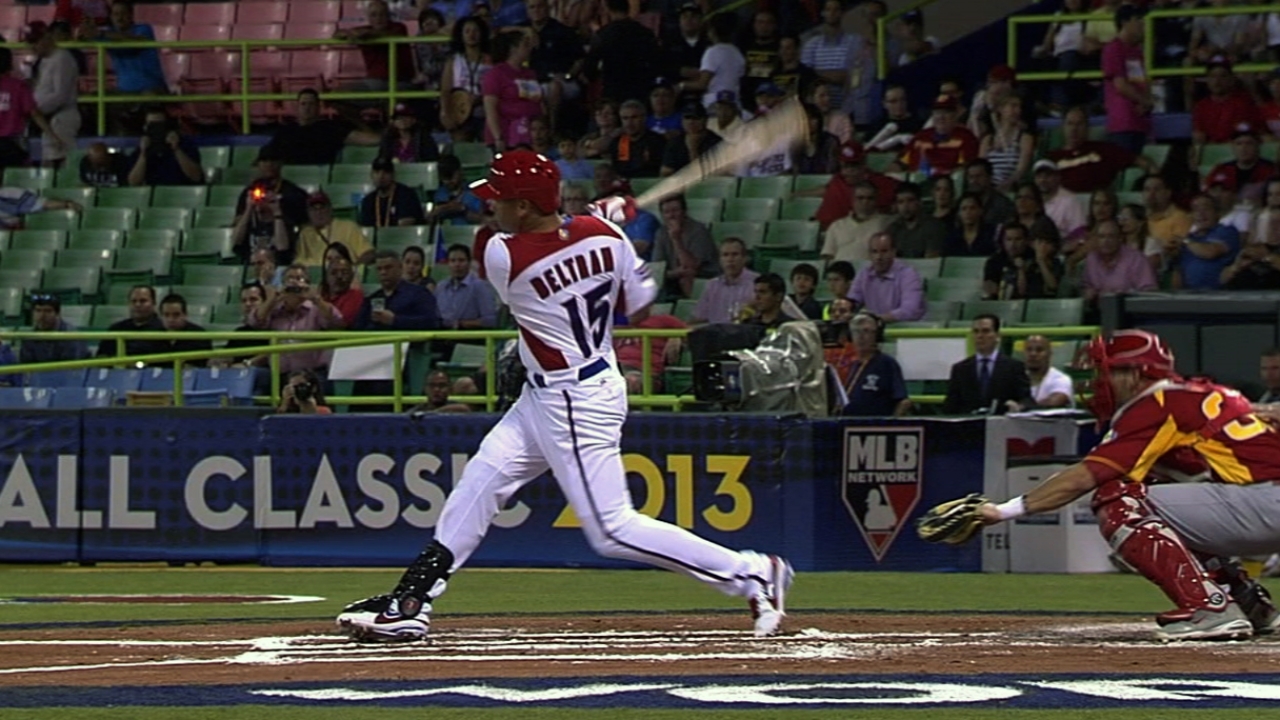 Outfielders
Carlos Beltran, Astros
Reymond Fuentes, Diamondbacks
Angel Pagan
Eddie Rosario, Twins
Utility
Kiké Hernandez, Dodgers
Chad Thornburg is a reporter for MLB.com. This story was not subject to the approval of Major League Baseball or its clubs.