Miggy, Altuve lead loaded Venezuela offense
Felix anchors pitching staff as World Baseball Classic rosters announced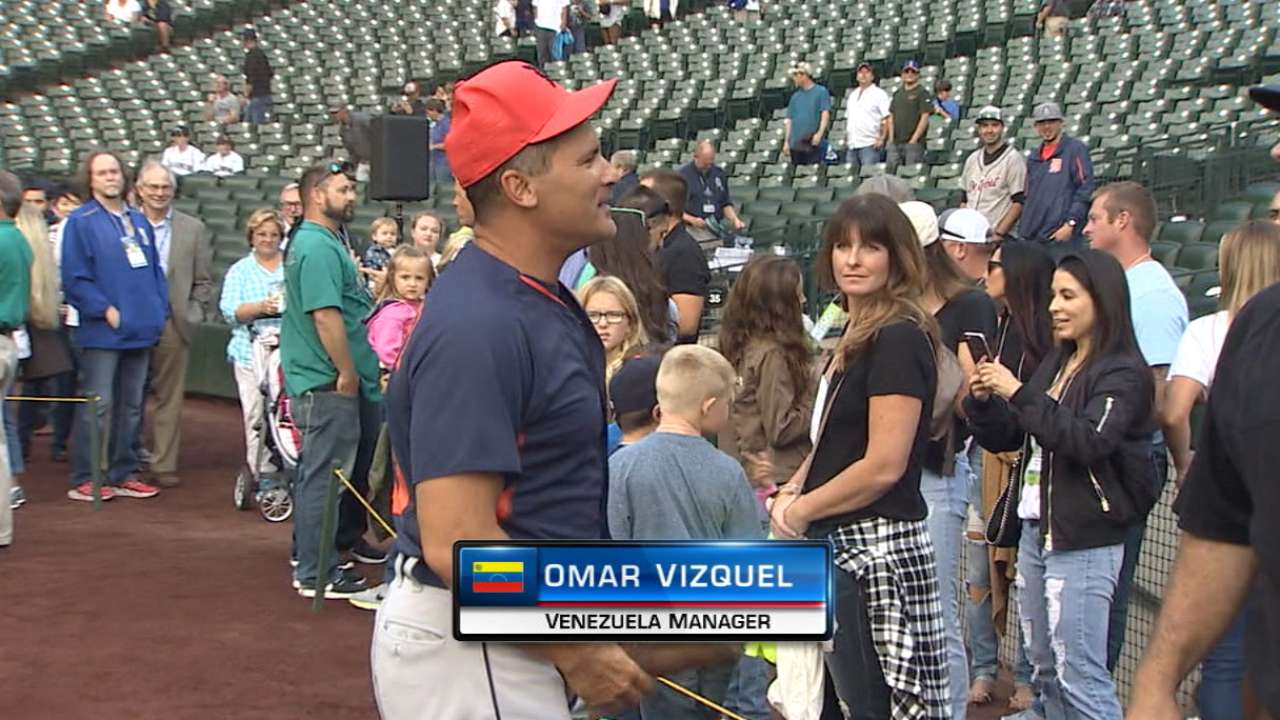 The World Baseball Classic is just around the corner, and we now know which players will be taking the field as part of the international tournament. The rosters for the 16 competing nations were unveiled Wednesday evening on MLB Network.
Team Venezuela features big league talent up and down the roster and is headlined by a number of marquee names, including multi-time All-Stars Jose Altuve, Felix Hernandez, Miguel Cabrera, Carlos Gonzalez and Salvador Perez.
The World Baseball Classic runs from March 6-22. In the U.S., games will air live exclusively in English on MLB Network and on an authenticated basis via MLBNetwork.com/watch, while ESPN Deportes and WatchESPN will provide the exclusive Spanish-language coverage. MLB.TV Premium subscribers in the U.S. will have access to watch every tournament game live on any of the streaming service's 400-plus supported devices. Internationally, the tournament will be distributed across all forms of television, internet, mobile and radio in territories excluding the U.S., Puerto Rico and Japan. Get tickets for games at Marlins Park, Tokyo Dome, Gocheok Sky Dome in Seoul, Estadio Charros de Jalisco in Mexico, Petco Park, as well as the Championship Round at Dodger Stadium, while complete coverage -- including schedules, video, stats and gear -- is available at WorldBaseballClassic.com.
Venezuela boasts plenty of offensive firepower with the winners of the last six American League batting titles in Altuve and Cabrera, and a former National League batting champion in Gonzalez.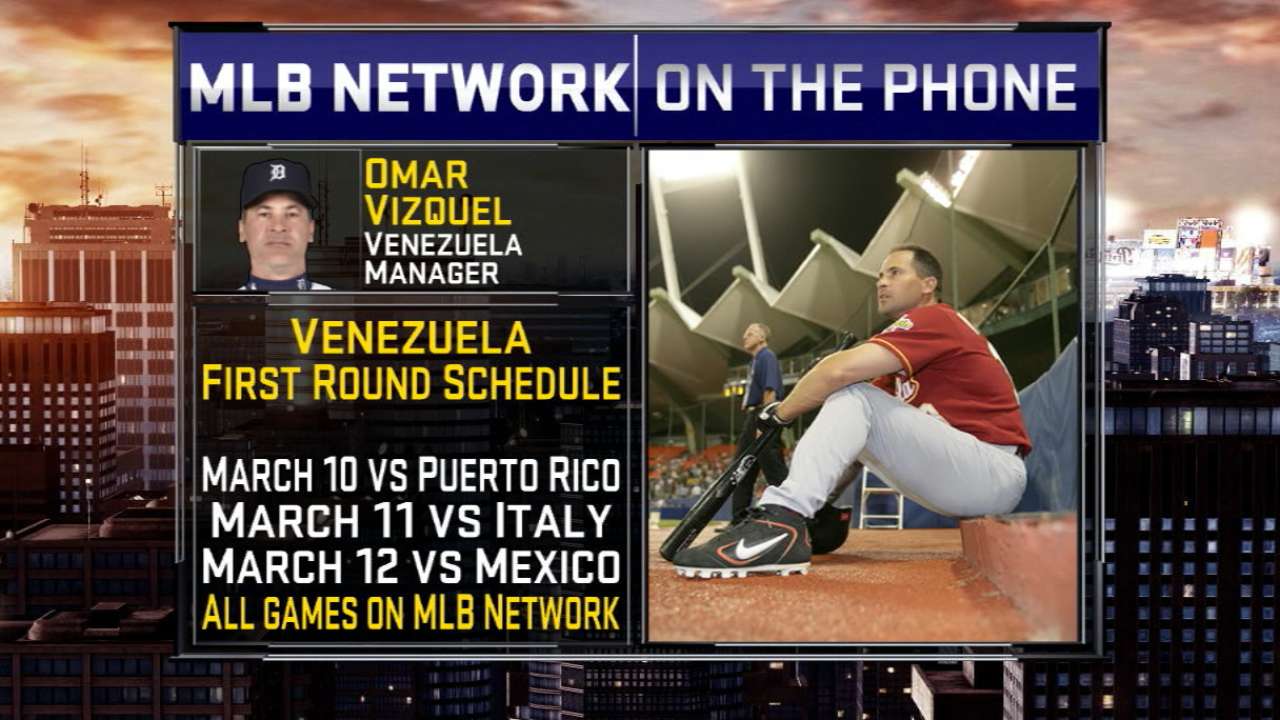 • Get World Baseball Classic tickets
After sitting out the 2013 tournament, Hernandez returns to anchor the Venezuelan pitching staff, while Perez, a four-time Gold Glove Award-winning catcher and former World Series MVP, gives the team an edge behind the plate.
Each team has the option of using the designated pitcher pool (DPP), which works like this: A team can use up to 10 designated pitchers but can't have more than two on its active roster at a time. Those "active" DPs can be replaced at the beginning of each of the next two rounds, but only by another DP. Once a DP has been replaced, he cannot return to the active roster for a subsequent round. Using Team Venezuela as an example, Jose Alvarez and Jose Castillo are the active DPs for the first round of pool play, so they can be replaced on the roster before the second round or the championship round, but only by one of the team's other DPs. And if a DP joins for the second round, he can be replaced for the championship round, but only by another DP.
In its fourth World Baseball Classic, the Venezuela team will compete in Group D with Italy, Puerto Rico and Mexico. Venezuela opens play against Puerto Rico on March 10 at Estadio Charros De Jalisco in Guadalajara.
Click on team for complete roster and breakdown.
POOL A
Chinese Taipei
Israel
Korea
Netherlands
POOL B
Australia
China
Cuba
Japan
POOL C
Canada
Colombia
Dominican Republic
United States
POOL D
Italy
Mexico
Puerto Rico
Venezuela
Pitchers
Jose Alvarado, Rays
Jose Alvarez, Angels*
Omar Bencomo
Silvino Bracho, Diamondbacks
Leonel, Campos, Jays**
Jose Castillo, Padres*
Jhoulys Chacin, Padres
Jeanmar Gomez, Phillies
Deolis Guerra, Angels
Felix Hernandez, Mariners
Gregory Infante, White Sox**
Wilfredo Ledezma
Arcenio Leon, Tigers**
Jhondaniel Medina, Cubs**
Franklin Morales**
Martin Perez, Rangers
Yusmeiro Petit
Edubray Ramos, Phillies**
Eduardo Rodriguez, Red Sox**
Francisco Rodriguez, Tigers
Bruce Rondon, Tigers
Hector Rondon, Cubs**
Robert Suarez
* Active designated pitchers pool
** Designated pitchers pool
Catchers
Salvador Perez, Royals
Robinson Chirinos, Rangers
Infielders
Jose Altuve, Astros
Miguel Cabrera, Tigers
Alcides Escobar, Royals
Freddy Galvis, Phillies
Yangervis Solarte, Padres
Martin Prado, Marlins
Outfielders
Hernan Perez, Brewers
Carlos Gonzalez, Rockies
Odubel Herrera, Phillies
Ender Inciarte, Braves
Designated hitters
Victor Martinez, Tigers
Chad Thornburg is a reporter for MLB.com. This story was not subject to the approval of Major League Baseball or its clubs.