A-Gon, Davis lead Mexico's WBC '17 roster
Team opens tournament vs. Italy on March 9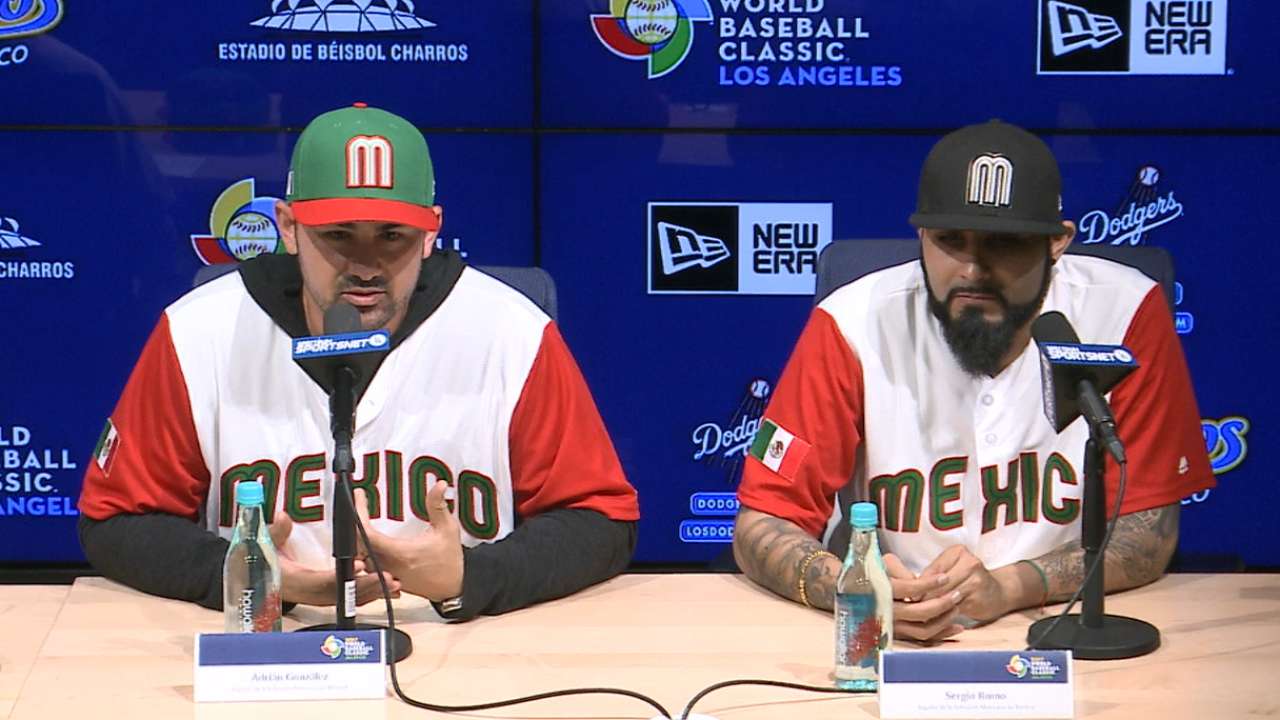 Headlined by Dodgers slugger and five-time Major League All-Star Adrian Gonzalez, Mexico officially announced its roster for the 2017 World Baseball Classic Wednesday on MLB Network.
A's outfielder Khris Davis, who finished third in the Majors with 42 home runs last season, will also play for Team Mexico, which opens play in Group D against Italy on March 9 before a home crowd at Estadio de Beisbol Charros de Jalisco. Mexico's Group D schedule also includes Venezuela and Puerto Rico.
• World Baseball Classic tickets
The World Baseball Classic runs from March 6-22. In the U.S., games will air live exclusively in English on MLB Network and on an authenticated basis via MLBNetwork.com/watch, while ESPN Deportes and WatchESPN will provide the exclusive Spanish-language coverage. MLB.TV Premium subscribers in the U.S. will have access to watch every tournament game live on any of the streaming service's 400-plus supported devices. Internationally, the tournament will be distributed across all forms of television, internet, mobile and radio in territories excluding the U.S., Puerto Rico and Japan. Get tickets for games at Marlins Park, Tokyo Dome, Gocheok Sky Dome in Seoul, Estadio Charros de Jalisco in Mexico, Petco Park, as well as the Championship Round at Dodger Stadium, while complete coverage -- including schedules, video, stats and gear -- is available at WorldBaseballClassic.com.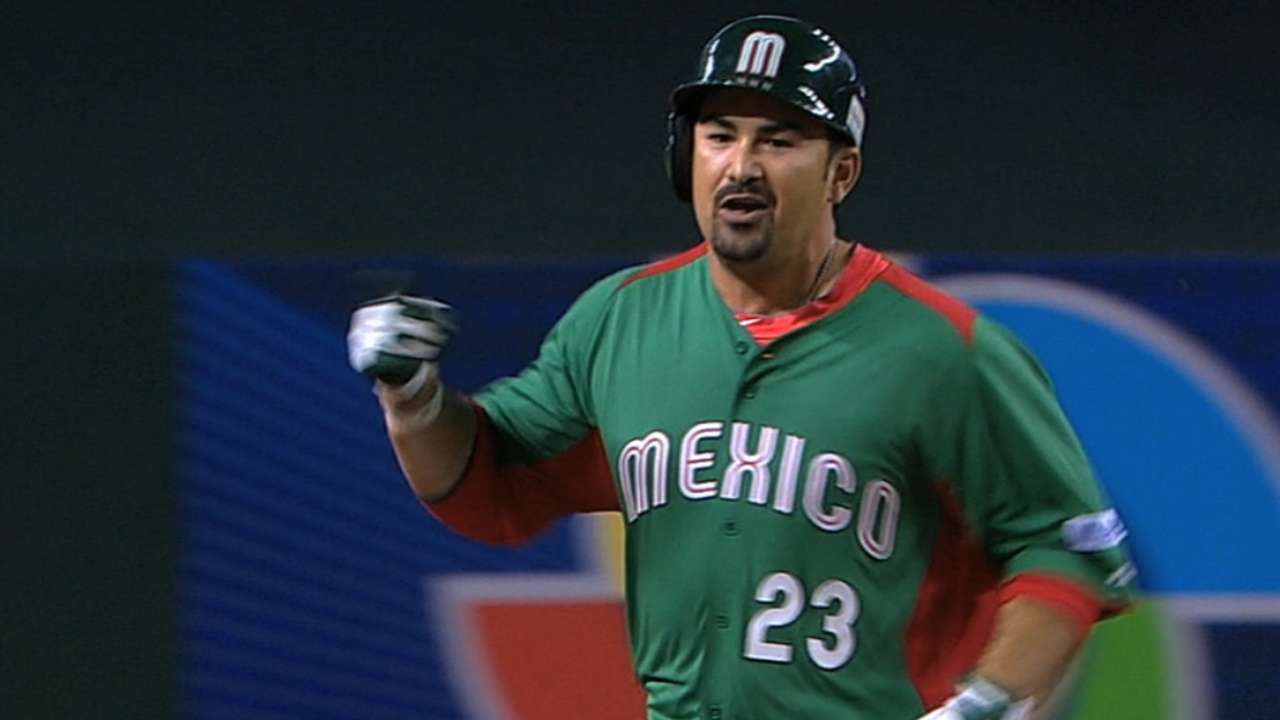 Mexico's pitching staff has a slew of Major League talent, both in the rotation and out of the bullpen, led by Yovani Gallardo, Jaime Garcia, Roberto Osuna, Sergio Romo and Joakim Soria. In addition, Marco Estrada and Julio Urias could join the rotation should Mexico advance out of Group D.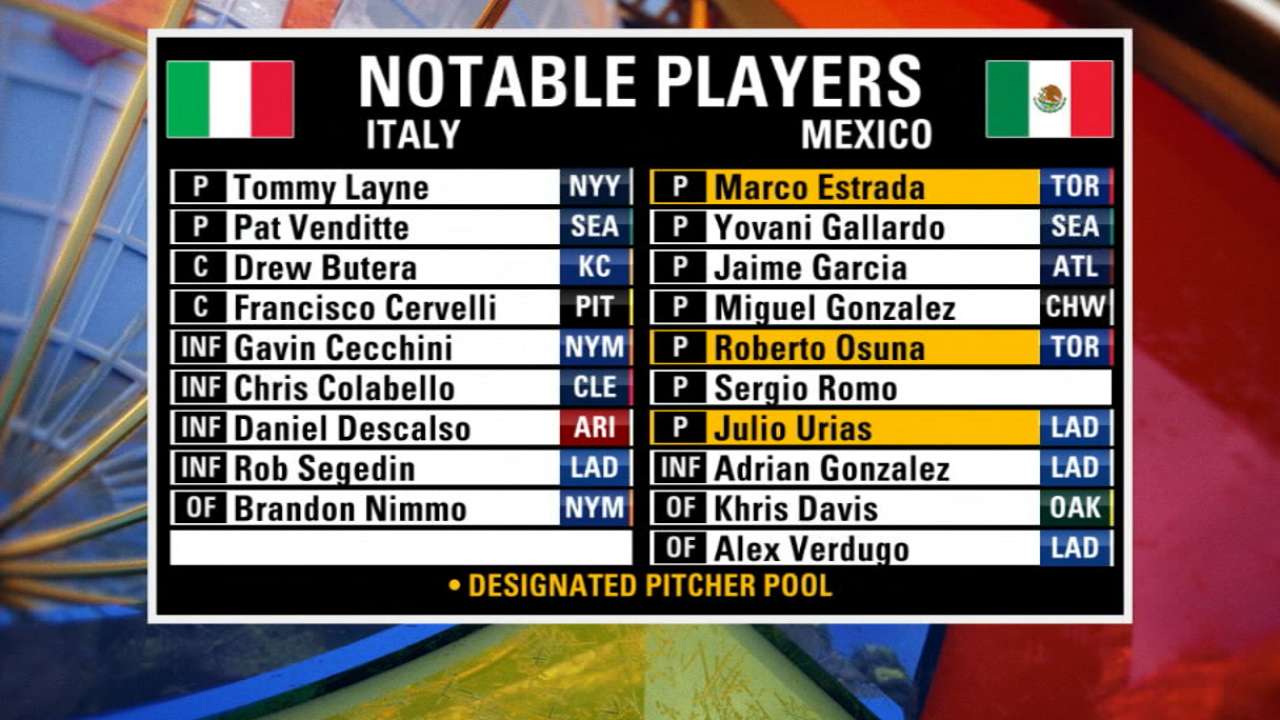 Each team has the option of using the designated pitcher pool (DPP), which works like this: A team can use up to 10 designated pitchers but can't have more than two on its active roster at a time. Those "active" DPs can be replaced at the beginning of each of the next two rounds, but only by another DP. Once a DP has been replaced, he cannot return to the active roster for a subsequent round.
Using Team Mexico as an example, Luis Mendoza and Osuna are the active DPs for the first round of pool play, so they can be replaced on the roster before the second round or the championship round, but only by one of the team's other DPs. And if a DP joins for the second round, he can be replaced for the championship round, but only by another DP.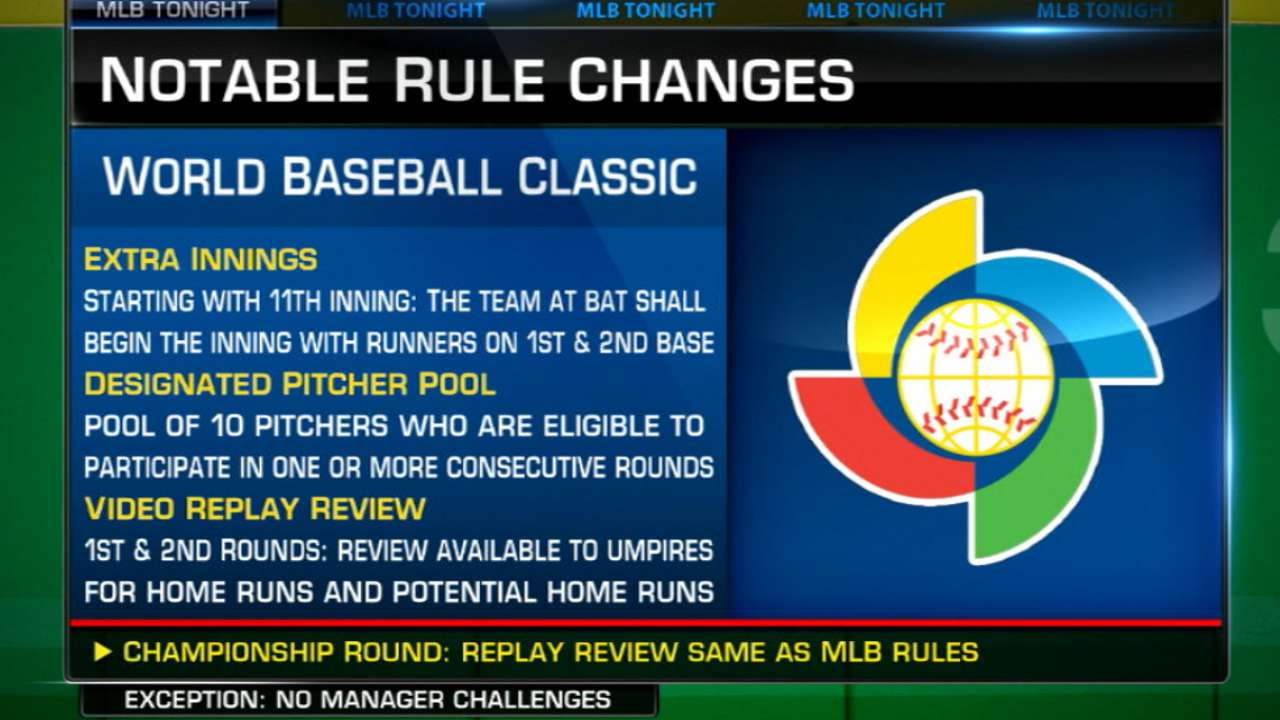 Edgar Gonzalez, the older brother of the Dodgers first baseman, will manage Team Mexico, which has not advanced beyond the second round in any of the three previous editions of the World Baseball Classic.
Click on team for complete roster and breakdown.
POOL A
Chinese Taipei
Israel
Korea
Netherlands
POOL B
Australia
China
Cuba
Japan
POOL C
Canada
Colombia
Dominican Republic
United States
POOL D
Italy
Mexico
Puerto Rico
Venezuela
Pitchers
Miguel Aguilar, Diamondbacks**
Andres Avila, Braves**
Jorge De La Rosa
Marco Estrada, Blue Jays**
Charles Fisher, Padres**
Yovani Gallardo, Mariners
Giovanny Gallegos, Yankees
Jaime Garcia, Braves
Miguel Gonzalez, White Sox
Rafael Martin, Nationals**
Luis Mendoza*
Mario Meza, Cubs**
Vidal Nuno, Dodgers
Roberto Osuna, Blue Jays*
Oliver Perez, Nationals
Sergio Romo
Ivan Salas**
Fernando Salas
Jake Sanchez, A's
Joakim Soria, Royals
Carlos Torres, Brewers
Julio Urias, Dodgers**
* Active designated pitchers pool
** Designated pitchers pool
Catchers
Xorge Carrillo, Mets
Sebastian Valle, Mariners
Infielders
Japhet Amador
Daniel Castro, Rockies
Luis Cruz
Adrian Gonzalez, Dodgers
Brandon Laird
Esteban Quiroz
Jose "Manny" Rodriguez
Outfielders
Jose Aguilar
Khris Davis, A's
Efren Navarro, Tigers
Christopher Roberson
Alex Verdugo, Dodgers
Austin Laymance is a reporter for MLB.com. This story was not subject to the approval of Major League Baseball or its clubs.