Carter, Napoli carry big sticks to new clubs
Both sluggers set Statcast records in HR distance last season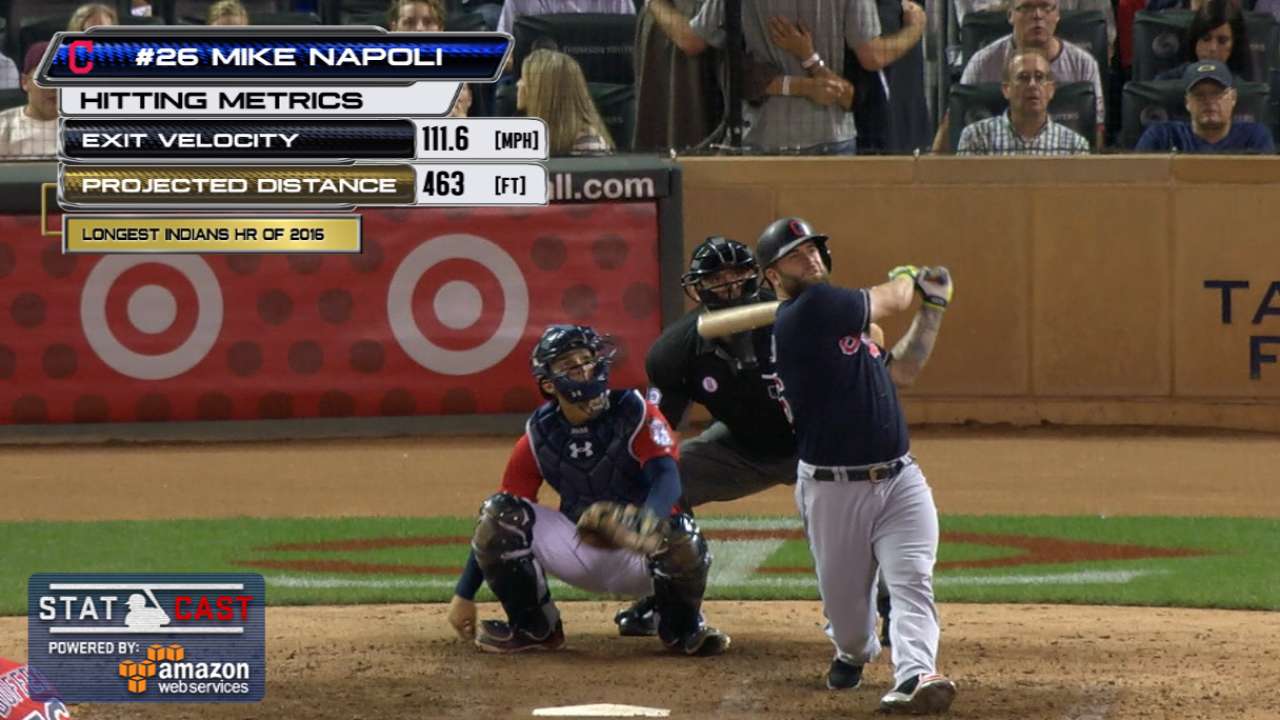 If you are a fan of the long ball, Tuesday brought some great news.
A pair of free-agent sluggers who had been languishing on the open market now have new homes. The Yankees drew close to a deal with Chris Carter, while the Rangers reached a tentative pact with Mike Napoli, sources told MLB.com. The clubs have not confirmed those one-year agreements.
While Napoli has shown more defensive value in the past and has built a reputation as a terrific clubhouse presence, both right-handers are being signed primarily for what they can do at the plate. And what they can do is drive the ball really hard and really far, with Carter tying for the National League lead in homers last year (41) and Napoli tying for 14th in the American League (34).
In honor of two heavy hitters who are accustomed to circling the bases, here are four notes comparing their homer-happy bats as they celebrate new gigs.
Strikingly similar stat lines
At 35, Napoli is five years older than Carter and has enjoyed a longer career to date. But since Carter saw his first significant big league action with the A's in 2012, both players have logged exactly 649 games.
Over that span, Napoli has walked a little more often and struck out a little less often, posting the higher on-base percentage (.346 to .318). On the other hand, Carter has out-homered Napoli, 147 to 116, and out-slugged him, .474 to .451. Adjust for ballpark and league, and both have posted a 116 weighted runs created-plus (wRC+) since '12.
Going (very) deep
Both Carter and Napoli used their power to set Statcast™ records late last season.
With the Brewers playing at Seattle on Aug. 19, Carter got a fat pitch from Mariners lefty Wade LeBlanc and tattooed it to dead center field. The ball soared way over the wall and slammed high off the batter's eye, with Statcast™ projecting the drive's distance at 465 feet. In the Statcast™ Era (since '15), that was not only Carter's longest homer, but also the longest hit at Safeco Field.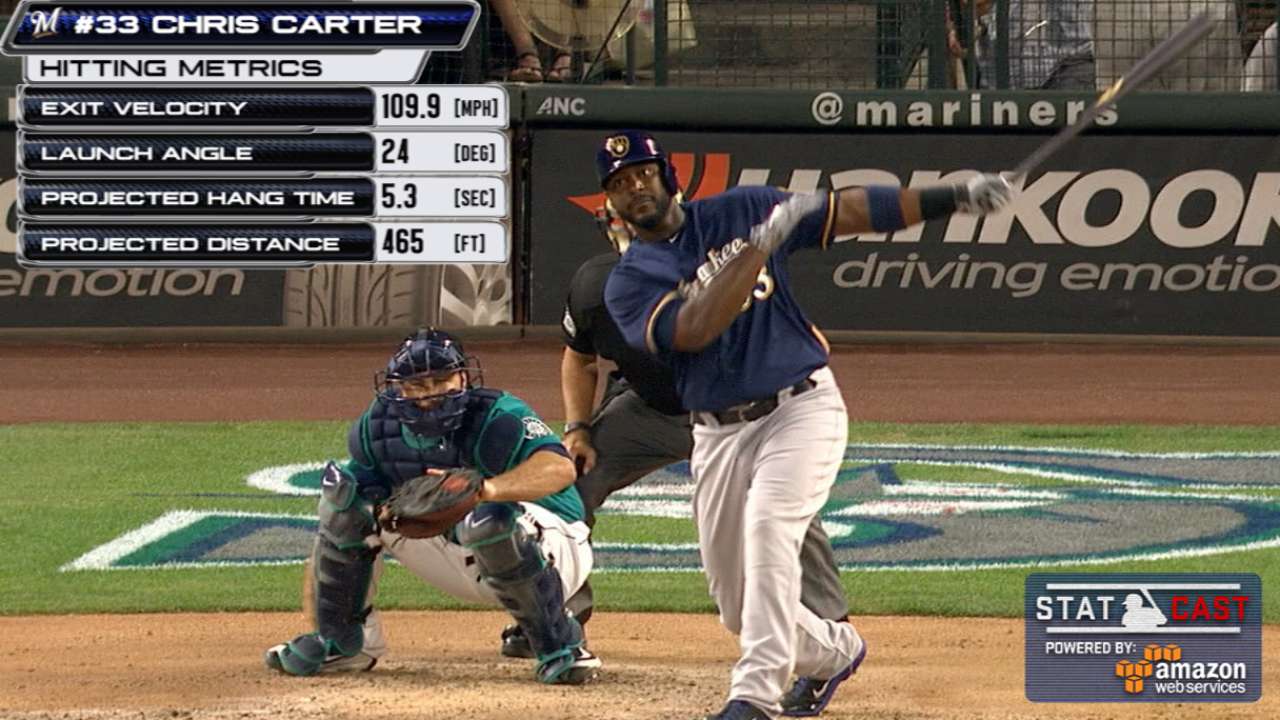 The next month, on Sept. 9, Napoli's Indians were in action at Minnesota when the Twins' Tyler Duffey made the mistake of hanging a breaking ball. Napoli pounced and launched it into the upper deck of Target Field's left-field bleachers. With a projected distance of 463 feet, it was Napoli's best of the Statcast™ Era, as well as the longest by any Cleveland player. Napoli broke his own record, crushing a 460-footer to the back of the left-field seats at Progressive Field on July 8.
Those homers made Carter and Napoli two of only 24 right-handed batters to reach a projected distance of at least 463 feet last season, and two of 17 to do so away from the thin air of Coors Field.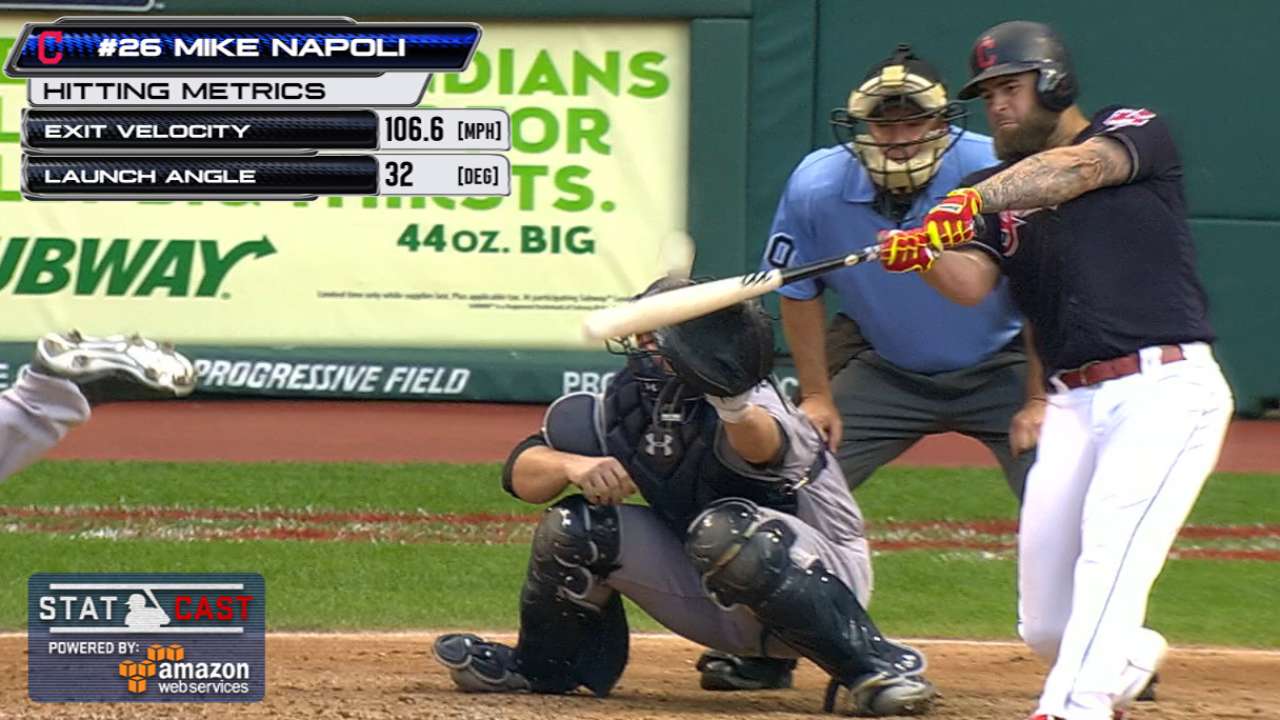 Consistent distance
Only eight batters launched a home run of 410 feet or more at least 20 times last season. Napoli trailed only Mark Trumbo, Edwin Encarnacion and Nelson Cruz in that regard, doing it 22 times. That included seven bombs of 440-plus feet, which tied four others for the Major League lead.
Carter had 20 homers projected to travel at least 410 feet, half of which were 430-plus. The only players with more of the latter were Nolan Arenado, Trevor Story and Giancarlo Stanton, the first two of whom hit the vast majority of those homers at the high altitude of their home park, Coors Field.
Of all hitters who had at least 25 home runs tracked by Statcast™ in '16, Napoli (413 feet) and Carter (411) finished fourth and tied for sixth, respectively, in average projected homer distance. Only Story (422), Stanton (422) and Cruz (416) topped Napoli.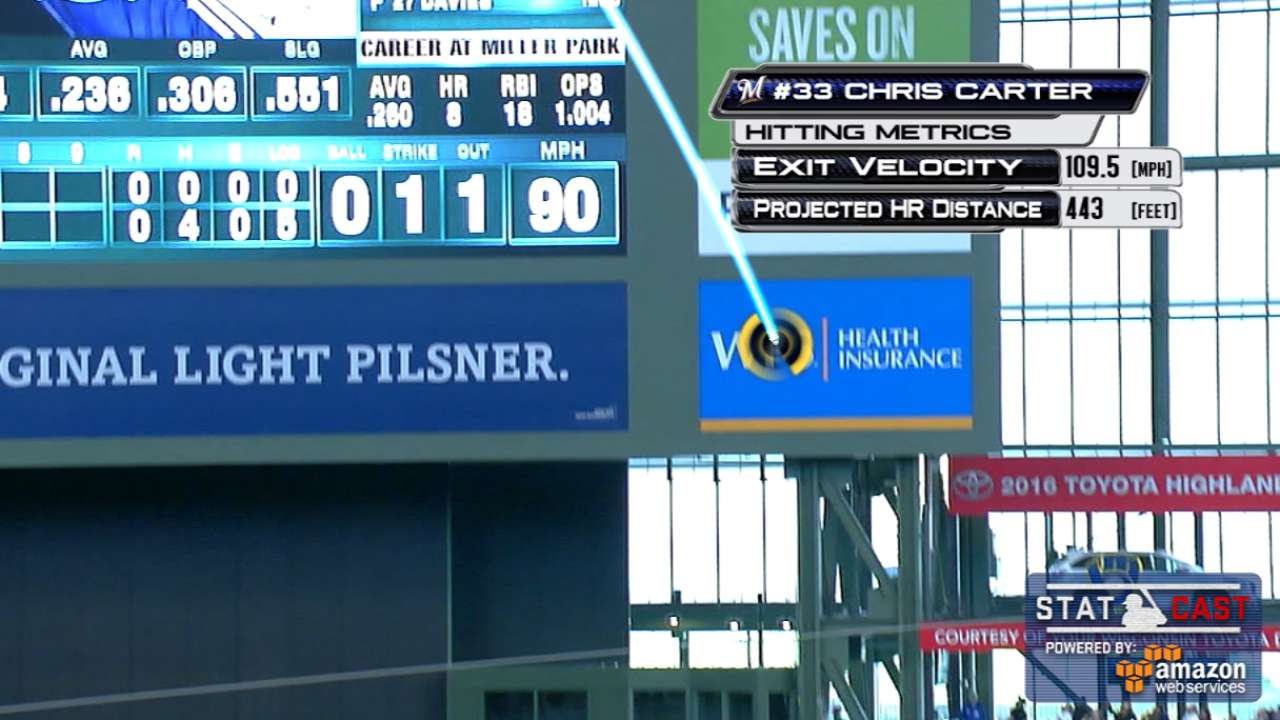 Barrel it up
A barrel is a Statcast™ term for the best sort of contact, when a hitter connects with a combination of exit velocity and launch angle that typically produces at least a .500 average and 1.500 slugging percentage. And while Carter and Napoli both can struggle to make contact, they often barrel the ball quite effectively when they do.
In '16, Carter produced a barrel in 17.8 percent of his batted balls, ranking second behind only Khris Davis among hitters who put at least 250 balls in play. Napoli ranked ninth on that list at 14.7 percent, coming in right behind Miguel Cabrera, David Ortiz and Mike Trout.
Andrew Simon is a research analyst for MLB.com. Follow him on Twitter @AndrewSimonMLB. This story was not subject to the approval of Major League Baseball or its clubs.