Glasnow poised to produce at MLB level
Righty still has plenty of potential after inconsistent season
With Spring Training fast approaching, MLB.com will take a look at a different aspect of this year's Pirates squad each day this week. Today's topic: Who might surprise?
PITTSBURGH -- This time last year, fans were calling for top prospect Tyler Glasnow to join the Pirates' rotation as soon as possible. The perception of Glasnow may have changed after a brief, but shaky debut last season, but it has not. Nor have the Pirates' lofty hopes for their top prospect's future.
Glasnow, MLBPipeline.com's No. 9 overall prospect, may not make the Pirates' Opening Day rotation. He could spend more time in Triple-A this season, refining his delivery and working on his changeup. At some point, the Bucs expect, Glasnow will remind Pittsburgh of his enormous potential.
• Who might surprise for each club in 2017?
"The quality of stuff, the quality of this young man and our confidence in him is as strong as ever. We believe he's going to be an outstanding Major League pitcher," general manager Neal Huntington said. "We're not getting locked in as to when it's going to happen. We need to work with him to have it happen."
Glasnow will compete for a spot in the Pirates' rotation this spring along with Drew Hutchison, Steven Brault and Trevor Williams, among others. His time in the big leagues last year was inconsistent, and his Minor League dominance didn't immediately translate to the Majors.
His debut was a spot start in St. Louis on July 7. His second came at PNC Park on July 23, when he walked off the mound with a right shoulder injury. Glasnow returned in September to pitch out of the bullpen.
The 6-foot-8 right-hander made two starts at the end of the season, and his last outing was his strongest as a Pirate. He allowed one run on one hit over five innings against the Cardinals, with four walks and four strikeouts. Overall, he posted a 4.24 ERA with 24 strikeouts and 13 walks in 23 1/3 innings.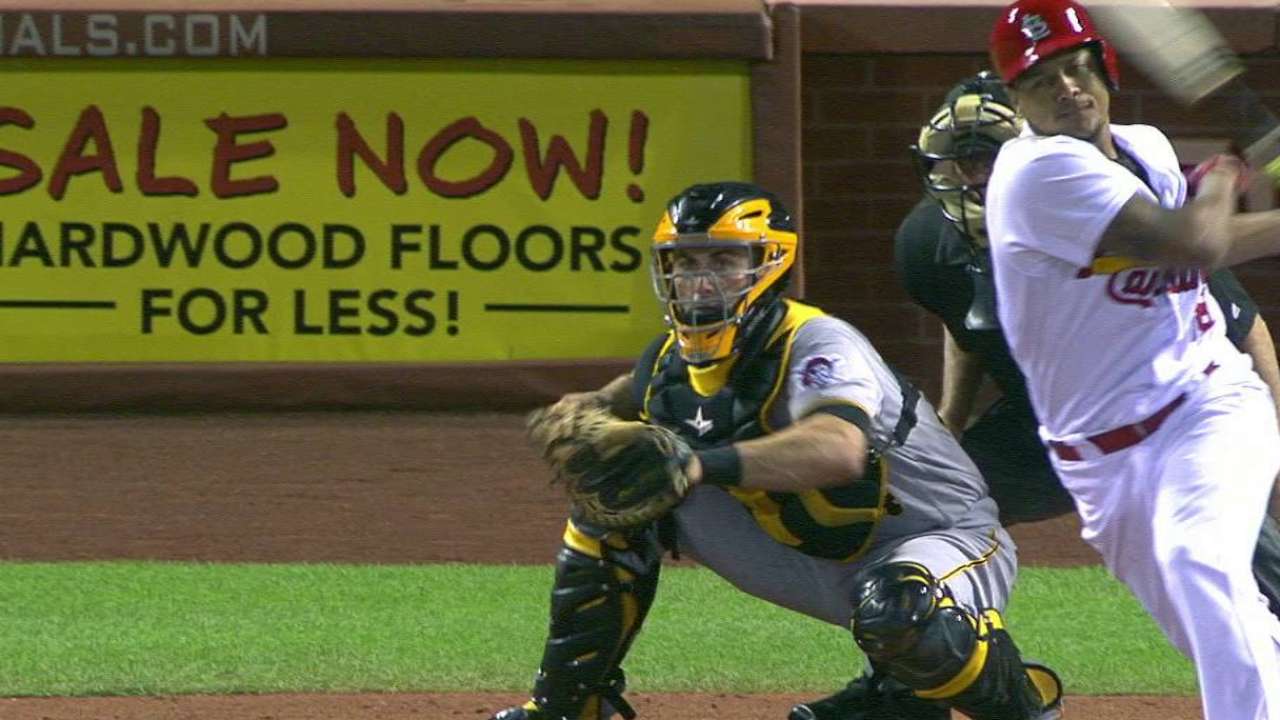 That might have felt like a disappointment considering Glasnow's video-game numbers in Triple-A -- a 1.96 ERA with 5.8 hits allowed and 10.7 strikeouts per nine innings. However, Glasnow also walked five batters per nine innings in Indianapolis. He admittedly put too much pressure on himself and didn't feel right mechanically at times last season.
"The timeline may not be what the prognosticators predicted it would be, but he completely dominated Triple-A baseball for an extended period of time," Huntington said. "Struggled to make adjustments, but he's not the first young player to struggle to make adjustments and he's not going to be the last. He's a driven competitor, a quality athlete. He's also a long-limbed pitcher, and they tend to take a little bit longer."
Heading into Spring Training, Glasnow seems more comfortable and confident than he did in Pittsburgh last year. He could surprise Pirates fans with a quick improvement this season, and he can renew their faith this spring by showing improved command, better control of the running game and a more usable changeup.
"I need to go in and do what I do," Glasnow said at PirateFest. "If I go in and have a really great Spring Training and don't make the team, but I did well and met all my goals, that's all I can do. … I'm excited. I'm ready to compete for a spot."
Adam Berry has covered the Pirates for MLB.com since 2015. Follow him on Twitter and Facebook, read his blog and listen to his podcast. This story was not subject to the approval of Major League Baseball or its clubs.