Around the Horn: Can Sardinas win SS job?
Padres may still pursue a trade to shore up position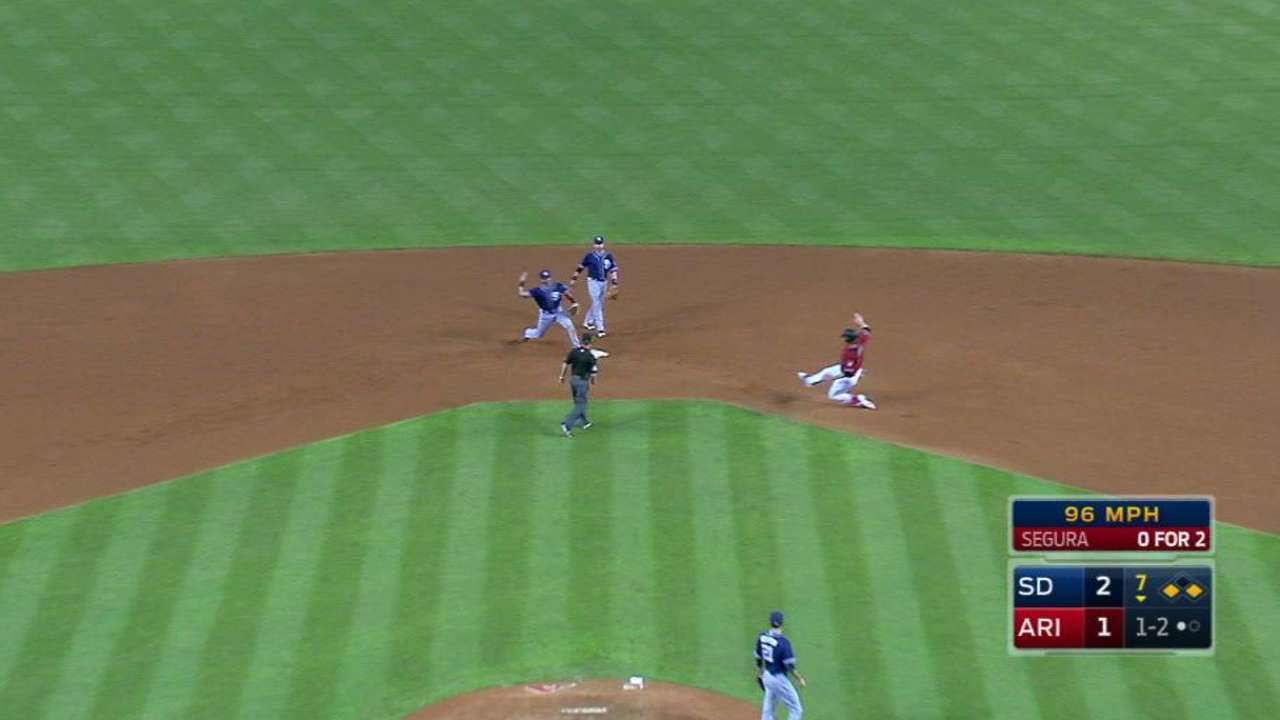 With Spring Training on the horizon, MLB.com is taking an in-depth look at the 2017 Padres, breaking the team down position by position. Today we preview San Diego's shortstops.
• Around the Horn: Catcher | First base | Second base | Third base
For the most part, Padres general manager A.J. Preller accomplished what he set out to do this offseason.
Extend Wil Myers and Yangervis Solarte? Check.
Trade Derek Norris, freeing up Austin Hedges to take over as catcher? Check.
Add pitching depth in both Triple-A and the Majors? Check and check.
But there's one objective that remains unfinished entering camp: The Padres are still in search of a Major League-caliber shortstop who can compete with Luis Sardinas for the starting job.
"It's going to be an area we continue looking at as we get into Spring Training," Preller said. "My guess is before Spring Training, we're probably going to stay with the group that is here."
That group currently comprises three players: Sardinas, Rule 5 Draft pick Allen Cordoba and Minor League free-agent Dusty Coleman. (Prospect Jose Rondon seems destined to start the year at Triple-A El Paso.)
Of the three, only Sardinas appears truly capable of winning the starting job. Cordoba -- an impressive talent -- is only 21 and has never played above rookie ball in the Cardinals' system. Ideally, he'd open the season in the lower levels of the Padres' farm. But per Rule 5 stipulations, Cordoba must remain on the Major League roster for the entire season, or be offered back to his original team.
Coleman, meanwhile, is a 29-year-old journeyman, who has spent eight seasons in the Royals and A's organizations. He's recorded only five career big league plate appearances and batted just .239/.296/.399 at Triple-A last season. Ultimately, Coleman -- who can play second, third and some outfield -- could be a utility piece. But his resume isn't one of a Major League starter.
That leaves Sardinas, who impressed during his brief stint with the Padres last season. The 23-year-old Venezuelan came to San Diego in an August trade with Seattle, and he batted .287/.353/.417 in 34 games. It marked the first time Sardinas had received regular playing time -- despite the fact that he spent time on three other big league clubs (Texas, Milwaukee and Seattle).
"I'm really grateful for the opportunity, first and foremost, to have that chance with this team," Sardinas said through a team interpreter at season's end. "From there, it's about finding a way to play every day and making sure it's not just one year -- it's for many years."
For now, Sardinas has the starting job to himself. But the Padres have been actively pursuing trades -- Detroit's Jose Iglesias and Texas' Hanser Alberto are among the players they showed interest in earlier this offseason.
If Preller can pull off a deal before Opening Day, that doesn't rule out Sardinas for the starting gig. But the Padres would like to see better footwork and increased strength from him. They held Sardinas back from winter ball this year to afford him time to hone those skills.
The Friars have spoken often about finding their shortstop of the future. (It's a question that has stumped the franchise for nearly a decade.) As it stands, Sardinas will be given the chance to make his case. But if a worthwhile trade presents itself, San Diego won't hesitate to act.
"That crew will come in and have the chance to compete," Preller said of Sardinas, Cordoba and Coleman. "But realistically, it'll be something that we'll still be looking at in Spring Training. [We'll be] comparing what's out there most likely via trade, versus what we have in-house."
Projected starter: Sardinas
Potential backups: Cordoba, Coleman, Rondon
Top-30 prospects: Javier Guerra, No. 7; Luis Urias, No. 11; Rondon, No. 12; Cordoba, No. 21; Luis Almanzar, No. 24; Gabriel Arias, No. 25
AJ Cassavell covers the Padres for MLB.com. Follow him on Twitter @ajcassavell. This story was not subject to the approval of Major League Baseball or its clubs.