Inbox: Will Rockies add more players?
Fans ask about Hammel, Park, Quintana, Bridich's status and Coors Field fences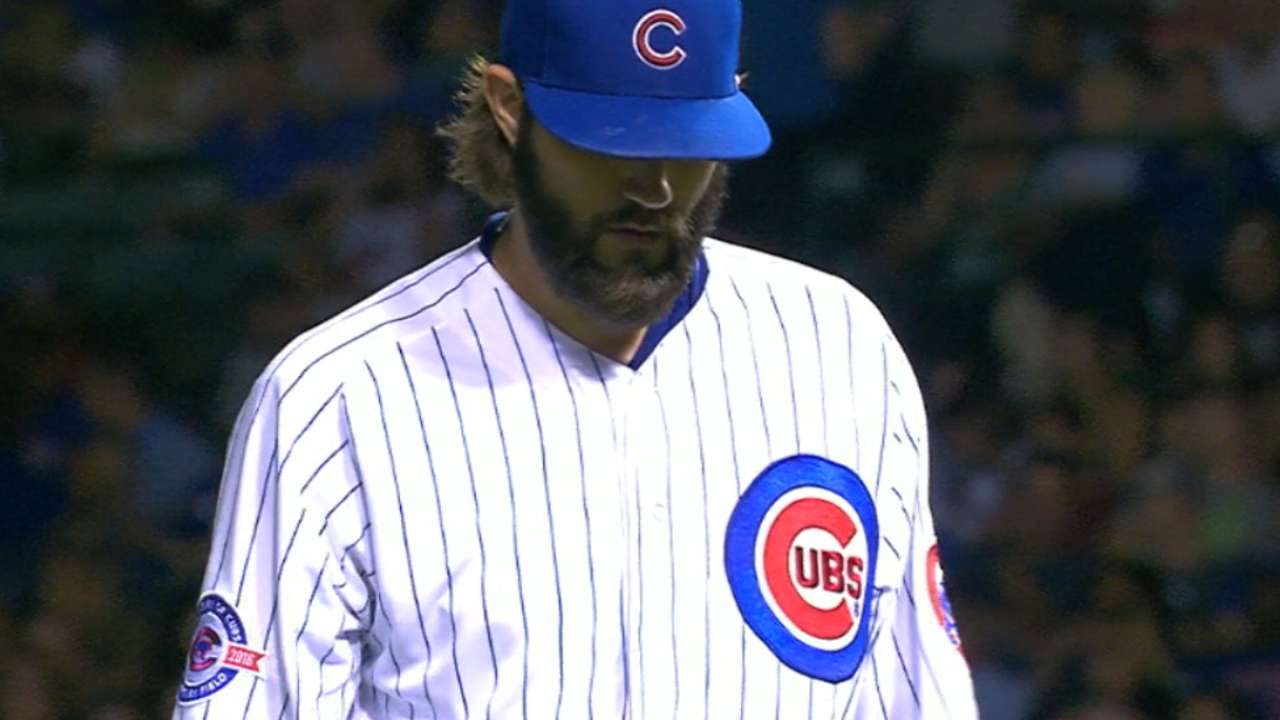 DENVER -- The Rockies addressed their bullpen, as promised, with former Royals closer Greg Holland and former Marlins lefty Mike Dunn. They were creative in signing Ian Desmond, a former shortstop and center fielder, to play first base.
But in this week's Inbox, fans are wondering if there is more that can be done before pitchers and catchers begin workouts Feb. 14 in Scottsdale, Ariz.
@harding_at_mlb Rockies have a very young rotation and have signed no SP. Have they considered vet innings guy? Might I suggest a Hammel?

— Clive Bixby (@PoseidonsFist) February 3, 2017
@harding_at_mlb Byung-ho Park wad DFA'd by the Twins today. Rockies supposedly had some interest last year, think they still do?

— Ryan Freemyer (@RFreemyer) February 3, 2017
Right-handed pitcher Jason Hammel was a member of the Cubs' rotation last season, while right-handed-hitting first baseman Byungho Park was designated for assignment by the Twins on Friday to make room for onetime Rockies reliever Matt Belisle.
Short answers on both are no (or at least extremely unlikely), and no.
Hammel, who pitched for the Rockies from 2009-11 and developed into a solid starter, certainly would add experience to a young rotation. But after going 15-10 with a 3.83 ERA for the Cubs last season, even though he didn't pitch in the postseason, Hammel rates good enough to receive a Major League contract for 2017. The Rockies, believing in their young rotation, chose to spend the money in the bullpen and at first base.
In the unlikely event Hammel is left seeking a Minor League deal, then the Rockies would be foolish not to try to bring him in. But it's hard to think someone won't jump at Hammel before then.
Park hit .191 last year in his lone Major League season after coming over from Korea. He is guaranteed $9.25 million over the next three seasons, and any team claiming him would assume that contract. With Desmond in the fold, Mark Reynolds in camp under a Minor League deal and prospects Jordan Patterson and Ryan McMahon in the wings, the Rockies have no reason to make that expenditure.
• Submit a question to the Rockies Inbox
@harding_at_mlb is there any #Rockies interest in going after Jose Q? Or another starter? White Sox are fielding offers for him.. #MLB

— Colorado Sports Talk (@ColoradoSports8) February 3, 2017
White Sox lefty Jose Quintana's name has been connected with many trade rumors.
I don't see the Rockies swinging a deal for him right now. A Quintana trade would likely cost multiple pitchers, and that's a bad idea for the Rockies going into a season. They want to have as many people as possible. No matter how good one pitcher is, the theory is two pitchers are better than one -- especially for a team that plays at Coors Field, where no matter who the pitcher is, there is always a question of whether he can make the adjustment.
Now if Quintana isn't dealt, the White Sox struggle and the Rockies contend the way they hope, then by all means they should explore it. They'll be at a stage where they know exactly how much of their depth they need, so they'll know if they can afford to give up multiple parts for one.
Remember, at the end of last spring, Jon Gray and Tyler Anderson were both on the disabled list. So you don't want to give up your depth at this point.
@harding_at_mlb since it's the last year of Bridich's contract what kind of result will the team need for him to earn an extension?

— Matt (@M5Hansen) February 3, 2017
Owner Dick Monfort approved a payroll increase, and general manager Jeff Bridich used it for Desmond for five years and $70 million, Holland for one year and $7 million with incentives for more money and an option for a second year, and Dunn, for three years and $19 million with another $1 million available each year through games-finished clauses.
A start would be for moves for established players to pay dividends. Bridich was in charge of the farm system before becoming GM, and it's hard to argue with the number of prospects that have become key contributors. But last year, outfielder Gerardo Parra, lefty reliever Jake McGee and righty relievers Chad Qualls and Jason Motte all had injuries and down years. They'll need to bounce back, and the new players will have to produce.
The big test, should the Rockies stay competitive beyond the All-Star break, will be the non-waiver Trade Deadline. Last year the Rockies were in contention, but didn't make any moves. Given that they didn't have the bullpen to stay in it, Bridich's decision turned out to be prudent. They still have young players in surplus in the outfield and depth in terms of talent among their pitchers. But this time, can he make the moves to pay off at the end of this season?
That said, there is no indication from ownership that Bridich is on the hot seat. The spending this offseason seems to fit with the gradual building the last two years, so Monfort has allowed Bridich to work his plan. But it's time to win.
@harding_at_mlb is the Bridich Barrier around to stay?

— Curtis McGrew (@GliaDesigns) February 3, 2017
There are no plans to change the heightened fencing in the outfield for this season.
The idea was not to dramatically change Coors Field, but to give pitchers a chance to recover from fly balls that would have homers in past years. By that standard, the change was fine, as noted in an article earlier this offseason. Did it help the Rockies more than the opponent? No, but that's something that can't be controlled. It's not as if they can raise the fence when the opponent bats and lower it when they bat.
Thomas Harding has covered the Rockies since 2000, and for MLB.com since 2002. Follow him on Twitter @harding_at_mlb, listen to podcasts and like his Facebook page. This story was not subject to the approval of Major League Baseball or its clubs.