MLB.com Columnist
Tracy Ringolsby
Tough to choose: Top 10 who played in MLB and NFL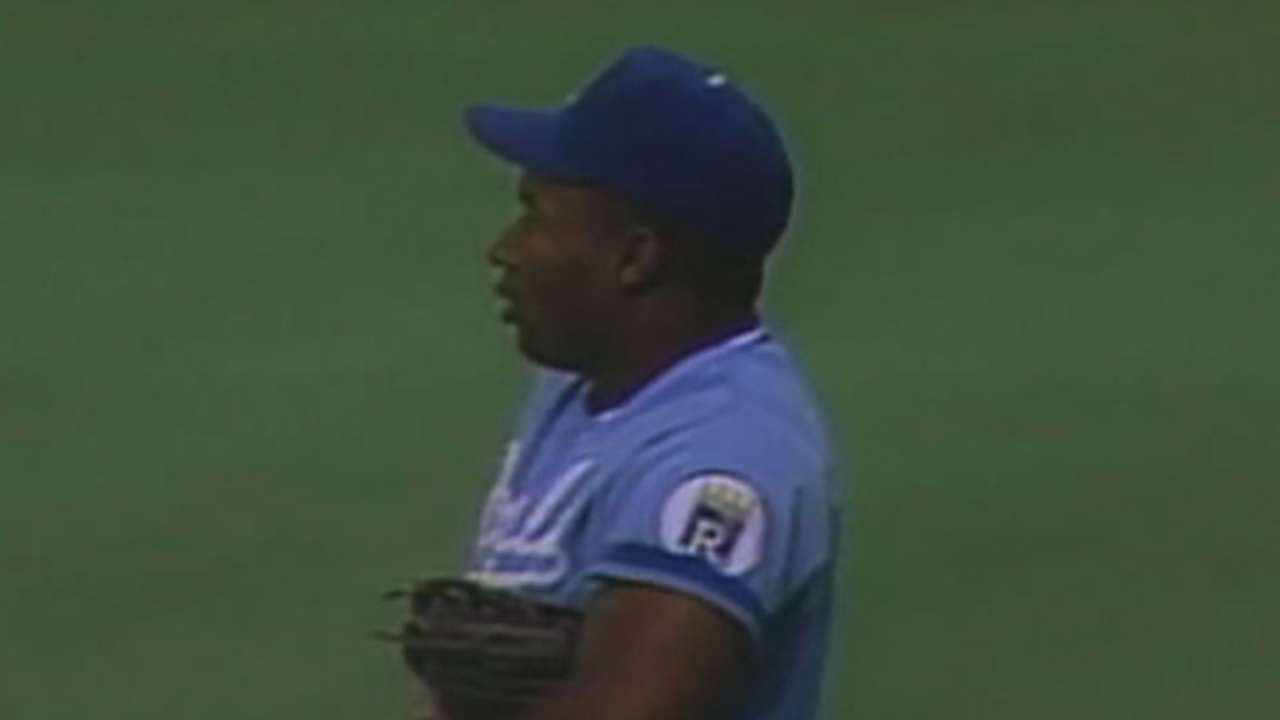 Tom Brady obviously made a wise career decision in pursuing a career in football.
On Sunday, Brady will, after all, quarterback the New England Patriots in the Super Bowl. It marks Brady's seventh appearance in 15 years with the Patriots, and he will look to add to his already-record four Super Bowl titles. Even though it's hard to imagine the two-time NFL MVP and three-time Super Bowl MVP playing another sport, Brady could have had a career in baseball instead.
A left-handed-hitting catcher with power at Junipero Serra High School in San Mateo, Calif., Brady was an 18th-round Draft choice of the Montreal Expos in 1995. He slipped that far only because he made it clear he had a passion for football, but the Expos decided to take a chance.
Brady did not pursue baseball, but others have played both sports professionally: current NFL general managers John Elway (Broncos) and John Lynch (49ers), for example. Each played one year of Class A Short-Season ball before turning his concentration to football.
There are at least 66 athletes who played football and baseball professionally. That number doesn't include Cal Hubbard, the only athlete in both the Pro Football Hall of Fame and the Baseball Hall of Fame. He was inducted as a football player and a baseball umpire, respectively, never having played in the big leagues.
Ten notable two-sport pros
1. Bo Jackson
Jackson is the only player to be an All-Star in MLB and the NFL. The first player taken in the 1986 NFL Draft by Tampa Bay, he refused to sign because he felt the Bucs trapped him into being declared ineligible for his college baseball season. The Royals took advantage of that, signing Jackson as a fourth-round pick that June and he was in the big leagues by season's end. He was the MVP of the 1989 All-Star Game, highlighted by his 448-foot first-inning home run off Giants pitcher Rick Reuschel. Jackson was a Pro Bowl selection for the Raiders in '90, but suffered a left hip injury on a tackle in a January 1991 playoff game. He played with the Royals through '90 and was released in the spring of '91 because of the injury, which ended his NFL career. Jackson did catch on with the White Sox, and later, the Angels.
2. Jim Thorpe
One of the most accomplished athletes in history, Thorpe won gold medals at the 1912 Olympics in the pentathlon and decathlon, then transitioned to a six-year baseball career beginning in '13 that began with the New York Giants and included a stint with the Cincinnati Reds. He hit .252 in 289 games, and continued to play in the Minor Leagues through '22. Prior to the NFL's existence, Thorpe played five years with the Canton Bulldogs (1915-17, 1919-20) while also serving as the coach, then played for six teams in the early years of the NFL. He was selected to the NFL All-1920s team, and was a First-Team All-Pro selection in '23.
3. Brian Jordan
A first-round Draft pick of the St. Louis Cardinals in 1988, and a seventh-round selection of the Buffalo Bills in '89, Jordan made his mark in baseball. He played 15 years in the big leagues with the Cardinals (1992-98), Braves (1999-2001, 2005-06), Dodgers (2002-03) and Rangers (2004). Jordan was an All-Star in with the Braves in '99. He was cut by the Bills in training camp, but signed with the Atlanta Falcons and played for them from 1989-91. Jordan was selected as a Pro Bowl alternate in '91, then gave up football in exchange for a $1.7 million bonus from the Cardinals prior to the '92 season.
4. George Halas
A multisport athlete at Illinois who played football, baseball and basketball, Halas is best known for being one of the founders of the NFL, and was a longtime owner of the Chicago Bears. He was one of the 17 inductees in the inaugural NFL Hall of Fame ceremony in '63. In college, Halas was the MVP of the '19 Rose Bowl. He then played pro football for 11 years, the last 10 (1920-29) as the player-coach for the Decatur Staleys, who became the Chicago Bears. Halas coached the Bears through '67, overseeing six NFL championship teams and earning NFL Coach of the Year honors in '63 and '65. Halas played 12 games with the New York Yankees in '19, a career consisting of 22 at-bats, a .091 batting average and a pair of home runs before a hip injury ended his career.
5. Deion Sanders
Inducted into the NFL Hall of Fame in 2011, his first year of eligibility, Sanders played parts of nine seasons in MLB, and 14 years in the NFL, including coming out of a three-year retirement to play two years with the Ravens. Sanders played with the Yankees, Braves, Reds and Giants in a nine-year Major League career that included an agreement with the NFL's Atlanta Falcons that allowed him to play in the 1992 World Series for the Braves. "Primetime" remains the only player to have appeared in both the Fall Classic and Super Bowl. He played in more than 100 games only once -- in '97 with the Reds when he finished second in the National League with 56 stolen bases. Asked why he played both sports so long, Sanders explained, "Football is my wife and baseball is my mistress."
6. Ace Parker
An All-American in football in 1936 at Duke -- where he also played basketball and baseball -- Parker played in the NFL and Major Leagues in '37 and '38 before concentrating on football. He hit .179 during sporadic playing time over two years with the Philadelphia A's, but is one of just 14 Major League players to hit a pinch-hit home run in his first at-bat. The MVP of the NFL in '40, Parker was inducted into the College Football Hall of Fame in '55 and Pro Football Hall of Fame in '72. After his playing career, he returned to Duke as an assistant football coach from 1947-65, then as baseball coach from 1953-66. During that time, Parker also managed the Minor League Durham Bulls from 1949-52.
7. Charlie Berry
Berry was a 1924 Walter Camp All-America Team selection at Lafayette, where he also played baseball. He spent '25 playing for the Philadelphia A's, and then, after two years in the Minors, played 10 more seasons in the big leagues with the A's, Red Sox and White Sox. Berry's NFL career consisted of two seasons with the Pottsville Maroons, who finished 10-2 in '25, and 10-2-2 in '26. He led the league in scoring with 74 points in '25. After stints as an A's coach (1936-40), and managing a year in the Minors, Berry became an NFL official and American League umpire from 1942-62. He worked five World Series and five All-Star Games. Berry also was a head linesman in the NFL for 24 years. He is the only official to work a World Series and an NFL championship in the same season.
8. Ernie Nevers
Nevers had a brief career as a big league pitcher, appearing in 44 games with the St. Louis Browns (1926-28), during which he had the distinction of serving up two of Babe Ruth's home runs during the 1927 season in which Ruth hit 60. Nevers was inducted into the College Football Hall of Fame in '51 and was in the Pro Football Hall of Fame charter group of '63. He was the only player in NFL history to score 40 points in a game, scoring six rushing touchdowns and kicking four extra points in the Chicago Cardinals' 40-6 victory over the Bears on Nov. 28, 1929.
9. Tom Brown
Signed out of the University of Maryland in 1963 by the Washington Senators, Brown made the big league club after a strong Spring Training. His big league career consisted of only 61 games that year during which he hit .147 with one home run and four RBIs. The 28th player selected in the '63 NFL draft, Brown signed with the Packers and spent six years in the NFL, playing for Vince Lombardi in five of them (four with Green Bay and one with Washington). He played for three NFL championship teams and two Super Bowl winners. Brown also intercepted a fourth-down pass from the Cowboys' Don Meredith in the end zone to preserve the Packers' 34-27 victory over the Cowboys in the '66 NFL title game.
10. Greasy Neale
Neale made his impact as an NFL coach including 10 years with the Eagles (1941-50) during which they finished in second three times and first three times. He also spent 18 years as a college football coach, basketball coach and baseball coach at various schools, including his alma mater, the University of Virginia. Neale's football playing career lasted three years (1917-19), and overlapped a baseball career that spanned 1916-24. He hit .357 in the '19 World Series to help the Reds win the title against the AL champions who would come to be known as the Black Sox. Neale had a .259 career batting average and finished in the top 10 in the NL in stolen bases 10 times.
Tracy Ringolsby is a reporter for MLB.com. This story was not subject to the approval of Major League Baseball or its clubs.