MLB.com Columnist
Mike Petriello
Playing through pain: 6 sluggers hoping for better health
Statcast looks at Correa, Polanco, Harper and more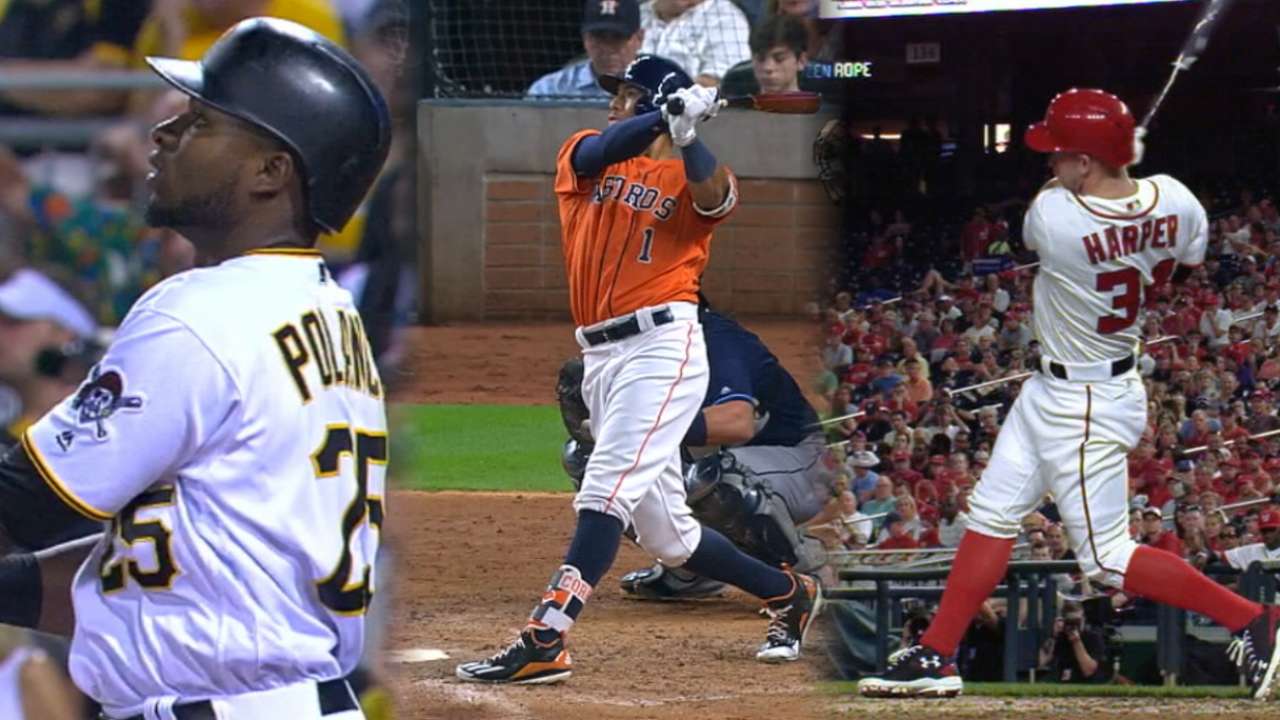 The legendary Ted Williams once said that squarely hitting a round baseball with a round bat is the hardest thing to do in all of sports, and he said that before the age of one-inning relievers and sliders that have velocity and movement. Now, imagine trying to hit Andrew Miller or Clayton Kershaw or Noah Syndergaard while also dealing with an ache or pain that prevents you from being at your best.
Yet, we know that hitters are trying to do this all the time. And while there's a certain virtue to showing up every day and trying to play through pain, particularly in terms of gaining clubhouse respect, players can hurt their teams when they're so limited that they just can't play to their usual potential.
We saw this in 2015 with Yasmani Grandal (shoulder), Hanley Ramirez (shoulder), and Mike Trout (wrist), among others. Can we identify hitters who had seasons in 2016 that were limited by injury, and who might be expected to do more in 2017 if healthy?
Gregory Polanco, Pirates
Let's provide a short list of Polanco's 2016 injuries, shall we? Between right shoulder discomfort, a sore left hamstring, left foot pain, and a bruised face, it was a tough year, and he reportedly also received a PRP injection in his left knee and left shoulder in October. It's not hard to see how that all took a toll on him as the year went on, because after putting up a first half that was basically the breakout we all expected (.287/.362/.500, 128 wRC+, which is Manny Machado production), his second half was a mess (.220/.267/.414, 80 wRC+).
Check out his 20-game rolling exit velocity chart, to see this in action. The first half shows pretty consistent production, but the second is an up-and-down mess of peaks and valleys, and that actually started in late June, when "leg soreness" kept him out of an series against the Dodgers.
Despite that, Polanco's overall 2016 line (.258/.323/.463, 108 wRC+) was his best, in part because he followed the Daniel Murphy strategy of pulling the ball in the air more than ever. If he can stay whole in 2017, he could be the best hitter in a stacked Pittsburgh outfield.
Carlos Correa, Astros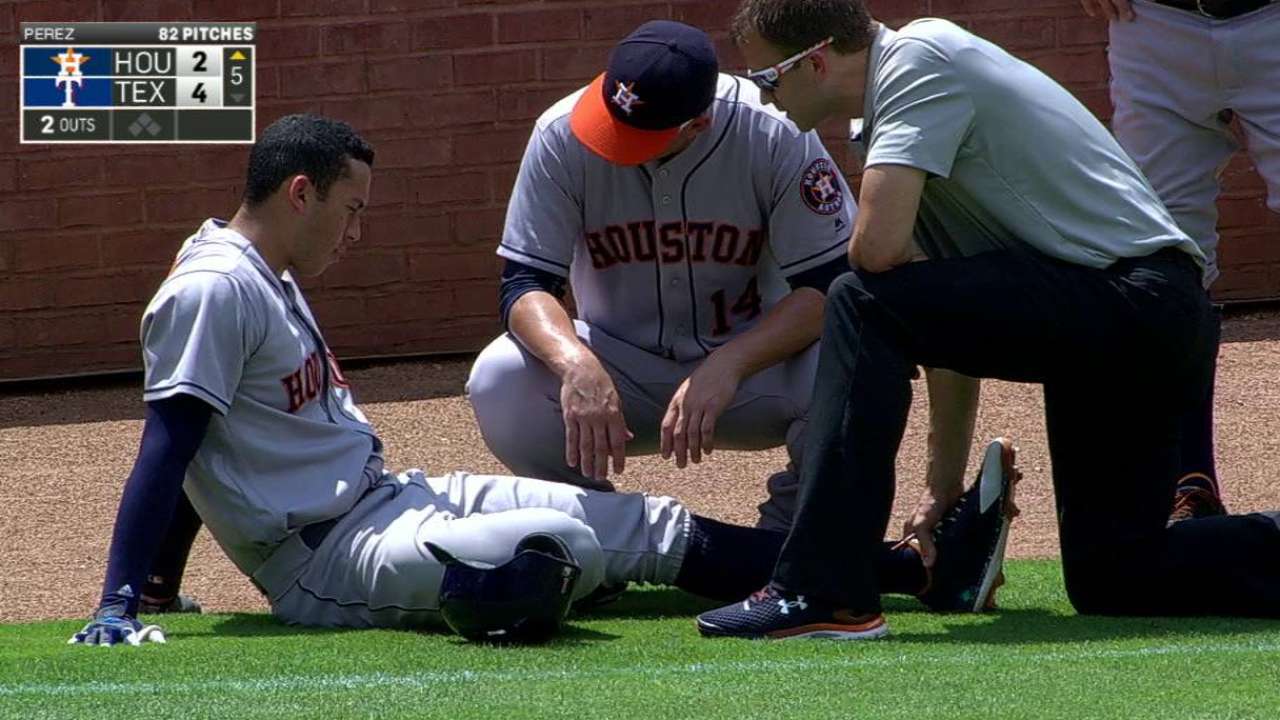 Like Polanco, Correa had a good year, overall. In his age-21 season, he hit .274/.361/.451 (122 wRC+) with 20 homers, and he could merely just do that every year and be a star. But his power was down from his 2015 debut, when he hit two more homers in 228 fewer plate appearances.
In early June, he badly sprained his left ankle and didn't play for five days; in September, he was playing through left shoulder pain, with manager A.J. Hinch saying, "He's going to gut it out and tolerate as much pain as he can," and "I'm sure he's not comfortable."
Can we see the same effect in exit velocity as we did with Polanco? We sure can.
We should caution, however, that Correa wasn't exactly lighting it up before the ankle injury -- .256/.351/.423 is good, not elite -- so it's not entirely about the injuries. They certainly didn't help, though.
Bryce Harper, Nationals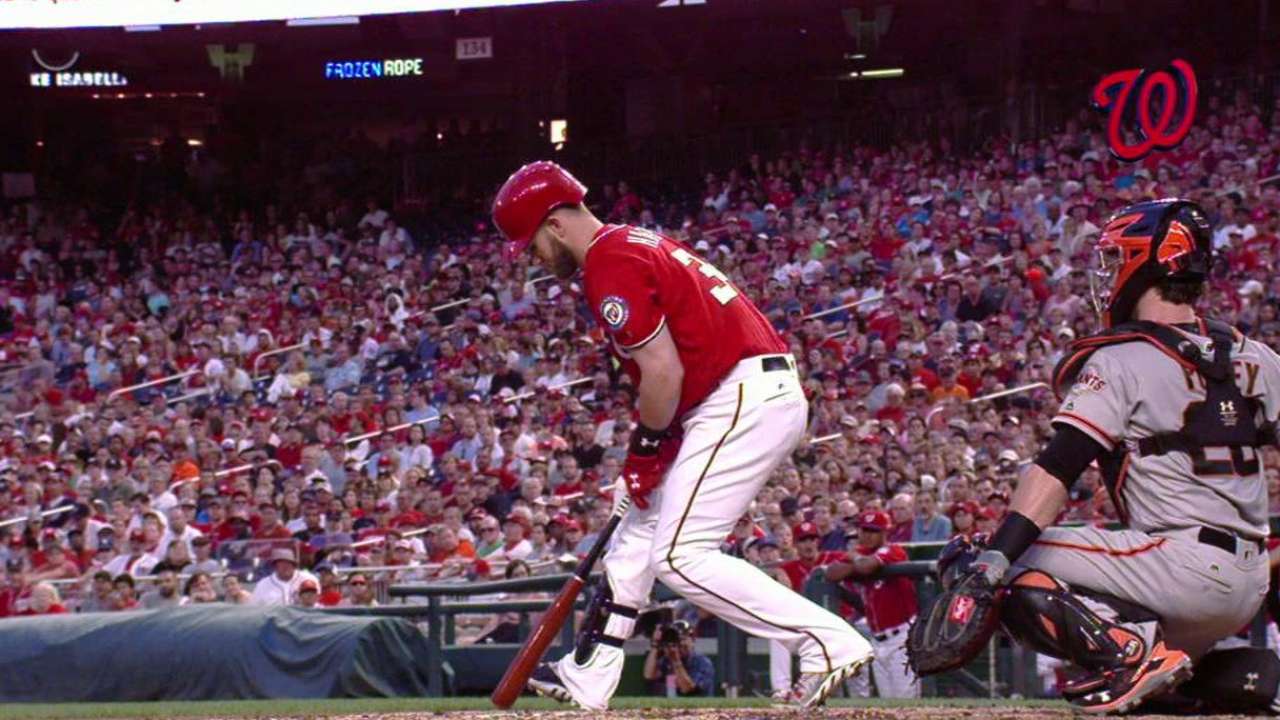 We're nearing an endless amount of words being written on how Harper's smashing April (.286/.406/.714) turned into a frustratingly average hitter for the remaining five months, particularly since there was never a satisfying answer as to why. There were multiple reports of Harper dealing with neck/shoulder issues, particularly when he took a week off in August.
We can't say with certainty that this is a case of injury, but it's truly difficult to believe that a hitter as great as he was in 2015 and early 2016 could simply fall off that badly without some sort of physical issue. Instead of using exit velocity this time, let's reach back to a September article that used Statcast™ defensive positioning data:
Harper monthly positioning, feet from home
April -- 290
May -- 290
June -- 283
July -- 284
Aug -- 286
Sept -- 279
MLB right-field average: 294 feet
Harper arm strength on "competitive throws"
April -- 92.3 mph
May -- 93.8 mph
June -- 94.9 mph
July -- 94.1 mph
Aug -- 90.2 mph
Sept -- 89.8 mph
MLB right-field average: 88.9 mph
That trend certainly suggests something was amiss, and hopefully means we'll see the MVP version of Harper in 2017.
Quick Hits, Wrist Edition
Byungho Park, limbo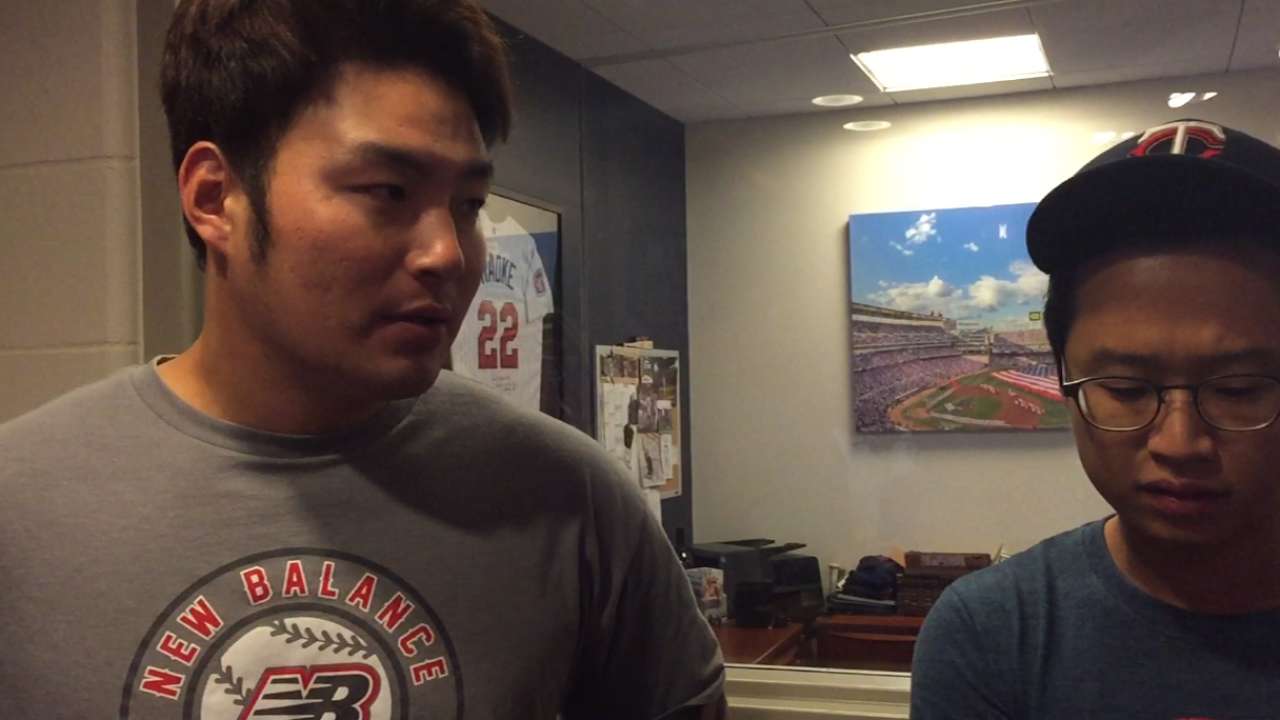 Yes, we know that the Twins surprisingly designated Park for assignment on Friday, but some team will probably take a gamble on him, and we just used Statcast™ to explain why earlier this week. The takeaway there is that while Park did indeed have contact issues, he was among the most elite hitters in baseball in terms of making hard contact, and he did it with a nagging right wrist injury that required surgery. Some team will be interested in finding out what he can do when healthy, and the risk is low.
Michael Conforto, Mets
Lost in the wreckage of Conforto's disappointing 2016 was that he actually got off to a tremendous start, hitting .365/.442/.676 in April and looking every bit the star that he was expected to be after his 2015 debut. It didn't work out that way, of course, as he ended up being demoted to Triple-A and is slated to start 2017 on the bench. But did you remember that in mid-June, his left wrist was sore enough that he received a cortisone shot?
We don't know exactly when the wrist soreness first popped up, but we do know his exit velocity was 92.6 mph in April, and 90.4 mph afterward. There's lot of reasons that could be, of course, including the league adjusting to a young hitter who couldn't adjust back.
Marcell Ozuna, Marlins
Finishing off our trio of wrist injuries, Ozuna was one of our first 2016 Statcast™ breakout picks last winter, and for most of the first half, he more than lived up to that, hitting .307/.360/.533 (137 wRC+) and starting the All-Star Game. But his second half was a mess, with a line of just .209/.267/.342 (61 wRC+).
On June 25, it was reported that Ozuna would sit due to lingering left wrist soreness that had "bothered him for about a week." On Aug. 31, he made this fantastic catch against the Mets, but injured the wrist again while doing so, and he wouldn't reappear until Sept. 7.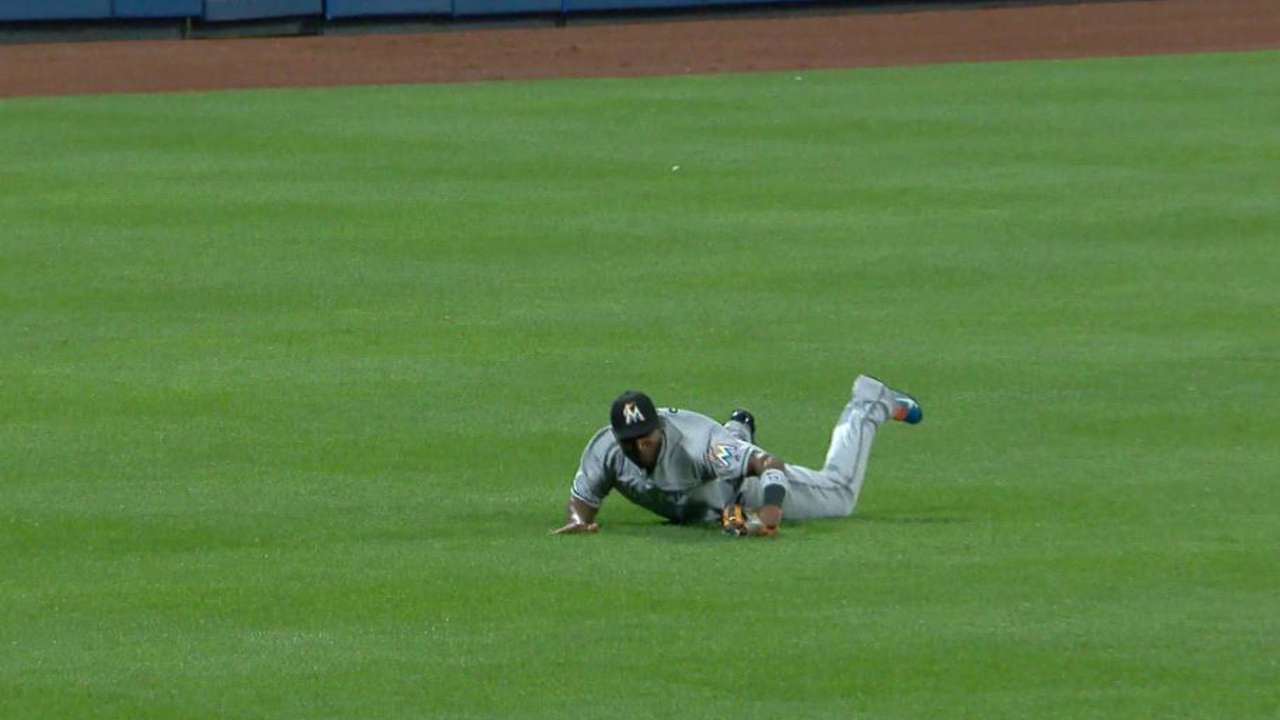 But in Ozuna's case, the exit velocity didn't change all that much. Instead, he hit more ground balls in the second half, jumping from 42 percent to 46 percent, including a whopping 54 percent grounder rate in August. That's exactly what his problem had been in 2015 -- hard-hit grounders that didn't lead to production. We're speculating that this is because of the wrist issues, because we can't say we know for sure. It makes plenty of sense, though, doesn't it? The Ozuna we saw to begin 2016 was exactly the star we'd expected to see.
Mike Petriello is an analyst for MLB.com and the host of the Statcast podcast. He has previously written for ESPN Insider and FanGraphs. This story was not subject to the approval of Major League Baseball or its clubs.