Get your gear, Spring Training's here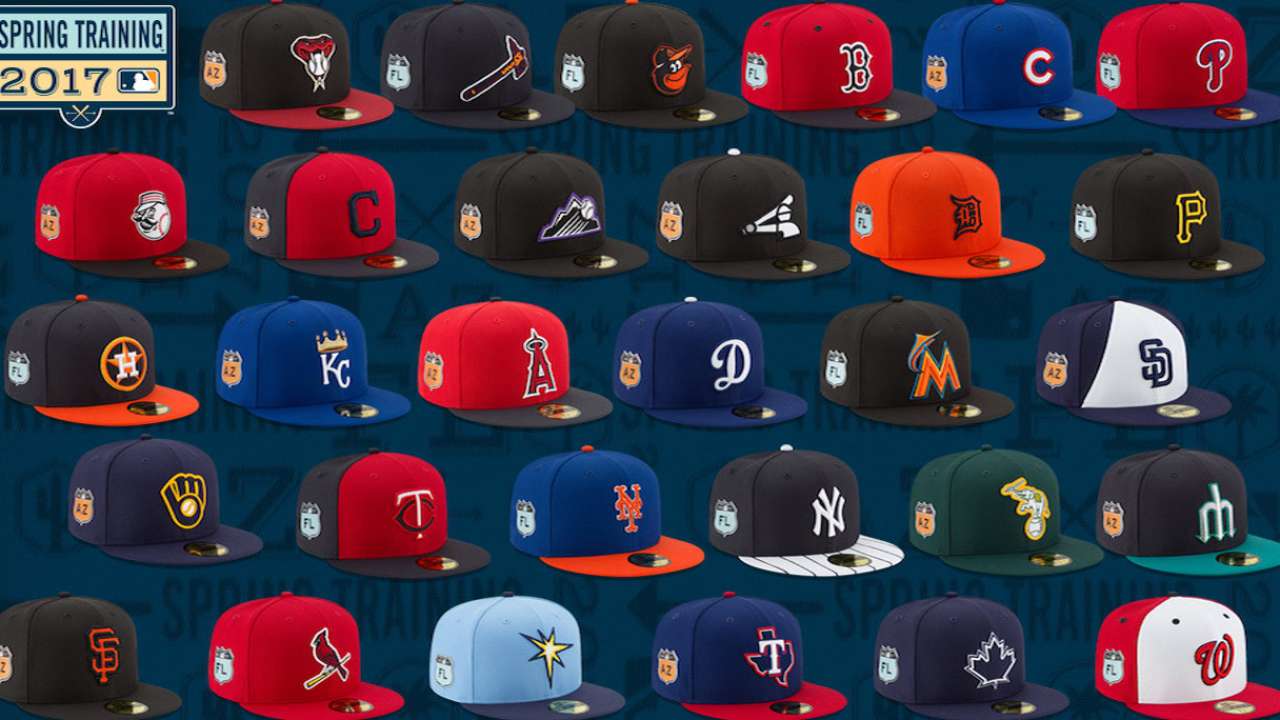 It's time to see Chris Sale in uniform for the Red Sox, Edwin Encarnacion for the Indians, Wade Davis for the Cubs, Mark Melancon for the Giants, Dexter Fowler for the Cardinals, Yoan Moncada and Lucas Giolito for the White Sox, Andrew Cashner for the Rangers, Aroldis Chapman for the Yankees, Ian Desmond for the Rockies, Adam Eaton for the Nationals, Bartolo Colon for the Braves, Jean Segura for the Mariners, Taijuan Walker for the Diamondbacks and all those other new incoming players we've been talking about for months.
With Spring Training here, now is the time to see what they and all the players will be wearing. Major League Baseball, along with Authentic Collection partners Majestic, New Era and Stance, unveiled an updated on-field look for Spring Training that includes updated league-wide logos, new cap and jersey designs for select clubs, new three-quarters-sleeve batting practice jerseys, stylish socks, specially marked balls and other on-field elements. Each team's collection can be found at the MLB.com Shop.
A patch representing Arizona or Florida again adorns one jersey sleeve and the right side of caps. After debuting this design scheme last year in Spring Training, names and numbers on the backs of all jerseys again feature a sublimated Spring Training design pattern, which includes this year's Cactus and Grapefruit League marks and the silhouetted batter logo. These sublimated designs are also found on the bottom side of all caps' visors.
You'll notice some new looks, and here are seven clubs debuting new designs on their Diamond Era caps at Spring Training:
The Braves for the first time sport their tomahawk logo as part of an all-navy cap.
The Cubs' new alternate cap features their historic Cubbie Bear logo on an all-blue hat.
The Indians wear caps with a new colorway (navy visor and crown/red front panel).
The Mariners' triton logo makes its debut on the club's new primary spring caps.
The Mets return to their interlocking NY logo in orange on an all-blue cap.
The Rays bring back the sunburst logo on a new colorway (light blue visor and crown/white front panel).
The Yankees introduce two new alternate caps, one with a navy crown/pinstriped visor and one with a grey crown/navy visor.
It's also time to see those guys who made news by staying put this offseason: Yoenis Cespedes is back with the Mets, Andrew McCutchen with the Pirates (not traded), Jose Bautista with the Blue Jays, Mark Trumbo with the Orioles, Justin Turner, Kenley Jansen and Rich Hill with the Dodgers, Jeremy Hellickson with the Phillies and Carlos Gomez with the Rangers. Order the same gear they are wearing.
That includes more of those cool socks from Stance that were introduced last season as the official sock of MLB -- especially noticeable on the increasing number of players who pull their pant bottoms up high.
"Socks were a forgotten piece of apparel and completely overlooked as a piece of technical equipment," said Taylor Shupe, Stance co-founder and chief product officer. "There hasn't been any real innovation in the space despite how important socks actually are in achieving comfort and function to protect the foot. This particular sock is going to open the eyes of a lot of players to what they've been missing out on."
In addition to the same authentic gear your favorite players will be wearing is a variety of Spring Training items, including official Cactus and Grapefruit League T-shirts. The MLB.com Shop also features new World Baseball Classic gear representing all 16 participating nations, as the fourth edition of the global tournament shares space with Spring Training from March 6-22.
Last year marked a major update to the Spring Training uniform, one that was popular among fans. This update came about after conversations with players around the league and features three-quarters length sleeves. The jerseys will still be made of the same Flex Base performance material that players began wearing last season. MLB is also introducing new batting practice jerseys this season; look for more details about those soon.
Consistent with how MLB brands jewel events, Spring Training imagery will continue to be featured on the fields in Arizona and Florida. Rawlings baseballs will again be stamped with this year's Grapefruit and Cactus League logos, while the bases used in every Spring Training matchup will feature jewels of the league logos and the on-deck circles will also showcase the AZ and FL marks.
Also for the second straight year, Spring Training fields will be stenciled with the Grapefruit and Cactus marks, similar to Opening Day and special event days throughout the season.
Mark Newman is enterprise editor of MLB.com and a baseball writer since 1990. Read and join other baseball fans on his MLB.com community blog. This story was not subject to the approval of Major League Baseball or its clubs.