Who are the top 5 all-time players from San Francisco?
It's easy to tell which city your favorite baseball player represents: It's likely your city, and it's emblazoned across his chest 162 times every season. But what about the cities where players learned to turn on a fastball, where they played youth baseball, where they raised families? Where did history's best players come from, and which ones hailed from your neck of the woods?
Across MLB.com, we profiled all 27 Major League cities through the lens of the talent they've spawned. Players don't need to be born in the city to represent it. Inclusion criteria simply demands the player spent his formative years there, preferably high school, and that he did so within the city limits or in its immediately surrounding areas.
Using career WAR as a guide* -- but also considering other factors, such as the era they played, postseason accomplishments, if they played professionally in that city, and Hall of Fame status -- we'll rank the best five players all-time from each city, list some excellent names that couldn't crack the top five, and sprinkle in some current players, too. The mission was to create as complete a historical picture of your city's baseball tradition -- and to as accurately honor its legends -- as possible.
*(Baseball Reference version)
• Who are the Top 5 players from other Major League cities?
Barry Bonds
Born: July 24, 1964
Accolades: Seven-time NL MVP, all-time home run leader, all-time walks leader, 14-time All-Star, 12-time Silver Slugger, eight-time Gold Glove winner, 12-time walks leader, two-time home run champion, .298/.444/.607 hitter with 762 home runs, 1,996 RBIs, 2,935 hits over 22 seasons, member of MLB All-Century Team, 162 WAR.
High school: Serra (San Mateo)
The sport's all-time home run leader was born in Riverside, near Los Angeles, but raised in San Mateo, while his father, Bobby, played for the Giants. Later, Barry would put together some of the best seasons in Major League history for the Giants.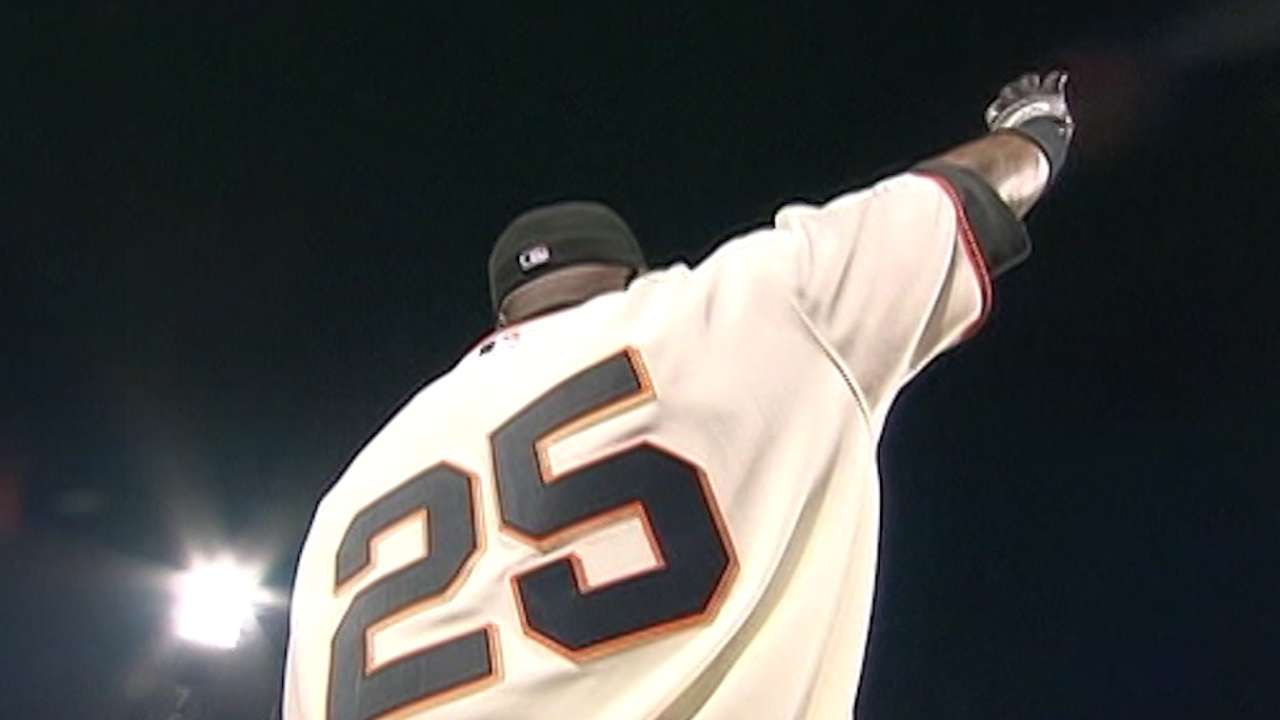 Joe DiMaggio
Born: Nov. 25, 1914 (died March 8, 1999)
Accolades: Three-time AL MVP, 13-time All-Star, nine-time World Series champion, owner of record 56-game hit streak, two-time batting champion, two-time home run champion, .325/.398/.579 hitter with 361 home runs in 13 seasons, 78 WAR, member of MLB All-Century Team, inducted into Hall of Fame in 1955.
High school: Galileo
One of nine children of Sicilian immigrants, "Joltin Joe" rose from poverty on Fisherman's Wharf to become one of baseball's all-time stars, a figure whose celebrity transcended sport.
DiMaggio lived in San Francisco much of his life. He was born in Martinez, raised in North Beach and played for the San Francisco Seals from 1932-35. Restaurants on Fisherman's Wharf still bear his name.
Harry Heilmann
Born: Aug. 3, 1894 (died July 9, 1951)
Accolades: Four-time AL batting champion, led AL in hits in 1921, doubles in 1924, RBIs in 1925, hit .403 in 1923, received MVP votes in seven consecutive seasons, .342/.410/.520 hitter in 17 seasons, 72 WAR, inducted into Hall of Fame in 1952.
High school: Sacred Heart Cathedral Prep
One of the best right-handed hitters in baseball history worked as a bookkeeper in his native San Francisco before he signed with the Tigers in 1913. A right fielder, Heilmann retired with a .342 batting average.
Joe Cronin
Born: Oct. 12, 1906 (died Sept. 7, 1984)
Accolades: Seven-time All-Star, led AL in doubles in 1933 and 1938, eight times drove in 100 runs, hit over .300 10 times, .301/.390/468 hitter with 2,285 hits in 20 seasons, 66 WAR, inducted into Hall of Fame in 1956.
High school: Sacred Heart Cathedral Prep
Born to Irish immigrants and raised in hard times on the south side of San Francisco, Cronin's childhood was significantly affected by the San Francisco Earthquake of 1906. He went on to become an All-Star, manager, general manager, league president and Hall of Famer.
Keith Hernandez
Born: Oct. 20, 1953
Accolades: 1979 NL co-MVP, five-time All-Star, 11-time Gold Glove winner, two-time Silver Slugger, two-time World Series champion, 1979 NL batting champion, led league in runs scored twice, doubles, walks and OBP once, .296/.384/436 hitter with 2,182 hits in 17 seasons, 60 WAR.
High school: Capuchino (San Bruno)
One of the best fielding first basemen of all-time, Hernandez was born in San Francisco and attended the College of San Mateo. Now a color commentator for Mets television broadcasts, Hernandez often admits his love for his hometown on the air.
Honorable mention: Kevin Bass, Wally Berger, Eric Byrnes, Dolph Camilli, Jerry Coleman, Babe Dahlgren, Dom DiMaggio, Vince DiMaggio, Bob Elliot, Danny Frisella, Greg Jefferies, Eddie Joost, High Pockets Kelly**, Mark Koenig, Tony Lazzeri**, Gary Matthews, Bob Melvin, Don Mossi, Mike Norris, Lefty O'Doul, Ken Reitz, Dutch Ruether, Gus Suhr, Walt Williams.
Active players: Daniel Descalso, Daniel Nava, Joc Pederson, Sam Tuivailala, Troy Tulowitzki.
**Indicates a member of the National Baseball Hall of Fame
Joe Trezza is a MLB.com reporter. This story was not subject to the approval of Major League Baseball or its clubs.