Who are the Top 5 all-time players from Atlanta?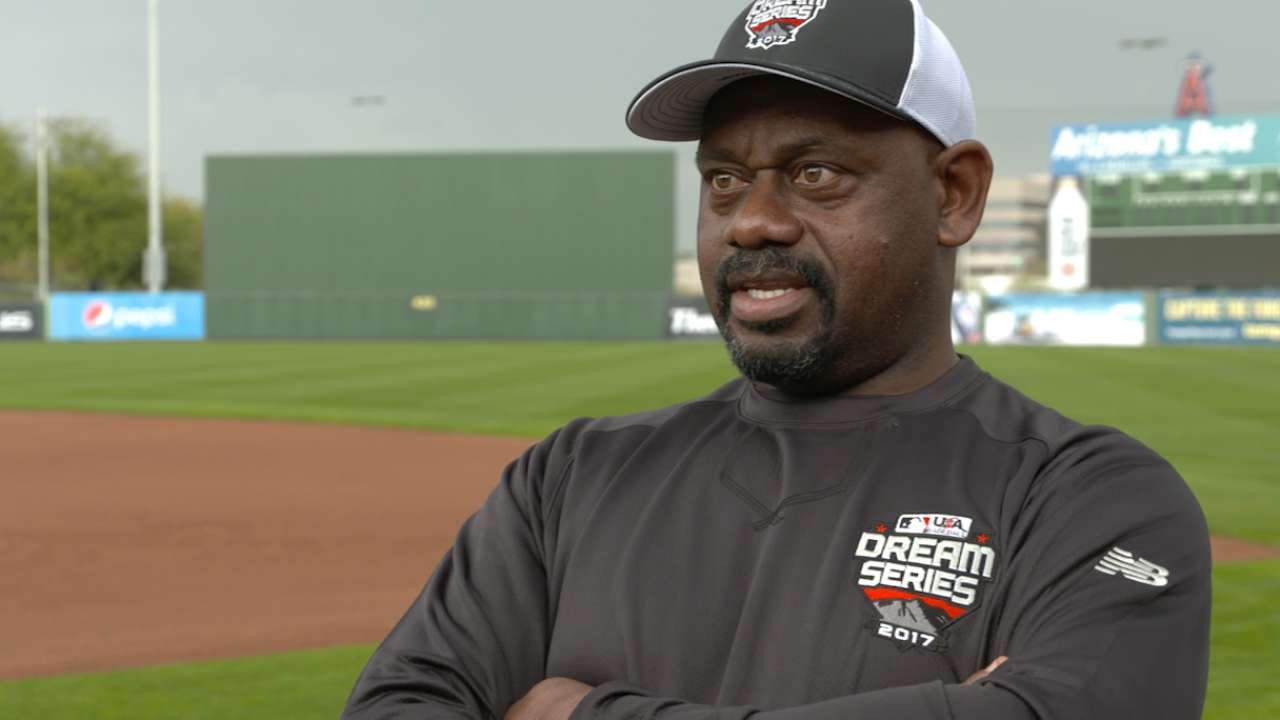 It's easy to tell which city your favorite baseball player represents: It's likely your city, and it's emblazoned across his chest 162 times every season. But what about the cities where players learned to turn on a fastball, where they played youth baseball, where they raised families? Where did history's best players come from, and which hailed from your neck of the woods?
Across MLB.com, we profiled all 27 Major League cities through the lens of the talent they've spawned. Players don't need to be born in the city to represent it. Inclusion criteria simply demands the player spent his formative years there, preferably high school, and that he did so within the city limits or in its immediately surrounding areas.
Using career bWAR as a guide -- but also considering other factors, such as the era they played, postseason accomplishments, if they played professionally in that city, and Hall of Fame status -- we ranked the best five players all-time from each city, listed some excellent names that couldn't crack the top five, and sprinkled in some current players, too.
• Who are the Top 5 players from other Major League cities?
The mission was to create as complete a historical picture of your city's baseball tradition -- and to as accurately honor its legends -- as possible.
Bill Terry
Born: Oct. 30, 1898 (died Jan. 9, 1989)
Accolades: .341/.393/.506 slash line; led National League in games, hits, runs, triples and hitting at least once during 14 seasons; Three-time All-Star; 1933 World Series champion; 55 WAR; inducted into the Hall of Fame in '54.
High school: Unknown
Ty Cobb was born in a log cabin on the side of an unmarked road in an unofficial village nearly two hours northwest of Atlanta, so "The Georgia Peach" doesn't really qualify to represent his state's largest city. That distinction falls to first baseman Terry, one of the best hitters from the 1920s and '30s.
Terry is the last NL player to hit .400 -- he hit .401 for the New York Giants in 1930. A failed pitcher, Terry reinvented himself into a line-drive-hitting first baseman and twice finished in the top three in the NL Most Valuable Player Award voting. He compiled six 200-hit seasons, hit over .350 four times and totaled 100 RBIs six times.
Terry spent 19 seasons with the Giants, nine as a player, five as a player-manager and five as manager. His number 3 is retired by the San Francisco Giants.
Luke Appling
Born: April 2, 1907 (died Jan. 3, 1991)
Accolades: Two-time American League batting champion; seven-time All-Star; retired the all-time leader in games played and double plays turned among shortstops; .310/.399/.398 hitter with 2,749 hits over 20 seasons; 75 WAR; inducted into the Hall of Fame in '64.
High school: Fulton
One of the most prolific singles hitters and slickest fielding shortstops of all time, Appling played his entire career for the White Sox -- from 1930-50. He is one of just eight Hall of Famers with a higher one-base percentage (.399) than slugging percentage (.398).
Tony Phillips
Born: April 25, 1959 (died Feb. 17, 2016)
Accolades: Led AL in runs in 1992; led AL in walks in '93; .266/.374/.389 slash line with 2,023 hits, 160 home runs and 177 stolen bases over 18 seasons; '89 World Series champion, 51 WAR.
High school: Roswell
A versatile player with a great eye, Phillips played seven positions over a career that spanned most of the 1980s and '90s. He scored 100 runs four times, drew 100 walks five times, hit for the cycle in '86 and hit 27 homers in '95. Phillips is one of just two players to have a season of 100 or more hits, walks, runs and strikeouts while hitting fewer than 10 home runs, which he did in '93.
Nap Rucker
Born: Sept. 30, 1884 (died Dec. 19, 1970)
Accolades: Led NL in starts, complete games, shutouts and innings in 1910; 134-134 with a 2.42 ERA and 186 complete games over 10 seasons; 48 WAR
High school: Unknown
Born in Crabapple and buried in Alpharetta, this southern southpaw was a Georgia man for most of his life, save his 10-year career with the Brooklyn Dodgers from 1907-16. Rucker was a workhorse who compiled four 300-inning seasons; he just missed a fifth in '12, and he earned five 15-win seasons. He set various Brooklyn records, including the franchise mark for strikeouts in a nine-inning game (16). He threw a no-hitter in '08 against the Boston Doves.
Rucker was elected mayor of Roswell, just a half-hour north of Atlanta, in 1935.
Marquis Grissom
Born: April 17, 1967
Accolades: Two-time All-Star, four-time Gold Glove winner, '97 AL Championship Series MVP, two-time NL stolen-base leader, two 20-20 seasons, '95 World Series champion, 29 WAR
High school: Lakeshore
Grissom was one of two Atlanta natives to bring a World Series title to his hometown in 1995. The other, little-used reliever Brad Woodall, left before high school. Grissom grew up a stone's throw from Hartsfield-Jackson International Airport, one of 14 siblings. A dynamic outfielder for six teams, Grissom hit .317 in 52 postseason games to go along with his 2,251 regular-season hits. He is one of 11 players with 200 home runs and 400 steals. He still resides in the Atlanta metropolitan area.
Honorable mentions: Jim Bagby, Michael Barrett, Kris Benson, Marlon Byrd, Matt Capps, Donn Clendenon, Adam Everett, Jim Hearn, Todd Jones, Wally Joyner, Marty Marion, Corey Patterson, Cecil Travis, Greg Walker
Active players: Gordon Beckham, Tim Beckham, Charlie Blackmon, Billy Burns, Dexter Fowler, Jeff Francoeur, Jason Heyward, Brian McCann, Collin McHugh, Brandon Moss, Brandon Phillips, Dansby Swanson, Zack Wheeler
Joe Trezza is an associate reporter for MLB.com. This story was not subject to the approval of Major League Baseball or its clubs.