MLB.com Columnist
Jonathan Mayo
Inbox: Breaking down Top 100 Prospects list
Jonathan Mayo answers fans' questions about baseball's future stars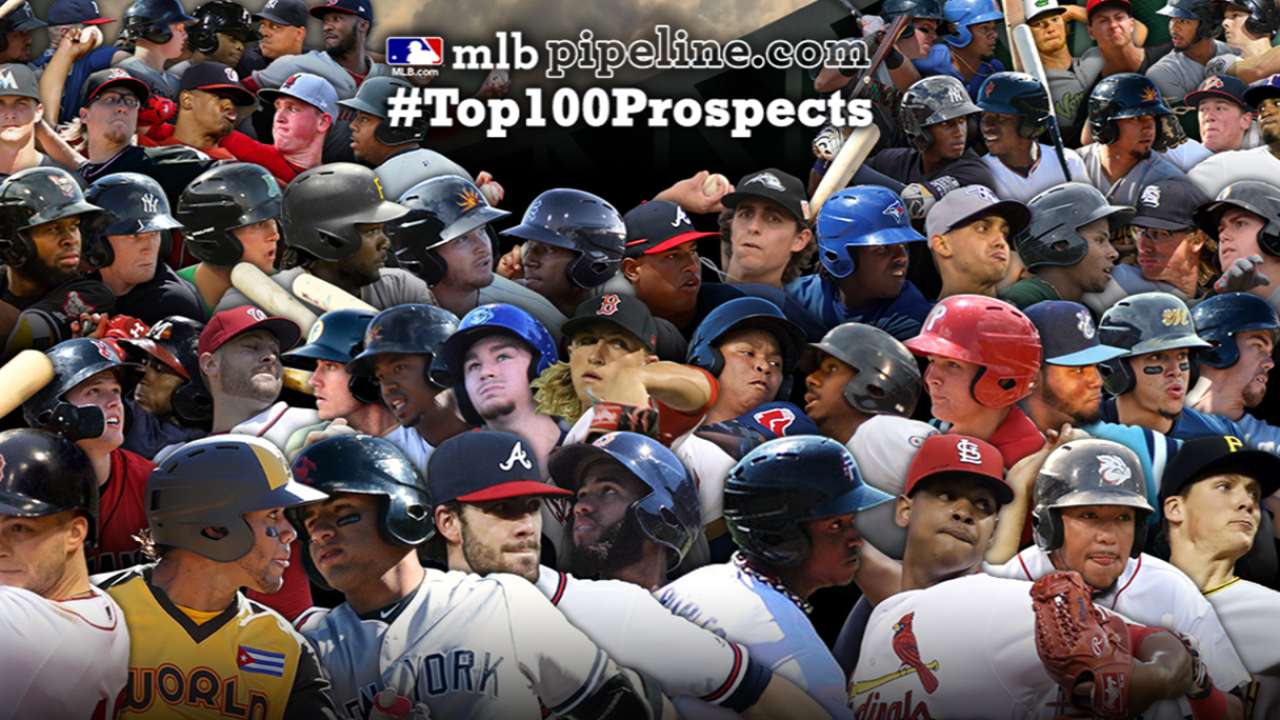 MLBPipeline.com's Top 100 Prospects list has been out since Saturday night and, believe it or not, people have a lot to say about it.
As we've said countless time, it's why we make the list in the first place. I think we'd be worried if there was no debate about it. So it made sense to keep the conversation going in this week's Inbox. Enjoy!
@JonathanMayo A submission for your @MLBPipeline mailbox. - Jay pic.twitter.com/OrcELHxldH

— Jacob Markle (@jacobelkram_byb) January 31, 2017
Now this is an interesting exercise. For the record, I think it's tricky because we need three outfielders. But here is what I came up with:
RHP Reynaldo Lopez, White Sox (10)
LHP Amir Garrett, Reds (6)
C Carson Kelly, Cardinals (1)
1B Bobby Bradley, Indians (4)
2B Ozzie Albies, Braves (2)
3B Vladimir Guerrero Jr., Blue Jays (3)
SS Kevin Maitan, Braves (7)
OF Lewis Brinson, Brewers (5)
OF Manuel Margot, Padres (8)
OF Clint Frazier, Yankees (9)
There were so many ways I could've gone with this thing. I tried to pick guys with high ceilings first, with the thought that prospects like Guerrero Jr. and Maitan could be atop their positional lists in a couple of years. I also took the top-of-the-list guys in the relatively weaker positions. Lopez is No. 10 on the Top 10 RHP list, but he's No. 46 on the Top 100. Kelly, the best catching prospect in the game, is No. 39 overall.
@JonathanMayo @jimcallisMLB @MLBPipeline how many Ronald acuna questions have you got since Saturday night?

— Matt Yonkoski (@MYonkoski) February 1, 2017
If I had a dime for every question … I'd have a lot of dimes. Most of the time I say, "Acuna Matata," but this time I figured I'd address the Braves-related queries.
Here's the deal, Braves fans. You have a really good system. No one is questioning that. It is undoubtedly one of the best in baseball (our rankings of the top 10 farm systems comes in early March). You have seven players on the Top 100. That's tied for the most. Don't get greedy. Are there others who are Top 100-caliber? Sure. Ronald Acuna and Max Fried, the two we've probably gotten the most comments on, are in the next group and will likely get added in the early stages of the season as some (your own Dansby Swanson, for one) graduate off the list.
Beyond that, there's a lot of talent. Austin Riley, Touki Toussaint, even Luiz Gohara (though he's not as close to the Top 100 as some have tried to argue, in my opinion), could all play their way onto the list during the 2017 season. At the end of the day, though, it's all about turning the big league team back into a winner. I believe the pieces are there for that to happen. And that's regardless of how many prospects are on any kind of list or rankings.
@JonathanMayo @MLBPipeline with guys near top 5 close to exemption from eligibility who are your next 5 prospects coming in (101-105)?

— Matt (@NucksandJays) February 1, 2017
There are indeed several players who will graduate off of the Top 100 in the very early stages of the 2017 season, including guys right at the top. No. 4 prospect Dansby Swanson has 129 at-bats, meaning he's going to play his way off the list on Opening Day (We use the 130 at-bat rookie status threshold as the cutoff); No. 1 prospect Andrew Benintendi has 105 at-bats. Alex Reyes, at No. 6, has 46 innings pitched. One start should put him over the 50 IP threshold. And that's just in the top 10, counting prospects who are very close to coming off.
So it makes sense to want to know who is next in line. This is where things stand as of right now, in terms of who the next set of prospects are. Keep in mind, things can change. Prospects could have a huge Spring Training and move up or, conversely, have a season-ending injury. But if we were to need replacements right now, this group would be ready to answer the call. And because I'm a nice guy, I'll run it out to 110:
101. Frankie Montas, RHP, A's
102. Casey Gillaspie, 1B, Rays
103. Brady Aiken, LHP, Indians
104. Harrison Bader, OF, Cardinals
105. Tyler Jay, LHP, Twins
106. Max Fried, LHP, Braves
107. Yusniel Diaz, OF, Dodgers
108. Jahmai Jones, OF, Angels
109. Ronald Acuna, OF, Braves
110. Trent Clark, OF, Brewers
@JonathanMayo @MLBPipeline Wondering how close Gsellman, Dunn and Szapucki were considering they've all made other major lists. #Mets

— Stephen Guilbert (@StephenJosiah13) February 1, 2017
I wanted to end with this one, not so much to weigh in on specific Mets, though I will do so, but to speak to a more general point. First, the specifics.
I would rank this Mets trio in this order: Dunn, Szapucki and Gsellman. I could see Dunn and Szapucki, while not on the 101-110 list above, working their way onto the list in 2017. Dunn barely got his feet wet as a pro last summer and I tend to be a little cautious about college relievers-turned-starters during their junior seasons. Szapucki made a huge leap in terms of prospect stock with his 2016 season, but keep in mind he threw 52 innings and has yet to hit full-season ball. Yes, we have others on the Top 100 who have similar, or lesser resumes in terms of experience, but are more lauded by scouts. If the lefty does it in the South Atlantic League in 2017, he'll jump onto the Top 100.
Now to the general point. I have the utmost respect for others in our industry who put out lists, especially those who I know put in the work in terms of seeing players, talking to sources, or both. But honestly, none of us really care too much about what the other lists look like. We look to see what other Top 100 lists are because we support each other's work and it's always interesting to see how they stack up in comparison. But it would be way too reactionary of any of us -- not to mention a sign that we don't trust our own processes -- if we were to jump because one list has certain prospects and other lists don't.
Trust me when I tell you that's not just us at MLBPipeline.com. The other guys will tell you the same thing. Differing processes, differences of opinions, that's what makes the world go round. And that's what makes checking out different lists worthwhile, to see how they diverge.
Jonathan Mayo is a reporter for MLBPipeline.com. Follow him on Twitter @JonathanMayo and Facebook, and listen to him on the weekly Pipeline Podcast. This story was not subject to the approval of Major League Baseball or its clubs.