Who are Top 5 all-time players from Oakland?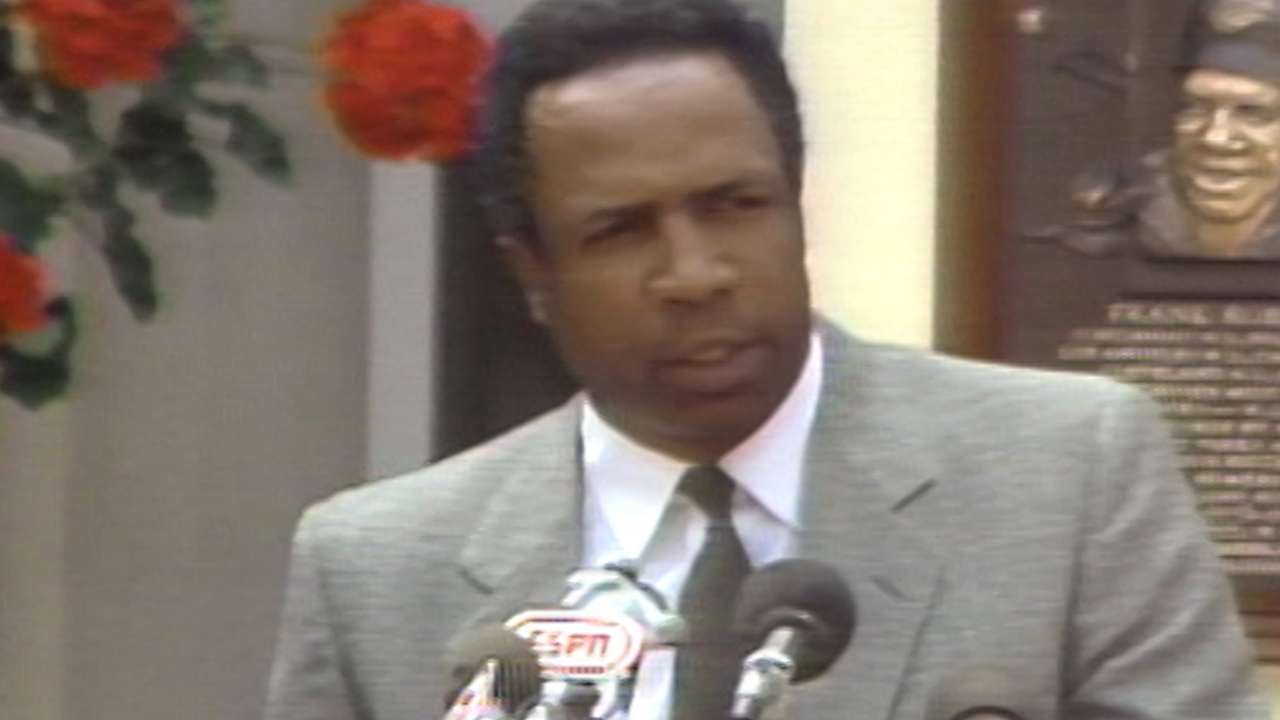 It's easy to tell which city your favorite baseball player represents: It's likely your city, and it's emblazoned across his chest 162 times every season. But what about the cities where players learned to turn on a fastball, where they played youth baseball, where they raised families? Where did history's best players come from, and which hailed from your neck of the woods?
Across MLB.com, we profiled all 27 Major League cities through the lens of the talent they've spawned. Players don't need to be born in the city to represent it. Inclusion criteria simply demands the player spent his formative years there, preferably high school, and that he did so within the city limits or in its immediately surrounding areas.
Using career WAR as a guide* -- but also considering other factors, such as the era they played, postseason accomplishments, if they played professionally in that city, and Hall of Fame status -- we'll rank the best five players all-time from each city, list some excellent names that couldn't crack the top five, and sprinkle in some current players, too. The mission was to create as complete a historical picture of your city's baseball tradition -- and to as accurately honor its legends -- as possible.
* Baseball Reference version
• Who are the Top 5 players from other Major League cities?
Frank Robinson
Born: Aug. 31, 1935
Accolades: Two-time MVP, 12-time All-Star, 1956 National League Rookie of the Year Award winner, 1958 Gold Glove winner, 1966 American League Triple Crown winner, two-time World Series champion, 1966 World Series MVP, 1989 AL Manager of the Year Award winner, .294/.389/.537 hitter with 586 home runs over 21 seasons, 107 WAR, inducted into Hall of Fame in 1982
High school: McClymonds
The Bay Area has always been a hotbed for baseball talent, and one of the game's all-time greats was raised on the east side of San Francisco Bay. Robinson was born in southern Texas but grew up in Alameda and West Oakland, where he cut his teeth playing American Legion ball.
Rickey Henderson
Born: Dec. 25, 1958
Accolades: 1990 AL MVP Award winner, 10-time All-Star, three-time Silver Slugger, 1981 Gold Glove, 12-time stolen-base champion, two-time World Series champion, 1989 AL Championship Series MVP, all-time leader in runs scored and stolen bases, .279/ 401/.419 hitter with 1,406 stolen bases over 25 seasons, 111 WAR, inducted into Hall of Fame in 2009
High school: Technical
For whatever reason, four of the five best players from Oakland were actually born elsewhere. That's the case for Henderson, who was born in Chicago, prematurely and in the back seat of a car. "I was already fast," Henderson told MLB Network in 2009. "Even then."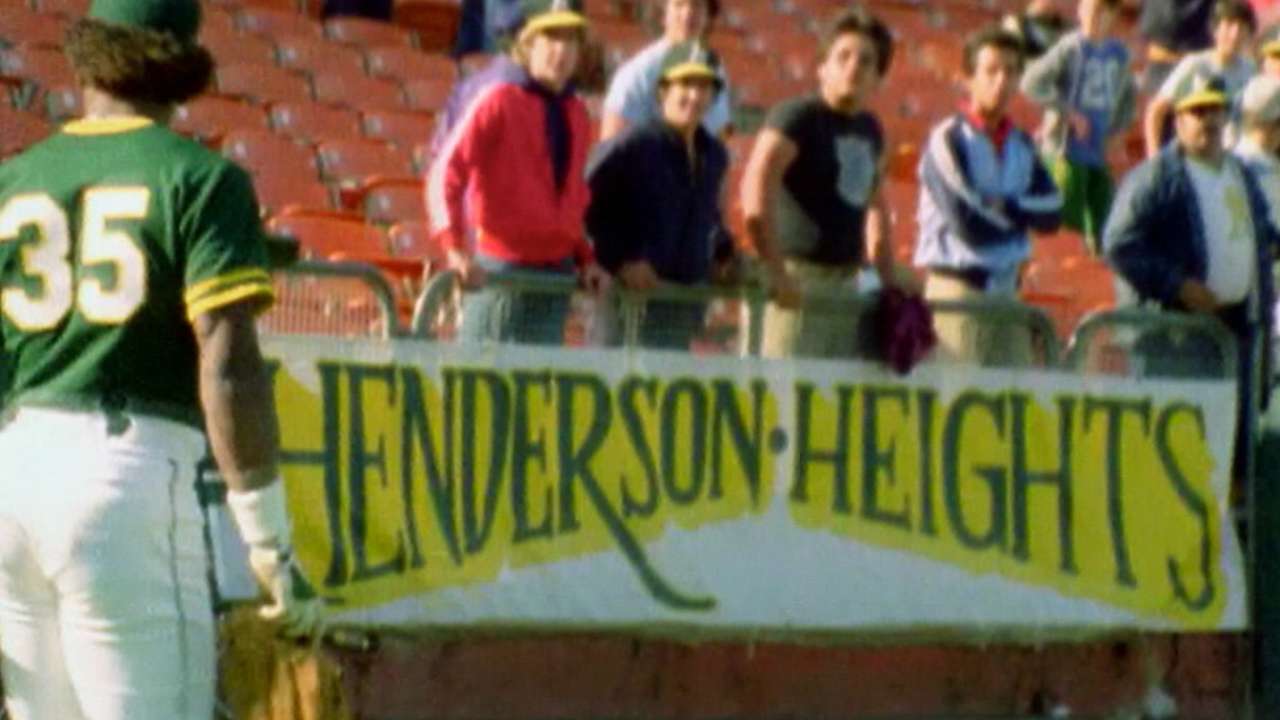 Once in Oakland, Henderson grew into a left-handed-throwing, right-handed-hitting speed demon. He also starred as a running back in football before choosing baseball in search of a longer career.
Joe Morgan
Born: Sept. 19, 1943
Accolades: Two-time NL MVP Award winner, 10-time All-Star, five-time Gold Glove winner, 1982 Silver Slugger, two-time World Series champion, .271/392/.427 hitter with 268 home runs and 689 stolen bases over 22 seasons, 100 WAR, inducted into Hall of Fame in 1990
High school: Castlemont
Another Oakland great not born in Oakland. Morgan was born in Bonham, Texas, and his family moved to the Bay Area when he was 5. He excelled in the amateur circuit, but was almost universally overlooked by scouts due to his small size. Little did those scouts know they were watching one of the most dynamic second basemen of all time.
Dennis Eckersley
Born: Oct. 3, 1954
Accolades: 1992 AL MVP Award winner, 1992 AL Cy Young Award winner, six-time All-Star, two-time saves champion, 1989 World Series champion, threw a no-hitter in 1977, member of MLB All-Time Team, 197-171 with 3.50 ERA and 390 saves over 24 seasons, 63 WAR, inducted into Hall of Fame in 2004
High school: Washington Union

Finally, an Oakland great born in the Bay Area. Eckersley is California through and through, still sporting his signature shoulder-length hair at age 62. The kid from Fremont had an incredibly versatile career. Consider this: As a 22-year-old, Eckersley threw a 12-inning complete game for the Indians. As a 38-year-old, he won the AL Most Valuable Player Award -- as a reliever.
Willie Stargell
Born: March 6, 1940 (died April 9, 2001)
Accolades: 1979 co-NL MVP Award winner, seven-time All-Star, two-time home run champion, two-time World Series champion, 1979 World Series MVP, 1974 Roberto Clemente Award winner, .282/.360/.529 hitter with 475 home runs over 21 seasons, 58 WAR, inducted into Hall of Fame in 1988
High school: Encinal
As a kid, "Pops" bounced between Oklahoma, California and Florida before settling in the Bay Area as a teenager. He was not a top prospect in high school, and certainly didn't look like the fearsome slugger who would set Pirates franchise records for home runs and RBIs.
Honorable mention: Dick Bartell, Bud Black, Steve Brye, Chris Cannizzaro, Mark Davis, Taylor Douthit, Jermaine Dye, Bob Elliott, Ferris Fain, Curt Flood, Augie Galan, Chick Gandil, Lefty Gomez**, Chick Hafey**, Bud Harrelson, Harry Hooper**, Jackie Jensen, Ruppert Jones, Red Kress, Jim Landis, Darren Lewis, Duffy Lewis, Ernie Lombardi**, Billy Martin, Willie McGee, Tug McGraw, Lloyd Moseby, Vada Pinson, Jimmy Rollins, Chris Speier, Dave Stewart, Jim Tobin, Dontrelle Willis, Al Woods
Active players: Jason Castro, Brandon Crawford, Erik Goeddel, Tyler Goeddel, Stephen Piscotty, Joe Ross, Tyson Ross, CC Sabathia, Marcus Semien
** Indicates a member of the National Baseball Hall of Fame
Joe Trezza is a reporter for MLB.com. This story was not subject to the approval of Major League Baseball or its clubs.