Around the Horn: Solarte in line to start at third for Padres
Club has options at the position, but switch-hitter's bat will be in lineup regardless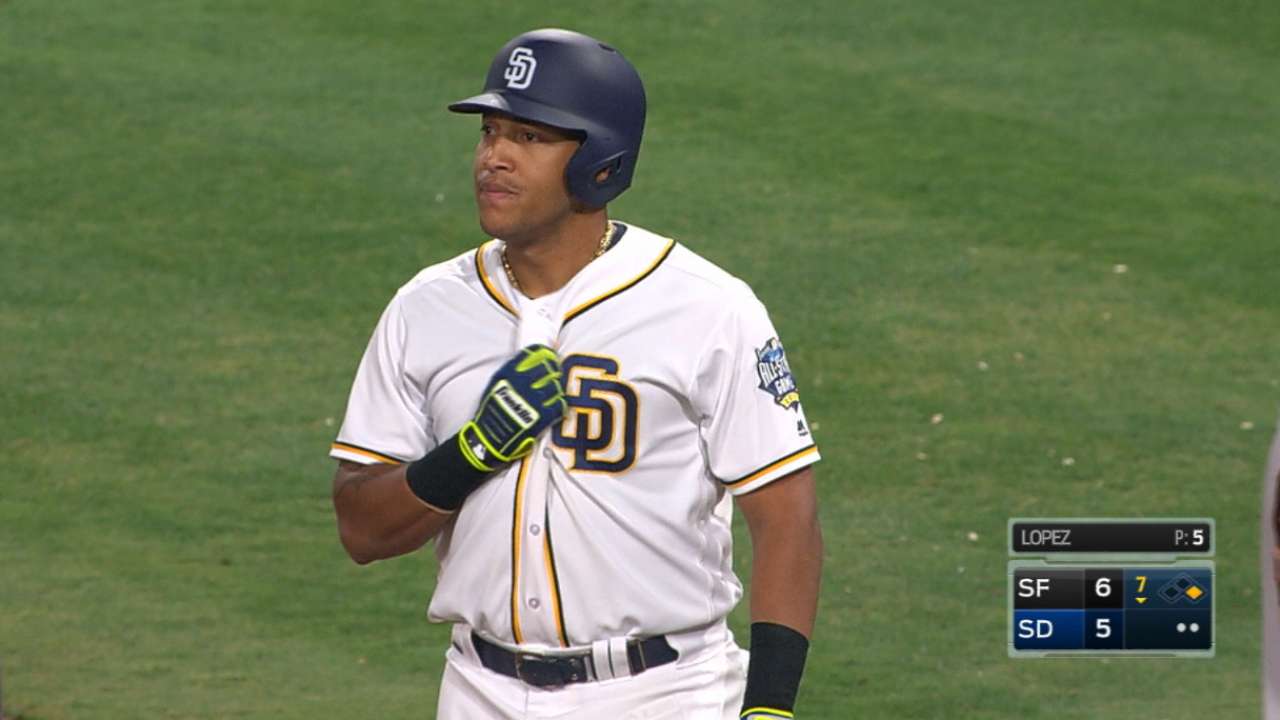 With Spring Training on the horizon, MLB.com is taking an in-depth look at the 2017 Padres, breaking the team down position by position. Today we preview San Diego's third basemen.
• Around the Horn: Catcher | First base | Second base
Earlier this offseason, when the Padres gave Yangervis Solarte a two-year contract extension with a pair of club options, they made a statement: Solarte is the third baseman for the foreseeable future, a middle-of-the-order piece who can help anchor a very young lineup.
Unless, of course, Solarte isn't their third baseman at all.
Make no mistake, Solarte is the clear-cut favorite to man the hot corner for the Padres in 2017. But for now at least, the club is leaving its options open as the front office mulls the possibility of moving him to second base.
"Maybe [Ryan Schimpf and Cory Spangenberg] move over to third and Solarte plays second," Padres manager Andy Green said. Schimpf and Spangenberg are currently fighting for a starting job. "That's a conversation we're still internally throwing around. But the expectation right now is Soley's probably at third base."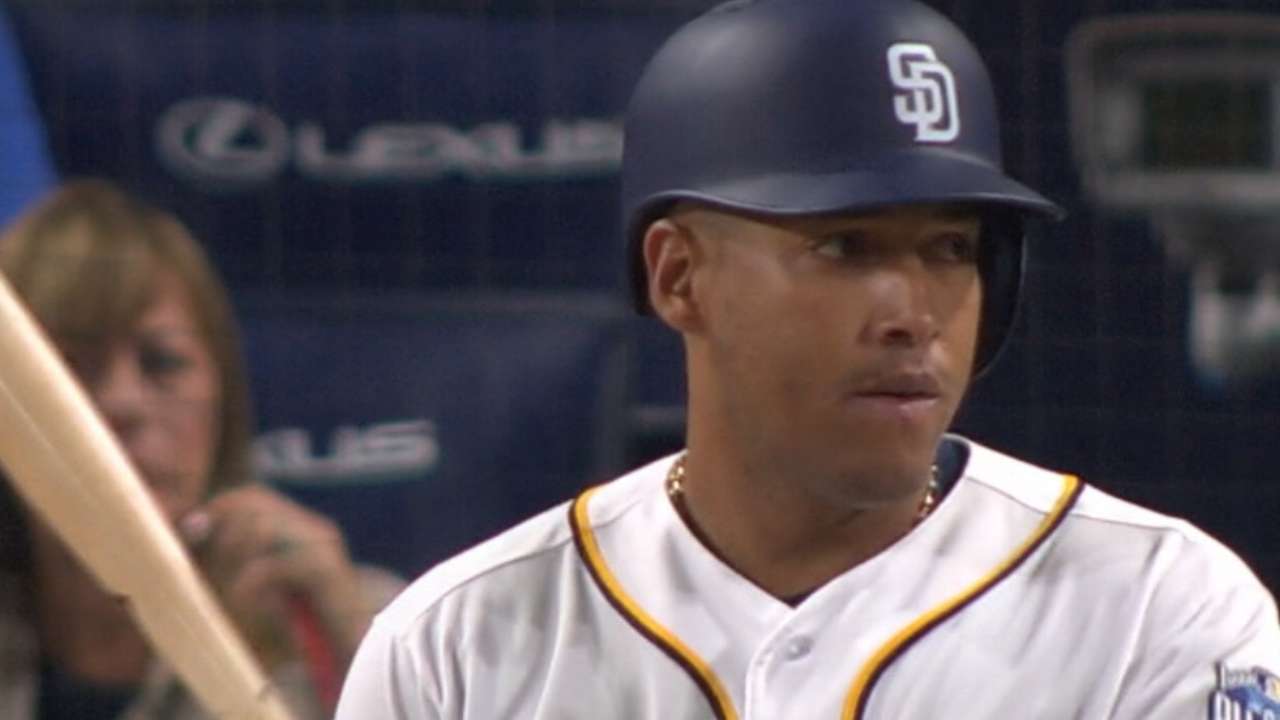 Wherever Solarte ends up playing, he has developed into a formidable presence in the Padres' lineup. He batted .286/.341/.467 with a career-high 15 homers in 109 games last season. And he likely will serve as the primary lineup protection for Wil Myers.
At third base, Solarte has proven himself a capable defender, though not especially flashy. (He has done the same at second over his career -- albeit in a much smaller sample size.)
Whether Solarte switches positions could depend on who emerges between Spangenberg and Schimpf. As it stands, they're the two front-runners for the second-base job, with Carlos Asuaje also fighting for a roster spot.
Again, the sample sizes are small, but Schimpf has proven himself better defensively at third than Spangenberg, whereas the opposite is true at second. If Spangenberg seizes the job in camp, Solarte will almost certainly stay put. If Schimpf does, the Padres might be best served to consider flipping the two.
But for all intents and purposes, Solarte is the Padres' starting third baseman right now. He has become a fan favorite in that capacity, known for his energy and passion on the diamond.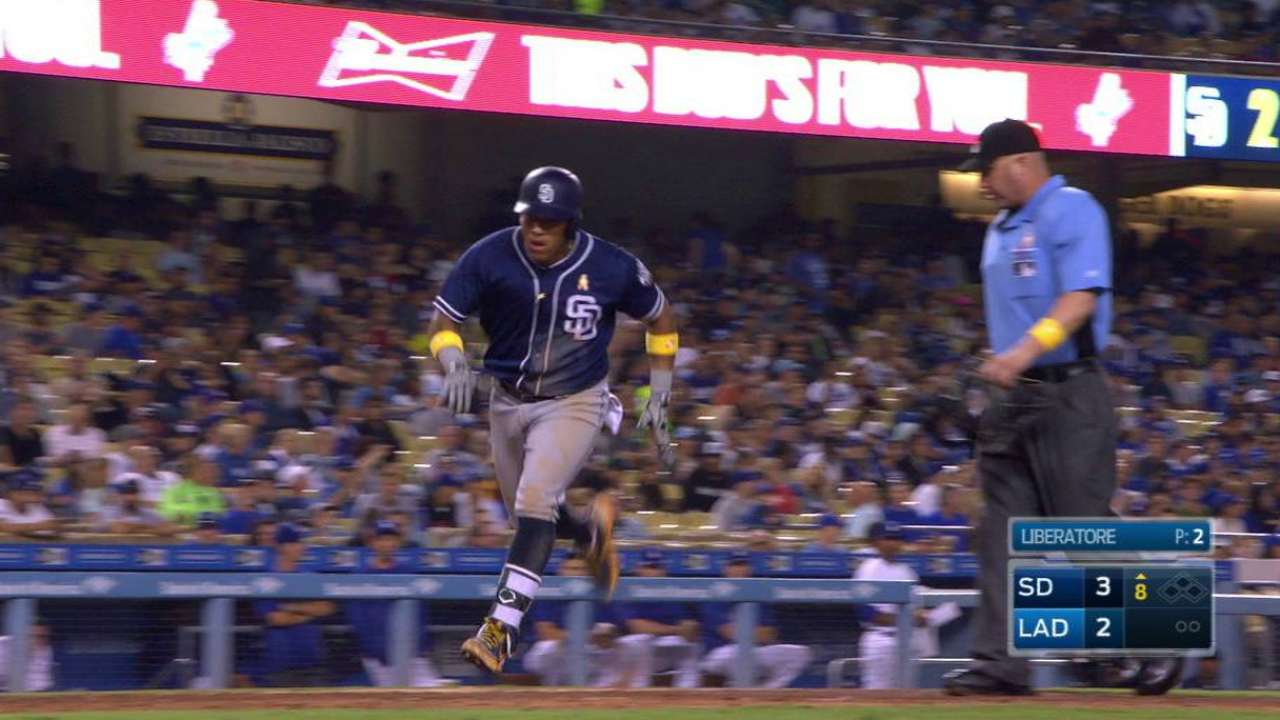 Solarte endured personal tragedy during the 2016 season, when his wife, Yuliett, lost her battle with cancer. After his return, he spoke constantly of the Padres organization as a family. After signing his extension, he noted how that played a role in his decision to commit his future to San Diego.
"Coming back and having that support meant a ton," Solarte said through a team interpreter. "Just being here with my teammates ... knowing that I'd be here, I could play here calmly and know that I have this family."
Solarte's bat will be critical to the Padres in 2017, that much is obvious. But in the clubhouse, Green believes he's worth just as much.
"He's energy, he's life. Everybody gravitates to him because of those things," Green said. "He's always smiling, he loves to be at the yard. He's one of the guys, as we go into this season, we're expecting big things from."
Projected starter: Solarte
Potential backups: Schimpf, Spangenberg, Asuaje
Top 30 prospects: Luis Urias, No. 11; Asuaje, No. 20
AJ Cassavell covers the Padres for MLB.com. Follow him on Twitter @ajcassavell. This story was not subject to the approval of Major League Baseball or its clubs.