Who are the top 5 all-time players from Baltimore?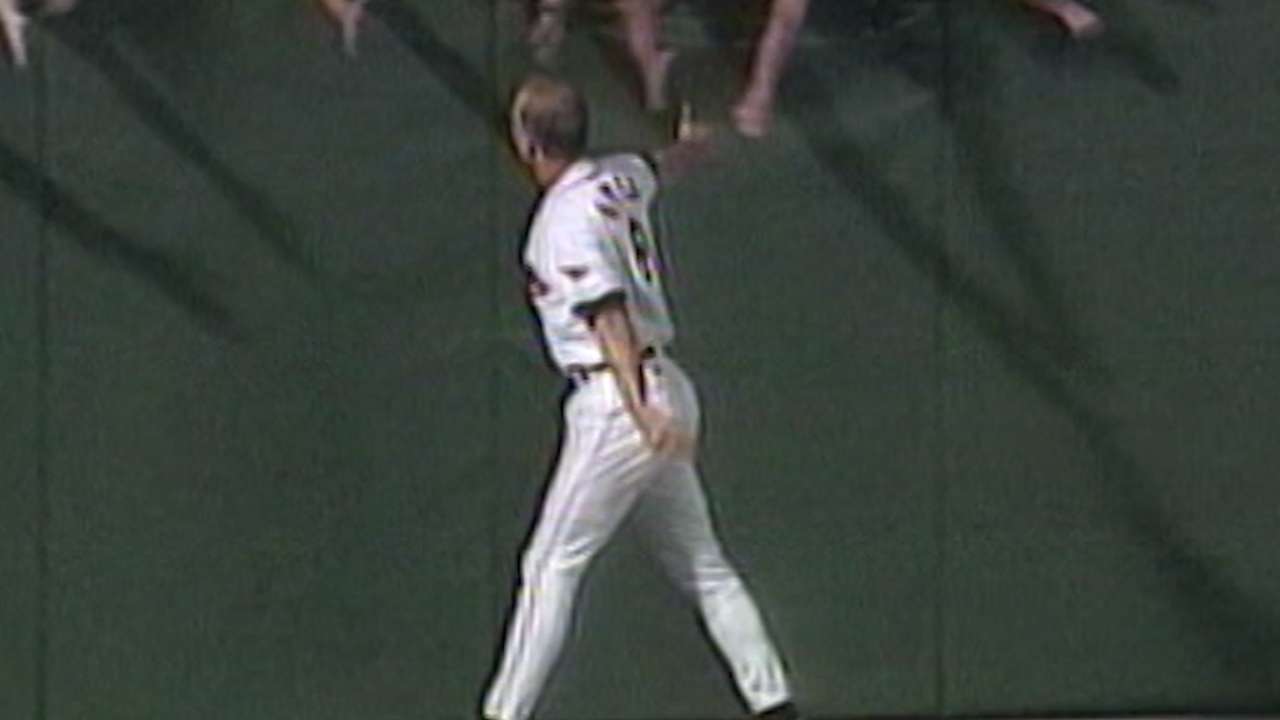 It's easy to tell which city your favorite baseball player represents: it's likely your city, and it's emblazoned across his chest 162 times every season. But what about the cities where players learned to turn on a fastball, where they played youth baseball, where they raised families? Where did history's best players come from, and which hailed from your neck of the woods?
Across MLB.com, we profiled all 27 Major League cities through the lens of the talent they've spawned. Players don't need to be born in the city to represent it. Inclusion criteria simply demands the player spent his formative years there, preferably high school, and that he did so within the city limits or in its immediate surrounding areas.
Using career WAR as a guide* -- but also considering other factors, such as the era, postseason accomplishments, if they played professionally in that city and Hall of Fame status -- we'll rank the best five players all time from each city, list some excellent names that couldn't crack the top five and sprinkle in some current players, too.
• Who are the Top 5 players from other Major League cities?
The mission was to create as complete a historical picture of your city's baseball tradition -- and to as accurately honor its legends -- as possible.
*(Baseball Reference version)
Babe Ruth
Born: Feb. 6, 1895 (died Aug. 16, 1948)
Accolades: All-time leader in WAR and slugging percentage, then-record 714 home runs, 2,214 RBIs, 12 home run titles, 11 walk titles, .342/.474/.690 career line, seven World Series titles, 163 WAR, inducted into Hall of Fame in 1936.
High school: St. Mary's
The Great Bambino was born at 216 Emory Street in Baltimore, just three blocks west of where Camden Yards stands now. It makes you wonder: Could Ruth, had he played now, reach his birthplace with a long fly ball? He certainly wouldn't have any issue putting baseballs onto Eutaw Street.
Cal Ripken
Born: Aug. 24, 1960
Accolades: Record 2,632 consecutive games played, 3,184 hits, 19-time All-Star, two-time American League MVP Award winner, eight-time Silver Slugger winner, two-time Gold Glove Award winner, .276/.340/.447 line, 1983 World Series champion, 100 WAR, inducted to Hall of Fame in 2007.
High school: Aberdeen
Ripken was born in Havre De Grace, Md., a beach town on the Chesapeake Bay about 45 minutes by car from Camden Yards. He starred for Aberdeen High before being drafted by his hometown Orioles. People talk about "homegrown" players -- Ripken is one of the best ever in the truest sense of the word.
Al Kaline
Born: Dec. 19, 1934
Accolades: 3,007 hits, 15-time All-Star, .297/.376/.480 over 22 seasons, Tigers' all-time leader in games, home runs and walks, 10-time Gold Glove Award winner, 1968 World Series champion, 93 WAR, inducted into Hall of Fame in 1980.
High school: Southern
Nicknamed the "Baltimore Greyhound" by his teammates, Kaline persevered despite tremendous odds to become one of the greatest players of all time. He grew up poor during the Depression and overcame the chronic bone disease osteomyelitis as a child. Kaline was a three-sport start at Southern, one of the best high school athletes in the history of the Chesapeake Bay area. He went straight to the Majors upon graduating high school. Kaline spent all 22 Major League seasons in Detroit with the Tigers, but he always stayed true to his Maryland roots.
During his career, Kaline returned to Baltimore in the offseason to work at a sporting goods store. He connected for his 3,000th hit in 1974, as a visiting player, in Baltimore. Kaline and his high school sweetheart, whom he met at Southern, have been married 62 years.
Mark Teixeira
Born: April 11, 1980
Accolades: Three-time All-Star, three-time Silver Slugger, five-time Gold Glove Award winner, .268/.360/.509 slash line with 409 home runs, 2009 World Series champion, 52 WAR
High school: Mount St. Joseph's
Teixeira was born 20 miles south of Baltimore in Severna Park, Md., and he attended prep school as a teenager within the city limits. He, predictably, dominated: Teixeira hit .548 with 12 home runs, 36 RBIs and 16 steals as a senior in 1998 and was named All-Metro Player of the Year by the Baltimore Sun.
Teixeira played 14 Major League seasons with the Rangers, Braves, Angels and Yankees. He retired at the end of the 2016 season with 409 home runs, fifth most all time by a switch-hitter.
Brian Jordan
Born: March 29, 1967
Accolades: First-round Draft pick in 1988, All-Star in 1999, played in five postseasons with Cardinals and Braves, .282/.333/.455 slash line over 15 seasons, 33 WAR
High school: Milford Mill Academy
A productive outfielder for 15 seasons, mostly with the Cardinals and Braves, Jordan is one of the best athletes to come from Baltimore, period. Jordan had power and speed, enough of both to hit 184 home runs and steal 119 bases in the Majors, and enough to also be selected in the NFL Draft, which he was in 1989.
Honorable mention: Brady Anderson, Tommy Byrne, Don Heffner, Buck Herzog, Denny Neagle, Tom Phoebus, Eddie Rommel, Ron Swoboda, Tommy Thomas
Active players: Brett Cecil, Steve Clevenger, Gavin Floyd
Joe Trezza is a reporter for MLB.com. This story was not subject to the approval of Major League Baseball or its clubs.