Around the Horn: Padres have options at 2B
Spangenberg, Schimpf considered front-runners for the job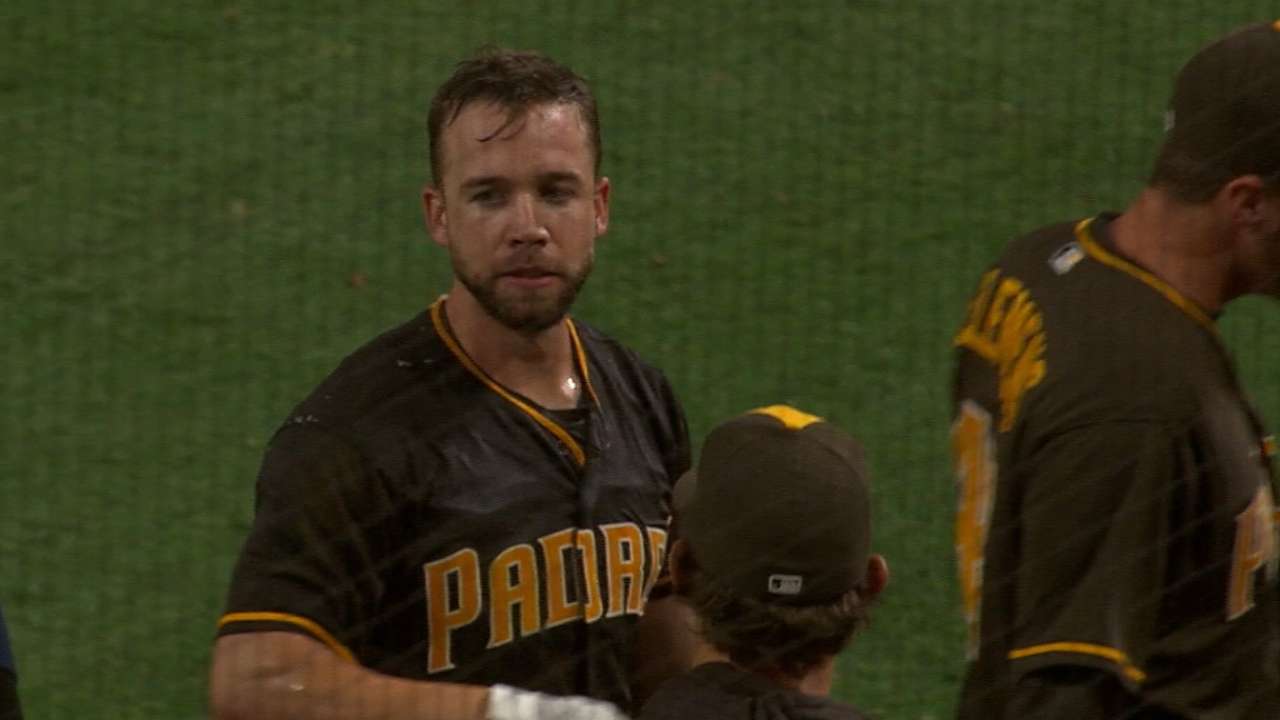 With Spring Training on the horizon, MLB.com is taking an in-depth look at the 2017 Padres, breaking the team down position-by-position. Today, we preview San Diego's second basemen.
If first base is the easiest position to project entering camp, second base might be the toughest.
• Around the Horn: Catcher | First base
The Padres have a nice problem on their hands next to Wil Myers on the right side of the diamond: They've got three second basemen, all of whom they feel can compete for a starting role.
This time a year ago, Cory Spangenberg had the job to himself. San Diego viewed him as a critical table-setter for the middle of its order -- until he went down with a torn left quad in early April.
In essence, 2016 was a lost season for Spangenberg. But it wasn't for the Padres at second base. Ryan Schimpf, who signed with the team as a Minor League free agent last offseason, burst onto the scene in the second half.
Schimpf's ability to hit for extra bases -- he had 42 of them, compared to 18 singles -- made him something of a cult hero among San Diego fans. With a brilliant final three months, Schimpf staked his claim to the starting job in much in the same way Spangenberg did in 2015.
Spangenberg '15 second half: .294/.373/.460, 2 HRs
Schimpf '16 second half: .227/.345/.551, 16 HRs
"Those are two really good options to have in the infield," Padres manager Andy Green said. "They both, in different years, have kind of asserted their claim to that position. It'll be interesting to see how it plays out in the spring."
Carlos Asuaje's name was also thrown into the mix, although he remains a long shot to win a starting job. At Triple-A El Paso last season, Asuaje batted .321/.378/.473. San Diego feels the 25-year-old could be ready for next step.
Unfortunately for Asuaje, he's got some stiff competition -- and the Padres won't have much roster flexibility if they choose to open the season with three Rule 5 Draft selections on board.
All three second-base options also have experience playing third, but none of the three has shown much range in the big leagues. With that in mind, Green left another option open.
"Maybe they move over to third and [Yangervis] Solarte plays second," Green said. "That's a conversation we're still internally throwing around. But the expectation right now is Soley's probably at third base, and [Schimpf and Spangenberg] are duking it out for second.
"What Ryan Schimpf did last year was very, very impressive. Between big leagues and Triple-A, he hit 35 home runs. He hit 20 here in the big leagues in a very short period of time, drew walks, got on base, drove in runs. And we know what Cory Spangenberg can do as an igniter of an offense, especially if he's back running the way he has in the past."
So the Padres have an intriguing position battle on their hands entering Spring Training. That's just fine with Spangenberg, who fully recovered from his quad injury in late November.
"Competition is fun," Spangenberg said last month. "If you're just handed a job, some people might take that for granted. We have three guys going in there that are good ballplayers. I'm looking forward to it. I've had to compete for spots my whole life, so I don't think this really changes anything."
Projected starter: Schimpf or Spangenberg
Potential backups: Schimpf or Spangenberg, Asuaje, Solarte
Top 30 Prospects: Luis Urias, No. 11; Asuaje, No. 20
AJ Cassavell covers the Padres for MLB.com. Follow him on Twitter @ajcassavell. This story was not subject to the approval of Major League Baseball or its clubs.