Lowe eyes rebound season in Tigers' bullpen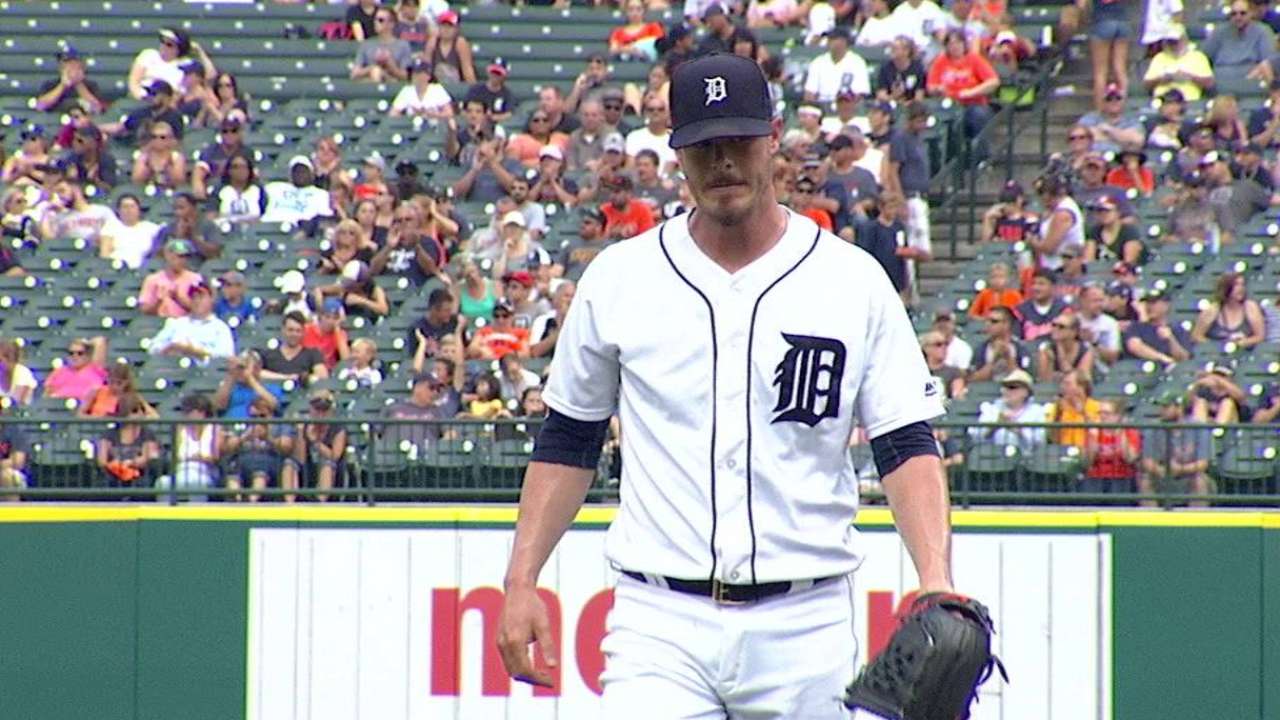 DETROIT -- Plenty of Tigers players yearn to put their 2016 seasons behind them. None have as many reasons as Mark Lowe.
Lowe signed a two-year, $11 million contract at the 2015 Winter Meetings to be the first major setup man signing by the Tigers since Joaquin Benoit five years earlier. Lowe ended up spending most of the '16 season as a mop-up reliever, trying to find any semblance of the stuff that made him a valued reliever with the Mariners or Blue Jays.
The recovery never happened. If only Lowe could pretend the same for the season. All he can do now is try to put it behind him.
"I've been playing this game my whole life, and I've never gone through anything like that," Lowe said during TigerFest. "And I went through it, and I got through it, and I learned from it. It's time to move on. It's just like anything bad in your life that can happen. You've just gotta keep rolling, turn the page and continue."
It started, Lowe said, in Spring Training, when he could sense something off after an offseason of rust. To this day, he said, he's not sure what was the cause. When it continued into the season, Lowe worked with pitching coach Rich Dubee to try to figure out how to fix it.
The symptoms were obvious. Lowe averaged 95.76 mph on his fastball in 2015, according to Statcast™, but under 93 mph last year. His slider also dropped by two miles per hour. His rarely-used changeup, by contrast, picked up speed, making it tougher to distinguish from his fastball. Opponents hit for a better average off Lowe's fastball, but the bigger difference was an 86-point rise on average off his slider according to Fangraphs.
The cause was another search.
"There are so many different things that I tried," Lowe said. "We tried stuff early on that worked, and then some days it didn't. So I'm sure it was a grind for [Dubee] to go through it with me. We had all kinds of things.
"At the end of the day, I just quit worrying about mechanics altogether, and I just went out there and I pitched. If I had to knock a guy down a little bit just to get a pitch down and away, a rollover to shortstop, that's what I had to do. I just tried to pitch the way I learned how to pitch when I was young and not rely so much on velocity and stuff, just get guys out."
As Lowe heads into Spring Training, he is maintaining that mentality, worrying less about the mechanics than the results.
"Go out there and compete," he said. "At the end of the day, that's one of the only things I can control on a daily basis is how I go out there and compete. I want to take the things that I can control and make sure I do it the right way, and things that I can't control, you just kind of have to roll with it. But I think that the second half gave me some good confidence to come into Spring Training and get rolling, and be ready to go."
Tigers manager Brad Ausmus would like to see it. When he looks at the pitching staff, Ausmus said he sees Lowe and Anibal Sanchez as the most probable candidates for bounce-back seasons.
"I just think [Lowe] never got rolling last year," Ausmus said. "We still saw flashes of his stuff. We'll see how he is in Spring Training, but in talking with him during the offseason, he said he found something mechanically. And he's had a full offseason to put 2016 behind him. To press the reset button would be huge for him."
Lowe feels physically stronger after a winter of weights and resistance training. But it's the mental strength that might be tested.
"I grinded through that whole process, and I'm glad I got out of it," he said. "I'm glad it's over. It's a new year and I'm starting fresh."
Jason Beck has covered the Tigers for MLB.com since 2002. Read Beck's Blog, follow him on Twitter @beckjason and listen to his podcast. This story was not subject to the approval of Major League Baseball or its clubs.