Jackie's on-field skills matched his courage
Robinson's outstanding play must remain a part of his legacy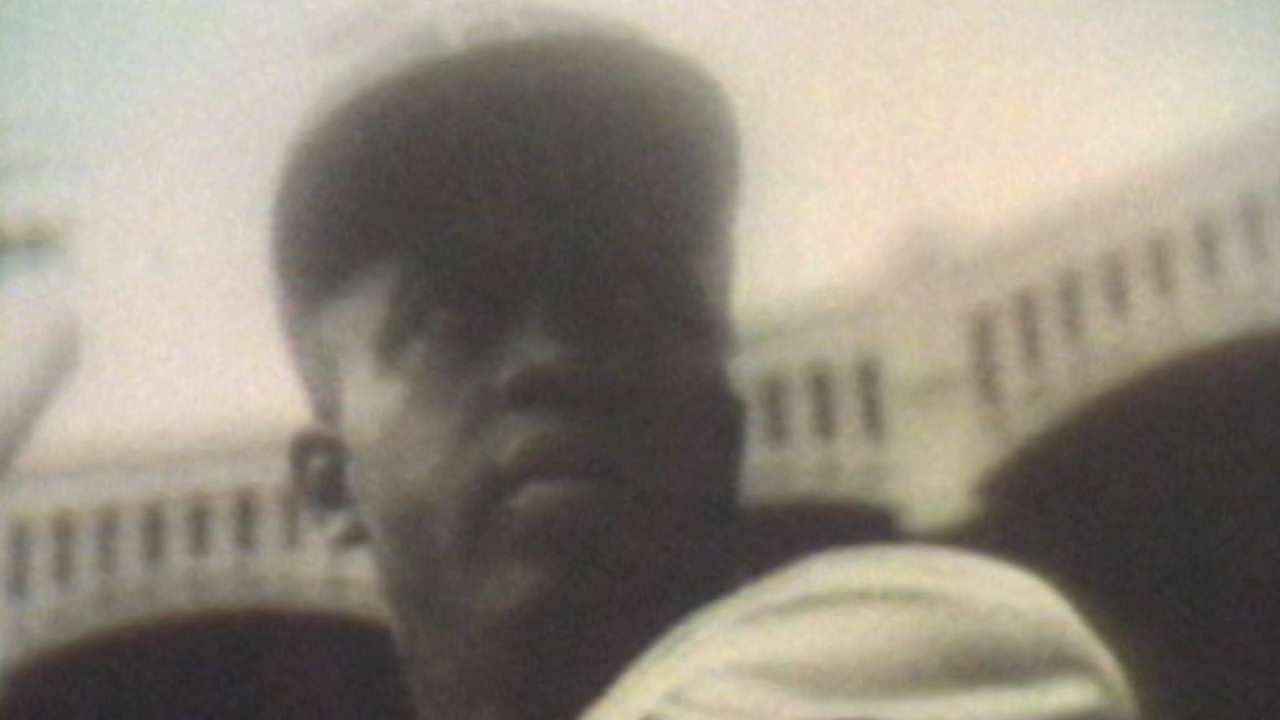 Jackie Robinson's role as a courageous pioneer who broke baseball's color barrier ensures that his legacy won't be forgotten. And with Black History Month beginning on Wednesday, this is an especially appropriate time to honor the Hall of Famer for his tremendous impact on not only the game, but also the country.
In that context, it's certainly understandable that Robinson's status as a historical and cultural icon often overshadows his greatness as a ballplayer. But make no mistake -- Robinson was great with a bat in his hand and a pair of spikes on his feet.
In honor of Tuesday being the 98th anniversary of No. 42's birth, here are five notes that help illustrate Robinson's significant on-field prowess:
• Robinson burst into the Majors as a 28-year-old in 1947. Despite the tremendous burden he carried and the obstacles he faced, Robinson wasted little time lifting the Dodgers with his play. He was the first official Rookie of the Year Award winner -- when there was only one award, covering both leagues -- and he took the National League MVP Award two years later.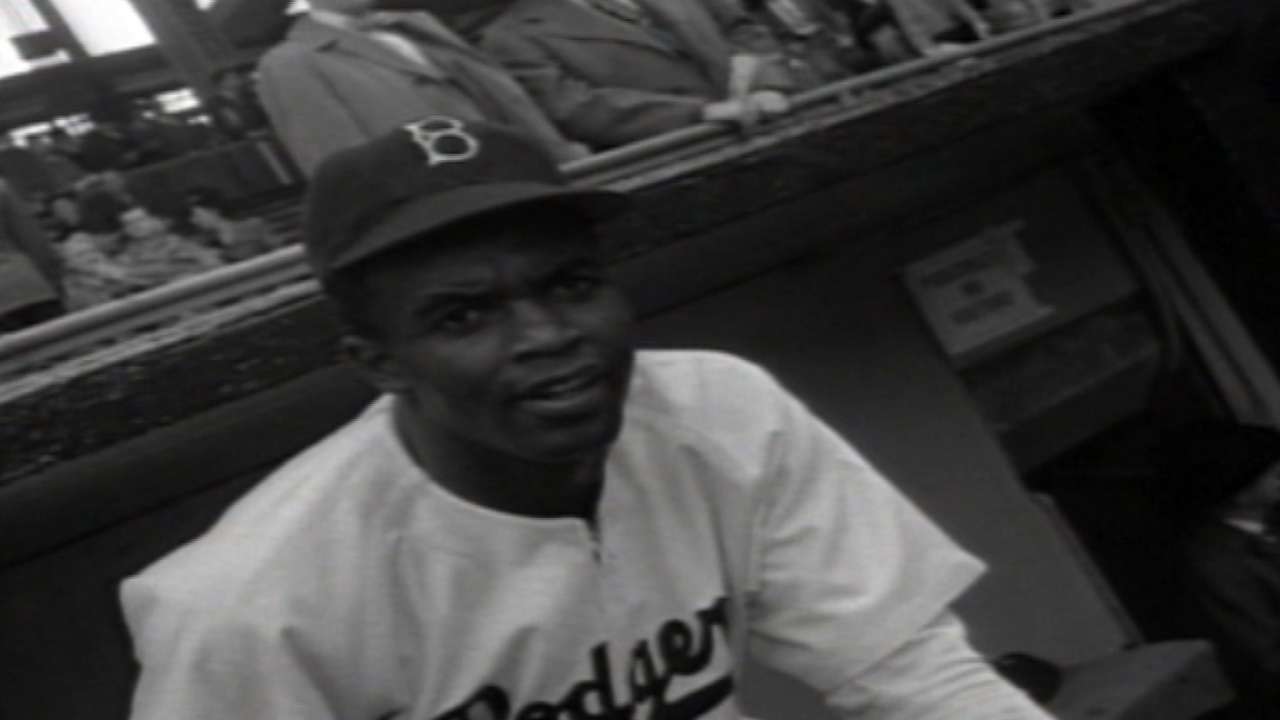 Through 1953, Robinson produced a whopping 50.7 wins above replacement (WAR), according to Baseball-Reference.com, which is the sixth most for a player's first seven seasons since at least 1901, trailing only Ted Williams, Albert Pujols, Mickey Mantle, Wade Boggs and Willie Mays. Additionally, Robinson's 42.2 WAR between 1949-53 led the Majors, with Stan Musial (41.3) the only other player at 30 or higher.
• Since Robinson entered the league, he owns two of the four most valuable seasons produced by a second baseman. His 9.7 WAR in 1951 trails only Joe Morgan's 1975 campaign, and his 9.6 WAR two years earlier is tied with Morgan's '76 for the next spot on the list. That makes Robinson and Morgan the only second basemen since '30 to have multiple seasons of at least 9.0 WAR.
• During that peak period from 1949-53, Robinson hit a stellar .329/.430/.505 and averaged 32 doubles, seven triples, 16 home runs, 93 RBIs and 108 runs scored. His park-adjusted 146 OPS+ over that span ranked fifth among all big leaguers with at least 2,000 plate appearances, but it was an especially impressive number given his position.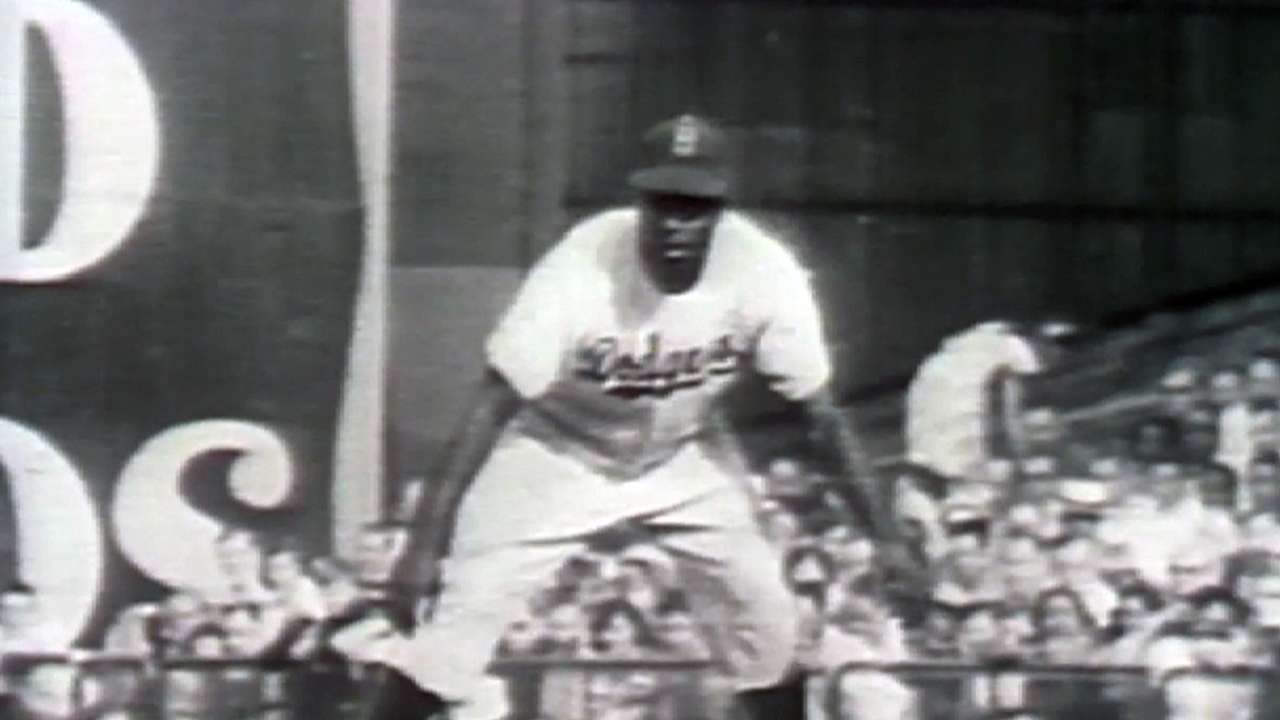 While Robinson was stationed at first base as a rookie and later spent time at third and in left field, he still played the majority of his games at second. His 146 OPS+ from 1949-53 was 31 points higher than any other primary second baseman, and his 132 career mark ties Morgan for first on the all-time list since '47 (minimum 5,000 plate appearances).
• Part of Robinson's greatness at the plate was based on his eye and knack for contact. In 10 Major League seasons, he never struck out more than 40 times, and he drew at least twice as many walks as he had strikeouts eight times -- with a 425-to-148 ratio from 1949-53. Overall, Robinson's rate of 2.54 walks per strikeout is third highest among those with at least 5,000 plate appearances since '47, behind only Nellie Fox and Williams.
• Of course, Robinson's aggressiveness and talent on the basepaths was another big part of his success. And while his raw stolen-base totals don't stand out, he played in an era where that simply wasn't a big part of the game. When Robinson stole 29 bases as a rookie, nobody else in the NL had more than 14; when he led the Majors with 37 two years later, teammate Pee Wee Reese ranked second with 26, and only one other player reached 20. Over Robinson's first seven seasons, he led MLB with 166 steals, with only two others cracking the 100 mark.
Robinson's career total of 197 includes 19 swipes of home -- 13 of them coming over his first three seasons. Robinson, who also famously stole home in the 1955 World Series, pulled off the feat at least three times each year from 1947-49, when no other player had even one such season.
Andrew Simon is a research analyst for MLB.com. Follow him on Twitter @AndrewSimonMLB. This story was not subject to the approval of Major League Baseball or its clubs.