Bridich's vision for Rockies comes into focus
General manager completed key offseason moves to address club's needs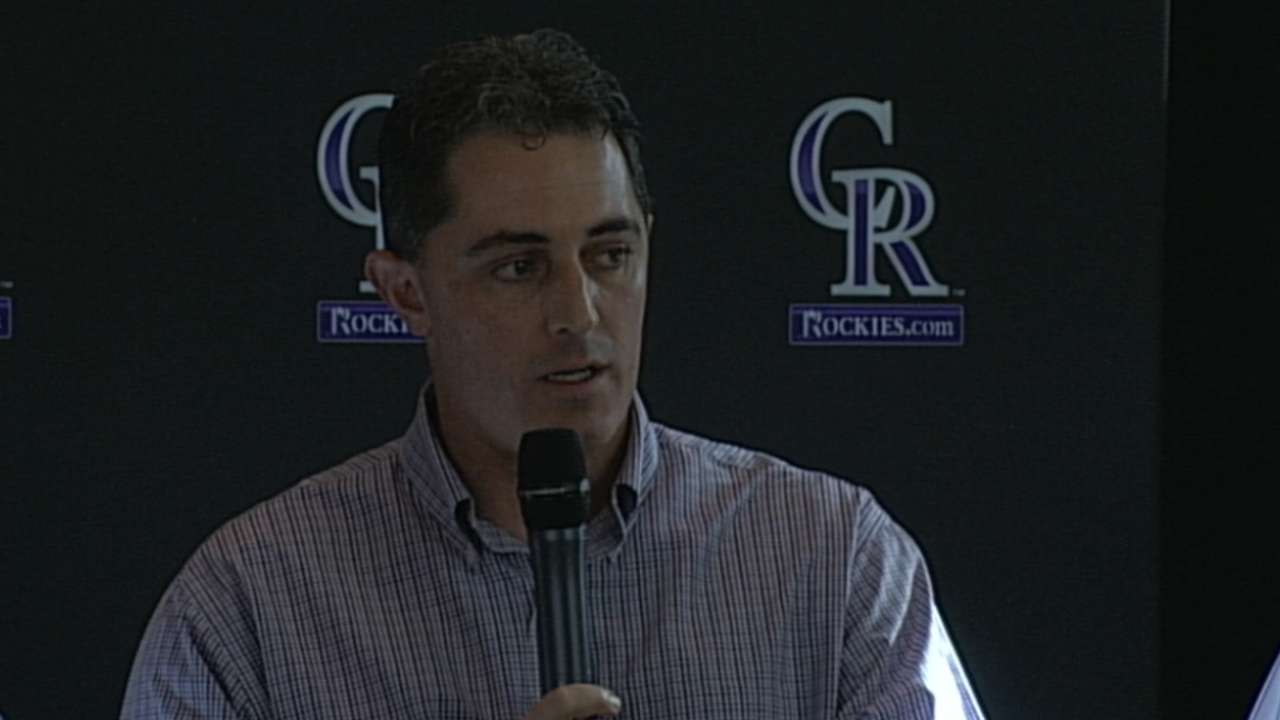 DENVER -- As the Rockies Caravan concluded on Saturday at Coors Field, a seemingly hand-in-hand culmination of general manager Jeff Bridich's aggressive offseason has formed a much clearer scope of the roster he envisioned mere months ago.
On Saturday morning, Bridich introduced right-handed reliever Greg Holland as the club's newest acquisition, signed to a one-year, $7 million contract, according to an MLB.com source. The deal includes $8 million in incentives based on games finished, with a $15 million vesting option for '18 that triggers at 50 appearances or 30 games finished, according to MLB Network insider Jon Heyman. If the option doesn't trigger, there's a $10 million mutual option for '18, with another $8 million in incentives, per Heyman.
With the 40-man roster currently full following a corresponding move to designate right-hander Eddie Butler for assignment, and no significant roster moves in sight, it appears the Rockies will show up at Spring Training largely with what they have.
Holland and the other two significant free-agent signings this offseason -- the versatile Ian Desmond and left-hander Mike Dunn -- fill holes at first base and the bullpen that Bridich said in October he planned to address.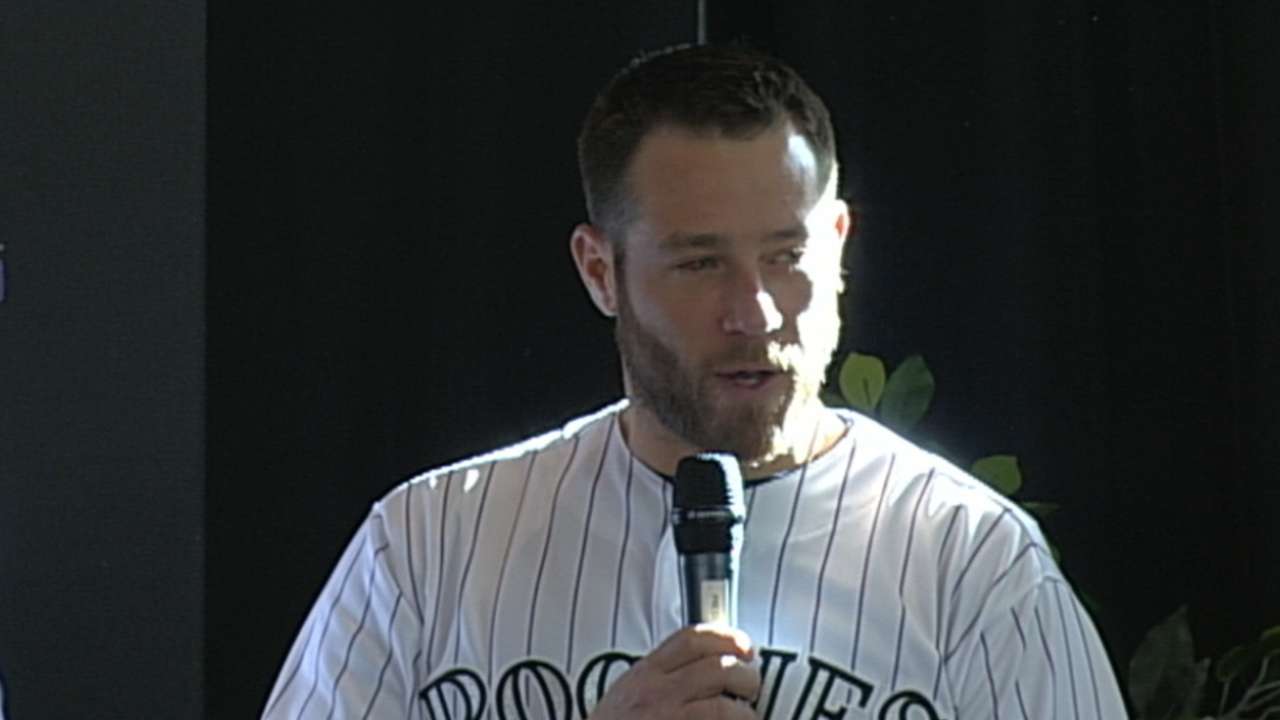 With a committed increase in payroll just shy of last year's record high, Bridich has had the support of owner Dick Monfort to aggressively chase pieces he believes will bolster the roster into one that can contend for their first postseason berth since 2009.
"[Monfort] stepped up, absolutely," Bridich said. "Dick has been great. He was a man of his word in terms of when he came out and talked about 'We're going to increase payroll and we're going to be more [competitive],' and yeah, we've been able to do that."
Bridich has managed to make substantial roster upgrades without expensing his top prospects through trades. Headlined by middle infielder Brendan Rodgers, MLBPipeline.com's No. 15 prospect, the Rockies have built the Majors' No. 10 farm system, per the site's most recent rankings.
The luxury of organizational depth could position the Rockies to be aggressive ahead of the July 31 non-waiver Trade Deadline -- particularly if the club is teetering on postseason contention -- though Bridich has tempered such speculations.
"It's way too early for that," Bridich said. "We haven't even started playing Spring Training games, much less Major League games. There's a lot that's going to happen, both good and bad … There's elements that in having to adjust, and so it's too early to start planning for the Trade Deadline."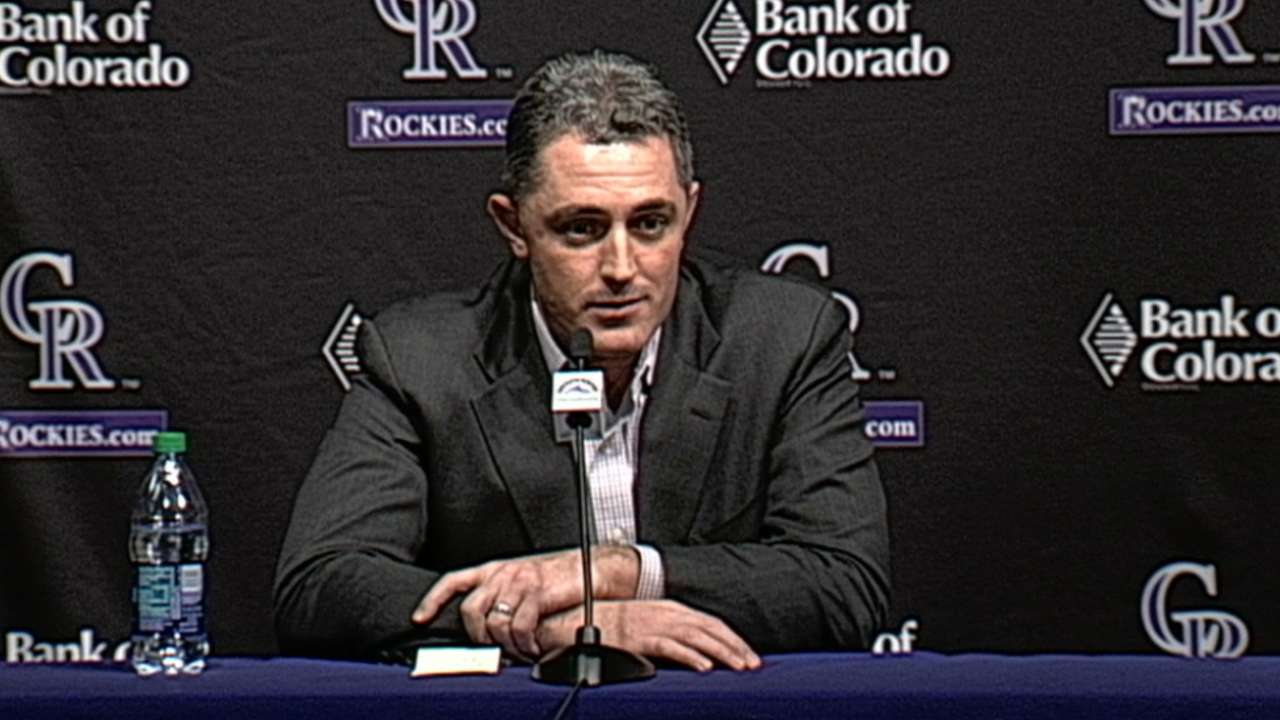 A renewed optimism has materialized among the Rockies as the offseason has pressed forth. With an offense that led the National League with 845 runs (5.22 per game), a young rotation that tallied 746 strikeouts (second most in franchise history), the hiring of experienced manager Bud Black and the three free-agent signings, players spoke Saturday with conviction.
"Just going out and getting those guys says a lot about the front office and the players," said second-year starter Jon Gray. "We're on the same page. We all have the same goal in mind. It's a good thing to see."
However, questions remain about the Rockies' sustainability -- specifically with a young rotation and a beleaguered bullpen.
Holland, making his way back from Tommy John surgery, will enter the season 18 months removed from MLB action. Incumbent closer Adam Ottavino returned from Tommy John midway last season and struggled to a 6.75 ERA with three blown saves in his final 13 outings. Dunn brings a career fly-ball rate of 43 percent to his new home at high altitude.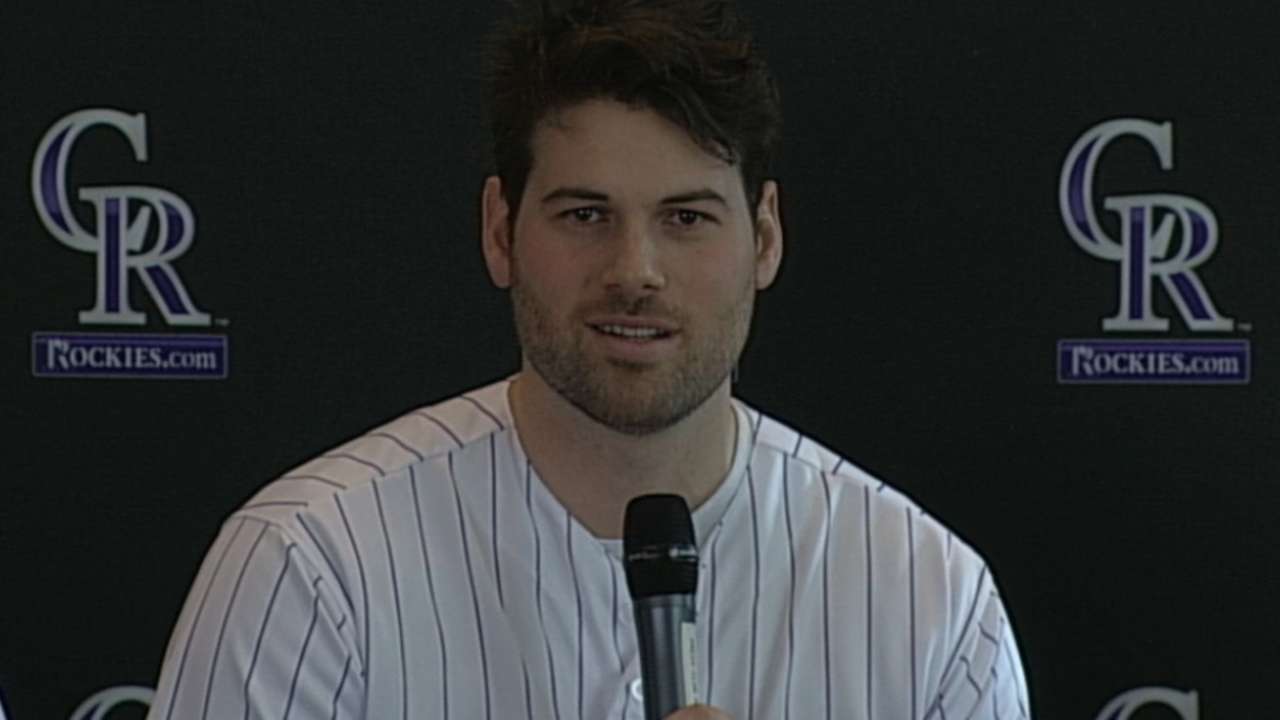 And the rotation -- likely to be Gray, Chad Bettis, Tyler Anderson, Tyler Chatwood and either top prospects Jeff Hoffman, German Marquez or a mix -- has aggregately compiled just shy of 10 years' worth of MLB service time, half accounted by Chatwood.
It's been arguably the most aggressive offseason, assuredly for signings, of the Bridich tenure.
"I certainly feel quite comfortable with the people that we've brought here," Bridich said. "I think we have a very talented roster and I think that now our next hurdle that we have to jump over or mountain that we have to climb is to go from a talented roster and become a good team."
"There's a difference between talented and good, and I think that the people that we've brought in will help us certainly raise the talent level on this roster, but if we're really going to do the things that we want to do and get back into playoff baseball and win a World Series, this unit, this team, this group has to gel and become good."
Daniel Kramer is a reporter for MLB.com based in Denver. Follow him on Twitter at @DKramer_. This story was not subject to the approval of Major League Baseball or its clubs.