Encarnacion welcomed into Indians family
Tribe players, fans happy to have slugger in Cleveland, and the feeling's mutual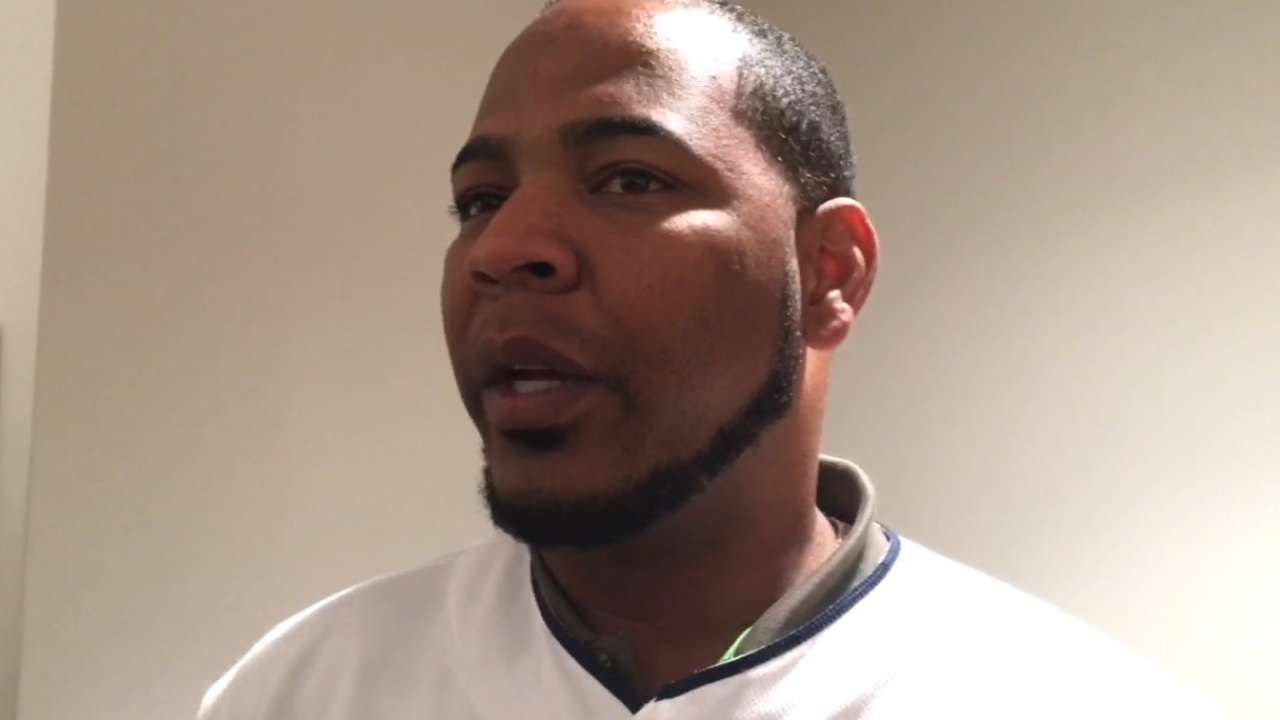 CLEVELAND -- At Rogers Centre late in the summer two seasons ago, Edwin Encarnacion saw Indians shortstop Francisco Lindor on the field in Toronto. The former Blue Jays slugger walked over to the batting cage and asked the young rookie a question.
"Are you Lindor's son?" Encarnacion said.
Lindor was confused by the random question, but Encarnacion quickly cleared things up. When Encarnacion was a kid, he lived in Puerto Rico for a few years and Lindor's father, Miguel, was one of the coaches he remembered. Nearly two decades later, Encarnacion and Lindor are teammates with the Indians, who signed the first baseman to a three-year, $60 million contract this offseason.
This weekend, Encarnacion joined Lindor and a bulk of the Indians' roster for Saturday's Tribe Fest at the Intercontinental Hotel in Cleveland. He may already be familiar with Lindor and his family, but Encarnacion is still getting to know his Indians family. Tribe Fest is step one in that process for Encarnacion, who spent parts of the past seven seasons in Toronto.
"I'm going to continue to try to do the best I can do to continue to know more of my teammates," Encarnacion said on Saturday. "This is the first part. I'm going to continue to do the same in Spring Training, and I'm going to try to be like a family, like the way they've been before."
Last October, Encarnacion watched the Indians defeat his Blue Jays in five games in the American League Championship Series, earning a spot in the World Series. Cleveland first baseman Carlos Santana caught the final out and then dropped to his knees in celebration in Toronto. Encarnacion and Santana -- both natives of the Dominican Republic -- attended a Cavaliers NBA game together in Cleveland on Friday night.
At the Intercontinental, Encarnacion's No. 10 Tribe jersey was already selling fast at the merchandise stand in the main hall. Fans posed for pictures by a cardboard cutout of the team's new cleanup hitter and had a chance to meet him as he walked the halls and stopped to sign autographs. Encarnacion knows how excited the Indians are to get the 2017 season going, but this gave him a chance to feel the buzz among the club's fans too.
"This is great. It's a great feeling," Encarnacion said. "The way the fans support this team and the way it's been here, it's very exciting."
By now, Encarnacion has surely heard how thrilled his new teammates are to have him aboard as well.
When news broke that Cleveland had reached an agreement with Encarnacion on Dec. 22, Tribe players were texting and calling each other and also reaching out to the front office, trying to make sure it was true. Michael Brantley estimated that he had six or seven texts waiting on his phone after word began spreading. Catcher Yan Gomes, who played with Encarnacion briefly with the Blue Jays, said it was an "amazing" move.
"We got to fear him as a guy we got to play [against]," Gomes said. "I got to play with him in Toronto. I kept telling those guys -- you tend to talk about players and stuff -- and I was like, 'Man, this guy is one of my favorite players I've played with.' He just goes about his business and does it pretty well. I'm glad we have him on our side."
Lindor echoed those remarks, adding that he respected Encarnacion for remembering his dad from so many years ago.
"That, to me, means a lot," Lindor said. "A guy who remembers who coached him when he was little, that says a lot. I'm looking forward to spending the next couple of years with him. It's going to be a long, fun ride. I have talked to him already in the offseason a couple times. He's awesome. He's going to change us a lot."
Jordan Bastian has covered the Indians for MLB.com since 2011, and previously covered the Blue Jays from 2006-10. Read his blog, Major League Bastian, follow him on Twitter @MLBastian and listen to his podcast. This story was not subject to the approval of Major League Baseball or its clubs.