Holland reunited with Foster in Colorado
Rockies' pitching coach key to signing former KC closer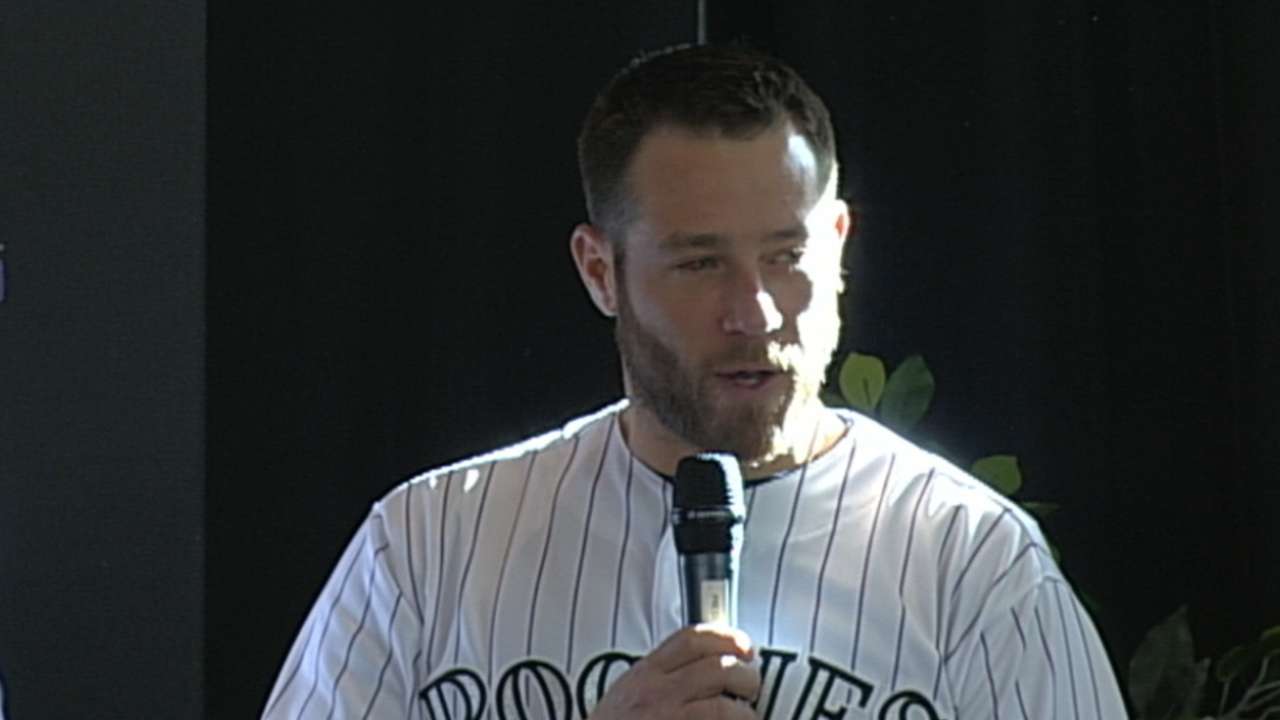 DENVER -- As Rockies general manager Jeff Bridich set out to bolster the bullpen this offseason, pitching coach Steve Foster pushed for a face familiar to him. That persistence culminated Saturday with the introduction of right-hander Greg Holland, the club's newest free-agent acquisition who played under Foster in Kansas City.
Holland, who has spent his entire career with the Royals, said it was Foster, his former bullpen coach, who initially reached out to gauge his interest in a Colorado reunion.
"He called me and asked me if I'd be interested, and I said absolutely, and we had a long talk and discussions started from there," Holland said. "I just knew the people here that I'd be working with. I got to speak to [manager] Buddy [Black], Jeff, Fostie, [bullpen coach Darren Holmes]. I was very comfortable with them, and I thought they'd put me in a good situation to succeed."
"And the roster itself, I felt was very good, so that's where the interest level lied."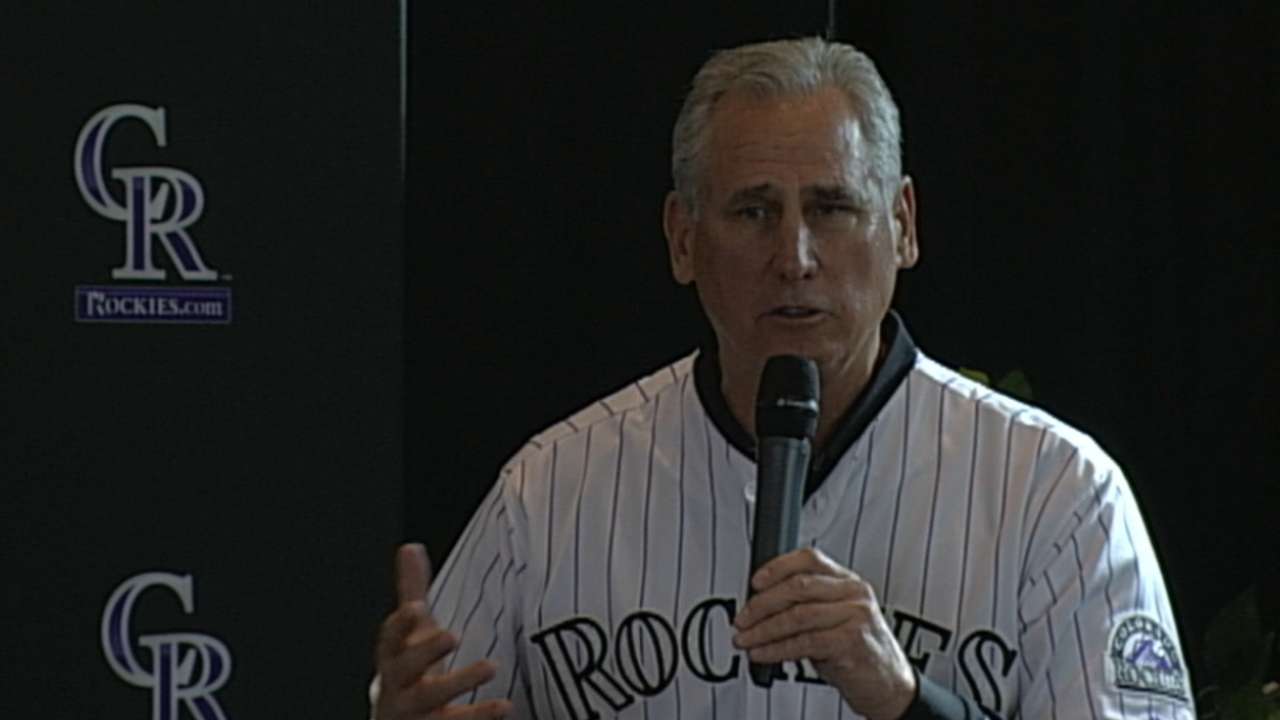 Holland -- who signed a one-year deal worth $7 million, according to an MLB.com source -- broke into the Majors in 2010, the same year Foster became the Royals' bullpen coach. And their respective tenures contributed heavily to the Royals' 2014 run to their first American League pennant in 29 years.
When Foster joined Kansas City, the Royals were coming off a season in which they posted an AL-worst 5.02 bullpen ERA. By his final year in the organization in 2014 -- he was promoted to pitching coordinator in '12, then hired as the Rockies' pitching coach ahead of the '15 season -- the Royals posted the AL's fifth-best ERA, 3.30, while Holland ranked third in MLB with 46 saves.
The bullpen was widely considered the Royals' catalyst to running through the '14 AL postseason unbeaten, before reaching the World Series and losing to the Giants in seven games. During that postseason, Holland gave up just one run in 11 innings while striking out 15. The next year, Holland underwent Tommy John surgery one month before Kansas City clinched the '15 title.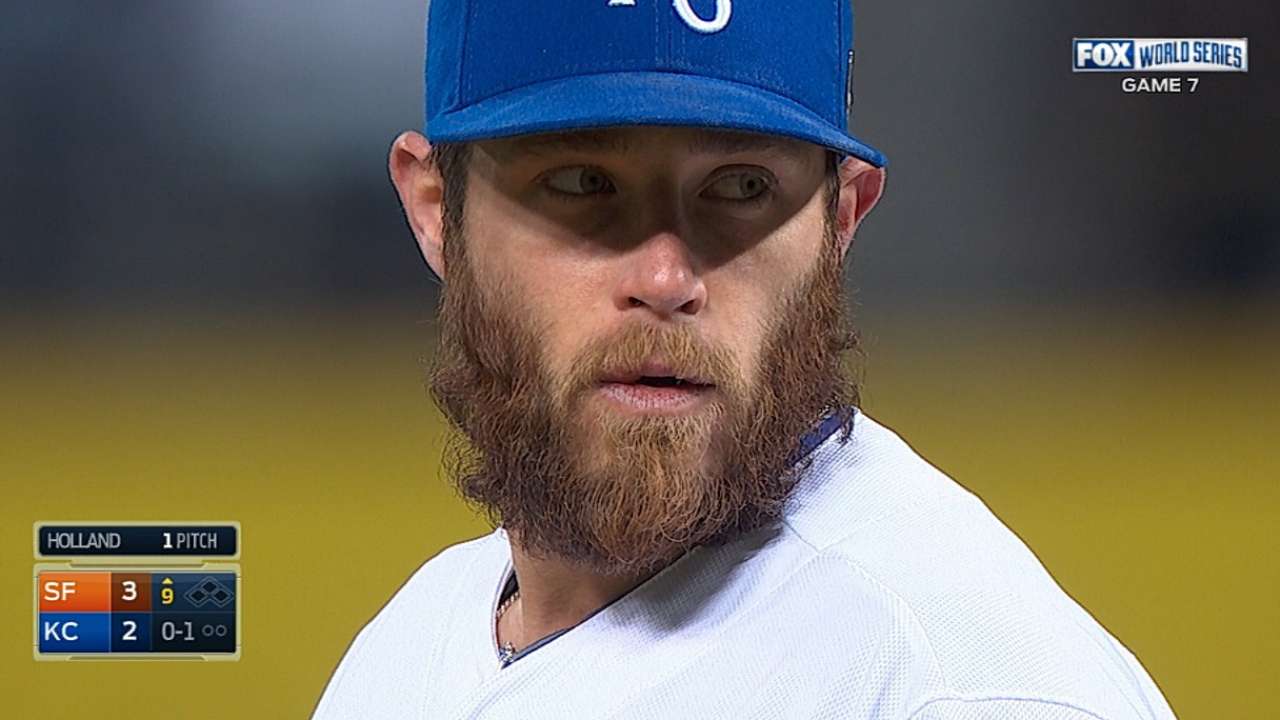 "We look for guys with presence, guys that take the game seriously, that act like a man, and I thought Greg did that from the time he got to the big leagues," Foster said.
Foster, perhaps fittingly, sat to the left of Holland during his introductory news session Saturday morning at Coors Field. It was the third news conference the club has held this winter to introduce a free-agent acquisition -- joining first baseman Ian Desmond and left-handed reliever Mike Dunn -- but the first where Bridich and the player were joined by another speaker.
With Holland, who will enter the season nearly 18 months removed from his last MLB action, Dunn and incumbent closer Adam Ottavino, the Rockies will head to Spring Training with a healthy competition to pitch the ninth inning for a bullpen that ranked last in the Majors with a 5.13 ERA. It's a bullpen with high ambitions, despite some question marks.
Ottavino, who returned from Tommy John midway through last year, extended his club-record scoreless streak of 37 games (31 1/3 innings) but posted a 6.75 ERA with three blown saves in his final 13 outings. To his new home at high altitude, Dunn brings a career fly-ball rate of 43 percent, per FanGraphs. And last year's relievers acquired via free agency, Jake McGee (left knee) and Jason Motte (right shoulder), are looking to recover from disappointing seasons.
Daniel Kramer is a reporter for MLB.com based in Denver. Follow him on Twitter at @DKramer_. This story was not subject to the approval of Major League Baseball or its clubs.