Dyson deal leaves void for Cain, Hosmer
Vocal OF was traded to Seattle earlier this month for RHP Karns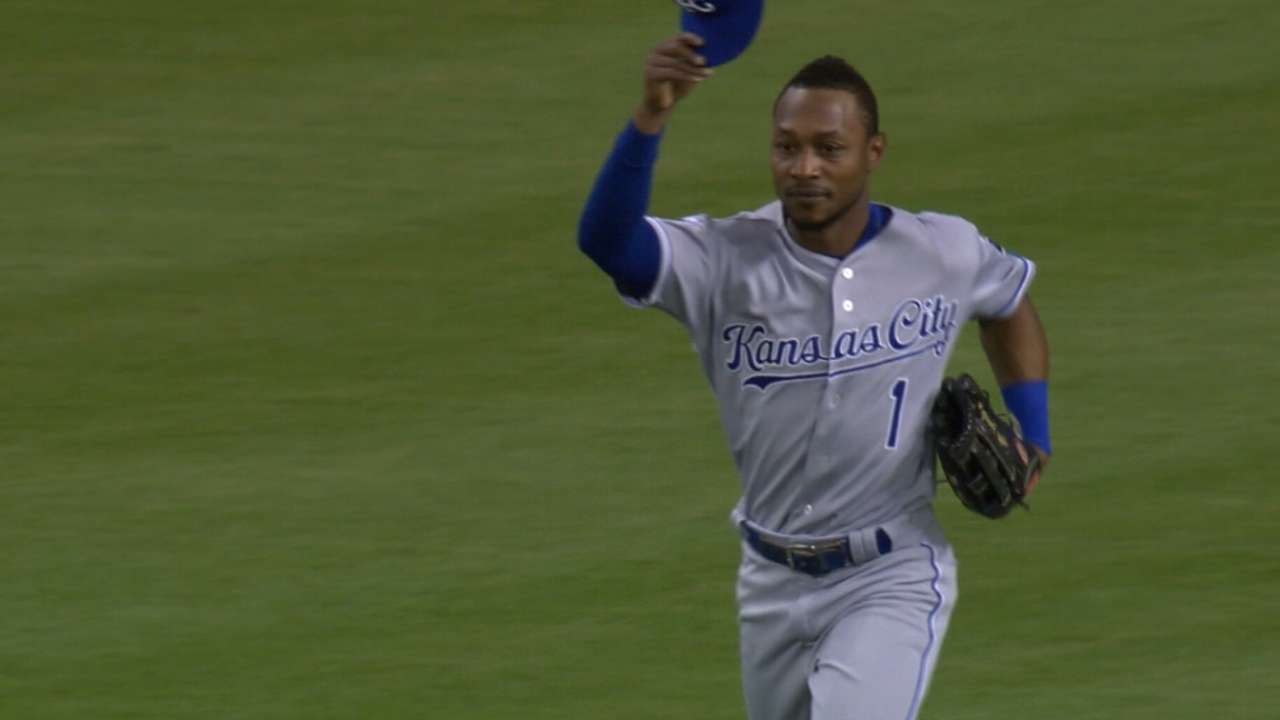 KANSAS CITY -- The trio lockered next to each other in the Royals clubhouse for several seasons -- Lorenzo Cain, Jarrod Dyson and Eric Hosmer, in that order.
Often times it was loudest portion of the clubhouse. Laughter, trash talking, music, you name it -- it all emanated at loud volume.
And the trio hung together after games as well. Thick as thieves, coaches would say.
And at the center of it all was Dyson, whose voice carried throughout, and whose opinions he would not varnish.
But that will be missing, too, this season, after Dyson was traded earlier this offseason to Seattle for pitcher Nathan Karns.
"Me and Dice were really close," Cain said at FanFest. "We were good buddies on the team.
"You know, I wasn't a big fan of [the trade], I guess. But [general manager] Dayton [Moore] has to do what's best for the team. We're all going to miss [Dyson]. I had chance to hang with him after the trade -- me, him and Hoz sat down and talked and discussed it. He told me he shed a few tears.
"It's going to be tough not seeing him in the clubhouse. We all got to go our separate ways eventually. I just didn't expect it to be this soon, I guess. I wish him the best. I think he'll have the chance to start over there, so that's good."
Hosmer, too, was startled by the trade.
"Dyson and I obviously were really close," Hosmer said. "I think a lot of people saw how valuable he was -- not only on the field but also in the clubhouse. He does a lot of things. He keeps a lot of guys in check. At the same time, a younger guy comes up and he'd explain their role and how to become a role player.
"It was cool to see during the game in a game when he wasn't starting, he was always on the bench next to someone, talking to them about fitting into our style of play. We'll miss that."
One thing for certain: Without Dyson, the clubhouse will be quieter.
"A lot quieter," Cain said, laughing loudly. "Definitely going to be a quiet clubhouse this year, quiet plane, quiet bus ride. But I'm going to miss it. I'm used to him yelling at everyone or getting on the rookies about something. He was always on someone.
"That's why you like Dice. He's outspoken, but he's down to earth. He's got a big heart."
Jeffrey Flanagan has covered the Royals since 1991, and for MLB.com since 2015. Follow him on Twitter @FlannyMLB. This story was not subject to the approval of Major League Baseball or its clubs.